Why budget deficits drive private profit
I have been working on the macroeconomics textbook today that Randy Wray and I are hoping to publish sometime next year. We have a publisher and now just have to complete the text which is progressing well. Also today I have been wondering why UK business firms are not horrified at the latest damaging policy announcement by the new conservative British government. My thoughts generalise to any government at present in terms of the obvious need to expand fiscal policy. I brought those two things together today – the practical need for continued fiscal support for private sector activity and the development of our textbook – by considering the macroeconomic origins of profits. It is an interesting story that very few people really understand because they think micro all the time when it comes to the understanding the profits of business firms whereas you have to start thinking from a macroeconomics perspective to really understand this. It also helps you understand the relationship between the government and non-government sector more fully – a relationship which is at the heart of Modern Monetary Theory (MMT). So read on and see if you have thought about this before.

In this context, this article in the UK Guardian (October 20, 2010) – America can carry this deficit – is worth considering. It provides good insight into why the US (and any sovereign government) should be seeking to expand their discretionary budget deficits rather than cut them back.
The article says:
The federal fiscal policy debate is being overwhelmed by a growing sense that America must slash its deficit now, before it is too late. Actually, the United States is in no danger of a treasury debt crisis and can carry far more debt than people believe without dire consequences.

Unfortunately, many who argue for rapid deficit reduction base their case on a slew of misunderstandings and fallacious generalisations about the consequences of high public debt
I continually try to reinforce the notion that there is no basis in economic theory or in the way the monetary system operates for advocating deficit reduction at this point in time. I try to highlight where the misunderstandings come from and expose the usual "theoretical authorities" that are used to justify this damaging policy advocacy as erroneous if not out-rightly fraudulent.
There is no doubt in my mind that the case for fiscal austerity is based on the ideological hatred of government intervention rather than any sound economic case that the cutbacks will improve the aggregates we are usually concerned with – output and income growth, reduced unemployment, low inflation etc. It is clear to me that the fiscal austerity approach – for example, epitomised now in the announcement in the UK yesterday – will damage employment growth and undermine economic growth.
Further, the UK Guardian article notes that:
In both the US and the UK (the two high-debt-capacity countries with the longest history of public debt), there is no visible relationship between the public debt ratio and inflation. For example, the peak US public debt ratio of 109% in 1946 was followed by a decade of low inflation.

Similarly, both American and British histories fail to show that high public debt is a drag on growth; in fact, peaks in the public debt ratio have been precursors to unusually strong economic growth.
Most of the deficit terrorists never reflect on history or, if they do, they use it in a distorted manner to weave their lies.
The Guardian authors note that if you examine history and analyse cases where nations did get into trouble with their debt holdings you will see that "(t)hey had some combination of the following conditions that limited their debt-carrying capacity":
… first, a lack of government control of the money supply of the currency in which most of its debt is denominated; second, debt owed in or convertible into gold; third, the lack of a long history of political stability and an effective means of tax collection; fourth, the lack of a large, liquid market for government debt; and fifth, debt owed personally by a king or other supreme ruler. Not one of these conditions applies to the United States.
So the Reinhart-Rogoff myths are usually wheeled out by the terrorists without them noting that the monetary systems that operated when the debt defaults occurred were not commensurate with those in place now, or that the debt was in a foreign currency, or some other constraint on the sovereignty of the nation was in place.
As I have said often – there has never been a sovereign default in the modern era among nations that issue their own currency, issue debt exclusively in that currency and float that currency on foreign exchange markets. Japan did default during the Second World War but that was politically-motivated and had nothing to do with their financial capacity.
The deficit terrorists, however, always avoid such empirical scrutiny and historical accuracy. Even so-called historians like Niall Ferguson misrepresent the historical record in the ways I have noted above and written about previously.
Please read my blogs – The deficit terrorists have found a new hero. Not! – Ladies and gentleman, civilisation is ending – Person the lifeboats! – for more discussion on this point.
The Guardian authors also note that:
Sadly, discussions about the implications of rising public debt are riddled with many other myths and misplaced fears as well: that there will be insufficient "savings" to absorb the continued massive issuance of public debt securities; that the central bank will always be able to generate inflation to lower the real debt service burden; that the public debt ratio can only be lowered by onerous future tax hikes; and so on … For now, slashing the deficit would be hurtful to the economy and self-defeating. Such well-meaning but wrong-headed action would cause renewed recession and plunging tax revenues. Until the private economy completes the multiyear balance sheet adjustments underlying the current depression, federal debt will continue to swell.
The argument here is that rising public debt ratios per se do not promote economic growth and business profits etc. Rather, it is the budget deficits which are matched $-for-$ with debt-issuance that drive the positive dynamics via their impact on aggregate demand. If the government gave up its "gold standard" practice of issuing debt but still maintained a expansionary fiscal stance these positive impacts would still evolve and there would just be more bank reserves in the system.
As an aside, I am writing a paper on this point at present – that these reserves would also provide increased stability for the private banking system. I will publish a blog on that point once I have finished the academic paper which I will present at the American Social Science meetings in Denver in early January 2011.
Anyway, back to my textbook writing today which will help you to understand what most people fail to understand – the macroeconomic origin of profits.
In a recent blog – The fiscal stimulus worked but was captured by profits – I outlined the key findings of Morgan Stanley market briefing which demonstrated that:
Business was the biggest beneficiary of policy stimulus: it didn't have to pay for the recovery. Consequently, the profit recovery was strong even though the growth recovery was weak.
In that blog I did not go into any detail how budget deficits underpin private sector profits at the macro level. That is what I am writing about today.
One of my favourite economists – Michal Kalecki was one of the early pioneers in developing an understanding of the origins of profits from a macroeconomics perspective. Another original contribution – somewhat earlier – which was derived in a different manner but has the same implications came from the US businessman-cum-economist Jerome Levy.
Levy wrote his famous contribution in 1914 but it was published as Economics Is an Exact Science (New Economics Library, New York) in 1943.
I have written about Kalecki previously in this blog – Michal Kalecki – The Political Aspects of Full Employment.
Kalecki's Theory of Profits
The key articles/books that outline Kalecki's approach to profits are:
Essai d'une theorie du mouvement cyclique des affaires, Revue d'economie politique, 1935.
A Macrodynamic Theory of Business Cycles, Econometrica, 1935.
Essays in the Theory of Economic Fluctuations, 1939.
A Theory of Profits, Economic Journal , 1942.
Studies in Economic Dynamics, 1943.
There were two versions of the theory – a simplified version which outlined the fundamental profits equation and the more realistic expanded version which outlined the generalised profits equation.
The following Tables are taken from the article by S. Jay Levy (Jerome Levy's son) 'Profits: The Views of Jerome Levy and Michal Kalecki', which was published in the Journal of Post Keynesian Economics (Vol. 24, No. 1 (Autumn, 2001), pp. 17-30). If you have access to a subscription to JSTOR you can read the article on-line HERE
The tables were originally published in Kalecki's 1952 book – Theory of Economic Dynamics – which was republished in 1965 by Allen and Unwin, London.
The tables show the simplified and generalised versions of the profits equations which I will explain.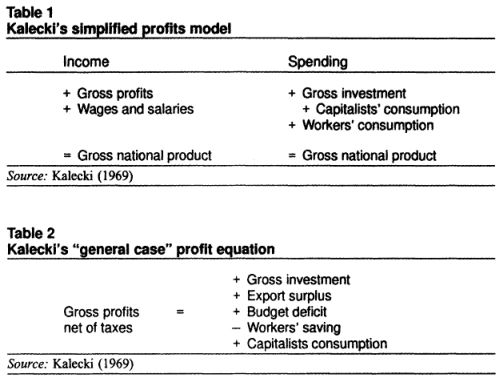 To understand Kalecki's derivation remember that he was a Polish economist trained under a Marxist system and so had an advanced understanding of how the production of surplus value pre-dated but determined profit realisation. The mainstream idea that profits were generated in the "exchange" process (where goods and services are bought and sold) and reflected the marginal contribution of capital was dismissed.
The mainstream economic theory of income distribution and the origin of profits was categorically destroyed in the 1960s (with earlier contributions from Marx and later Sraffa, 1926) in the Cambridge Capital debates. I keep threatening to write a blog about the Cambridge Controversies and will one day. It is a very technical debate but established once and for all that marginal productivity theory (the neo-classical approach) is false. How do the maintream economists cope with that? Answer: they just chose to ignore the findings and continued to lie to their students. But that is for another day.
What Marx didn't show in his approach to profits was how the total volume of profits in a monetary economy was determined in any given period. That was the question that Kalecki sought to answer.
He was strongly motivated to understand the dual evils of unemployment and poverty and was keen to show that they were intrinsic (chronic) features of the dynamics of capitalism.
S. Levy notes that Jerome Levy was also motivated to understand why the private enterprise system would tolerate unemployment given that it represented massive foregone income and hence opportunities for sales and profits. He thus had a similar quest to find out about how profits were generated:
Levy often explained how he had approached the problem of unemployment. He indicated that he employed people because he expected to make a profit … spending $1,000 for rent, merchandise, and wages with the expectation of getting $1,100 back. He puts the $1,000 into circulation but wasn't sure where the other $100 came from. He set out to find the answer.
Both Levy and Kalecki sought an understanding of the derivation of total profits by taking a macroeconomics tack. You might like to read the excellent article – Where Profits Come From published by the Jerome Levy Forecasting Center. One of the authors – David Levy – is a grandson of Jerome Levy (Jay Levy, Jerome's son is David's father).
In Where Profits Come From we learn that most people fall into a fallacy of composition when exploring the question of profits:
Answering the question "Where do profits come from?" requires a macroeconomic perspective. Profits are produced by specificmacroeconomic flows of funds. Unfortunately, the macro perspective necessary to investigate these flows can be elusive because of a logical trap: the tendency to assume wrongly that circumstances that apply to the familiar case of the single firm also apply to the entire business sector.

To illustrate the problem of applying a microeconomic perspective to a macro situation, consider the following. As every entrepreneur knows, employee costs are a major influence on a firm's profits. Cutting payroll expenses means a more robust bottom line.Accordingly, it is commonly believed that when firms throughout the economy hold down wages, they improve aggregate profits. However, for the whole business sector, cutting employee compensation reduces revenue as well as expenses.Less worker pay means less personal income and, therefore, less personal spending on the goods and services sold by businesses. Therefore, cutting payrolls will not directly increase corporate profits; however, it may indirectly affect profits through its consequences for such transactions as business investment, personal saving, and other issues … One firm's profits are in large part the result of its ability to compete with other firms and to secure profits at their expense. Firms' quest for profits is not unlike a children's treasure hunt. The children with the sharpest eyes, the cleverest minds, the fastest legs, and, sometimes, the best luck find the most prizes. Yet these attributes have no affect on the total number of prizes available. In seeking the sources of aggregate profits, our interest is in what determines the total volume of profits available for business, and not in factors that affect only how those profits will be divided among firms.
This tract of reasoning really highlights why we have to start at the macroeconomic level and exposes most of the mainstream approaches to understanding the way the monetary system operates as flawed – given that the mainstream typically reasons from specific (micro) to general (macro) as if there is no fallacy of composition.
Kalecki's simplified model
In Kalecki's simplified model, he assumed that the economy was comprised of two groups: (a) workers who earned wages and did not save; and (b) capaitalists who produced and earned profits. The economy was closed and there was no government sector.
His basic insight (under these simplified conditions) was that "workers spend what they get" and "capitalists get what they spend" which means that capitalist profits are determined by their propensity to invest and consume which reverses the way people normally consider the causation.
That is, profits are determined by investment not the other way around.
While Kalecki clearly knew that workers also save, he was able to show that by adopting the restrictive "workers do not save" assumption the basic insights were not altered but rendered more easy to understand. This is a case of adopting restrictive assumptions to simplify the analysis that are effective.
Too often in mainstream economics the simplifying assumptions never hold in reality and when they are relaxed the basic analytical results fail (for example, the models that support Ricardian Equivalence).
Kalecki began with the familiar National Accounting identity, which in his simplified model is written as:
GNP = C + I
Where GNP is Gross National Product or total output and national income, C is total private (household) consumption, and I is total private investment spending per period. These aggregates are all flows of expenditure (and hence income).
Note he used GNP rather than Gross Domestic Product (GDP) because he assumed the economy was closed. For an explanation of the difference between GNP and GDP see this site.
Private investment is the sum of spending (output) of new productive capital plus changes in inventories.
Total income is distributed between the two "classes" – workers and capitalists – so that total wages and salaries (V) plus total profits (P) equals GNP. So the distribution of national income is written as:
GNP = V + P
P is gross profits which includes depreciation, retained profits, dividends, drawings from unincorporated firms, rent and interest.
If we set the two different views of the National Accounts equal we get:
V + P = C + I
Or:
P = C + I – V
Note that (C – V) is that component of consumption that is attributed to the capitalists (given workers consumption is equal to V – they "spend what they get").
So this equation can be read as saying that gross profits (P) is equal to capitalist's consumption (C-V) plus gross investment. That is, the capitalists "get what they spend".
Note this is the model outlined in Table 1 above.
The insight provided seems fundamental now but back in the past when Kalecki was working on these ideas few people understood it.
The question Kalecki asked was whether this "definitional equation" – the fundamental profits equation – had any economic meaning. That is, he wanted to explain the causal dynamics that led to the existence of profits overall (at the macroeconomic level) – which linked the two sides of the fundamental equation.
The question of interest is which way the causality flows – from left to right – Do profits determine capitalist consumption and investment? – which is the intuitive way of thinking – or from right to left – Do capitalist consumption and investment determine profits? Kalecki clearly considered the latter causality to be the valid way of understanding profits.
He said (in his 1965 book Theory of Economic Dynamics, pages 45-46):
The answer to this question depends on which of these items is directly subject to the decisions of capitalists. Now, it is clear that capitalists may decide to consume and to invest more in a given period than in the preceding one, but they cannot decide to earn more. It is, therefore, their investment and consumption decisions which determine profits, and not vice versa.
He recognised that there was a time-lag involved between spending and profits. It is the recognition of this time lag that allowed Kalecki to derive his business cycle model – I will write about that another time. Basically, investment depends on expectations of future aggregate demand that are formed in some prior period. These spending decisions then drive economic activity and so profits are a function of investment in some prior period and these flows can be variable.
Digression – Saving and Investment equality
The mainstream macroeconomics approach to saving and investment is based on the flawed Loanable Funds doctrine. Basically, this doctrine was a central part of the so-called classical model where perfectly flexible prices delivered self-adjusting, market-clearing aggregate markets at all times. If consumption fell, then saving would rise and this would not lead to an oversupply of goods because investment (capital goods production) would rise in proportion with saving.
So while the composition of output might change (workers would be shifted between the consumption goods sector to the capital goods sector), a full employment equilibrium was always maintained as long as price flexibility was not impeded. The interest rate became the vehicle to mediate saving and investment to ensure that there was never any gluts.
The following diagram shows the market for loanable funds. The current real interest rate that balances supply (saving) and demand (investment) is 5 per cent (the equilibrium rate). The supply of funds comes from those people who have some extra income they want to save and lend out. The demand for funds comes from households and firms who wish to borrow to invest (houses, factories, equipment etc). The interest rate is the price of the loan and the return on savings and thus the supply and demand curves (lines) take the shape they do.
Mankiw claims in his textbook that this "market works much like other markets in the economy" and thus argues that (p. 551):
The adjustment of the interest rate to the equilibrium occurs for the usual reasons. If the interest rate were lower than the equilibrium level, the quantity of loanable funds supplied would be less than the quantity of loanable funds demanded. The resulting shortage … would encourage lenders to raise the interest rate they charge.
The converse then follows if the interest rate is above the equilibrium.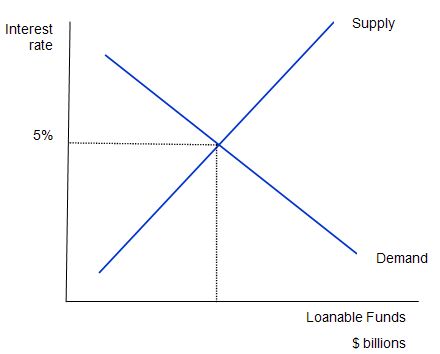 I provide a refutation of the theory of loanable funds in this blog – Budget deficits do not cause higher interest rates – for more discussion on this point.
Its conception of the way the banking operates is deeply flawed. There is no finite pool of saving that is competed for. Loans create deposits so any credit-worthy customer can typically get funds. Reserves to support these loans are added later – that is, loans are never constrained in an aggregate sense by a "lack of reserves". The funds to buy government bonds come from government spending! There is just an exchange of bank reserves for bonds – no net change in financial assets involved. Saving grows with income.
Please read the following blogs – Money multiplier and other myths – Building bank reserves will not expand credit and Building bank reserves is not inflationary – for further discussion.
But importantly, deficit spending generates income growth which generates higher saving. It is this way that MMT shows that deficit spending supports or "finances" private saving not the other way around.
This takes us back to Kalecki.
It is clear that in the simplified profits model – capitalist's gross saving equals gross investment. Kalecki (like Keynes) demonstrated that the equality of saving and investment was totally independent of the level of interest rates which were determined in the money market.
The mainstream approach was to see interest rates as adjusting to equilibrate (real) saving and investment and thus ensure that aggregate demand would always be equal to aggregate supply – thus negating the possibility that the economy could suffer from a shortage of demand. This denial of unemployment was the basis of Say's Law (later Walras' Law).
However, Keynes and Kalecki clearly understood that saving and investment were brought into equilibrium (in a closed economy without a government sector) by variations in national income driven by changes in effective (aggregate) demand. That insight provided the fundamental break with classical thinking that dominated economics (and policy) at the onset of the Great Depression and which, when applied, worsened the depression.
So in Kalecki's model, fluctuations in spending drive fluctuations in output and income which ensure the demand drain (saving) comes into equality with spending injections (investment).
This is also the basic idea that drives the spending multiplier model. Please read my blog – Spending multipliers – for more discussion on this point. Thus increased investment spending stimulates aggregate demand and firms respond by increasing production.
This, in turn, leads to higher wage and salary payments and higher induced consumption which feeds back into the spending stream and promotes further output and income. At each stage of the process, some of the income generated goes to saving and so the successive consumption spending flows become smaller and smaller until they exhaust. At that point, the sum of the saving generated by the income responses will equal the initial investment injection and the economy regains equilibrium.
A person thinking from a micro perspective might think the profits equation is odd – after all, if the capitalist consumes more the volume of funds they have at the end of some period should be less. It is here that the fallacy of composition enters the fray.
Kalecki asked "what would be the sources of financing this investment if capitalists do not simultaneously reduce their consumption and release some spending power for investment activity?" He responded as such (in his 1966 book – Studies in the Theory of the Business Cycle (Blackwell, Oxford), page 46):
It may sound paradoxical, but according to the above, investment is 'financed by itself'.
While that might be true for an individual business firm, acting in isolation, it cannot be true for the economy as a whole. Why? Answer: the consumption of one capitalist are the source of profits for another capitalist. This leads to the statement I have written before in this blog – investment brings forth its own saving!
Kalecki clearly understood that counter-intuitive notion that investment "automatically furnishes the savings required to finance it" as long as their is idle capacity. That is, as long as increasing aggregate demand does not outstrip the real capacity of the economy to produce.
Kalecki's generalised model
Kalecki subsequently complicated the model to include a foreign sector, a government sector and a recognition that workers do save. He then sought to examine how significant were the influence of the budget deficit, external balance and workers' savings on total profits.
To answer that question, he used the following familiar equation for total national income (Y):
Y = C + I + G + NX
where G is government spending and NX is net exports (total exports minus total imports). C is the aggregate of capitalists' consumption (Cp) and workers' consumption, which is total worker income post tax (Vn) minus workers' saving (Sw).
So we could write this model as:
Y = Cp + (Vn – Sw) + I + G + NX
to recognise the different sources of total consumption.
Total income claimants on national income (Y) are:
Y = Pn + Vn + T
where P and V are as before (profits and total wages and salaries) but the subscript n denotes these flows are net of taxes paid, and T is total taxes.
Thus (setting the expenditure components of total income equal to the claims on total income) we get:
Cp + (Vn – Sw) + I + G + NX = Pn + Vn + T
We can solve this for Gross Profits after tax (Pn) to get:
Pn = I + (G – T) + NX + Cp + Vn – Sw – Vn
So:
Pn = I + (G – T) + NX + Cp – Sw
which says in English, that gross profits after tax (Pn) equals gross investment (I), plus the budget deficit (G – T), plus the export surplus (NX), plus capitalists' consumption (Cp) minus workers' saving (Sw).
This is the model shown in Table 2 in the graphic provided above.
So the gross profits after tax will be higher, the higher is gross investment (I), the larger the budget deficit (G – T), the higher is capitalists' consumption (Cp) and the lower is workers' saving (Sw).
I could elaborate the behavioural factors that Kalecki thought drove Cp and Sw but that would take me more time than I have today. There are also distributional complexities that are very interesting.
For example, when there are positive net exports and/or budget deficits, then gross net profits (Pn) will rise higher than the level that would be generated by gross investment and capitalist consumption (as in the simplified model). So an individual domestic capitalist who is able to increase their net exports will be able to glean extra profits "at the expense of their foreign rivals".
Kalecki said (in his 1965 book noted above, page 51):
It is from this point of view that the fight for foreign markets may be viewed.
I will write a further blog in time about how the foreign sector can be elaborated within this model.
How does Kalecki see budget deficits in this model? The way in which the budget deficit generates profits is via its effect on national income. The budget deficit means that the private sector is receiving more flows from the government than it is returning via taxes. Budget deficits provided an increased capacity for capitalists to realise their production because they expand the economy.
Kalecki said that budget deficits allow the capitalists to make profits (net exports constant) over and above what their own spending will generate.
In Where Profits Come From, we read:
Government sector saving is a negative source of profits … Government expenditures add to business sector revenue both directly through government purchases of goods and services and indirectly by increasing the income of households, which then buy from business. Flows to the government either increase business expenses or reduce business revenue. If the government sector saves (spends less than it receives), the subtractions from profits will more than offset the additions to profits; a government surplus is a negative source of profits. Conversely, a government deficit is a positive source of profits because more money flows from the government sector to become business revenue than government takes away from business.
While the terminology – "government saving" – is misleading from a MMT perspective – you can easily just substitute the term "budget surplus" for "governmetn sector saving" without loss of insight in this context.
The point is that when the government runs a surplus it reduces profits via its squeeze on aggregate income. That is why all the business sector should be screaming at the fiscal austerity plans that are rampant at present.
It doesn't make any sense, for the business lobby groups to be calling for cuts in the budget deficits. The only time that a rising budget deficit will not add to profits (in real terms) is if there is full capacity and the rising deficits push nominal aggregate demand beyond the real capacity of the economy to increase output and real income.
We are so far from that point in most economies at present that it doesn't bear scrutiny.
So the fact that the business groups often lead the charge against budget deficits reflects the triumph of ideology over good judgement and the triumph of ignorance over understanding. I just shake my head in wonderment when I see a business person railing against budget deficits.
Further Where Profits Come From provides insights in this regard. They argue that our (new) understanding of the determinants of total profits:
… can reveal flaws that invalidate other conclusions. For example, public officials, forecasters, and investment advisors often use the saving investment identity to argue that increases in personal and government saving will increase investment in plant and equipment, thereby improving the economy. Since saving equals investment, they reason, policies that increase personal or government saving must increase investment. By contrast, the profits perspective immediately highlights the omission of business saving from such analyses, and it emphasizes ways in which changes in personal and public saving will influence profits without necessarily affecting total saving or investment. Higher non business saving reduces business saving and therefore profits, rather than increasing investment. Moreover, weaker profits are likely to lead to less investment and, therefore, less total saving.
In other words, theories of crowding out which claim that government spending and private investment compete for a finite pool of saving and this competition has to be resolved by higher interest rates are nonsensical.
Private investment drives private profits and brings forth its own saving via the expansion of national income.
Equally, budget deficits drive private profits and, if accompanied by debt issuance, merely borrow back the funds they spend and stimulate growth in saving via the expansion of national income.
These are fundamental insights of a modern monetary economy that seem to be lost on the deficit terrorists and the maintream macroeconomics textbooks. Students who fail to learn these insights really have no understanding about the way the economy functions.
Conclusion
The students who use the textbook that Randy Wray and I are writing at present will learn the fundamentals of the modern monetary system and how the government sector contributes to the fortunes of the private sector through budget deficits.
In this paper – The Indispensable Federal Deficit – published June 2010, the author says:
There is a wide range of views on the present role of the federal budget deficit in the economy; some people do not believe it has any positive influence, some think it is helping moderately, and some see it as a critical support that is becoming less necessary as the economy begins to recover. Only a few recognize that it is and will remain a necessary support to keep the economy out of a severe depression. In truth, the economy and profits are entirely dependent on the federal budget deficit, without which not only would expansion be impossible, but the economy itself could not for long function at all … The federal budget deficit has usually been a major profit source in modern history … The support to profits from the federal government will remain a requirement for as long as balance sheets in the private economy are shrinking.
I couldn't agree more. The reasoning is based on a correct understanding of how total profits are determined in a monetary economy. Pity the business sector didn't understand that and started to lobby those neo-liberal politicians accordingly.
That is enough for today!