Tonight's blog title L'horreur Economique is taken from one of my favourite (though depressing) books by a French writer (Viviane Forrester). I will discuss the book a bit at the end of the blog. But I was thinking about it (and re-reading it) today when I reflected on the US President's most recent Radio address on the reining in budget deficits. We – collectively – have allowed the most grotesque set of lies, half-truths and irrelevancies to become the centrepiece of the public debate on the economy. The crisis exposed the lack of credibility that mainstream economics has and should have dispatched the ideas to the rubbish bin forever. Instead, as unemployment and poverty rates continues to rise the mainstream ideas are now taking centre-stage again. And the policies that result will be to our collective misfortune. It really is "L'horreur economique".

On Friday, January 29, 2010, the US Commerce Department's Bureau of Economic Analysis released the December quarter national accounts, which showed that the real output growth in the US for the final quarter of 2009 was robust (5.7 percent annualised) and probably consistent with the beginnings of a sustained recovery.
I say probably (with a caution) because most of the growth came from inventory building and the slowing government spending has started to act as a brake. The inventory cycle is an important indicator of firm expectations about the future. When they are pessimistic about the state of aggregate demand they draw down existing inventories rather than commit to new production. When the cycle starts to turn and they regain some confidence they start re-building the stocks in store. This is what has been happening in the last quarter of 2009.
The other point to note from the data is that the household saving ratio continues to rise – courtesy, ladies and gentlemen of the fiscal support that the deficits are providing to aggregate demand. Households could not have successfully pursued a renewed saving program (as a sector) unless this fiscal support was forthcoming.
The following graph (using data from the US Bureau of Economic Analysis) shows GDP growth (annualised) and the percentage point contributions to that growth from household consumption, private investment, change in private inventories, net exports and government overall.
You can see that as private spending collapsed, the government contribution increased and supported demand in mid-2009 through to September. The public contribution while positive was clearly not sufficient to maintain growth (this is in contradistinction to the Australian situation where the public contribution to GDP growth in 2009 was responsible for the positive growth we experienced).
It is clear that the public contribution to growth is now negative in the December quarter and so the US economy will have to rely on relatively fast growth in the other components. I would not be willing to bet that, in the face of further fiscal contraction, private spending will grow sufficiently to maintain robust GDP growth into the 2010.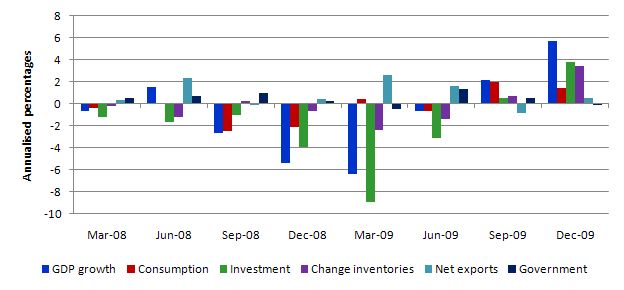 But what is also clear is that the deficit terrorists just cannot understand the essential sectoral relationships that link the government, private and external sectors. They seem to think that you can have everything – a budget surplus and high private saving and debt reduction. You cannot unless you suddenly start net exporting in great volumes, which isn't going to happen in many countries anytime soon, and cannot be a general solution for all nations as a whole (because for every external surplus there has to be equal external deficits).
This came home very starkly in the US President's Weekly Radio Address on January 30, 2010. In that speech, the US President spends 5 minutes and 13 seconds telling us how these GDP figures make it more critical "to rein in the budget deficits".
As an aside, my advice to the production team for the videos that accompany the addresses is that the President's head is too close to the top of the screen. I guess I concentrated on style because the content was so bad. I don't expect them to improve the content any time soon so better that he doesn't look "too flat headed". Then I suppose a flat head is appropriate given he is preaching "flat earth" economic theory – see my blog – Flat Earth theory returns – budget aftermath – for more on that topic.
On matters of substance – the speech confirms that Obama's neo-liberal advisors are in total control and that the US is going to limp out of this crisis in even worse shape policy-wise than it went into it. The future – stay prepared for the next recession. My summary assessment: the address was worse than his State of Union address, if that is possible.
He opened by noting that that the GDP figures were pointing to growth as a "sign of progress". That is clear as I noted above. I would also note that the economic growth is already working to wind back some of the US national government deficit via the automatic stabilisers, although in the case of the US the cyclical factor is smaller than in other nations because the tax and welfare system is less sensitive to the cycle than elsewhere. The budget position changes by about 0.4 per cent in the US for every 1 per cent change in GDP.
He claims the growth is "an affirmation of the difficult decisions we made last year to pull our financial system back from the brink and get our economy moving again". There is no doubt that the fiscal stimulus – even though it was relatively modest and hasn't been fully spent yet – has put a floor under US production. The same findings will be demonstrated in all countries which have been free to expand fiscal policy no matter what tawdry revisionism will be conducted by the conservatives in the period ahead as to what actually happened.
Get used it – fiscal policy works when applied sufficiently to address the problem at hand which is the decline in overall non-government spending growth.
The fact that unemployment rose everywhere and in some countries, including the US, to obscene levels indicates that the fiscal stimulus packages introduced were insufficient. They helped but were too small relative to the need.
Obama then claimed that as well as growth his "mission" is "grow jobs for folks who want them, and ensure wages are rising for those who have them" which means that:
… job creation will be our number one focus in 2010. We'll put more Americans back to work rebuilding our infrastructure all across the country. And since the true engines of job creation are America's businesses, I've proposed tax credits to help them hire new workers, raise wages, and invest in new plants and equipment. I also want to eliminate all capital gains taxes on small business investment, and help small businesses get the loans they need to open their doors and expand their operations.
So tax credits – a mainstream stunt disguised as a progressive job creation strategy. I have considered the issue of tax credits before. Please read the following blogs – The enemies from within and Direct public job creation now being debated – for more detailed discussion on why the proposal will not be an effective means of eliminating unemployment.
First, you note that the US Government takes no direct responsibility for providing jobs for the unemployment. While the number one mission for this year is job creation there are no jobs to be created in government by the government (apart from normal business). So this emphasis on jobs is not a reflection of a progressive insight that there are a myriad of productive activities that the US government could be pursuing which would increase employment.
Rather, it is a cop-out that the only jobs worth creating are in the private sector and that the government will seek to extend corporate welfare to that sector to try to induce them to create the jobs. More handouts to the private sector – that is the mission of the US government.
Second, as soon as I see so-called progressives offering tax credits as a solution to chronically high unemployment at a time when aggregate demand is still way too low I know they do not understand how the monetary system operates and the opportunities that system provides a national currency-issuing government. For if they possessed that comprehension they would never propose tax credits as a "progressive" solution to unemployment.
Tax credits are proposed by "deficit-dove type progressives" who think that budget deficits have to be wound back as GDP growth resumes and should largely be balanced on average over the business cycle. That is, run surpluses in good times and deficits in bad times. The aim, which is misguided in the extreme, is to keep the public debt ratio in line with the ratio of the real interest rate to output growth – supposedly, a sustainable fiscal position.
Deficit-doves worry relentlessly about the public debt to GDP ratio because they assume that the "credibility" of the government debt will be compromised and that this (whatever it means) matters.
They consider there is a limit to the size of the deficit (and public debt) but rarely associate this with the requirement that the government has to match the leakages from the expenditure stream arising from non-government saving. So they fail to admit that by placing artificial limits on the deficits this really means that they cannot guarantee full employment. In that sense, they abandon one of the basic principles of being progressive – a concern that everyone who wants to work can find it.
If you are going to run a balanced budget position over the business cycle then the private sector balance will on average equal the external balance. So if you are running a current account deficit on balance then the private sector will also be running a deficit on average. You cannot escape the national accounting relationships.
So if you understand these relationships and the nation runs an external deficit (as in the case of Australia, the US etc) then to aim to balance the public budget over the cycle means that you aim for the private sector to become increasingly indebted over the cycle. Just the strategy that was pursued in the period leading up to this crisis.
It is an unsustainable growth strategy as we have seen. However, in the case of the US National Accounts data which is showing the private sector overall is still increasing its saving ratio – this strategy is likely to lead to a double-dip recession rather than sustained growth.
Proposals that offer tax credits to the private sector fail to understand what causes mass unemployment. The initial reason firms laid off workers and will not re-employ them is because they cannot sell the goods and services that are being produced. Employment is a function of aggregate demand. Firms will only employ if there is demand for their output.
So you either have to increase aggregate demand overall or directly create the labour demand in the public sector. Tax credits will achieve neither outcome. Why would a firm employ labour if the output cannot be sold even if it can get a reduction in tax?
Moreover, the proposal is based on the idea that the goverment will be able to "save" money compared to say a mass job creation scheme similar to a Job Guarantee, where the government would offer a minimum wage job to anyone who wanted one.
A government that issues the currency does not need to "save" it. It also needs to spend more of it in net terms when there is mass unemployment. The idea that making one's number one mission job creation then trying to reduce government spending is nonsensical given the current economic climate in the US.
Obama's claim that his number one mission was jobs was to convince people that he cares. Whether he personally cares or not I don't know. But what followed tells me he doesn't care as a leader in charge of the sovereign government or doesn't understand the system he is in charge off – both of which disqualify him from being in top office in any country.
He continued:
But as we work to create jobs, it is critical that we rein in the budget deficits we've been accumulating for far too long – deficits that won't just burden our children and grandchildren, but could damage our markets, drive up our interest rates, and jeopardize our recovery right now.

There are certain core principles our families and businesses follow when they sit down to do their own budgets. They accept that they can't get everything they want and focus on what they really need. They make tough decisions and sacrifice for their kids. They don't spend what they don't have, and they make do with what they've got.

It's time their government did the same. That's why I'm pleased that the Senate has just restored the pay-as-you-go law that was in place back in the 1990s. It's no coincidence that we ended that decade with a $236 billion surplus. But then we did away with PAYGO – and we ended the next decade with a $1.3 trillion deficit. Reinstating this law will help get us back on track, ensuring that every time we spend, we find somewhere else to cut.
If you were going to write the stereotypical neo-liberal "brain dead" case against budget deficits you would be hard pressed to do better than this. All the knobs are being turned in these three paragraphs.
A sense of something out of control – ill discipline – is conjured up.
Jeopardy is being played but not on TV – no, this time it is with the lives of our children and even their children. Interest rate rising to choke off progress.
Families and business and government – all the same – all sacrificing for their kids.
Fiscal rules to stop our dirty hands spending what we don't have … Beautiful really. Although I much prefered Top Cat as comedy rather than the US President in his blue suit and tie (nice colours though!).
In those three paragraphs, which are just paraphrased from a mainstream macroeconomics textbook like Mankiw you realise the US President hasn't got a clue about the monetary system of his nation and allows his advisors (who wrote this garbage?) to wilfully mislead the citizens of his nation.
He should resign immediately for saying these things.
First, budget deficits do not accumulate. They are the net position at some point in time of two flows – spending and revenue. What accumulates are the net financial assets that are created in the non-government sector.
The deficit terrorists call these assets the public debt burden whereas in Modern Monetary Theory (MMT) they are an integral part of the non-government sector's wealth accumulation.
At the most basic level, the cumulative stock of financial assets created by net public spending are the exact equivalent of non-government saving in the unit of the currency issued by the national government. Arguing that you want to cut back the deficits means you also want to force the non-government sector (as a whole) to reduce its rate of net wealth generation.
While transactions within the non-government sector (what MMT calls the "horizontal transactions" – see blog Deficit spending 101 – Part 3) can generate new wealth in the currency of issue – it is not net wealth for the sector as a whole. Everything at this level in monetary terms nets to zero.
Second, how exactly will the deficits burden the future generations? Governments who pretend they are still operating under a Gold Standard and therefore continue to issue public debt to match their net spending are continually issuing and retrenching debt. This process continues unabated across the generations. I have never received a letter informing me that I have to sacrifice more now because the government has higher debt. It is a nonsensical argument.
It reflects the childish mainstream textbook models where the debt is paid back in a few periods (so the graph can fit on the page of the book) and so "primary surpluses" have to be run and taxes rise to allow the full debt retrenchment to be made. It is a case of the teaching pedagogy grossly misleading the student as to what really happens. Yet the public rhetoric that seeps into the political milieu is just a reflection of the simplistic rubbish peddled in the textbook.
It may be that taxes overall will rise in the future. They may fall too. But I defy anyone to find a close positive and causal (or even correlation) between tax rates and public debt dynamics over the convertible and non-convertible currency periods. You will never find such a relationship. It is a beat-up.
Governments may choose to increase the tax take in the future if they think aggregate demand is too high in relation to the real capacity of the economy to respond and they want less private spending. That decision has nothing to do with the on-going process of paying back public debt and issuing new public debt.
The only time public debt becomes a burden is when mindless governments like the previous Australian Liberal government (1996-2007) try to pay back all the government debt by running increasing surpluses. Then we felt the burden – but it wasn't the taxes we were paying it was the progressively degraded public infrastructure; the rundown of schools and universities; the persistently high unemployment and rising underemployment – all products of the deficient aggregate demand driven by fiscal drag.
We also paid for it because the budget surpluses that were achieved in that period squeezed the private sector and, in part, led to the unsustainable build up in private indebtedness. The same can be said for the Clinton surpluses in the US in the late 1990s.
So the burdens are the lost opportunities that result from a government trying to "rein in the deficit".
Third, interest rates do not rise when there are deficits. Where was Bernanke when this speech was being prepared? I am sure he would admit – as he did in his speech I covered on deflation – Things that bothered me today – that the central bank controls the short-term interest rate and can, if it wants to, control the term structure – that is, all rates along the maturity curve (short and long-term rates).
Interest rates may rise – but that is just a reflection of the monetary policy decisions of the central bank. They may think that aggregate demand is growing too strongly in relation to the growth in real capacity and so try to use interest rate hikes to stifle demand. While this might be related to the positive impact on growth that public deficits have – one would argue that this policy position would reflect good outcomes – a strong economy with lots of employment growth.
I agree that central banks have hiked rates well before the economy has been close to full employment and, inasmuch, as the rates do stifle demand (and that is debatable) then this would be a bad thing. But that would reflect the poor decision-making acumen of the central bank rather than anything undesirable about public deficits.
The point is that Obama as some cock-and-bull idea that deficits draw on scarce saving and drive up interest rates. That is, the standard crowding out argument. Please read my blog – When ideology blinds us to the solution – for more discussion on this point. You could also read the blogs that this search string suggests.
The Classical economists considered that saving responded to interest rates only (mostly!) and were brought into equality with investment by movements in the interest rate. This is the loanable funds doctrine which I have written about before.
In the classical theory, the supply of and demand for capital jointly determined a quantity, namely the total volume of savings and investment, and a price, namely the real rate of interest. Investment was demanded by firms, with more being demanded at low interest rates than at high. Savings was supplied by individuals, with more being supplied at high interest than at low.
Thus a market for capital determined how much of current output would be consumed, and how much saved and invested. This market operated wholly apart from the determination of output. Investment and savings did not affect employment and output, but only the division of output between current consumption and capital formation.
Accordingly, when households desired to save more and spend less the interest rate would fall to ensure that investment rose and aggregate demand stayed unaffected. So via Say's Law (and Walras' Law) the economy would always be at full employment via interest rate adjustments.
The loanable funds model also underpins the mainstream claims that budget deficits create financial crowding out of private investment. The fallacious line of reasoning is that there is only a finite supply of saving available and by drawing on it the government pushes up interest rates and chokes of investment.
This proposition is asserted in every mainstream macroeconomics textbook in the world and unsuspecting students are brainwashed into believing it is a reliable reflection of the monetary system they live in. It is not! The depiction is not even remotely close!
We can think of the deficit-debt nexus as a wash. The government just borrows back what it has spent!
Proponents of the logic which automatically links budget deficits to increasing debt issuance and hence rising interest rates fail to understand how interest rates are set and the role that debt issuance plays in the economy. Clearly, the central bank can choose to set and leave the interest rate at 0 per cent, regardless, should that be favourable to the longer maturity investment rates.
There are clearly substantial liquidity impacts from net government positions which I have written about before. If the funds that purchase the bonds come from government spending as the accounting dictates, then any notion that government spending rations finite savings that could be used for private investment is a nonsense.
Only transactions between the federal government and the private sector change the cash system balance. Government spending and purchases of government securities (treasury bonds) by the central bank add liquidity and taxation and sales of government securities drain liquidity.
These transactions influence the cash position of the system on a daily basis and on any one day they can result in a system surplus (deficit) due to the outflow of funds from the official sector being above (below) the funds inflow to the official sector.
The system cash position has crucial implications for central bank monetary policy in that it is an important determinant of the use of open market operations (bond purchases and sales) by the central bank.
Government debt does not finance spending but rather serves to maintain reserves such that a particular overnight rate can be defended by the central bank. Accordingly, the concept of debt monetisation is a non sequitur. Once the overnight rate target is set the central bank should only trade government securities if liquidity changes are required to support this target.
So what the US President fails to understand is that the money used to buy bonds (that is allegedly regarded as financing government spending) is the same money (in aggregate) that the government spent. Deficit spending introduces the new funds to buy the newly issued debt.
Fourth, Obama then went onto use the household analogy. I nearly starting weeping … at this level all reason is gone, all understanding is gone … it becomes just plain gibberish – devoid of meaning.
It is true that "(t)here are certain core principles our families and businesses follow when they sit down to do their own budgets". Yes the basic principle is that both families and firms have revenue-constraints in the currency of issue because they are users of the that the national government issues as a monopoly.
They thus have to "finance" their spending.
In the long-run, it is also true that "(t)hey don't spend what they don't have" in the short-term they borrow and lend to each other to allow different consumption and investment time paths to be followed. But it all has to be "financed" through earnings, borrowing, drawing down past saving, or selling off assets (accumulated from past saving).
To then suggest "(i)t's time their government did the same" is a denial of the currency issuing monopoly of the government. The government issues the currency that the non-government sector uses. A currency-issuing government has no financial constraints and its prospects are not even remotely like those of a household, unless they self-impose rules that make them so. In doing so, they would jeopardise their capacity to generate high levels of employment and social progress.
I have written several times about the absurdity of fiscal rules. You might like to start with this blog – Fiscal rules going mad … – and then follow through using this search string.
So the speech just got worse rather than better. Spending freezes, bi-partisan Fiscal Commissions, etc – all signs that the US President doesn't want to provide leadership or use the capacities his government has to advance social purpose. His big 2010 mission is jobs but he is taking zero responsibility for their creation. He is relying on the private sector to react to his corporate welfare initiatives to generate jobs at the same time they will face rising fiscal drag. It is the epitome of non-leadership.
The US President finished by saying:
I'm ready and eager to work with anyone who's serious about solving the real problems facing our people and our country. I welcome anyone who comes to the table in good faith to help get our economy moving again and fulfill this country's promise. That's why we were elected in the first place. That's what the American people expect and deserve. And that's what we must deliver.
The real problems facing your country start with the administration you have put in place. Your advisors are poisonous when it comes to meeting the challenges your citizens face. Sack them immediately. I can recommend several good Americans who could take over the economic portfolio and get the solution in place quickly.
But the last thing the US economy requires right now is to withdraw the fiscal support. For now you must ensure that net public spending remains at the level which will support full employment and the private saving desires. My reading of the situation is that you are short by some percent of GDP in achieving this level of support.
Forget the deficit-terrorists – they neither understand or care about public purpose.
So when can we meet Barack and discuss this – given you welcome anyone who comes to the table in good faith?
Future generations etc
Underlying the President's speech was the intergenerational debate – the so-called ageing society meltdown of the budget hysteria.
I thought this article (January 30, 2010)- Longevity is a triumph, not a problem, by Brendan O'Neill had an interesting view of the matter.
He began by reacting to the recent comments by right-wing British author Martin Amis, who appears to be insulting as many people (movements) etc that he can of late, perhaps because his readership is in decline. Among his recent exploits has been his invocations that UK Muslims should be actively discriminated against (for example, no travel, deportation, strip-searches) until the parents start disciplining their children properly. And stuff like that.
Anyway, O'Neill's article focuses on Amis's take on the ageing population debate – the latter described the demographic changes coming as a "silver tsunami" and said that it would be "socially destabilising" and could provoke "civil war between the old and the young". His solution is voluntary euthanasia.
While not the place to air my own views on the euthanasia debate and you can expect from my Political Compass score that I am in favour of it although I wouldn't use the language that Amis does.
Further, while the "civil war" analogy is over the top, it does bring the debate out into the domain where it belongs. That is, away from the financial and into the political. All these ageing society questions are political assuming there will be enough real resources around. Even if real resources are exhausted the challenge will still be political. There is never a financial constraint on a national government that issues its own currency.
O'Neill has a similar perspective:
Western society finds it increasingly difficult to value older generations, instead viewing them as a burden on social services and the environment.

The ageing population is most frequently referred to as a problem or ticking time bomb rather than seen as a testament to human ingenuity and leaps forward in medicine and living standards. Older people are now seen, not as sources of wisdom, but as the suckers-up of resources that might be better allocated to younger, healthier people.

In fantasising about erecting euthanasia booths, Amis was only crudely expressing what has unfortunately become a mainstream prejudice: that there are too many old people and society can't cope with them.
However, O'Neill's position is that the "ageing population … ought to be seen as a good thing" and shows how we have been extending human life, which, in turn, means our living standards have been rising.
In this vein, he says that "the ageing population is more of a "problem" in developed countries than in poor countries" citing life expectancy statistics for Japan (82.07 years); France (80.87) etc, and Zambia (38.44), Angola (37.63) and Swaziland (32.23). The poor developing world would "love to have the "problem" of an ageing population" – which means, better "sanitation, the victory of medicine over disease" etc.
When considering this debate you have to be very clear to separate issues relating to the availability of finance from issues relating to the availability of real resources.
O'Neill notes that "older people are looked on as burdens on the health and social security system". For example, the formerly erudite Washington Post, now a scam mag serving the ignorant, said in this article (March 31, 2009) – Recession Puts a Major Strain On Social Security Trust Fund – that:
The U.S. recession is wreaking havoc on yet another front: the Social Security trust fund. With unemployment rising, the payroll tax revenue that finances Social Security benefits for nearly 51 million retirees and other recipients is falling, according to a report from the Congressional Budget Office. As a result, the trust fund's annual surplus is forecast to all but vanish next year — nearly a decade ahead of schedule — and deprive the government of billions of dollars it had been counting on to help balance the nation's books.
So the ageing population is constructed as "financial havoc". The article quoted a conservative viewpoint (a Republican politician) who suggested the retirement income system in the US was in danger of collapse. He clearly doesn't have a clue about capacity that a fiat currency system bestows on a government. There is no danger of collapse – full stop! The US government for political reasons might curtail some benefits – but these decisions will not reflect financial constraints.
The article's so-called "balance" quoted a so-called "liberal analyst" (from University of Massachusetts and the Center for American Progress) as saying that "(t)his is not a problem for Social Security, it's a problem for fiscal responsibility … [the new estimates would force the government] … to stay on track in what they have set out to do, and that is rein in deficits". You just have to lie down and cry when that is being portrayed as the "liberal position".
The rest of O'Neill's article is interesting and he covers the attacks on the older generation for being "unnecessary carbon footprints"; for taking jobs from the younger workers; among other supposed problems.
His closing take is that the "treatment of the ageing population as a problem really reveals today's lack of imagination and human aspiration" – a view with which I concur.
O'Neill says that unless we "challenge today's anti-human outlook" we will start asking "What's the point of old people?".
This is similar to the argument made by French author Viviane Forrester in her 1996 book called L'horreur Economique about unemployment (you can get the 1999 English version – HERE – essential reading).
In L'horreur Economique the proposition is that governments are failing to generate enough employment but at the same time they are promoting a backlash against those who are jobless. Forrester says that:
The panaceas of work-experience and re-training often do nothing more than reinforce the fact that there is no real role for the unemployed. They come to realize that there is something worse than being exploited, and that is not even to be exploitable…
The book ventures into the notion that governments (elected by us) have made the unemployment dispensable to 'capitalist production and profit' and have instead been content to keep them alive. But soon, why would it not be implausible to declare this growing group of disadvantaged citizens totally irrelevant.
So when the unemployed also become aged – what then? The lack of imagination that O'Neill identifies in our attitudes towards to aged is also clearly apparent in the public debates we have about the unemployed.
We hide this lack of imagination in faux financial arguments – "the government cannot afford to create jobs for all the unemployed" [OF-COURSE IT CAN] or there is nothing productive for them to do [OF-COURSE THERE IS] – which thus diverts the debate into a series of non-sequiturs.
If the unemployed are ultimately dispensable for capitalist production (and that is what persistent long-term unemployment suggests); and they cannot do anything productive if we employ them in the public sector (that is the overwhelming view of the deficit terrorists); and they are a nuisance to manage (you know all the arguments – income support corrupts etc) – then ultimately society might start asking "what is the point of the unemployed?".
Then different solutions might be advanced. Don't think this is off the track … after all only 70 odd years ago Germany decided that a definable cohort was dispensable and could be exterminated.
L'horreur Economique is one of those books that you just go back to from time to time to remind yourself of the message – just in case you have moved on to the vilification of the aged and left the unemployed behind.
The title could have been used to adequately describe Obama's radio address.
That is enough for tonight!