Things that bothered me today
Three happenings in the last 24 hours confirm to me that neo-liberalism is alive and well in the US and the rest of the World. The first of those happenings is the almost grotesque statements coming out of the EMU about Greece. The second is the 70/30 vote supporting the re-appointment of Ben Bernanke as the US central bank boss; and the third is the US President's State of the Union speech. I wonder how the millions of unemployed around the World would feel about any of those happenings?

1. Greece and the Euro
First, to Greece and the EMU.
While I have analysed the Greek situation before – please see this blog A Greek tragedy …, I thought the Guardian article by Joseph Stiglitz (January 25, 2010) – A principled Europe would not leave Greece to bleed was worth reading.
In the last days, there have been stories about how Greece is trying to do bi-lateral deals with France or Germany because the EMU treaty forbids any system-wide bailouts. The ECB President has repeatedly said that "No government or state can expect from us any special treatment". Tough talk like that circulates within Europe a lot lately.
The Greek government denies that they have been seeking bi-lateral support to get around the ridiculous failure of the "federal" system to support one of its "states". They have vowed to cut cut cut – welfare, services, education, pay … like just about everything that actually helps its citizens live.
Stiglitz at least can see the repugnance of the EMU's position. He pointed out that the larger EMU economies were not treated like Greece when they broke the 3% budget deficit to GDP rule. He notes the rules are all weighted against the small, peripheral Eurozone nations even though "Greece's large deficit has implications for the future of the citizens of Greece, but not for the stability of the euro – unlike a similarly large deficit on the part of one of the larger countries."
He also noted that a "a large part of Greece's deficit is the result of the global recession, whose impact was felt acutely by many countries who were not responsible for causing it". And for Greece it "among the poorest of the European family".
In this sense, the lack of a federal fiscal support mechanism in the EMU for states that are in trouble is a principle weakness of the system. I have written about this before – please see this blog España se está muriendo.
But Stiglitz's message is that:
While Europe may not yet have an overall budgetary framework that can fully address weaknesses in one part or the other of the EU, it should at least adopt the principle of "do no harm". For the ECB to announce that it will not accept Greek bonds as collateral would be counterproductive. For the ECB to delegate judgments about the credit-worthiness of Greek bonds to the rating agencies would be more than just irresponsible; it would be reprehensible. Delegation of effective regulatory responsibility to the rating agencies is partly what got the world into the present mess; and the rating agencies' judgments have proven to be deeply flawed – underrating the risk of mortgage backed securities, but consistently overrating the risk of certain sovereign debts.
I think this is one of the better pieces of commentary that you will read on the Eurozone crisis and the economic problems in the World generally. Stiglitz noted that the fiscal retrenchment being forced on the Greek government by the ECB bullies (my words) will worsen their unemployment situation and further drive up poverty in an already poor nation. Why on Earth would the Greeks want to go along with any of this?
The other point he makes is that the basis on which the ECB assesses whether a nation is "behaving" – that is, whether its budget deficit as a percentage of GDP is below 3 per cent – is deeply flawed because they include both the automatic stabilisers which will reverse once growth resumes but will worsen if discretionary cut backs cause a deeper recession and the interest payments.
On the interest servicing payments Stiglitz says that "even the IMF has reframed most countries' budgetary targets in terms of the primary deficit – net of interest payments, recognizing that volatile financial markets mean that interest payments are not really within a country's control."
It beggars belief that the ECB forces the Greek government to pay higher interest rates on its debt because the former has a stupid (made-up) rule that it won't accept Greek bonds as collateral, and then tells the Greeks they have to further cut support for the poor because their budget just went up again. Humans make up the most ridiculous rules to punish each other. But in this case, the Greeks can leave the EMU and as I have argued, while it might be painful to do so, they are going to hurt anyway.
Stiglitz also proposed a fiscal support mechanism within the EMU to help resolve these highly damaging imbalance. He said:
… institutions like the European Investment Bank should undertake countercyclical investments in the country, to offset the deflationary impacts of the budget cuts. Europe should show that it will stand behind Greece, much as the IMF provides support funds for developing countries. The provision of such support might lower interest rates, and make it easier for the country to reach budgetary balance. The EU, the euro, and the premise of European solidarity is being tested again. The measure of Europe will not be in the harshness of its actions, but in the spirit of solidarity that it shows in assisting its neighbour.
I disagree with him that the IMF has done very much that is positive for developing countries – please read this blog on that – IMF agreements pro-cyclical in low income countries .
I also disagree with the implication that a "budget balance" is the necessary goal to aim for. It all depends on the trade balance and the saving desires of the private Greek sector. I suspect a budget deficit is required indefinitely as a nation building strategy to improve the lives of the poor citizens in that country.
But in terms of the use of the EIB as a fiscal support mechanism across the Euro federation this would have some advantages. The system is clearly failing now through lack of such a mechanism that can redistribute demand. However, if it was to become a mini Euro-style IMF then forget about it. That would just be the start of a new institutionalised tyranny in the zone.
2. Bernanke
The Wall Street Journal reported that Bernanke Wins New Term but that the "Fed Chief on Shaky Footing After Confirmation Fight; Tough Calls Ahead on Rates".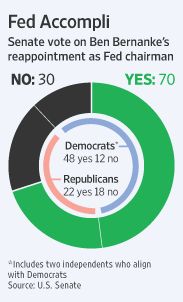 So this is evidence that 70 per cent of federal politicians in the US Senate are not acting in the best interests of their nation. 70/30 seems like a lot but in the twisted world of US politics it appears that the 30 per cent was a very loud voice.
Four more years of Bernanke who didn't see the crisis coming; actively helped it along with his policies positions relating to reducing market oversight; and who is also firmly on "the US President's fiscal consolidation advisory panel" (having told various committee hearings that the deficit has to come down, by which he meant the discretionary component).
Many mainstream commentators are arguing that the issue is "the Fed's cherished independence to change interest rates without political interference. That independence is key to retaining financial markets' confidence in the central bank."
I just love this sort of talk. The financial markets were in like flynn when they needed federal funds to bail them out of their self-made crisis. There was no loss of confidence in treasury and central bank coordination in bailing all these characters out then.
But of-course once the crisis is over and public anger dies down again as the consumers get fat again on debt pumped into them by the same financial markets – then the central bank has to operate they way they want it to – which should be read as leaving banks etc to self-regulate (joke) their own industry and having the central bank push rates up at will to keep inflation down, irrespective of the damage it might do to the unemployed.
I have already indicated that I think the US government should not have re-appointed Ben Bernanke as the US central bank boss. Please read my blog – Bernanke should quit or be sacked – for more discussion on this point. Nothing has changed my mind since I wrote that blog. In fact, after reading a lot more about his early days I cannot believe they now have actually done it – that is, re-appointed him.
I thought I might share some of that reading with you. On November 21, 2002, Ben Bernanke spoke to the National Economists Club in Washington on the theme – Deflation: Making Sure "It" Doesn't Happen Here.
As an aside, the Club must be a pretty happening place – just imagine assembling a bunch of mainstream economists in one room. I have seen it often and its ugly.
The speech was one of the self-congratulatory statements of faith in (a) the value of the self-regulate market economy; and (b) in the efficacy of inflation-first monetary policy; and (c) how policy can solve any crisis.
He started by talking about the expulsion of the "inflation bias" in advanced countries in the 1990s because there was a "heightened understanding by central bankers and, equally as important, by political leaders and the public at large of the very high costs of allowing the economy to stray too far from price stability."
Having "solved" that problem, he wondered whether deflation might be the next big thing – referring to the problems that Japan was going through at the time.
His conclusion:
… I believe that the chance of significant deflation in the United States in the foreseeable future is extremely small, for two principal reasons. The first is the resilience and structural stability of the U.S. economy itself. Over the years, the U.S. economy has shown a remarkable ability to absorb shocks of all kinds, to recover, and to continue to grow. Flexible and efficient markets for labor and capital, an entrepreneurial tradition, and a general willingness to tolerate and even embrace technological and economic change all contribute to this resiliency. A particularly important protective factor in the current environment is the strength of our financial system: Despite the adverse shocks of the past year, our banking system remains healthy and well-regulated, and firm and household balance sheets are for the most part in good shape …

The second bulwark against deflation in the United States … is the Federal Reserve System itself … I am confident that the Fed would take whatever means necessary to prevent significant deflation in the United States and, moreover, that the U.S. central bank, in cooperation with other parts of the government as needed, has sufficient policy instruments to ensure that any deflation that might occur would be both mild and brief.
Repeat after me: "Mild and brief". Put a note on your refrigerator door "Mild and brief". Or better still, seeing as nearly every second person I see these days is sporting a tattoo you might consider getting "Mild and brief" adorned across the back of your hand.
[As a cultural note, Australians, at least, put notes on their fridge doors to remind themselves of all sorts of things].
But you see the arrogance of an economics profession in his statement – they considered they had won the battle and relegated the business cycle to history – markets and inflation-first aggregate policy (meaning very little fiscal discretion) – that was the mantra and it dominated policy which in many ways became lax in its oversight of what was actually happening.
And further – not Bernanke claims the robustness of the financial system – was a "particularly important factor" in overcoming the business cycle.
I wonder if he ever goes back and reads this rubbish and reflects a little bit about it. Perhaps in the Senate process that has led to his re-appointment he might have been asked to do that and come back with some answers.
Bernanke then talked about the problems are deflationary episode might present – emphasising that deflation "is in almost all cases a side effect of a collapse of aggregate demand–a drop in spending so severe that producers must cut prices on an ongoing basis in order to find buyers".
In this context, he said that a deflationary episode tests "conventional monetary policy" because of the "zero bound on the nominal interest rate". He said:
Under normal conditions, the Fed and most other central banks implement policy by setting a target for a short-term interest rate … and enforcing that target by buying and selling securities in open capital markets. When the short-term interest rate hits zero, the central bank can no longer ease policy by lowering its usual interest-rate target.
In this context, he noted that at this point most commentators believe the "central bank has "run out of ammunition" — that is, it no longer has the power to expand aggregate demand and hence economic activity".
The rest of his talk is an outline of the other policies tools available – "a principal message of my talk today is that a central bank whose accustomed policy rate has been forced down to zero has most definitely not run out of ammunition". Most telling is the following:
… under a fiat (that is, paper) money system, a government (in practice, the central bank in cooperation with other agencies) should always be able to generate increased nominal spending and inflation, even when the short-term nominal interest rate is at zero.
I will come back to this.
Then followed a story about how the "U.S. government has a technology, called a printing press (or, today, its electronic equivalent), that allows it to produce as many U.S. dollars as it wishes at essentially no cost. By increasing the number of U.S. dollars in circulation, or even by credibly threatening to do so, the U.S. government can also reduce the value of a dollar in terms of goods and services, which is equivalent to raising the prices in dollars of those goods and services. We conclude that, under a paper-money system, a determined government can always generate higher spending and hence positive inflation".
He then outlined a series of measures – all of which we have now seen in action – zero interest rates; large-scale purchases of financial assetst to lower "rates further out along the Treasury term structure"; "announcing explicit ceilings for yields on longer-maturity Treasury debt" and enforcing those "interest-rate ceilings by committing to make unlimited purchases of securities up to two years from maturity at prices consistent with the targeted yields".
Further, "offering fixed-term loans to banks at low or zero interest" (through the discount window) would be another option.
He claimed that all these operations would provide reduce rates and stimulate aggregate demand.
But the central bank could also cooperate with treasury by buying debt back that the treasury has issued to match (he uses the term fund which is of-course not technically correct) the net spending (either from tax cuts or direct spending). I won't go into his description of this process which is fairly flawed.
However it leads him to reassert that "the Federal Reserve and other economic policymakers would be far from helpless in the face of deflation, even should the federal funds rate hit its zero bound."
So the consolidated US government (treasury and central bank) had according to Bernanke all the tools necessary to prevent a damaging deflationary situation that was generated by deficient aggregate demand. The financial sector was strong. Markets were resilient – and driven by effective entrepreneurship. There were strong financial institutions (read banks and oversight).
Any real disruption caused by a demand failure would be "both mild and brief". Very reassuring indeed.
Given all that – the question that I would have asked in the Senate process is this: How come the US has now been in a deep recession for nearly 2 years with unemployment rising to 10 per cent and 17 per cent if you add in those that have given up looking?
We can even forget about his complicity in the deregulation of the financial markets and all the rest of the arguments that have been made against his re-appointment on those grounds. Those arguments and the complicitiy are not unimportant – leopards don't change their spots after all (not often anyway). But we can leave those arguments aside.
If the federal reserve really had such effective tools – why haven't they worked?
If he thought then that the treasury could also guarantee no prolonged failure in aggregate demand because it could spend as much as it needed and Bernanke would buy back all the debt that was stupidly issued by the treasury then:
Why is the economy still in a deplorable state after 2 years? 2 years of very high unemployment and collapsing wealth (except among the bankers!) is not mild nor brief.
But moreover, why has been advocating fiscal conservatism throughout the crisis? Why wasn't he telling the US government committees that he has been appearing at that he believed the treasury should be spending as fast as his electronic "printing presses" could credit bank accounts with the funds?
The point is obvious: (a) Talk was cheap when there was no crisis; and (b) Monetary policy has been demonstrated beyond doubt not to be an effective policy instrument for stimulating aggregate demand. Fiscal policy clearly works but hasn't been applied sufficiently because the deficit terrorists (which include Bernanke) have bullied the US (and other) governments into putting the brakes on too early.
Bernanke's blind belief that monetary policy was king has been exposed as cant. He has pulled all the levers he discussed in this 2002 speech and while the central bank actions have restored functionality to the financial system very little aggregate demand stimulus has resulted.
These reasons should have been sufficient in my view for the US Senate to deny his re-appointment, quite apart from the fact that he was part of the process that created the mess in the first place.
3. State of the Union speech
I was going to mention the State of the Union speech but I have run out of time and so we will leave it for you – the kind reader – as homework. The following dot-points encapsulate my views on it. It is up to you to fill in the blanks. About 200 words per dot-point please.
It was terrible because …
It sucked because …
He has abandoned his leadership role because …
There is not a job in sight because …
Unemployment will persist because …
His support for Bernanke was reprehensible because …
He should sack his economic advisors but won't because …
Saturday Quiz
Back tomorrow – another harrowing challenge being prepared! Look out for it sometime tomorrow.