Flat earth theorists – dumb but sneaky
Last year (May 2009) I wrote that Flat Earth theory returns – budget aftermath. In that blog, I asked the reader to imagine the time when it was the mainstream view that the Earth was flat, representing an infinite plane. The view largely died at around 3 BC but there are still some characters out there who worry about falling off the South Pole. After all the Nile River runs for thousands of kilometres and drops barely a few feet over that distance which doesn't fit well with convexity does it? We have been referring to the hysterical commentators and lobby groups who are seeking to undermine the use of fiscal policy as deficit terrorists. However, when I think about term it actually gives these characters too much credit. Terrorists are probably smart and possess skill notwithstanding that they are usually misguided. So we have decided to resurrect the term I used in that blog last year – flat earth theorists (FETs) – because that association more adequately captures how mindless they are.

As I wrote last year, the current attacks on the use of budget deficits and the arguments being used to justify harsh austerity measures just when the economy needs more fiscal support has about as much wisdom as those who believed that the Earth was flat. We are being told that we are leaving massive tax burdens for our children. We are being told that governments which issue their currency will have to default.
Japan's new PM is claiming they have run out of money, hot on the heels of the US President making the same declaration last year. Funny thing that – the US government is still spending. In Japan's case, they are considering harsh new taxes to help them "pay" for their public debt and will revisit 1997 if they actually follow through on their misguided rhetoric.
We also have the hyperventilators who think inflation then hyperinflation is just around the corner despite the directional tendency at present being firm towards the deflationary path. Never mind, they are buying gold. I hope they have some cash left over to pay their taxes.
We are also hearing that the US's is likely to compromise its national security because it will run out of money and will not be able to buy enough armaments. The obvious retort is that perhaps if they buy less armaments and stop hassling people around the world so much their national security might actually rise. But the main focus is this worry that the nation is running out money.
So this strange and raucous collection of odd-balls – mainstream economists, politicians, conservative moralists, media barons, etc are making so much noise – that you would think we are all heading for the Armageddon – we are all about to fall over the edge!
In May last year and again today I affirm that I am staying grounded! Here is the reason why.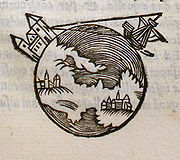 I suggest the FETs all take a look at this picture which was reproduced from the 1550 edition of On the Sphere of the World, which was a dominant astronomy textbook in Europe in the C13th and argued that the world was spherical.
Even with this, so-called "scientists" still kept standing in rivers with telescopes and followed the path of boats to prove they didn't disappear before their eyes.
Clearly, a thorough understanding of the way planets form and the physics that govern their relationships and the empirical evidence that emerges from that understanding negates Flat Earth theory categorically.
Equally a thorough understanding of the way modern monetary systems operate and the dynamics that govern the relationships between government and non-government and the overwhelming empirical evidence that emerges from that understanding tells us that:
The central bank sets the short-term interest rate based on its policy aspirations.
Government spending is independent of borrowing and the latter best thought of as coming after spending.
Government spending provides the net financial assets (bank reserves) which ultimately represent the funds used by the non-government agents to purchase the debt.
Budget deficits that are not accompanied by corresponding monetary operations (debt-issuance) put downward pressure on interest rates contrary to the myths that appear in macroeconomic textbooks about 'crowding out'.
The "penalty for not borrowing" is that the interest rate will fall to the bottom of the "corridor" prevailing in the country which may be zero if the central bank does not offer a return on reserves.
Government debt-issuance is a "monetary policy" operation rather than being intrinsic to fiscal policy, although in a modern monetary paradigm the distinctions between monetary and fiscal policy as traditionally defined are moot.
Governments do not spend by "printing money". They spend by creating deposits in the private banking system. Clearly, some currency is in circulation which is "printed" but that is a separate process from the daily spending and taxing flows.
There has been no mention of where they get the credits and debits come from! The short answer is that the spending comes from no-where. Suffice to say that a sovereign government, as the monopoly issuer of its own currency is not revenue-constrained. This means it does not have to "finance" its spending unlike a household, which uses the fiat currency.
Any coincident issuing of government debt (bonds) has nothing to do with "financing" the government spending.
The public debt burden will never be so large that our future generations will have to endure high taxes to meet the necessity to "pay the debt back".
But by their daily utterances in the public domain the deficit terrorists – I mean the Flat Earthers (FETs) out there – are still fighting against this knowledge drawn from understanding how the system actually works. They probably would have believed the Earth was flat too in another age.
For more information about the Modern Monetary Theory (MMT) principles summarised above please read – Deficit spending 101 – Part 1 – Deficit spending 101 – Part 2 – Deficit spending 101 – Part 3.
For example, last week (June 8, 2010), the UK Telegraph published a story – Ex-City minister Lord Myners attacks Labour's economic record
Lord Myners is the classic example of how so-called progressive parties have messed up when they have been in government. He is an ex banker and was brought into Gordon Brown's government in October 2008, as credit was drying up everywhere. He is not a Labour man at all although he now holds a Labour peerage.
But the point is that the so-called progressive parties have undermined themselves repeatedly during the neo-liberal years by thinking it is clever to bring in these characters who haven't the slightest empathy with the working class and the unemployed. So we are seeing neo-liberal FETs clogging up key economic policy making positions in our governments and undermining progressive policy development.
Anyway, now the Labour party is out of office, like a rat, Myners has now "launched an extraordinary attack on the Labour government in which he served". However, he is a bit late, the ship has already sunk.
The UK Telegraph wrote that:
Lord Myners said that though there would have to be considerable spending cuts … The peer said he had been frustrated by his ex-colleagues' "flawed thinking" on the economy. He also insisted there was "nothing progressive" about running up huge public debt … There is nothing progressive about a government that consistently spends more than it can raise in taxation and certainly nothing progressive that endows generations to come with the liabilities incurred with respect to the current generation.
First, I agree with him on one point. There is nothing "progressive" about increasing public debt. In fact, it is a demonstration of the hold that the neo-liberals have on policy that governments are still issuing public debt at all.
The current way that fiscal policy is conducted – which sees the government issuing debt $-for-$ to match any spending over tax revenue – is an artefact from the old gold standard, convertible currency, fixed exchange rate days which ended in 1971. Governments after that time were no longer revenue-constrained given the fiat nature of the currency.
As a result, the conservatives had to work out another way to keep government activity low except where spending or handouts would benefit the top-end-of-town, then all the FET was abandoned before you could blink. They realised that rising public debt carries such opprobrium that they would hassle governments to maintain (and even expand) the institutional machinery that manages the public debt stock for the government.
The point is that the progressive position would be to abandon all public debt issue in recognition that: (a) the government is not revenue-constrained; and (b) the public debt issuance is just a form of corporate welfare.
Please read my blog – On voluntary constraints that undermine public purpose – for more discussion of this topic.
But equally, that is not the position that Myners takes. He is in the FET camp failing to understand that the debt is just non-government wealth and the interest payments non-government income – both of which are desirable.
Like all FETs, Myners is obsessed with his opinion and characterises it by constant reference to largely meaningless financial ratios like the budget deficit to GDP ratio and and the public debt ratio.
So a progressive would look at the rising debt ratio and say so what? Myners get stuck at that point because he thought the ratio was it! Wrong. A rising public debt ratio (of the proportions we have witnessed in the last two years) is a sign that something drastic has happened to private spending – a collapse no less.
And a collapse in private spending means that output and employment growth will be also heading south and urgent fiscal intervention is required.
Second, if you then understand that point which is basic Macroeconomics 101, then it is clear you will also disagree with the current policy bias towards cutting government spending. At this point in time, with private spending still very subdued and in danger of going backwards again, the need for fiscal support is manifest.
In Australia, the Australian Bureau of Statistics released its latest Dwelling Unit Commencements data for March yesterday (June 16, 2010).
It showed that residential construction in Australia is only growing because of the public housing projects which were part of the second fiscal stimulus last year. Without the public spending, that industry would be in deep trouble.
There are stories like this popping up every day in every nation.
The lesson – cut government spending now and you will drive your economies back into recession and the public debt ratio will rise even faster.
Third, his statement reflects an ignorance of the role that fiscal policy plays in supporting aggregate demand and providing the "finance" for private saving to be maintained at desired levels.
Basic Macroeconomics 101 tells us that at any point in time, full capacity output is determined by the employment level consistent with all workers being able to work their desired hours times labour productivity (how much each unit of working hour produces). That is what we think of when we talk about aggregate supply. It is the maximum that the economy can produce given the current technology and desires of the available workforce.
On the other side of the equation, total spending (which buys this output) is compromised on private, public and external components. So household consumption and private investment plus government spending plus net exports constitute what we call aggregate demand.
If aggregate demand happens to be sufficient to absorb all the output that the fully employed economy produces then we are in a desirable state. Households will be able to save as much as they desire and all available workers will be able to find a job (subject to some moving between jobs and being unemployed for short periods of time only).
So from that state, imagine a fall in private investment. If nothing else happens, then aggregate demand will fall short of the full employment output level.
The normal inventory-cycle view of what happens next goes like this. Output and employment are functions of aggregate spending. Firms form expectations of future aggregate demand and produce accordingly. They are uncertain about the actual demand that will be realised as the output emerges from the production process.
The first signal firms get that demand is falling is in the unintended build-up of inventories. That signals to firms that they were overly optimistic about the level of demand in that particular period.
Once this realisation becomes consolidated, that is, firms generally realise they have over-produced, output starts to fall. Firms layoff workers and the loss of income starts to multiply as those workers reduce their spending elsewhere.
At that point, the economy is heading for a recession.
Short of a dramatic rise in net exports, the only other way to avoid these spiralling employment losses is for an expanding public deficit.
If the public deficit does rise to offset the fall in private spending then aggregate demand can continue to support the high levels of output. Households will continue to reach their desired saving levels and employment will not fall.
What the FETs are encouraging governments to do, however, is exactly the opposite. At a time when private spending is either flat or falling and in both cases inadequate to support economic growth, they want governments to also withdraw its net spending position. It is clear that this worsens the situation because it drives the output gap up – that is, the difference between potential or full employment output and actual output, the latter being determined by the state of aggregate demand.
But as a FET, Myners hasn't any comprehension of this. He was quoted as saying (reflecting back on his short stay in government):
I found it very frustrating to sit in meetings with some of my fellow ministers talking about creating jobs in the green economy, creating jobs in biotechnology. The Government can't create jobs. The Government can create the environment which is conducive to the creation of jobs but it cannot create jobs and we mislead ourselves if we believe it can.
So I guess he didn't have a real job himself while he was on the public purse and I imagine he has refunded all the salary he received during this period (net of the dole) because he was really unemployed.
Governments create millions of jobs. They create jobs every day – many of which serve our nations and communities with distinction. Public hospital staff; teachers and support staff in public schools; national park rangers; national broadcasters; defence personnel; fire-fighters; and on and on an on. All have real jobs that add value to the nation.
The government can always create jobs. It can always fund an unconditional minimum wage employment offer to anyone who cannot find work elsewhere.
FETs really need to take a walk to the edge!
There was a very rare piece of journalistic insight in the UK Guardian yesterday (June 16, 2010) in this article – In a recession, it's government's job to lean against market logic.
Written by one Bryan Gould, we were told that "John Maynard Keynes believed that government should enact 'counter-cyclical' fiscal policies, which go against the tide of the business cycle" and that:
It is a common assumption in rightwing thinking that the government should be regarded as merely an individual person or corporation writ large, and that it should therefore always act as a prudent individual would do. Although most individuals would plead guilty to the charge of borrowing in order to build or acquire an asset (like a house), the government – according to this view – must never spend beyond its means. In a recession, when individuals stop spending and investing, and the government's tax revenues therefore decline, the government must also slam on the brakes.
Gould is referring to the erroneous claim by the FETs (and all mainstream economists) that the government budget is analogous to the household budget.
A national government in a fiat monetary system has specific capacities relating to the conduct of the sovereign currency. It is the only body that can issue this currency. It is a monopoly issuer, which means that the government can never be revenue-constrained in a technical sense (voluntary constraints ignored). This means exactly this – it can spend whenever it wants to and has no imperative to seeks funds to facilitate the spending.
This is in sharp contradistinction with a household (generalising to any non-government entity) which uses the currency of issue. Households have to fund every dollar they spend either by earning income, running down saving, and/or borrowing.
Clearly, a household cannot spend more than its revenue indefinitely because it would imply total asset liquidation then continuously increasing debt. A household cannot sustain permanently increasing debt. So the budget choices facing a household are limited and prevent permanent deficits.
These household dynamics and constraints can never apply intrinsically to a sovereign government in a fiat monetary system.
A sovereign government does not need to save to spend – in fact, the concept of the currency issuer saving in the currency that it issues is nonsensical.
A sovereign government can sustain deficits indefinitely without destabilising itself or the economy and without establishing conditions which will ultimately undermine the aspiration to achieve public purpose.
Further, the sovereign government is the sole source of net financial assets (created by deficit spending) for the non-government sector. All transactions between agents in the non-government sector net to zero. For every asset created in the non-government sector there is a corresponding liability created $-for-$. No net wealth can be created. It is only through transactions between the government and the non-government sector create (destroy) net financial assets in the non-government sector.
This accounting reality means that if the non-government sector wants to net save in the currency of issue then the government has to be in deficit $-for-$. The accumulated wealth in the currency of issue is also the accounting record of the accumulated deficits $-for-$.
So when the government runs a surplus, the non-government sector has to be in deficit. There are distributional possibilities between the foreign and domestic components of the non-government sector but overall that sector's outcome is the mirror image of the government balance.
Gould then said of the conservative (FET) position:
This completely overlooks the responsibility of governments during a recession to lean against the logic of the market. As Keynes saw, a government that behaves in a recession as everyone else behaves will simply make the recession worse. It is the special role of government in that situation not to retrench but to use its huge resources, its ability to create new money through "quantitative easing", and its responsibility to take the longer view and to act in the common interest, in order to stimulate the level of economic activity so as to shorten the recession and thereby restore its own financial position as soon as possible.

A government that ignores that responsibility and focuses narrowly on its own short-term financial position is likely to see the recession last longer with inevitable longer-term consequences for its own tax revenues and finances. A braver government that lives with a deficit as its contribution to a counter-recessionary strategy will see its tax revenues recover faster and – paradoxically, it may seem – bring the deficit under control sooner than it would otherwise have done.
Gould is a bit loose around the edges (for example, his reference to quantitative easing is erroneous) but generally, he clearly understands the role of fiscal policy.
The point is that if you are worried (needlessly) about the financial ratios, your only hope of easing your nerves is to advocate growth. Austerity is anti-growth and self-defeating.
So the Flat Earth Theorists are really conspiring to undermine the living standards around the world.
Talking about conspiracies …
I was sent a copy of an article that appeared in the Cato Journal Vol 3 No 2, which was published in 1983. The paper is entitled – Achieving a Leninist Strategy – and in case you are wondering is about designing a campaign to privatise the US social security system.
If you were ever in any doubt that conspiracies exist you might like to read it. It is comical but reflects how dangerous the right-wing FET think tanks are.
The Cato Institute claim they are committed to "limited government, free markets, individual liberty, and peace". Which is code for total joke!
The background to the paper is that the manic-right wing Heritage Foundation held a conference in 1982 – Rebuilding Social Security. You can read historical documentation from that time HERE – but only if you want your time.
Reading any contemporary document attacking the US social security system will appear to be identical. In the early 1980s (that is 30 years ago) the right were predicting the impending collapse of the American system – the fund would go broke and the fiscal strain would be unsustainable. Exactly what they are saying again – but now – 30 years on.
The article referred to was presented at the conference and its authors were Stuart Butler and Peter Germanis, both from the Heritage Foundation although Butler was also a director at the Cato Institute.
The paper's title reflects their claim that:
Unlike many other socialists at the time, Lenin recognized that fundamental change is contingent both upon ta movement's ability to create a focused political coalition and upon its success in isolating and weakening its opponents … As we contemplate basic reform of the Social Security system, we would do well to draw a few lessons from the Leninist strategy (emphasis in the original).
So they are outlining the beginnings of a political strategy. The refute the idea that taxpayers will be easily mobilised if someone mounts a simple argument that the social security system "would be vastly improved if it were restructured into a predominantly private system".
They claim there is a "firm coalition behind the present … system" which is effective. Given that:
we must recognize that we need more than a manifesto … What we must do is construct a coalition that will gain directly from its implementation. That coalition should consist not only those who will reap benefits from the IRA-based private system … proposed but also the banks, insurance companies, and other institutions that will gain from providing such plans to the public.
So appeal to vested interests who gain from the privatisation to become the vanguard to lobby for legislative change.
They also outline a plan to calm the existing beneficiaries that might perceive they would lose. They specifically identify the "political power of the elderly" and thus propose "neutralizing the most powerful element of the coalition that opposes" the privatisation.
Their plan of action is then outlined. They first wanted to start white anting the then system:
The first element consists of a campaign to achieve small legislative changes that embellish the present IRA system, making it in practice a small-scale private Social Security system that can supplement the federal system. As part of this campaign, the natural constituency for an enlarged IRA system must be identified and welded into a coalition for political change. If these objectives are achieved, we will meet the next financial crisis in Social Security with a private alternative ready in the wings – an alternative with which the public is familiar and comfortable, and one that has the backing of a powerful political force.
So change the system by stealth. So much for liberty!
The next proposal confirms their intentions:
The second main element in our reform strategy involves what one might crudely call guerrilla warfare against both the current Social Security system and the coalition that supports it.
This guerrilla war involves a mass indoctrination campaign, and using "methods of neutralizing, buying out, or winning over key segments of the Social Security coalition" to undermine support for it. "The aim is to weaken political support for the present system when the next financial crisis appears".
So this leads them to propose the private model.
They see this as a political process and involves "(b)uilding a constituency for Social Security reform" which:
… requires mobilizing the various coalitions that stand to benefit from the change, Such a constituency is already extensive, but mobilizing it could become a self-generating process … The business community, and financial institutions in particular, would be an obvious element in the constituency. Not only does business have a great deal to gain from a reform effort designed to stimulate private savings, but it also has the power to be politically influential and to be instrumental in mounting a public education campaign … The banking industry's ability to lobby and garner support for the repeal effort led many in Congress to reverse their earlier votes. Financial institutions, likewise, have been extremely effective in marketing various
types of savings plans …
So drag in the corporate sector who see the dollars that will flow to them as a result of the privatisation.
They set out an elaborate plan to "weaken" the opposition.
This paper from two very senior conservative voices at the time is a very clear demonstration of the way in which these think tanks work to push their political and ideological position.
Conclusion
That is enough for today!