When you've got friends like this … Part 6
Today I continue my theme "When you've got friends like this" which focuses on how limiting the so-called progressive policy input has become in the modern debate about deficits and public debt. Today is a continuation of that theme. The earlier blogs – When you've got friends like this – Part 0 – Part 1 – Part 2 – Part 3 – Part 4 and Part 5 – serve as background. The theme indicates that what goes for progressive argument these days is really a softer edged neo-liberalism. The main thing I find problematic about these "progressive agendas" is that they are based on faulty understandings of the way the monetary system operates and the opportunities that a sovereign government has to advance well-being. Progressives today seem to be falling for the myth that the financial markets are now the de facto governments of our nations and what they want they should get. It becomes a self-reinforcing perspective and will only deepen the malaise facing the world.

First up today was the Op Ed (August 31, 2011) – No excuse for inaction – by Adam Posen who is an external member of the Bank of England's nine-member Monetary Policy Committee. He certainly wants more policy action given the danger at the moment faced by nations dipping back into recession.
He acknowledges that "most economists … [have] … acknowledged the grim outlook for the advanced economies" at present.
His diagnosis?:
Too much attention has been paid, however, to the failings of fiscal policies and to the shortfall from effects of earlier quantitative easing. Further asset purchases by the G7 central banks are needed to check not just a downturn, but the lasting erosion of productive capacity and of debt sustainability – especially when even justified fiscal and financial consolidation is undercutting short-term recovery. Easier monetary policy will increase the odds of other policies improving, and those policies' effectiveness when they do.
To which I said to myself something unprintable.
He correctly says that there "is no credible threat of sustained higher inflation in the advanced economies that should restrain central bank action" and that
"(c)redit and broad money aggregates are barely growing and current account deficits are slowly shrinking" and that "interest rates on long-term G7 government bonds display no consistent rise in inflation expectations".
So why does he say that fiscal consolidation (aka austerity aka scorching the domestic economic earth) is "justified"? If all these conditions are benign then a fiscal expansion is a much more direct way of stimulating aggregate demand than QE.
As I explain in this blog – Quantitative easing 101 – QE can only really stimulate demand by lowering longer-term (investment) interest rates.
It was erroneously thought that QE made it easier for banks to lend by adding reserves. Clearly that view is false. Please read the following blogs – Building bank reserves will not expand credit and Building bank reserves is not inflationary – for further discussion.
Further, hoping that a low interest rate environment would stimulate investment ignored the fact that business confidence is extremely low. Banks are not reserve-constrained in their lending. The major constraint is a lack of credit-worthy customers lining up for loans. The dearth of borrowers relates to the extraordinary uncertainty at present driven by a very sluggish growth environment which is being exacerbated by the foolish implementation of fiscal austerity.
In this regard, Posen offers this puzzling assessment of the QE actions to date:
True, the quantitative easing measures undertaken by the world's central banks since late 2008 have not created a strong, sustained recovery. I warned in October 2009 that mechanistic monetarism could not be relied upon, that the stimulus from the stock of assets kept on central banks' balance sheets would diminish faster than many expected, and thus that the only way central banks would know that they had made sufficient asset purchases was when the sustained recovery of domestic demand was achieved. That is an argument for G7 central banks to purchase more assets, while removing any fears of overshooting with such purchases. It is not a reason to give up on the effort.
So why hasn't the substantial asset purchases to date been sufficient?
He claims that the QE in Britain and the US have had a "positive significant effect on consumption, on the relative prices of riskier assets, on credit availability, and on liquidity in the financial system" but that the dose wasn't large enough.
Please read my blog – Quantitative easing 101 – for a detailed discussion which would challenge that point.
However, I agree with his statement that "(t)here are no negative side-effects to speak of from greater asset purchases, beyond some politically induced nausea" and that "all the claims of gold bugs and defenders of undervalued exchange rate pegs that QE was debasing the currencies of activist central banks have been proven unfounded".
Finally, Posen uses a soccer/hockey/whatever analogy:
When you are the goalkeeper, there is no excuse for inaction, even if it is embarrassing when some shots do get past you, and even if your teammates fail to play defence. Additional monetary stimulus is the last line of defence for the advanced economies today. G7 central banks should purchase more assets if we are to have any hope of our economies ever catching up.
I agree that now is not the time for inaction and that the dive in world growth is directly related to the political malaise that has beset the advanced economies. It is clear that the conservatives do not have a growth agenda and are using their power (media, corporate etc) to white ant the nascent, fiscal-driven recovery for their own purposes.
But I don't consider monetary policy in the form of QE to be "the last line of defence". The evidence does not support an argument that QE is a very effective tool for expanding aggregate demand.
The main problem at present is the lack of overall demand. Fiscal policy tools are perfectly suited to stimulating demand – directly and quickly. The problem hasn't been that the QE dose has been too conservative. The problem is that the fiscal expansions were too small in the first place and have been withdrawn too quickly.
Then I noted an article (August , 2011) – 4 Liberal Myths that Distort the Deficit Debate – in the Fiscal Times which has been described as "tycoon-funded propaganda", the tycoon in this case being the deficit-terrorist supremo (the bank roller) Peter G. Peterson.
The Fiscal Times claims it is:
… an editorially independent enterprise, written, edited and produced by experienced professional journalists, that provides an array of original reporting and analysis.
If you examine the content you won't find any articles about the "Million Conservative Myths that Distort the Deficit Debate.
See this interesting article (January 6, 2010) – Conservative Mogul Buying Up Reporters to Promote His Regressive Agenda – by William Greider which documents the origins of the "Fiscal Times".
I also note our friend Mark Thoma who often claims MMT is simply wrong but refuses to debate that claim while also continuing to claim there is a money multiplier and banks lend reserves is listed as among the "Columnists, Analysts, Bloggers" who contribute to this rag.
Anyway, article noted above claims – after claiming that "How to Lie with Statistics is not just a book title" that:
The U.S. will never solve its debt and deficit problems unless we face reality … Here's a reasoned take on a few of the most frequently garbled arguments making headlines these days.
Note: a balanced argument would not assume that the US has "debt and deficit problems" at the outset. What problems? The mainstream media just assert that now as if it is a truth.
Anyway, the fourth left-wing myths are:
1. "The Left proclaims that President Obama "inherited" the deficit crisis, and that it stemmed from the Bush tax cuts, two wars and the passage of the Medicare drug program".
I note that some Democrats say this and are just as wrong as the Republicans who claim that "Longer term, entitlement outlays threaten our outlook" (which is one of the responses the Fiscal Times makes to the "myth".
There is no deficit crisis. There is an unemployment crisis. Mass unemployment indicates deficits are too small not too large. Causality goes from mass unemployment to deficit not the other way around.
2. "Another favorite liberal narrative is that corporations don't pay taxes".
I agree that the left is crippled by these sorts of responses to the budget debate. They take it as written that there is a debt problem but then argue about who should pay to fix it up. One might want corporations to contribute more to tax revenue on equity grounds but any argument that says that we need higher taxes so that we can fix the deficit up without as many cuts to spending is missing the point completely. Unfortunately, the "left" falls into this hole often. See the discussion under the next "myth".
3. "… the wealthy should pay a little more."
I also agree that the left is crippled by these sorts of responses to the budget debate. They take it as written that there is a debt problem but then argue about who should pay to fix it up.
Such arguments play in to the hands of the conservatives. They are not germane to the current problems facing the US. At present, the only reason you would want the high income earners to pay more would be on equity grounds. There is no inflation threat and an urgent need for higher aggregate demand. Raising any taxes is contra-indicated.
So if you wanted to raise the taxes on the rich now you would certainly be looking for expansionary measures to ensure that the budget deficit increased. There is always the capacity within fiscal policy to increase spending while changing its composition (across sectors and income cohorts). That is the beauty of fiscal policy as a counter-stabilisation tool.
4. "Many on the left have argued that we should not cut government spending, suggesting that every dollar goes to programs essential to the survival of the United States."
The response of the Fiscal Times is to argue that at least " $100 billion of projects and programs" in the current US Budget "can be eliminated" because they are wasteful duplications.
This raises an interesting point.
I do not support public waste – which I measure in the way real resources are utilised by the public sector and the benefits of that usage distributed. Given our environmental imperatives (climate change etc) all of us should be seeking to economise on real demands on the environment and seek less environmentally-damaging ways to employ people productively and add values to our lives.
But presumably the "wasteful" spending is still entering the aggregate demand stream and helping drive growth in output and employment. In that sense, if you eliminate "waste" and "duplication" that is actually part of aggregate spending you have to replace it with less wasteful spending overall.
Cutting "wasteful" demand will not help the economy overall. The problem at present is a lack of aggregate demand. The distribution of aggregate demand should always be part of the debate but not at the expense of the growth relative to available productive capacity. At present that growth is deficient. Evidence: entrenched high levels of unemployment.
To take this out of the public sector spending is wasteful bias I would add that a lot of private spending (and production) is destructive and wasteful. All those cheap imports we now have available – plastic things that fall apart as soon as you open them etc – are wasteful in my view. But as it stands they represent jobs and livelihoods and so serve an important function.
The Fiscal Times concludes by saying:
We are in trouble, and it is time for both the left and right to discard the tired poll-tested canards that now pass as "truth" and face facts. We have work to do.
I didn't actually read any right-wing "canards" mentioned.
The US does have work to do. The main problem is that there is no funding to make the work operational. At present, to get more people working requires higher public net spending (either through tax cuts and/or spending increases). I favour spending increases.
The poorly framed commentary is not restricted to the right however. For many years, the Dollars and Sense Organisation in the US which markets itself as "real world economics", has been published magazines and books which aim to challenge the mainstream assumptions about the way the economy operates.
The Dollars & Sense Organisation says it:
… publishes economic news and analysis, reports on economic justice activism, primers on economic topics, and critiques of the mainstream media's coverage of the economy. Our readers include professors, students, and activists who value our smart and accessible economic coverage.
They also publish books which question "the assumptions of mainstream academic theories and empowering people to think about alternatives to the prevailing system".
It emerged out of the 1970s oil price shocks and was sponsored by URPE (the Union for Radical Political Economics) – the spearhead of Marxist and radical thought in America. It "sought to challenge the mainstream media's account of how the US economy works by publishing popularly written, critical articles in an accessible format" and they say that consistent with its origins it is "still working as a collective to meet the need for left perspectives on current economic affairs".
In its most recent editorial (August 25, 2011 edition) we read:
Public ownership of capital and democratic control over credit is the only way to avoid the veto of the bond market (being felt so painfully in Europe at the moment) …
Eek! Exactly which veto are we talking about here?
Who exactly issues the US dollar? Where does government spending come from? Please read my blog – Who is in charge? – for more discussion on this point.
From Modern Monetary Theory (MMT) you learn that government spending comes from nowhere and enters the non-government sector via the government crediting bank accounts in the units of currency that it issues. The bond markets do not have "money" that the government hasn't already spent.
Governments issue debt because they are still suffering the hangover of the gold standard. It suits the conservative agenda that governments continue to issue debt unnecessarily because the neo-liberals can use the media they control to twist the public debate in their favour by misrepresenting the increase in public debt – as if it is a burden on the private sector.
If only the private sector realised that public debt is private wealth.
But below the ideological surface, MMT shows that debt-issuance is a monetary policy operation which permits the government (via its central banking arm) to drain excess bank reserves (caused by the budget deficits) and therefore allow the central bank to maintain a non-zero interest rate without offering a support rate on the reserves.
MMT categorically demonstrates that bond issuance is not a funding operation but an interest-maintenance operation conducted by the central bank. The currency-issuing government doesn't need to fund its spending unlike a household or a business firm which uses the currency.
If a currency-issuing government wanted to increase pension cheques each fortnight by some margin they wouldn't get the funds from the bond markets. Some computer operators in the finance departments of government would simply alter some computer program to make the increase possible. Bank credits would be increased accordingly.
Who in the world thinks that a national government consults with the bond markets before they spend. The power is always in the hands of the government. The bond markets will always have a thirst for government debt when there is no solvency risk (that is, most nations excluding Eurozone members).
The Dollar and Sense claim that the bond market has a veto is as ridiculous as the recent article (August 31, 2011) – Economist Calls Entitlements A Massive Ponzi Scheme And Says US Is Actually $211 Trillion In Debt – which quotes Laurence Kotlikoff claiming the that pensions and medicare policies were unfunded liabilities that would send the nation broke.
There is no such thing as a currency issuing government going broke in terms of commitments denominated in its own currency. Ponzi schemes only have any meaning when the originator is a currency user.
Funny about that – both Dollars and Sense and Laurence Kotlikoff are located in Boston!
So how might Dollars and Sense rationalise this apparent neo-liberal line of argument? Are they thinking that there is some political constraint?
First, the concept of a veto implies some external power – that government spending has to go before the bond markets who give it the thumbs up or down. That causality never applies to a national currency issuing government.
Second, the bond markets – which represent wealth and power typically (although many worker pension schemes are tied up in fixed income assets) – clearly do have the capacity to lobby governments. This article (August 31, 2011) – Some U.S. firms paid more to CEOs than taxes: study – provides some discussion on the power of corporate America in terms of manipulating governments.
But that is a different matter altogether – and has nothing to do with economic necessity or vetoes. The elites have always tried to defend and maintain their hegemonies. Inasmuch as we are passive they get away with it.
Third, we might be generous and assume that the Dollars and Sense editorial was pushing that line – the political rather than economic line. But then if you read further you will see that they have a very mainstream grasp of macroeconomics.
Take this recent article (August 5, 2011) as an example – Jobs, Deficits, and the Misguided Squabble over the Debt Ceiling. This article outlines a standard Keynesian "deficit dove" position.
Deficit doves think deficits are fine as long as you wind them back over the cycle (and offset them with surpluses to average out to zero) and keep the debt ratio in line with the ratio of the real interest rate to output growth.
Deficit doves are within the same species as the "deficit hawks" in that they believe that the long-term deficits pose serious risks although short-term deficits might be necessary during a recession. A standard aspiration for a deficit dove is thus to propose the government runs a "balanced budget" over the business cycle which is clearly dim-witted as a stand-alone goal and un-progressive in philosophy.
From the dove viewpoint, public borrowing is constructed as a way to finance capital expenditures. Since government invests a lot in infrastructure and other public works, those investments should at least allow for a deficit. This was already recognised by the classical economists as a golden rule of public finance.
The problem that deficit doves ignore is that the budget outcome is not autonomous – that is, a deterministic balance that is controlled by the government. The budget outcome in a modern monetary economy is endogenous and determined, ultimately by the non-government saving desires. While the government can try to reduce its deficit by cutting net spending if this runs, for example, against the desires of the private domestic sector to increase their saving ratio (assuming, say a current account deficit) then the government's aspirations will be thwarted.
The fiscal drag will combine with the spending withdrawal of the private domestic sector (and the leakage from net exports) and the economy will contract further pushing the deficit back up via the automatic stabilisers.
It is impossible for a government in a fiat monetary system to guarantee a budget deficit outcome if it is working against the behaviour of the non-government sector.
Context is everything. The reason that the deficit dove position is unsound at the national level is because they ignore the context. For example, if a government is facing an external deficit and the private domestic sector are net saving (spending less than they are earning) then to maintain economic growth the government has to be running a budget deficit.
So unless a nation can generate significant current account surpluses, then the balanced-budget over the cycle rule that deficit doves hold out will be equivalent to aiming for the private domestic sector to be dis-saving and becoming increasingly indebted over the same cycle (to the extent that the external account is in deficit).
The average extent of this private domestic sector deficit position would mirror the average current account deficit (if a budget balance was achieved). This would be tantamount to returning to the unsustainable growth path where the private domestic sector accumulates ever increasing levels of debt. That is total idiocy and reflects a lack of understanding of the way the monetary system and the aggregate relationships between the government and non-government sector work. –
Deficit doves actually make the political case for full employment harder to make because they are held out as the "left wing" of the debate. So regression towards to mean takes us further to the right. Centrist positions now are out there a fair distance to the right and a long way from what we used to call the centre!
Anyway, back to the Dollars and Sense article. After outlining the standard Keynesian dove position you then read the following:
Why are budget deficits problematic? Deficits can cause inflation. They can also put upward pressure on interest rates, and these higher interest rates, by making borrowing more expensive, can restrict the accessibility of capital to businesses and households, which can be a drag on investment and growth. Over the long term, this sort of chronic under-investment can be substantial, as can its effects on our living standards down the road. (For the wonks and/or economics majors among you, economists refer to this as "crowding out," as in government borrowing may crowd out private borrowing and investment). It is worth worrying about, for sure.

The "good news" is that, in this depressed economy, interest rates are extraordinarily low. Inflation is also a minor concern; indeed "deflation" is arguably a greater threat … At this moment in time, borrowing is especially easy and cheap because there are lots of potential investors sitting on big piles of cash and, further, in a depressed economy there are relatively few attractive alternatives-especially for risk averse investors.
That tells me that the Dollars and Sense "Collective" doesn't grasp basic macroeconomics as it applies to a fiat monetary system.
First, deficits can cause inflation just like any nominal spending expansion (private or public) that drives nominal (money-value) aggregate demand beyond the real productive capacity of the economy to absorb it and respond to it in real (output) terms.
But budget surpluses can also cause inflation in the same way. Take a case where there is a booming net exports sector and the private sector is not saving. Then if the budget surplus is too small total aggregate demand growth might outstrip real productive capacity. The only constraint the government faces in terms of its spending capacity is the real productive capacity. Obviously, when there is significant idle capacity that constraint is not binding at present.
Second, how do deficits put upwards pressure on interest rates? The dynamic is the reverse. The deficits add to bank reserves which stimulate competition among the banks to reduce their excess reserve holdings which pushes rates down (in the absence of a support rate being paid by the central bank).
The Dollars and Sense quote reads like it comes out of a mainstream macroeconomics textbook – using terms like "crowding out". The causality in those models is that the government spending competes with private uses for finite "savings" in a loanable funds market, which is a aggregate construction of the way financial markets are meant to work in mainstream macroeconomic thinking. The original conception was designed to explain how aggregate demand could never fall short of aggregate supply because interest rate adjustments would always bring investment and saving into equality.
At the heart of this erroneous hypothesis is a flawed viewed of financial markets. The so-called loanable funds market is constructed by the mainstream economists as serving to mediate saving and investment via interest rate variations.
This is pre-Keynesian thinking and was a central part of the so-called classical model where perfectly flexible prices delivered self-adjusting, market-clearing aggregate markets at all times. If consumption fell, then saving would rise and this would not lead to an oversupply of goods because investment (capital goods production) would rise in proportion with saving. So while the composition of output might change (workers would be shifted between the consumption goods sector to the capital goods sector), a full employment equilibrium was always maintained as long as price flexibility was not impeded. The interest rate became the vehicle to mediate saving and investment to ensure that there was never any gluts.
So saving (supply of funds) is conceived of as a positive function of the real interest rate because rising rates increase the opportunity cost of current consumption and thus encourage saving. Investment (demand for funds) declines with the interest rate because the costs of funds to invest in (houses, factories, equipment etc) rises.
Changes in the interest rate thus create continuous equilibrium such that aggregate demand always equals aggregate supply and the composition of final demand (between consumption and investment) changes as interest rates adjust.
According to this theory, if there is a rising budget deficit then there is increased demand is placed on the scarce savings (via the alleged need to borrow by the government) and this pushes interest rates to "clear" the loanable funds market. This chokes off investment spending.
So allegedly, when the government borrows to "finance" its budget deficit, it crowds out private borrowers who are trying to finance investment. The mainstream economists conceive of this as the government reducing national saving (by running a budget deficit) and pushing up interest rates which damage private investment.
The analysis relies on layers of myths which have permeated the public space to become almost self-evident truths. This trilogy of blogs will help you understand this if you are new to my blog – Deficit spending 101 – Part 1 – Deficit spending 101 – Part 2 – Deficit spending 101 – Part 3.
The basic flaws in the mainstream story are that governments just borrow back the net financial assets that they create when they spend. Its a wash! It is true that the private sector might wish to spread these financial assets across different portfolios. But then the implication is that the private spending component of total demand will rise and there will be a reduced need for net public spending.
Further, they assume that savings are finite and the government spending is financially constrained which means it has to seek "funding" in order to progress their fiscal plans. But government spending by stimulating income also stimulates saving.
Dollars and Sense might reply and say they didn't imply this causality. But why would they say "For the wonks and/or economics majors among you, economists refer to this as "crowding out," as in government borrowing may crowd out private borrowing and investment". That is an appeal to the mainstream myth.
They could argue that the central bank might increase interest rates because they fear that the budget deficits will add to inflation. That is just an acknowledgement that central banks set the interest rate. Interest rates rise when there are budget surpluses and often fall when there are budget deficits. In other words, there is no empirically robust relationship ever been found to show that higher budget deficits are always associated with higher interest rates. Part of the reason for that lack of relationship is the fact that the budget deficit can rise when times are bad (via the automatic stabilisers).
Further, there is scant evidence to show that the sensitivity of investment to changing interest rates is high independent of expected earnings streams. When aggregate demand is high enough for the central bank to start hiking rates, profits are normally buoyant and earnings strong which encourages more investment.
Conclusion
I admire organisations that try to run counter to the mainstream and improve the lives of ordinary people. But in the case of Dollars and Sense, their macroeconomics input leaves a lot to be desired and they become part of the problem rather than part of the solution. They often, for example, rely on Paul Krugman as their "progressive oracle" – a big mistake.
Upcoming Conference
I agreed to speak at this Conference – Building a Creative Economy which might be of some interest to readers. The Conference is being held in Sydney on the last weekend in October. I am talking on the Saturday of the two day event. I expect there will be some interesting discussions although this is not a MMT conference.
The Conference is a grass-roots effort and is trying to promote alternative ways of thinking about the economy and our lives which sit with social justice and environmental sustainability. It deserves support for that reason if nothing else.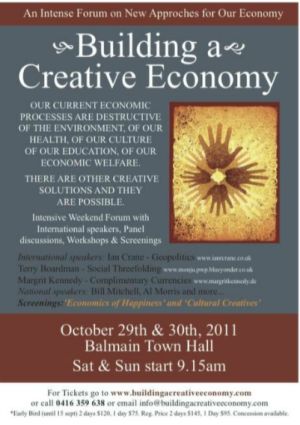 That is enough for today!