Keynesian and regular economics
Everywhere I look I find examples of politicians and leading lights making macroeconomic statements without understanding macroeconomics. Given that these statements have policy implications that impact on real people making such erroneous statements – no matter how well-intentioned one is – is a dangerous thing that we should avoid. Imagine if I suddenly started to make claims about the strength of bridges such that they would fall down if my advice was taken. There would be a law against that. One notable economist apparently thinks that macroeconomics is not "regular economics" – but rather some far-fetched misplaced set of ideas that would be better forgotten. My view is different. A correctly specified macroeconomics provides a safeguard against falling into logical traps – such as the fallacy of composition. The so-called "regular economics" is a fantasy world where the angels on the pinheads are assumed away into one representative angel who knows all and never makes a mistake (on average). If you want to understand how mass unemployment arises and how it is solved then the mainstream version of "regular economics" will leave you in the dark.

What are some examples?
1. Tax us more, say wealthy Europeans – which reports that several super-rich people in France have signed a letter "begging to make a special contribution to the treasury to help drag France out of the financial crisis". This follows similar stunts in Germany (the "tax me harder" group) and Italy (the "boss of Ferrari saying that as he was rich, it was only "right" that he stump up more cash"). None of these gestures will solve the problem.
2. Every Day Is a Rainy Day – which provides us with "Eric Cantor's rule: Money to help those affected by Irene will have to come from somewhere else in the federal budget". This will worsen the problem.
3. Harvard professor Robert Barro in the Wall Street Journal (August 24, 2011) – Keynesian Economics vs. Regular Economics – claiming that paying an unemployment benefit would cause the unemployed not to work hard enough (overlooking the fact they are not working at all) and also that such a public payment would lead to those that are working to work less – meaning public spending has zero impact. This is lunacy.
First, why won't the "tax the rich" solve the problem?
The press coverage quoted one rich German who had suggested they increase the marginal tax rate on high income earners (lowered under Gerhard Schröder from 53 per cent to 42 per cent):
I would say to Merkel that the answer to sorting out Germany's financial problems, our public debt, is not to bring in cuts, which will disproportionately hit poorer people, but to tax the wealthy more … We are always hearing about savings packages, but never tax rises. Yet tax increases are a way out of this mess. That's where the money is: rich people. Something needs to be done to stop the gap between rich and poor getting even bigger.
I agree that the gap between rich and poor should narrow in all nations although I know there would be a dispute about how that should be achieved (bringing the rich down or the poor up or both) which is tangential to the point I am making here.
Even if the high income earners were sincere (and the evidence in France is that while they are calling for similar things to happen the tax breaks provided under Sarkozy swamp any extra revenue the government would get from higher marginal tax rates) the problem they are referring to is not the problem.
There are two problems in the Eurozone: (a) its basic design by which I mean the absence of a system-wide fiscal authority that can distribute spending to resolve the impact of asymmetric negative demand shocks; and (b) a shortfall of aggregate demand by some billions of Euros.
Problem (b) is shared by other nations that have not surrendered their currency sovereignty in the way the Euro nations have.
Raising more tax revenue does nothing for Problem (b) even if it offsets the spending cuts. If there are no spending cuts and all the fiscal contraction is achieved with tax revenue rises then it will do nothing (assuming the higher taxes were just saving by the rich). If the rich cut their spending then it would worsen the problem although probably not by as much as would occur if the fiscal adjustment was achieved via spending cuts.
Problem (b) requires more spending in total across the Eurozone nations. Considerably more. So raising tax revenue even if it does reduce spending any more than it is now will do nothing to address the problem. It is a vacuous act in that regard.
It might be that higher tax rates for the rich and lower tax rates for the poor and increased public spending aimed at increasing job creation would be a desirable mix. This is the beauty of fiscal policy that is absent in monetary policy.
Fiscal policy can simultaneously alter the level and the composition of aggregate demand by a creative mix of spending and tax policy changes.
So it might be that the rich have too great a command of real resources and policy makers might alter the mix between rich and poor while also bringing currently idle resources into productive use by increasing aggregate demand overall.
But that is not what is on the table in these proposals. They are really about how to distribute the pain of austerity which is a stupid path to be following for any nation with massive unemployment and no demand-pull inflation issues.
Second, why is Eric Cantor such a dill? The soccer player (Cantona) is no implicated!
This Washington Post story (August 30, 2011) – After Irene, FEMA facing a disaster of its own – funding – outlines the problem.
We read:
Now that the big hurricane is behind us – three days for Irene and six years for Katrina – the Federal Emergency Management Agency is running out of money and finds itself operating in a new political and fiscal climate that may be as treacherous as some of the disasters to which it must respond.

In the next few weeks, the agency faces the prospect of trying to mount a disaster response without enough funding because a newly cost-conscious Congress is reluctant to spend money on anything – including disasters – without offsetting it with cuts elsewhere.
FEMA is only running out of "money" because the US Congress is placing artificial restrictions on its capacity to spend. There are clearly idle real resources that can be brought into productive activity in the US at present to assist in the reconstruction.
These resources are at "zero bid" in the private market so carry no "inflation risk" and the government can with a stroke of a pen employ them without putting pressure on the price level.
The Post article quoted Eric Cantor as saying:
Yes, we're going to find the money … We're just going to need to make sure that there are savings elsewhere to continue to do so.
I won't comment on the morality of shoe-horning disaster-relief into the sordid budget debates that are going on in Washington. It is beyond contempt really. I note that while Japan is in the midst of their own "conservative" austerity debates there was no sense that they would use the suffering associated with the tsunami to push for greater cuts.
The day before (August 29, 2011) the Washington Post carried this story – FEMA, to pay for Irene damage, delays funds for rebuilding in tornado-ravaged areas – which detailed where the cuts might be.
Apparently FEMA:
… is temporarily suspending some payments to rebuild roads, schools and other structures destroyed during spring tornadoes in Joplin, Mo., and Southern states and other recent natural disasters to pay for damage caused by Hurricane Irene.
To name a few of the "backlogged" infrastructure projects (from previous weather events etc) that will be suspended due to a "lack of funds".
But Cantor's insistence on paying for disasters with funds that would be spent elsewhere demonstrates clearly that he has not made the link between economic activity and spending. It also demonstrates that he hasn't the remotest idea of what is troubling the American economy.
The following graph shows the real GDP gap (% of potential) published by the US Congressional Budget Office.
The 2011 gap is estimated to be around 5.1 per cent down from 5.7 per cent in 2010. In 2010 this amounted to $US884 billion and in 2011 it is estimated to be around $US805 billion.
There are reasons why this is probably a conservative estimate (that is, the gap is likely to be larger than the CBO models estimate). Please read this blog – Structural deficits – the great con job! – for more discussion as to why.
Further, the CBO guess for 2011 is likely to be optimistic given the poor growth performance already observed for the US economy this year. But even taking the official CBO data at face value as it stands – we should reflect on what that figure – $US805 billion means.
It represents the extra aggregate spending that is required to generate enough demand for output such that the productive capacity of the US economy would be operating at potential (that is, full employment in the CBO parlance). As noted, true full employment would probably require significantly more spending that that.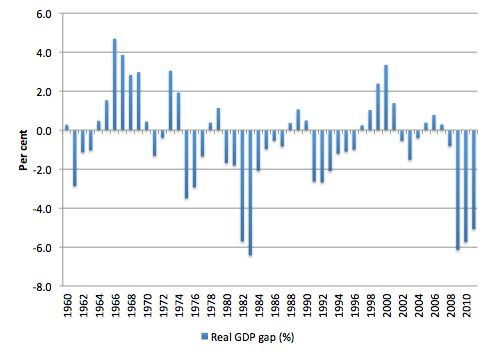 I wonder if Eric Cantor has ever thought about what happens to the dollars he spends (which he received from the government payroll) when he visits a shop. As I have noted in the past – I have never been interrogated by a shop employee as to whether I have a public sector or private sector job before they take my money. I doubt that anyone else has ever been confronted about the validity of their money.
Shops record every dollar they receive in the same way – revenue – income – demand for products which they translate into demand for workers to make, serve and deliver the products.
That massive US output gap (probably closer to 8 or 9 per cent) represents a massive daily income loss for the American people. They will never regain the income that is lost every day. It represents better nutrition, better housing, better education, better cars, better recreational facilities, better of everything that the $US can buy – public or private.
The first thing any government should attend to is the minimisation of these foregone national income opportunities. The only way that they can be minimised is if there is sufficient spending – whether public or private. If the non-government sector is not spending sufficiently to minimise the output gap then there is only one sector left to do the job – the government sector.
This is not rocket science – but it is basic macroeconomics.
To take money from Peter to pay Paul when together they are not earning enough overall is a poor economic policy. Until both Peter and Paul are working fully, there is scope for national income gains in real terms. That quest should dominate the US Congress.
Now the mainstream of my profession will claim that if Peter is "taxed" to pay for Paul then Peter will work less and the chances are that total production will not increase. This can also be represented via interest rate impacts – public deficits allegedly drive up interest rates which force firms to invest less – again the public sector crowds out private spending.
There was an extraordinary Wall Street Journal Op Ed this week (August 24, 2011) by Harvard professor Robert Barro – Keynesian Economics vs. Regular Economics – which calls for evidence that government spending adds anything to aggregate demand.
It followed an equally crazy piece last week which I wrote about in this blog – Why the World hates economics. The ground covered is identical. I guess the WSJ decided that the author of the earlier article wasn't a big enough hitter and so Barro was wheeled in to add weight to the fray.
What the WSJ should have done was commissioned a reply to the earlier article.
Anyway, Barro, who is the modern inventor of the Ricardian Equivalence concept, is up to his usual tricks. Please read my blog – The impossible equation – for more discussion on this point on how RE has failed dismally both empirically and theoretically.
In his most recent WSJ Op Ed, Barro suggests – by his title – that:
Keynesian economics-the go-to theory for those who like government at the controls of the economy-is in the forefront of the ongoing debate on fiscal-stimulus packages. For example, in true Keynesian spirit, Agriculture Secretary Tom Vilsack said recently that food stamps were an "economic stimulus" and that "every dollar of benefits generates $1.84 in the economy in terms of economic activity." Many observers may see how this idea-that one can magically get back more than one puts in-conflicts with what I will call "regular economics." What few know is that there is no meaningful theoretical or empirical support for the Keynesian position.
This is the pot calling the kettle black. The correct statement is that "What few know is that there is no meaningful theoretical or empirical support for the the economics that Robert Barro puts forward" – which is at the heart of mainstream thinking.
The 1 for 1.84 refers to the concept of the expenditure multiplier where a worker earns an extra dollar then spends some of it (save a little) and the extra spending then stimulates further demand and so on. Please read my blog – Spending multipliers – for more discussion on this point.
There is a huge dispute over the size of the multiplier and essentially it evades accurate measurement because of the difficulty encountered when one lacks experimental control.
But the overwhelming evidence suggests that it is above one and that tax effects on labour supply in the aggregate are very low.
But Barro thinks otherwise:
The overall prediction from regular economics is that an expansion of transfers, such as food stamps, decreases employment and, hence, gross domestic product (GDP). In regular economics, the central ideas involve incentives as the drivers of economic activity. Additional transfers to people with earnings below designated levels motivate less work effort by reducing the reward from working. In addition, the financing of a transfer program requires more taxes-today or in the future in the case of deficit financing. These added levies likely further reduce work effort-in this instance by taxpayers expected to finance the transfer-and also lower investment because the return after taxes is diminished.
That is an excellent summary of the mainstream position. It is based on the idea that government increase taxes to pay deficits back. The reality is that governments do not pay deficits back. Deficits are flows which cannot be paid back in any meaningful way.
What could be paid back is the stock manifestation of the deficits under current institutional arrangement – the rise in public debt. But while governments do pay back debt as it matures, they rarely pay back debt in total.
Taxes are not used as a tool to pay back earlier deficits. Government usually rely on economic growth to reduce deficits (via the automatic stabilisers) after a cyclical downturn. They may increase taxes if the economy is overheating – that is, pushing beyond the output gap.
Barro would have a hard time explaining the fact that the US government has run deficits 85 per cent of the years between 1930 and 2011 without engaging in the sort of dynamics that he suggests.
Barro think the multiplier story if valid:
… would be truly miraculous. The recipients of food stamps get, say, $1 billion but they are not the only ones who benefit. Another $1 billion appears that can make the rest of society better off. Unlike the trade-off in regular economics, that extra $1 billion is the ultimate free lunch.

How can it be right? Where was the market failure that allowed the government to improve things just by borrowing money and giving it to people?
I would have thought that the market has failed dramatically in the current episode and in many cyclical episodes in earlier periods. The implicit bias that Barro is expressing here is a denial that cyclical swings in the real economy are examples of market failure.
Consistent with this view is the idea that unemployment is voluntary and an optimising outcome of the an individual preference for more leisure and less work. So rising unemployment in this model is an example of the market working – workers examining the real wage (which signals the price of leisure in these models) and deciding it was better to enjoy a day down the beach. Make that months and months and even years for some down the beach.
And when a major recession comes along Barro and Co explain this by millions of workers making the same calculation together – that leisure is preferred and so they quit. All at the same time.
The problem is that the "facts" do not remotely fit the mainstream story. Quits fall in a downturn as redundancies rise which is exactly the opposite to the dynamics embedded in mainstream theory that says recessions are supply-side events.
Please read my blog – BLF – in denial – for more discussion on this point.
The current crisis demonstrates categorically that the claim that the private self-regulating market will deliver optimal and sustainable outcomes is a myth. There has been massive market failure.
Further, the spending multiplier works because there are idle resources which can be brought into productive use by extra spending. Whether it be private or public spending, firms respond to it by increasing real output if there is spare real productive capacity available.
I have never seen any evidence that shows that other workers quit because there is deficit spending boosting aggregate demand. All the survey evidence seeking information about what drives business and consumer confidence point to the state of spending being a crucial positive force in boosting sentiment.
Barro then asserts that:
Theorizing aside, Keynesian policy conclusions, such as the wisdom of additional stimulus geared to money transfers, should come down to empirical evidence. And there is zero evidence that deficit-financed transfers raise GDP and employment …
If the private sector spending increased by $1 tomorrow, nominal GDP would rise by that amount.
If public spending increased by $1 tomorrow, nominal GDP would rise by that amount.
Otherwise, our whole system of national accounting and measurement would be flawed.
Anyway, I am running out of time today.
Here is some of the evidence that suggests that things were better when governments took responsibility for full employment.
The graph shows the annual real GDP growth (% p.a.) and the unemployment rate (%) for the US (red) and Australia (blue) averaged for the 1950s (US only), 1960s, 1970s, 1980s, 1990s, and from 2000 to now.
The evidence is clear. During the so-called "Keynesian period", real growth was on average much higher and unemployment rates much lower than in the decades since neo-liberal thinking gained dominance.
I could present broader evidence if I had time (more countries, more measures) but the message would not change. The advanced world performed more strongly in the variables that mattered in the period when there was systematic national government fiscal intervention aimed at maintaining full employment.
Once the "full employability" agenda began (deregulation, privatisation, contracting out, active labour market programs (supply-side), attacks on trade unions, budget austerity, etc) real wages stopped growing in line with productivity, unemployment rose and real GDP growth slowed. Income and wealth inequality also began to increase.
The evidence is unambiguous.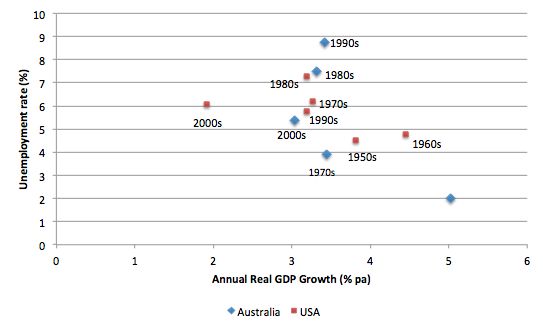 I realise that there is view that the "Keynesian" period was unsustainable and built up inflationary biases that resulted in the next several decades of relatively sluggish growth. I will address that claim in another blog. It also doesn't stand scrutiny.
Conclusion
The current policy debate is littered with input that is ignorant of even the most basic economics. It is a triumph of ideology over wisdom and the conservative media companies seem hell bent on pushing the misinformation to the detriment of millions.
The Martians must look down on Earth and laugh at how stupid we are allowing total charlatans and ignoramuses to command the main stage.
That is enough for today!