When you've got friends like this … Part 2
… who needs enemies. Today's blog is Part 2 in a series I am running about the propensity of self-proclaimed progressive commentators and writers to advance arguments about the monetary system (and government balances) which could easily have been written by any neo-liberal commentator. The former always use guarded rhetoric to establish their "progressive" credentials but they rehearse the same conservative message – the US has dangerously high deficits and unsustainable debt levels and an exit plan is urgently required to take the fiscal position of the government bank into balance. In doing so, they not only damage the progressive cause but also perpetuate myths and lies about how the monetary system operates and the options available to a currency-issuing national government.

I have been reading some of the articles and essays put out by the Center for American Progress lately, which describes itself as follows:
The Center for American Progress is a think tank dedicated to improving the lives of Americans through ideas and action. We combine bold policy ideas with a modern communications platform to help shape the national debate, expose the hollowness of conservative governing philosophy, and challenge the media to cover the issues that truly matter.
On their About Us page they the prolific use of the word "progressive" (or plural forms) to describe themselves stands out. It is run by former Clinton hack John Podesta and George Soros is one of its benefactors. They are very well connected in Democrat political circles and arguably have strong influence in the Obama camp.
They tell us that:
Our ability to develop thoughtful policy proposals and engage in the war of ideas with conservatives is unique and effective.
So with unemployment at around 10 percent and housing foreclosures still rising (especially among the poor) and with a major attack on the US government coming from the "conservatives" based on spurious understandings of how the monetary system operates, you would think that the centre would want to push a strong case for expanding the US government deficit and also to disabuse Americans of the central propositions that the deficit terrorists lambast the public with on a daily basis.
You would be very wrong if you thought that. These guys are as conservative as they come even though the Austrian school zealots and the mainstreamers from the Chicago school tradition hate them.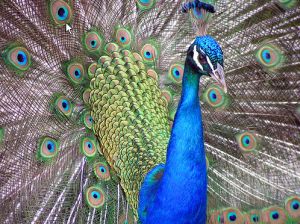 A recent publication (January 20, 2010) from the Center caught by eye. It was entitled – How to Spot a Deficit Peacock – and was written by one Micheal Linden, who is the "Associate Director for Tax and Budget Policy" at the Center and he has authored several publications on deficits and debts all of which could have referenced Mankiw's macroeconomics textbook as a primary source.
Anyway, in "How to Spot a Deficit Peacock" we see how non-progressive this organisation really is. The best thing about the article is the beautifully coloured image presented at the outset. My peacock image here is also lovely. Should soothe us while we take this agonising journey together!
Linden notes that when the US President releases his 2011 budget proposal (he did this on Monday, February 1) the "fiscal future it projects is sure to be troubling".
From a the perspective of modern monetary theory (MMT) you wouldn't talk about a "troubling" fiscal position. You would, instead focus on the rate of unemployment, the rate of employment growth, the rate of real GDP growth, the inflation rate, and things like that which actually influence the opportunities that people have for work and income. They can all be troubling or not depending on your aims.
But a fiscal position can only be described as providing enough or not enough stimulution.
Linden then gets a bit ornithological stating that this "troubling" fiscal outcome "will set off another chorus of concerned pundits and lawmakers who will loudly insist that they are true deficit hawks and want to reduce the deficit". But then the lesson in ornithology begins:
Deficit hawks come in a variety of breeds. There are those who believe that the long-term deficits pose serious risks, but that short-term deficits are necessary and wise during a recession. There are those who believe that deficits are always risky and should be avoided at all costs. Both kinds of hawks are genuine in their concern over our nation's finances and are sincerely committed to working toward a more sustainable federal budget.

And then there is another species of deficit bird all together: the deficit peacock. Deficit peacocks like to preen and call attention to themselves, but are not sincerely interested in taking the difficult but necessary steps toward a balanced budget. Peacocks prefer scoring political points to solving problems.

How can you tell the difference between deficit hawks, those who are serious about the dangers posed by persistent, large deficits and deficit peacocks, those who only use those dangers to preen and score political points? It's actually fairly simple. Here are four easy ways to tell when someone isn't taking our budget problems seriously.
I wondered about his avian taxonomy. There is, of-course another winged species of misguided deficit commentators – the well-known species of "Progressivina Deficit-Dove" (Source). They fit Linden's description of those "hawks" that "who believe that the long-term deficits pose serious risks, but that short-term deficits are necessary and wise during a recession". This species claims it is progressive but also pushes the "balanced budget" over the business cycle ambition which is clearly dim-witted as a stand-alone goal and unprogressive in philosophy. Linden slots into this category perfectly.
So how can you tell a "peacock"?
First, Linden says "(t)hey never mention revenues" and:
There are two sides to every balance sheet, and the federal budget is no exception. Deficits occur when spending is too high, but they also happen when revenue levels are too low. The budget deficit in FY 2009 was a whopping 9.9 percent of GDP, the highest it has been since World War II. And that enormous deficit was caused as much by a dramatic decline in tax revenues as it was by an increase in spending. In fact, the size of the revenue decline was four times larger than all of the new spending initiatives started since President Obama took office. Tax revenues in 2009 were at their lowest levels since 1950. When revenues decline by 17 percent, as they did last year, deficits skyrocket.
In an accounting sense, the use of the term balance sheet (which measures stocks – "balances") to describe a budget (which describes a flow of funds) is worrying. But a minor point. Commentators who claim to be experts often mis-use terminology that they know will not be finely understood by their readers or listeners but which discloses their own less than complete understanding of the matters at hand.
Further, the federal budget is a very special "flow of funds" not like that of a private company or household at all. So to lump the national budget into the same category as "every balance sheet" (meaning private and public – state and federal) is plainly incorrect and fails to acknowledge the "special" nature of the financial capacity of a sovereign currency-issuing government.
There is no meaning in the statement that "deficits occur when spending is too high" or "revenue levels are too low". The obvious question – in relation to what? Deficits occur in an accounting sense when spending is greater than revenue – that is all you can really say. A deficit can occur when "spending is too low" when you consider the net position in relation to the non-government spending gap (nominal aggregate demand being below that necessary to full employ the productive capacity available at any point in time).
The juxtaposition of nominal demand and real output capacity is the benchmark you have to assess a net budget position.
Linden then says that:
Increasing revenues is going to have to be part of the solution for meeting the fiscal challenge. Any suggestion that we can solve this problem solely by cutting spending reveals an utter misunderstanding or ignorance of the budget numbers. Balancing the budget without raising any additional revenue 10 years from now would require cutting every program in the entire budget by more than 25 percent …
He who calls the kettle black! (that is, making accusations about "ignorance of the budget numbers").
First, the revenues that he says were lost in the earlier quotation ("the dramatic decline in tax revenues") will all come flowing back as soon as employment growth is strong enough. That is the nature of the automatic stabilisers.
Second, why is "balancing the budget" being mentioned in this context? I know that his organisation – that fearless progressive defender of American liberty – believes that a balanced budget over the cycle is desirable but they never explain why or what that would mean for other sectors of the economy.
No progressive position – which I define as one which desires an environmentally-sustainable economy producing full employment and price stability with strong equity programs to ensure equal opportunity and zero corporate welfare – would accept a balanced budget as a goal independent of other knowledge.
Possibly, if you had a strong net exports position and you desired less public involvement in the economy you might be able to achieve the progressive goals with a balanced budget over the cycle. A net export surplus over the cycle could allow the private domestic sector to net save on average over the cycle (equivalent to the average external surplus) in this situation.
But this cannot be a standard prescription because by definition (of the accounting relationships between nations – that is, the Balance of Payments) all countries cannot be in external surplus.
For the US and Australia, long-standing external deficits are apparent. So a balanced budget over the cycle target will ensure that the private domestic sector dis-saves (overall) on average equal to that external deficit if the government sector was to achieve balanced budgets over the same cycle.
Does Mr Linden understand that? I don't detect an understanding from his writing.
So a hawk (or a dove) is "sincerely in favor of balancing the budget necessitates being in favor of raising more revenue" and that awful posturing peacock wants to savage "Social Security, Medicare, and everything else, or else he is just posturing". From this gender-specific description I concluded all peacocks were males. That about all I could make sense of.
Linden says the second way you can tell a Peacock is that "(t)hey offer easy answers":
Beware anyone offering easy answers. We face a very large budget gap over the coming decade, and the scale of the problem is such that no one solution is going to solve it all. It is going to take a mix of increased revenues, spending reductions, and improved government efficiency to get our fiscal house in order. Those who claim that we could get the budget back to sustainability if we only cut out earmarks, or say that the solution is to simply freeze discretionary spending, are just peddling fiscal snake oil.
So no ornothology meet herpetology.
The term "budget gap" conveys no meaningful content. In relation to what? A gap usually means a shortfall. So a spending gap is clear – it is defined as nominal aggregate demand being below what is necessary to sustain full employment.
What is a "budget gap"? What is a fiscal house that is in order look like? When is the budget back to sustainability? What does that mean?
To find out what fiscal sustainabilty means in the context of a fiat currency system please read my three-part series – Fiscal sustainability 101 – Part 1 – Fiscal sustainability 101 – Part 2 – and Fiscal sustainability 101.
You will find nothing there that corresponds with anything that Linden is saying.
He instead lists absolute sizes of net spending – "the budget deficit is likely to average about $900 billion per year over the next five years" – whereas the absolute size is meaningless as a standalone entity. In relation to what? – is the question you always have to ask.
Clearly, if there has been a collapse of private spending and net public spending has filled the gap (or is partially doing so) then as private spending recovers the government has to back off its stimulus. This assumes that the pre-recession balance between private and public is politically desirable. This is one of the reasons I prefer fiscal initiatives to be built into the automatic stabilisers because they are easire to unwind (politically) and need less planning.
I agree that US government spending will probably have to be pared back in some areas once the economy has recovered. But how much is probably a lot less than Linden and the rest of the deficit-terrorists think. They are aiming for a balanced budget whereas on-going deficits are going to be required in the US to support demand and strong employment growth.
So the US government will have to make some cut-backs to accommodate the renewed private spending but how much is uncertain and they should allow the automatic stabilisers to make the initial adjustments anyway so as not to endanger the fiscal support that is currently there (although in decline).
Linden says the third way you can tell a peacock is that "(t)hey support policies that make the long-term deficit problem worse":
This one seems like it should be obvious, but you might be surprised by the number of people who now claim to be concerned about our fiscal future even though they recently supported massive budget-busting legislation. Congress voted repeatedly over the past eight years to make huge tax cuts and create new spending programs without offsetting any of those costs. Many of the very same members of Congress who voted for those policies are now loudly urging the president to clean up the mess that they themselves made.
This is more balanced budget rhetoric. Clearly, some of the fiscal decisions made in the past might have been ineffective in terms of advancing public purpose and ensuring jobs were available for all. Those spending programs should be deleted immediately.
But the notion new spending decisions "without offsetting any of those costs" is pure conservative or mainstream thinking. What costs are we talking about? The only "costs" that matter when the government decides to spend are the real resources that are used up by the spending. Are they being put to good use? Is the spending straining the supply of real resources? Are there real resources (for example, labour) that could be utilised? They are all sound questions that a fiscal authority has to ask when designing a spending strategy.
But to think that it also has to "offset" its nominal outlays with nominal revenues collections is crazy and misunderstands the macroeconomic role that the spending plays and the way that it creates net financial assets in the non-government sector.
Finally, the fourth way you can apparently identify a peacock is that "(t)hey think our budget woes appeared suddenly in January 2009":
President Bush inherited a record budget surplus when he took office. Yet he managed to turn that surplus into a massive deficit after repeatedly cutting taxes while prosecuting two wars and enacting billions of dollars worth of new spending programs without paying for any of them. By the time President Obama took office in January 2009, the Congressional Budget Office was projecting a budget deficit of $1.2 trillion for the year. The dramatic decline from record surplus to record deficit under President Bush resulted in a nearly $3 trillion increase in publicly held debt, the largest debt expansion in American history.

Not only did President Obama inherit the least balanced balance sheet in 60 years, he also took office in the midst of the deepest, most dangerous recession since the Great Depression. Running a large budget deficit is both necessary and wise during a recession. The extra spending and reduced taxes that produce big budget deficits help counter the downward recessionary spiral and blunt its negative effects. Yet eight years of fiscal damage left the country in a much weaker position from which to respond to the economic conditions, and left President Obama with far less fiscal room to maneuver.
Yes, President Bush inherited the destructive Clinton surpluses which not only squeezed the private sector of liquidity and set in place the rising private indebtedness but ultimately pushed the US economy into recession in 2001 on the back of the fiscal drag. So he inherited a mess which is exactly the opposite to what Linden is claiming.
Bush did spend freely on stupid wars and tax cuts which were all the neo-liberal rage at the time. But if you consider the macroeconomic state of the economy there is no sense that you can say these deficits were excessive. Unemployment and underemployment were still above the full employment levels and the average inflation rate between 2001 and the end of 2008 was around 2.8 per cent per annum. The latter rose a bit after the 2001 recession but then fell back to low levels in 2006 only to rise again on the back of oil price rises (that is, nothing to do with the budget position) in late 2007 and into 2008.
So I wouldn't refer to Bush's time as "fiscal damage". He had a very poor set of spending priorities – clearly. A terrible approach to lobby groups seeking corporate welfare – definitely. Bush's regime damaged the US standing in the World by lying about WMD and all the rest of it. But the overall fiscal balance was not a disaster because of its "size".
Further, the fiscal position from a previous period does not financially lessen or increase the capacity of the government in the present to net spend. It is true that some spending choices or tax changes from a previous regime or period are undesirable in the current period and politically these might be hard to unwind. Politics always overlays the underlying economic opportunities and capacities.
So here we have a progressive think-tank running the conservative line and attacking those weak-kneed, posturing peacocks. Presumably they are differentiating themselves from the peacocks to let people know they are tough policy commentators who know what the game is about.
Peacocks, hawks, doves – anyone who advocates balancing a national government budget without telling you what the sectoral implications would be under what circumstances – are all in the same misguided camp.
Linden went on to push the conservative "twin deficits" argument which I will write about separately. He also tried to maintain support for Obama (after inferring his "spending freeze" was the strut of the peacock") by saying Bush as mostly to blame.
Anyway, he closes by suggesting we pose the four questions to anyway who is talking about the deficit and if they answer yes to any of them then "you've identified a deficit peacock". I think the only thing we can conclude from this is that Linden is a turkey.
Paul Krugman also wrote about the peacock-hawk story on January 28, 2010 in his March of the Peacocks article.
He described Linden's piece as an "acerbic essay" and says that Obama's suggestion to do "the deficit-peacock strut" (meaning his proposed freeze on spending which he announced in the SOU address) is "such a dumb policy idea" and "an indication of the extent to which we're failing to come to grips with our economic and fiscal problems".
Certainly we can agree with that assessment.
Krugman then reminds us of the real issues:
The nature of America's troubles is easy to state. We're in the aftermath of a severe financial crisis, which has led to mass job destruction. The only thing that's keeping us from sliding into a second Great Depression is deficit spending. And right now we need more of that deficit spending because millions of American lives are being blighted by high unemployment, and the government should be doing everything it can to bring unemployment down.
Ain't that the truth. The primary responsibility of a national currency-issuing government is to ensure that there is sufficient aggregate demand which, in turn, maintains high levels of employment. Poverty is primarily caused by unemployment. Governments should do other things as well but from a macroeconomics perspective they are deficient in their duty if they don't keep demand growth high.
They have several tools that they can deploy to do that and by far the most effective is fiscal policy. If you want to contract fiscal policy when you have a serious demand deficiency then you are arguing for high unemployment, high income losses, higher poverty rates and, ultimately, slower future growth (given that capacity atrophies when investment slows down).
After that, Krugman immediately loses the plot:
In the long run, however, even the U.S. government has to pay its way. And the long-run budget outlook was dire even before the recent surge in the deficit, mainly because of inexorably rising health care costs. Looking ahead, we're going to have to find a way to run smaller, not larger, deficits.
Whatever the long run is the US government doesn't have to "pay its way" in any sense that we understand from our own household experience. All households have to "pay their way" in one way or another but the US government could if it wanted to stop issuing debt (if it thought that was a problem) and keep spending the currency it issues.
At some point this might debase the currency through accelerating inflation but then why would a sensible government choose to do that. There is no such thing as a dire budget (refer back to my comments above on the "troubled" budget). These adjectives have no descriptive content when considering what a fiscal position represents.
If it is true that rising health care investments (I prefer that concept to "costs") may absorb an ever-increasing proportion of the government spending. Every generation can choose its won spending composition and its own tax regime. It may be that Americans become collectively enlightened as some of the real resource choices start to bite – like do we invade country X or provide better health care given the real resources available?
But as long as there are real resources available for sale in US dollars then the US national government will be able to purchase them with US dollars. If it needed to cut its net spending because the economy was inflating (and it desired to maintain the private command of "full employment" resource-usage) then it could unwind its destructive military complex as a good starting point. That would quickly reduce nominal aggregate demand and probably make the World a safer place.
As noted above, when private spending collapses and net public spending steps up to fill the gap (through a mix of automatic stabilisers and discretionary policy changes), then the latter has to back off as the private spending recovers. This assumes that the pre-recession balance between private and public is politically desirable. Politics can surely get in the way of this process and my understanding of US politics at present (as an outsider) is that the system is basically dysfunctional.
This is one of the reasons I prefer fiscal initiatives to be built into the automatic stabilisers because they are easire to unwind (politically) and need less planning.
So the Job Guarantee approach exemplifies that. The government offers a minimum wage job to anyone who wants one and allows the pool to fluctuate up and down with private demand. That sort of program – based on a buffer stock – is always counter-cyclical (as is desired) and allows deficit spending to contract when required by the strength of private demand.
On this theme, Krugman says:
How can this apparent conflict between short-run needs and long-run responsibilities be resolved? Intellectually, it's not hard at all. We should combine actions that create jobs now with other actions that will reduce deficits later … The sad truth, however, is that our political system doesn't seem capable of doing what's necessary.
This comment reflects that fact that the initial Obama stimulus "wasn't nearly big enough" and as it fades, the US will still be facing "years of mass unemployment". However, "there is little sentiment in Congress for any major new job-creation efforts".
I agree with this point – the politics are the problem. That is a totally different way of understanding the problem. It directs us away from an obsession with an imagined "fiscal problem".
Conclusion
Neither the Center for American Progress or Paul Krugman's ideas on government budgets represent a progressive position at all. The former are just mouthpieces for the deficit-terrorist cause.
That is enough for today!
Other blogs in this series
=> When you've got friends like this … Part 1