Household saving falls but private saving increases – Japan!
In recent weeks I have received many curious E-mails about Japan all asking the same question – if net exports are positive and households saving are in decline, how come the budget deficit is so big? It is a good question and the answer relates to developing a good understanding of the components of the National Accounts and the way they interact. As I explain here, the private domestic sector is increasing its saving in Japan but it is all down to the corporations sitting on huge piles of retained earnings and reducing their investment. What these trends tell anyone who appreciates the way in which the macro sectors interact is that sustained budget deficits are required in Japan and any move to austerity would be disastrous.

Last Monday (January 31, 2011) I wrote this blog – Please note: there is no sovereign debt risk in Japan! – which seemed to lead to a rush of Japan-focused questions along the lines outlined before. That blog was about whether Japan might default on its public debt. My previous blogs about Japan have been about how their experience grossly violates the main findings of mainstream macroeconomics and the fringe dwellers like the Austrian School.
It was not a blog about whether successive Japanese governments have administered their economic responsibilities very well. It was not a blog about inequality or poverty. It is clear that poverty rates as conventionally measured have been rising in Japan. You might want to consult the most recent major OECD study – Growing Unequal? Income Distribution and Poverty in OECD Countries – to see how Japan is now exhibiting poverty rates around those common in the United States. It had the fourth highest poverty rate among OECD countries in the mid-2000s.
Does that mean fiscal policy has failed? Yes, but only because it hasn't been expansionary enough! The decline in wealth in Japan began with the property crash which was a time when the government was running very low budget deficits.
It was not a blog about rising part-time employment in Japan which is clearly occurring and helping to undermine living standards. Like most nations, Japan adopts the ILO Labour Force guidelines and counts part-time workers as being employed. The incidence of part-time work and underemployment in Japan is rising but still below Australia, for example. This Australian Productivity Commission report – Part Time Employment: the Australian Experience – (especially Chapter 2 and Appendix A) has useful international comparisons.
It was also not a blog about saving behaviour in Japan – which I will come back too.
Later last week, I received one comment which I declined to publish because it was in contravention of my Comments Policy. As an aside, I don't care what you say about the argument I am making as long as you back it up with a good counter-argument and stay on topic. I won't publish a comment that seeks a podium for general mainstream thinking (or Austrian school raving) and refuses to address the specific issue.
I also won't publish comments that question my sanity, accuse me of taking drugs and otherwise attack me as a person. My declination in this specific case was followed up by two further abusive comments from the same person which I similarly deleted. I note that the person involved is a contributor to a leading Austrian School WWW site and predicts that in 2011 Japan will default on its public debt and experience crippling inflation. I do not think either event will occur.
At no point did the person in question actually assess the argument being made that there is no sovereign risk in Japan.
But despite all that the person did raise some interesting points – or rather bald-face assertions most of which turn out to be factually wrong or misleading when you examine the data. That is not uncommon among the inflation-obsessed, governments-stealing-our-wealth Austrian schoolers.
But taken together with the other polite questions I have received of a similar vein I thought I would offer the following which looks in more detail about the saving behaviour in Japan.
The basic point is that if the Japanese government had have continued their planned deficit reduction in 1997 and not provided further fiscal stimulus to the economy the situation would have been significantly worse than what it already is. When I say we need to look to Japan to see a living example of how persistent budget deficits do not cause interest rates to rise and do not cause hyperinflation I am in no way saying that the conditions on the ground are good.
Given the behaviour of the private sector in Japan, the situation will continue more or less as it is now unless the government provides further fiscal support. I realise there is a debate about how they might do that given that you can only build so many highways. But with an ageing society comes a greater demand for personal care services and that is one labour intensive growth area that should be targetted.
The following graph is often published as a sign of decay in Japan. The data is from the OECD and shows the household saving ratio since 1992 as a per cent of household disposable income.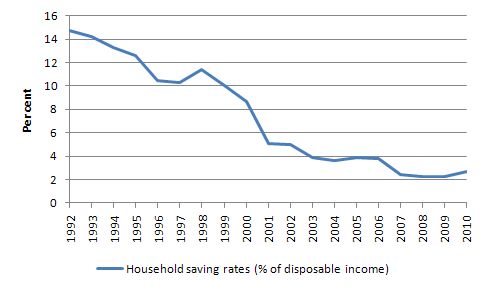 If you go back to the blog in question – Please note: there is no sovereign debt risk in Japan! – you will find that I said
The fact is that the Japanese economy has required significant support from budget deficits over a long period given the relative high propensity to save by the private domestic sector.
My friend (the deleted commentator) however said that I was making "some ridiculous comments about Japan's savings?" and in a relatively more polite manner said "Once again, you are talking out of your hat. 20 years of deficit spending and nearly zero interest rates have decimated savings in Japan and Japan now has a lower savings rate than the USA. Google search it".
So does the household savings graph support this attack? Clearly not. If I had have said the household saving ratio was rising or households had a high propensity to save I would have been wrong. But that is not what I said. It is clear that the household saving ratio has been in decline and anyone (whether you live in Japan or have never been there – I am in neither camp) would know that without the aid of Google – all the major National Account database subscriptions (even before Google) show that.
You can read an interesting OECD statistics brief – Comparison of household saving ratios: Euro area/United States/Japan – for further information.
There are many reasons given for the decline in the household saving ratio. First, technical issues have helped reduce it since 2000. There was a major changes to the System of National Accounts (SNA) around then which led to major upward revisions in the private consumption expenditures (other than imputed rents of owned houses) and a significant downward revision in household disposable income.
But there are also underlying behavioural factors that have led to that outcome. The Japanese population is ageing and it is well known that as income flows decline people maintain their consumption by drawing on their financial assets.
Has the declining saving ratio translated into a rise in consumption? Answer: no. Growth in real consumption has been flat for many years. The households are not engaging in a consumption boom – and that is one of the reasons the budget deficits have had to be so large.
The following graph (taken from OECD National Accounts data) shows the annual growth in real consumption and GDP since 1981.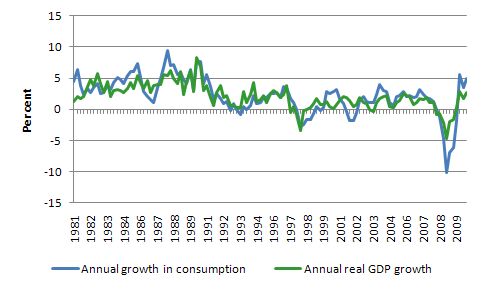 Other factors that have been influential relate to policy changes in Japan aimed at reducing the government's fiscal exposure to the ageing population. So there has been an increase in pension eligibility age and a decrease in retirement pensions etc which have contributed to the computation of the falling saving ratio.
But whatever the reason, the declining household saving ratio is evident. However, it doesn't tell us that the persistent budget deficits have been detrimental. Far from it.
Now consider the following graph which shows the sectoral balances derived from the Japanese National Accounts. You can get reliable budget data from the Ministry of Finance. I used OECD Main Economic Indicators for the net exports data. The private domestic balance is then computed so as to ensure the balances add to zero as per the definitions in the National Accounts.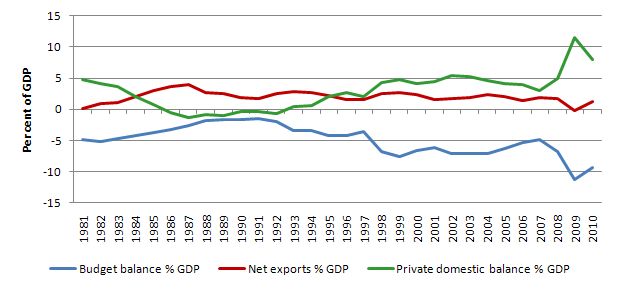 For readers well-versed in the sectoral balances skip the next section and go to the analysis. For others, you might like to refresh your understanding by first reading this blog – Twin deficits – another mainstream myth – for a derivation of the sectoral balances and more background material. Given I have derived these relations regularly I only summarise them below.
The sectoral balances are:
(T – G) = budget balance, where T is tax revenue and G is government spending. A budget deficit would be a negative number.
(S – I) = private domestic balance, where S is total private saving and I is total private investment.
(X – M) = external (trade) balance, where X is total exports and M is total imports.
If (T – G) > 0 then there is a drain on aggregate demand via the public sector. If (S – I) > 0, then the private domestic sector is saving overall and this creates a drain on aggregate demand. If (X – M) > 0, then net exports are positive and this would add to aggregate demand via the foreign sector. Further, by implication, external deficits drain aggregate demand from the economy and budget deficits add aggregate demand.
These balances are linked via a strict accounting relationship which is derived from the National Accounting framework such that:
(S – I) + (T – G) – (X – M) = 0
You can then manipulate these balances in many ways to tell stories about what is going on in a country.
One way of writing the balances to show the relationship between the government and the non-government sectors:
(G – T) = (S – I) – (X – M)
That is a government deficit (G – T > 0) has to be associated with a non-government surplus, which can be distributed between the private domestic balance and the trade balance. The causality of that association depends on the context.
Another way to "view" the sectoral balances is to express the external position against the domestic position:
(X – M) = (S – I) – (G – T)
So if there is an external surplus (X – M > 0), then the right hand side also has to be in surplus. So if the budget was balanced (G – T = 0) then the private domestic sector would carry that surplus (S – I > 0).
You can then imagine what might happen if the private domestic sector increased their overall saving. In the first instance either consumption or investment would fall and the decline in aggregate demand (spending) would lead to a contraction of national income for a given fiscal and external position.
The only way the economy can continue to grow in these circumstances is if net exports increases and/or the government deficit increases. That is exactly what happened in Japan after the property crash in the early 1990s.
This graph compares the household saving ratio (green line) with the private domestic sector balance (blue line). The two are moving in opposite directions.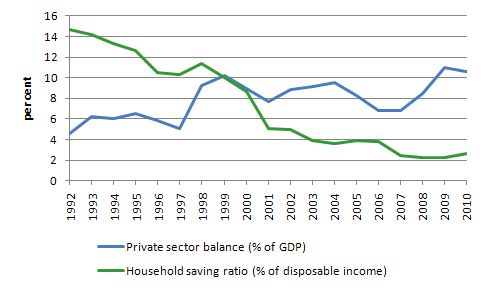 So the private domestic sector has been increasing its saving overall despite households saving a lower percent of their disposable income. What is the explanation for this? The answer is simple: corporations are retaining more of their earnings than ever before.
You can get historical retained earnings data from the Japanse Ministry of Finance. The following graph shows the rising ratio of retained earnings to total assets (left-hand scale) and the actual evolution of retained earnings (right-axis). Retained earnings have also risen relative to nominal GDP over the last 30 years.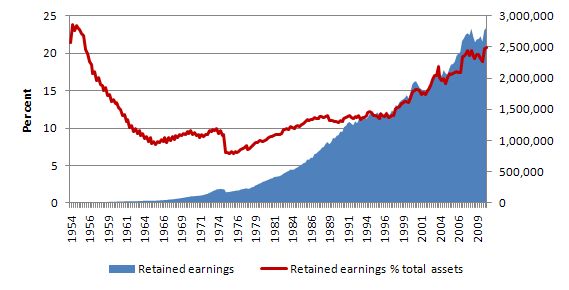 So the overall private domestic sector is "saving" an increasing amount.
The Financial Times economics columnist Martin Wolf wrote an interesting piece last year (January 12, 2010) – What we can learn from Japan's decades of trouble – which bears on our discussion.
Wolf refers to the work of Richard Koo who argued that when there is a "balance sheet recession" where an overindebted economy starts to pay down its debt:
… the supply of credit and bank money stops growing, not because banks do not wish to lend, but because companies and households do not want to borrow; conventional monetary policy is largely ineffective; and the desire of the private sector to improve balance sheets makes the government emerge as borrower of last resort. As a result, all efforts at "normalising" monetary and fiscal policy fails, until the private sector's balance-sheet adjustment is over.
Please read my blog – Balance sheet recessions and democracy – for more discussion on this point.
As Wolf notes you can understand this in terms of the "sectoral balances between savings and investment (income and spending) in the Japanese economy":
In 1990, all the sectors were close to balance. Then came the crisis. The long-lasting impact was to open up a massive surplus in Japan's private sector. Since household savings have been declining, the principal explanation for this is the persistently high share of corporate gross savings in GDP and the declining rate of investment, once the economy went "ex growth". The huge private surplus has, in turn, been absorbed in capital outflows and ongoing fiscal deficits.
Without those fiscal deficits providing the essential spending support for the Japanese economy there would have been a very ugly contraction in national income (as we saw in 1997). The poverty rates would have increased much more than they have.
The doomsayers who try to impute the causality as the on-going deficits leading to poor economic performance which would be reversed if the government pursued austerity just do not understand the macroeconomic intracasies.
As Wolf says:
… those who criticise the fiscal deficits miss the point. Without them, the country would have fallen into a depression, instead of a prolonged period of weak demand. The alternative would have been to run a bigger current account surplus. But that would have required a weaker exchange rate. Japan would have had to follow China's exchange rate policies. The US would surely have gone berserk.
As long as Japanese corporations continue to save and restrict their investment there will be an on-going need for large fiscal deficits. The alternative – the austerity route is too grim to even think about. You don't have to be living there to know that.
I don't care to comment here on issues relating to "corporate control" which Wolf thinks is necessary to "to shift cash out of the hands of sleepy managements" and stimulate domestic growth. But until private spending increases, public deficits will be required and the public debt ratio will rise.
There is no cause for alarm in the latter trend. However, clearly the private sector in Japan is still in shock after the property collapse in the early 1990s and government might usefully consider policies that will assist.
The important point is that those who want to claim that the sustained fiscal deficits cause massive crowding out via high interest rates or "soaring inflation" are missing the point entirely.
Conclusion
My friend the commentator also made a fundamental error when he said that "I couldn't disagree more with this Keynesian madness you spout off. Twenty years (now heading on thirty) of this deficit spending nonsense has gotten Japan nowhere".
Well I don't write anything that could be labelled "Keynesian". It would be better if people were more precise in their use of terminology. I have actually written several academic articles criticising what I accurately denote to be Keynesian thinking.
But his claim that the sustained deficits have caused the lost decade and then some are missing the point. The crisis came and with it the need for rising deficits. The latter have supported modest growth. Everything isn't fine in Japan – far from it. But it would have been much worse had Japan followed the austerity route that the Austrian school love to advocate from behind the safe walls of secure, well-paid jobs.
And once again – there is no risk of sovereign default in Japan. They can go on deficit spending for years and should do so as long as the private domestic sector is holding huge pools of saving and are resistant to spending.
That is enough for today!