Please note: there is no sovereign debt risk in Japan!
Sometimes you read an article that clearly has a pretext but then tries to cover that pretext in some (not) smart way to make the prejudice seem reasonable. That is the impression I had when I read this Bloomberg opinion piece by William Pesek (January 31, 2011) – Pinnacle Envy Signals New Bubble Is Inflating – which I was expecting to be about real estate bubbles but which, in fact, turned out to be an erroneous blather about Japanese debt risk. Please note: there is no sovereign debt risk in Japan!

Pesek's smokescreen is about skyscrapers which reflect the irrational and out-sized egos of the developers who fund and build them and the policy makers who approve them. In some cases, the two groups might be the same or overlap heavily. Pesek lists some examples that have clearly been examples of "mis-allocated capital".
He introduces Japan by noting that as an earthquake-prone nation it seems odd that they would try to build the world's largest skyscraper – the 634 metre Tokyo Sky Tree tower. The project is being funded by the six major TV networks in Japan including NHK which is the public broadcasting corporation. The tower is being built to allow digital television to be introduced – the current facilities are not high enough given the other skyscrapers in Tokyo. The other engineering data suggests that the earthquake issues have been dealt with in the design.
But Pesek doesn't want to go into these details he rather wants to leave the impression that building such a tower is the manifestation of a complacent country that has become tainted by extravagance. He says without reference to the telecommunications issues that other reporting on the project emphasise that:
The thing about record-breaking structures is that they often say as much about arrogance as they do about wealth, ambition and technology. In Japan's case, for example, free money breeds complacency as well as bubbles. Zero rates gave politicians the idea they could issue debt forever without consequence.
In some case record-breaking structures do signal "arrogance" and ego-driven behaviour (excessive that is). But whether the Tower in Japan reflects that underlying motive is one thing – although the evidence suggests that engineering and networked communication issues have driven the design.
But there is no sensible analogy that can be drawn between the decision to build that tower and the way the Japanese government (including the Bank of Japan) runs its fiscal and debt-issuance policies.
The reference to "free money" is also erroneous. Commercial interest rates are low in Japan but not zero. There is no "free" money in Japan for property developers so why use this emotional term.
Anyway, Pesek's pretext was to comment on the Standard & Poor downgrading of Japanese sovereign debt last week to AA- (the fourth-highest level). He says:
Those days are over, as Standard & Poor's reminded Japan last week by cutting its rating to AA-, the fourth-highest level. Still, the fact remains that as Tokyo construction crews finish their ode to architectural excess, the government has built up a monumental debt load that smacks of hubris … Politicians and developers are often both optimists and gamblers. Ambition and excess get so fused together that they forget where one ends and the other begins. Japanese politicians put their nation's future on a credit card, believing their methods of fiscal management would avert crisis. The bill is now coming due. A Greece-like crash isn't the best-case scenario, but then neither can one be ruled out.
First, he hasn't made a case (and the evidence suggests otherwise) that the new communications tower is an "architectural excess". Whether it is or not is a separate argument and hardly likely to reflect on the nature of fiscal policy conduct by the Japanese government.
Second, the conflation of developers and the Japanese government as optimists and gamblers is erroneous. Clearly, property development is a gamble because the financiers have to raise the funds and then risk them if the project fails. The national government of Japan faces no such risk.
Third, hubris refers to "haughty or arrogant" behaviour. The rising Public debt to GDP ratio in Japan (now over 200 per cent) reflects the difficulties that economy has faced over two decades and some poorly implemented attempts by conservative governments to implement fiscal austerity (for example, 1997) at a time when private spending was too weak to cope.
The fact is that the Japanese economy has required significant support from budget deficits over a long period given the relative high propensity to save by the private domestic sector. I do not call implementing a policy stance that has allowed economic growth to be sustained in the face of private spending patterns which were constraining stronger growth to be arrogant or haughty.
In fact, I would call that responsible economic management. While I might question the size of the budget deficits in Japan (they have been too small) I would note the following graph which shows annual unemployment rates (1993-94 to 2009-10) for some selected countries. While the Japanese economy has been performing poorly in terms of growth and has been undergoing structural changes with respect to deeply-held cultural norms (for example, the diminution of lifetime employment), it has still outperformed all the major economies in terms of keeping its jobless rate low.
I remind readers that unemployment is the single largest waste of economic resources and source of income loss. The on-going public deficits in Japan have contributed positively to this low unemployment outcome and very muted labour market response to the recent crisis. I do not call that hubris.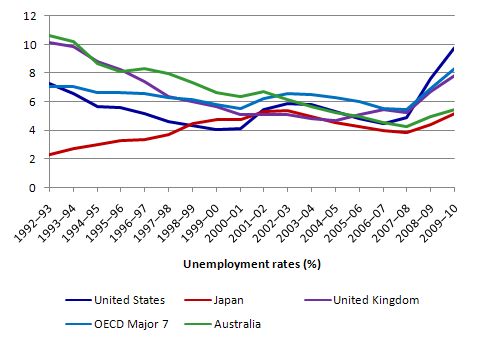 Anyway Pesek then launches into a rave about how Japan's fiscal position (in the face of an ageing society) and its public debt levels are "nothing less than toxic" and that in terms of the current government's plan to join the fiscal austerity bandwagon, "(m)investors don't understand that supposed commitment either".
He also chooses to suggest that the ratings agencies were in some way "right" in 2002 when S&P, Moody's Investors Service and Fitch downgraded Japan last time and that the reaction of the Japanese government was poor.
I discuss the recent history of Japan's sovereign debt run-ins with the credit rating agencies in this blog – Ratings agencies and higher interest rates. Pesek certainly doesn't record what happened – it would injure his pretext if he did and so he relies on his readers either not knowing what happened or forgetting.
In a nutshell, in November 1998, the day after the Japanese Government announced a large-scale fiscal stimulus to its ailing economy, Moody's made the first of a series of downgradings of the Japanese Government's yen-denominated bonds, by taking the Aaa (triple A) rating away. By December 2001, they further downgraded Japanese sovereign debt to Aa3 from Aa2. Then on May 31, 2002, they cut Japan's long-term credit rating by a further two grades to A2, or below that given to Botswana, Chile and Hungary.
In a statement at the time, Moody's said that its decision "reflects the conclusion that the Japanese government's current and anticipated economic policies will be insufficient to prevent continued deterioration in Japan's domestic debt position … Japan's general government indebtedness, however measured, will approach levels unprecedented in the postwar era in the developed world, and as such Japan will be entering 'uncharted territory'."
The Japanese government (Finance Minister) responded very sensibly: "They're doing it for business. Just because they do such things we won't change our policies … The market doesn't seem to be paying attention."
Indeed, the Government continued to have no problems finding buyers for their debt, which is all yen-denominated and sold mainly to domestic investors. It also definitely helped Japan that they had such a strong domestic market for bonds.
In the New York Times (July 6, 2002), the logic of the rating was questioned:
How … could a country that receives foreign aid from Japan have a better rating than Japan itself? Japan, with an economy almost 1,000 times the size of Botswana's, has the world's largest foreign reserves, $446 billion; the world's largest domestic savings, $11.4 trillion; and about $1 trillion in overseas investments. And 95 percent of the debt is held by Japanese people.
The UK Telegraph article said of Japan at the time:
Bizarrely, securities backed by mortgages sold to people without the income to service the debt they were taking on were being judged a better credit risk than the sovereign government of Japan, with the ability in extremis both to raise taxes and print money to avoid a default.
Rating sovereign debt according to default risk is nonsensical. While Japan's economy was struggling at the time, the default risk on yen-denominated sovereign debt was nil given that the yen is a floating exchange rate.
In general, the Bank of Japan showed in the period from the mid-1990s onwards that they can keep interest rates very low (zero) and issue as much government debt as they wanted even in the face of consistent credit rating agency downgrades.
So if a government stands up to the agencies their impact is likely to be minimal. Please read my blog – Who is in charge? – for more discussion on this point.
Further the Japanese government has it within their capacity to stop issuing debt whenever they want to change the regulations/laws that dictate these absurd voluntary constraints.
And after claiming that Japan is "lucky credit rating companies have been so generous" he gives the whole game away:
Yes, Japan is rich, has trillions of dollars of household savings and a bond market that keeps virtually all public debt onshore. Its fiscal trajectory, though, is dismal. The only thing regrettable here is that politicians aren't getting the message.

Talk about a towering display of denial. Even if you think the logic behind the Skyscraper Curse is shaky, concerns about a Japanese debt crash are based on solid foundations.
I suggest Pesek first of all consult some structural engineers to learn more about the seismic-proofing of the nearly completed Tokyo Tower to get some reassurance that the building is on "solid foundations". My knowledge is that it is very well proofed against earthquakes but that is what my engineering pals tell me.
Then I suggest Pesek write an essay on the implications of issuing risk-free public debt to provide a modest return to the "trillions of dollars of household savings" without recourse to foreign-currency denominated sources while maintaining economic growth with spending which provides the source of that "household saving" and keeps unemployment relatively low.
The Japanese treasury and central bank understand this. The conservative politicians might be getting spooked but then they are probably being advised by young PhD graduates from US universities who have been poorly educated.
Let me say there will be no Japanese sovereign debt crash – now, soon nor ever. I challenge Pesek to articulate when he thinks that crash is likely to occur and in what form it will take. He will not do that of-course because he has filed his copy and is busy writing some more nonsense that his un-informed readers will then get worried about.
The fact is that the Japanese government never has any problem issuing its debt at low yields and at least the bond traders understand that.
But misconceptions about how different monetary systems shape a nation's opportunities are fairly broadly held – even among so-called progressives. Take the latest column by Paul Krugman in the New York Times (January 27, 2011) – Their Own Private Europe – which purports to expose how poorly conceived Republican response to the US President's State of the Union address was.
Krugman quotes a section of the Republican response (from Paul Ryan) as being something that "caught" his eye:
Just take a look at what's happening to Greece, Ireland, the United Kingdom and other nations in Europe. They didn't act soon enough; and now their governments have been forced to impose painful austerity measures: large benefit cuts to seniors and huge tax increases on everybody.
That response which is trying to claim that if you don't act to reduce deficits early crisis will follow is clearly nonsensical. The global financial crisis and subsequent deep real economic recession had nothing to do with "deficits" being too large. Quite the opposite in fact.
Prior to the crisis, if governments had have used expansionary fiscal policy (increasing deficits) to ensure that economic growth absorbed the persistently high unemployment then private savings could have been higher and there may have been less reliance of private credit growth to underpin economic growth. The overall national accounting relationships are clear – government surplus equals non-government deficit. The causality between the two is less clear and has to be inferred from the context and the circumstances.
But when a government is pursuing fiscal austerity (either generating surpluses or trying to) then the only way the economy can grow is if the non-government sector is recording deficits (or trying to). With external deficits, this will manifest in the form of private domestic deficits (typically). A growth strategy founded on increasing private indebtedness (the stock manifestation of these deficit flows) is unsustainable and eventually the fiscal drag is exposed as, say, households try to increase their saving.
Further, post-crisis, the pursuit of fiscal austerity and/or the reluctance by governments to expand their deficits to an appropriate scale given the circumstances surrounding non-government spending has prolonged the crisis unduly and caused long-term unemployment to rise in most countries. The crisis could have been attenuated in its impact and even largely sequestered to the financial sector if governments had have acted responsibly with respect to their fiscal responses.
But the other major problem with this argument is that it collects "Greece, Ireland, the United Kingdom and other nations in Europe" (which other nations? – Norway, Denmark?) together and attempts to not only consider them as a bloc but also to infer that the US might be similarly included. Nothing could be further from the truth. Greece and Ireland and the "other nations" in Europe that form the Eurozone run an entirely different monetary system than does the United Kingdom, the other nations in Europe that declined to join the EMU (and do not have currency arrangements fixed to the Euro), and, importantly for the argument, the United States.
When you see someone use this type of conflation you realise that they are either ignorant of the differences and their implications for the conduct for fiscal and monetary policy or they know well and choose to mis-inform the reader for the their own ideological purposes.
The fact is that the fiat currency system that the US or the UK operates leaves them financially at no risk ever of default. These sovereign governments are not financially constrained in any way although they have erected institutional machinery (debt-issuing agencies with prescribed rules) which make it appear as they have constraints. However, these voluntary "constraints" are only of a political nature and could be disassembled at any time (with some political narrative to go with it). They can thus clearly run whatever fiscal stance they like without worrying (ultimately) about what the bond markets might do.
Further, these nations can address external imbalances without having to drive down domestic wages and conditions because their exchange rates float against other currencies.
Finally, the central banks in these nations set whatever interest rate they like and then all other rates in the term structure are so conditioned. The fact that a central bank sets a zero interest rate does not mean that credit is "cheap". I will address that misconception in a moment for it pervades public debate. All it means is that the private market rates will then be at levels which reflect private assessments of risk. The higher the perceived risk of a particular asset the higher the rate above zero. Cheap in this situation actually means "low perceived risk".
However, once a country entered the European Monetary Unit (the Eurozone) it surrendered its currency sovereignty (and became financially constrained), its capacity to set interest rates; and its external flexibility (its exchange rate effectively becomes fixed). Some might say that this decision is also voluntary and can be undone just like some of the fiscal rules that non-EMU governments impose on themselves. Technically that is correct but it is one thing for the US government to alter a regulation or law and another for an EMU nation to abandon the Euro and reinstate its own currency.
All Eurozone governments are in the same straitjacket and face insolvency as a consequence.
Anyone with an understanding of macroeconomics and the way the choice of monetary system bears on the opportunity set available to fiscal policy makers would have noted the points I have made above.
But in attempting to expose the flaws in the Republican response, Krugman demonstrates that he also doesn't get the point. He says the following in response to the quoted section above:
It's a good story: Europeans dithered on deficits, and that led to crisis. Unfortunately, while that's more or less true for Greece, it isn't at all what happened either in Ireland or in Britain, whose experience actually refutes the current Republican narrative.

But then, American conservatives have long had their own private Europe of the imagination – a place of economic stagnation and terrible health care, a collapsing society groaning under the weight of Big Government. The fact that Europe isn't actually like that – did you know that adults in their prime working years are more likely to be employed in Europe than they are in the United States? – hasn't deterred them. So we shouldn't be surprised by similar tall tales about European debt problems.
Krugman then presented the obvious data – viz Ireland and Britain. He thinks the lesson from Ireland for the US is "that balanced budgets won't protect you from crisis if you don't effectively regulate your banks". No, the lesson from Ireland for the US is that a nation that surrenders its fiscal sovereignty cannot respond to a financial crisis in any situation because the bond markets will restrict the capacity of such a government to borrow (in the foreign currency – the Euro).
For the US, the danger of not regulating your banks is independent of the budget position it chooses at any point in time. A balanced budget itself is only sensible if the nation is running an external surplus sufficient to allow the private domestic sector to save without impinging on overall spending growth and maintaining real output growth.
The further caveat I would put on that statement is that the government must also be happy with the mix of private and public output. If they assess that the public output is insufficient then a balanced budget in these circumstances would not be desirable. But that latter consideration is of a political rather than economic nature.
Krugman then says the lesson from Britain is that "slashing government spending in the face of a depressed economy" actually damages growth despite what the conservatives have claimed. The evidence from last week is becoming increasingly clear on that.
So he buys the Republican argument for Greece but not for Ireland and Britain and by implication concludes that "Mr. Ryan … widely portrayed as an intellectual leader within the G.O.P., with special expertise on matters of debt and deficits … doesn't know the first thing about the debt crises currently in progress is".
Those in glass houses!
Here is how I would have handled the flawed Ryan logic which is just mindless neo-liberal mythology at its best.
First, the household-government budget conflation myth that drives all mainstream macroeconomic analysis of government policy and always leads it to draw erroneous conclusions. As I have said many times, there is no applicable analogy between the budget of a household and the budget of a sovereign government.
Household spending is always financial constrained as they are users of the currency of issue. Non-government agents in general have to source funds before they can spend – either through earnings, asset sales, prior savings or borrowing.
A sovereign government is never revenue constrained because it is the monopoly issuer of the currency. It neither has to tax or borrow to spend and logically has to spend prior to being able to collect tax revenue or borrow funds.
Second, governments with vastly different monetary systems (EMU versus fiat) cannot be conflated. The US is fully sovereign with respect to its fiscal opportunities and choices. An EMU government does have access to a tax base but its budgetary constraints are akin to those faced by the household in that it has to find funding sources prior to being able to spend.
Third, the ageing population intergenerational budget time bomb myth underpins the Republican response and alleges that the US government, which can always create net financial assets denominated in US dollars, will run out of US dollars because more people will be demanding health care services and pensions future than is the case at present. The simple response to that myth is that the national government (US or any sovereign nation) will always be able to "pay for" its pension obligations or provide first-class health care to all as long as there is a political will to do it and there are real resources available to back the spending.
Fourth, the Republican response also assumes that budget surpluses create national savings which then leads it to claim that governments have to reduce their role in the economy by cutting spending even though there is very high and persistent unemployment and huge spending gaps still present. We are told repeatedly that very difficult decisions and sacrifices have to be made to allow the government to create budget surpluses so that it will have more resources to spend in the future.
In fact, budget surpluses provide no extra spending capacity in the future. A sovereign government has unlimited spending capacity in its own currency. The constraints are never financial unless they are self imposed.
Fifth, the Republican response also trades on what I call the "spend beyond your means myth" which equates budget deficits with excessive spending. But in fact the concept of "means" for a national government is totally inapplicable. It has all the "financial means" that it could ever desire – infinity minus 1 cent. A sovereign government can never spend beyond its "means" although they can spend too much in relation to the real capacity of the economy to absorb that spending via increased output.
With 10 per cent unemployment in the US, the US government faces very little opportunity cost (that is, in real terms) in engaging this labour for productive public sector work. The means are ample.
History only shows that when governments push nominal demand ahead of the growth in the real productive capacity of the economy they push beyond an inflation barrier. Governments have run budget deficits continuously for decades without encountering the types of problems that the conservatives claim are inevitable.
So the Republican response is neo-liberal mythology at its best. Which also suggests that Krugman – by his lack of clarity on what the real issues are in this context – is also entrapped in that destructive mindset.
Aside – the problem with NSW government exposed
Overseas readers might not realise how bad the NSW state government is. It is on its last legs after a series of corrupt and incompetent displays over the last several years including rotating the premier several times.
I think I have discovered the problem.
Yesterday, after the latest (so-called) scandal involving the husband of one of the ministers being arrested by police for purchasing illegal drugs the Premier was asked what her reaction was. She replied that she could sum up her feelings in one word:
I'm furious.
Isn't that three words abbreviated to two?
Conclusion
Run out of time today …
That is enough for today.