Very costly fiscal programs are needed
In yesterday's blog – Our children never hand real output back in time – I canvassed the recent speech by Japanese financial market expert Eisuke Sakakibara who emphasised that the world recession will be protracted (until 2015 at least) because governments are refusing to support output and income generation with appropriately scaled fiscal interventions. It was a timely warning I think. But organisations like the OECD are pressuring governments to do exactly the opposite. They want governments to accelerate their pro-cyclical fiscal austerity plans – that is, withdraw public spending while private spending languishes. It is a purely ideological demand – and will worsen the recovery prospects of any country that follows that course – Ireland is our beacon! What is required at present are very costly fiscal programs – programs that utilise as many real resources as are idle. Such a strategy would be the exemplar of responsible fiscal policy management.

In their Economic Survey of Euro Area 2010 the OECD is once again lecturing the EMU member states that "(p)rolonged fiscal consolidation and reforms will be needed to bring debt to a more prudent level, increase the ability to withstand future shocks and to prepare for future ageing costs". They are proposing "fiscal councils" and I will write a blog about that proposal maybe tomorrow.
Basically, the proposal is to further subvert the democratic standing of so-called "free nations" by creating "independent fiscal institutions, or fiscal councils" which have full autonomy (that is, are insulated from the political process) to determine appropriate fiscal policy settings and place pressure on governments to "comply with a numerical rule".
The claim is that "good fiscal institutions are a necessary condition for achieving disciplined fiscal performance".
The proposal is a mindless demonstration of the ideological position that elected governments should not use discretionary fiscal policy to counter-stabilise the fluctuations in the non-government spending cycle. Instead, an unaccountable (to us!) body of neo-liberals (mainstream economists) etc would pontificate over the government and enforce pro-cyclical fiscal positions – that is, enforce discretionary contraction when the automatic stabilisers were driving the budget into larger deficits as a result of weak non-government demand.
Anyway, I will examine the OECD documents on this topic in another blog.
But the underlying proposals coming from the major world economic institutions and the vast bulk of the commentariat tell me that we have not yet understood what has happened over the last three years or so, and what caused the events of the last few years – in the decade or more before 2007.
Eisuke Sakakibara has a good understanding. And in Paul Krugman's latest Op Ed in the New York Times (December 12, 2010) – Block Those Metaphors – the problem is set out very clearly.
Krugman comments on the latest US tax-cut deal which he labels a "short-term boost" to the US economy. I agree with that assessment. He notes that of the economists currently supporting more fiscal intervention the overwhelming bias is towards a "short-term boost" to "jump-start the economy" etc.
The title of his Op Ed indicates that he doesn't like the metaphors for the US economy – a "stalled car" needing a jump-start and other references being made to short-term, palliative care.
He says:
Our problems are longer-term than either metaphor implies. And bad metaphors make for bad policy. The idea that the economic engine is going to catch or the patient rise from his sickbed any day now encourages policy makers to settle for sloppy, short-term measures when the economy really needs well-designed, sustained support.
However before we get too excited, I remind readers that Krugman has maintained a consistent deficit-dove position throughout the crisis. He has acknowledged the need for fiscal support in the "short-term" but has insinuated that budgets should be balanced over the course of the business cycle.
In June 2010, he forecast a lost decade. In that Op Ed he said:
But don't we need to worry about government debt? Yes – but slashing spending while the economy is still deeply depressed is both an extremely costly and quite ineffective way to reduce future debt … The right thing, overwhelmingly, is to do things that will reduce spending and/or raise revenue after the economy has recovered – specifically, wait until after the economy is strong enough that monetary policy can offset the contractionary effects of fiscal austerity.
In other words, public debt is a problem but not at the moment.
Deficit-doves are dangerous. They believe that when private spending is weak governments should run budget deficits but when growth returns the budget should go into offsetting surpluses and balance over the course of the business cycle. They argue that the mainstream approach to run budget surpluses or balanced budgets always provides no scope for government to counteract reductions in private spending and so such as strategy commits the economy to periods of recession and rising unemployment.
The intent of the mainstream (neo-liberals) is clear – it is an ideological dislike of government involvement in the "market" and so the fiscal rules aim to limit the socio-economic role of the state.
Deficit-doves think that deficits during period of growth are likely to "crowd out" private sector investment by competing for funds. However, this proposition really makes them part of the problem.
Clearly, at any point in time, there are finite real resources available for production. New resources can be discovered, produced and the old stock spread better via education and productivity growth. The aim of production is to use these real resources to produce goods and services that people want either via private or public provision.
So by definition any sectoral claim (via spending) on the real resources reduces the availability for other users. There is always an opportunity cost involved in real terms when one component of spending increases relative to another.
However, the notion of opportunity cost relies on the assumption that all available resources are fully utilised. Unless you subscribe to the extreme end of mainstream economics which espouses concepts such as 100 per cent crowding out via financial markets and/or Ricardian equivalence consumption effects, you will conclude that rising net public spending as percentage of GDP will add to aggregate demand and as long as the economy can produce more real goods and services in response, this increase in public demand will be met with increased public access to real goods and services.
If the economy is already at full capacity, then a rising public share of GDP must squeeze real usage by the non-government sector which might also drive inflation as the economy tries to siphon of the incompatible nominal demands on final real output.
Whether a rising public demand on the finite resources is desirable depends on what the alternatives are. I do not automatically think public use of resources is inferior and private use superior. The mainstream assertion that markets allocate resources efficiently and therefore private provision is better than provision by fiat (public) is just a myth. The financial crisis should leave us with no doubts that the "private markets" are dysfunctional and require public intervention.
Ultimately, when resources are finite political decisions have to be made by government as to which sector uses them. If the government determines that its political mandate requires more public use and less private use, then fiscal policy has to be used to ensure that the private sector can spend less. Please read my blog – Functional finance and modern monetary theory – for more discussion of this.
But the possibility of physical crowding out is not the same as the concept of financial crowding out which is a centrepiece of mainstream macroeconomics textbooks and which deficit doves have some sympathy for. This concept has nothing to do with "real crowding out" of the type noted above.
The financial crowding out assertion is a central plank in the mainstream economics attack on government fiscal intervention. At the heart of this conception is the theory of loanable funds, which is a aggregate construction of the way financial markets are meant to work in mainstream macroeconomic thinking.
The original conception was designed to explain how aggregate demand could never fall short of aggregate supply because interest rate adjustments would always bring investment and saving into equality.
At the heart of this erroneous hypothesis is a flawed viewed of financial markets. The so-called loanable funds market is constructed by the mainstream economists as serving to mediate saving and investment via interest rate variations.
This is pre-Keynesian thinking and was a central part of the so-called classical model where perfectly flexible prices delivered self-adjusting, market-clearing aggregate markets at all times. If consumption fell, then saving would rise and this would not lead to an oversupply of goods because investment (capital goods production) would rise in proportion with saving. So while the composition of output might change (workers would be shifted between the consumption goods sector to the capital goods sector), a full employment equilibrium was always maintained as long as price flexibility was not impeded. The interest rate became the vehicle to mediate saving and investment to ensure that there was never any gluts.
So saving (supply of funds) is conceived of as a positive function of the real interest rate because rising rates increase the opportunity cost of current consumption and thus encourage saving. Investment (demand for funds) declines with the interest rate because the costs of funds to invest in (houses, factories, equipment etc) rises.
Changes in the interest rate thus create continuous equilibrium such that aggregate demand always equals aggregate supply and the composition of final demand (between consumption and investment) changes as interest rates adjust.
According to this theory, if there is a rising budget deficit then there is increased demand is placed on the scarce savings (via the alleged need to borrow by the government) and this pushes interest rates to "clear" the loanable funds market. This chokes off investment spending.
So allegedly, when the government borrows to "finance" its budget deficit, it crowds out private borrowers who are trying to finance investment.
The mainstream economists conceive of this as the government reducing national saving (by running a budget deficit) and pushing up interest rates which damage private investment.
The analysis relies on layers of myths which have permeated the public space to become almost self-evident truths. This trilogy of blogs will help you understand this if you are new to my blog – Deficit spending 101 – Part 1 – Deficit spending 101 – Part 2 – Deficit spending 101 – Part 3.
The basic flaws in the mainstream story are that governments just borrow back the net financial assets that they create when they spend. Its a wash! It is true that the private sector might wish to spread these financial assets across different portfolios. But then the implication is that the private spending component of total demand will rise and there will be a reduced need for net public spending.
Further, they assume that savings are finite and the government spending is financially constrained which means it has to seek "funding" in order to progress their fiscal plans. But government spending by stimulating income also stimulates saving.
Additionally, credit-worthy private borrowers can usually access credit from the banking system. Banks lend independent of their reserve position so government debt issuance does not impede this liquidity creation.
Anyway, after that warning digression, back to the main plot.
Krugman is absolutely correct in saying that:
The root of our current troubles lies in the debt American families ran up during the Bush-era housing bubble. Twenty years ago, the average American household's debt was 83 percent of its income; by a decade ago, that had crept up to 92 percent; but by late 2007, debts were 130 percent of income.

All this borrowing took place both because banks had abandoned any notion of sound lending and because everyone assumed that house prices would never fall. And then the bubble burst.

What we've been dealing with ever since is a painful process of "deleveraging": highly indebted Americans not only can't spend the way they used to, they're having to pay down the debts they ran up in the bubble years. This would be fine if someone else were taking up the slack. But what's actually happening is that some people are spending much less while nobody is spending more – and this translates into a depressed economy and high unemployment.
Yes, basic macroeconomic principle – spending equals income. Income is produced with output and supports employment. At any point in time an economy has some finite productive capacity and it is aggregate demand (spending) that provides the motivation for firms etc to deploy that capacity.
Should the spending be insufficient to that required to fully engage all productive resources then we have an economic slowdown and this can easily become a recession as firms lay-off workers and the lost income multiplies through the economy – spreading to other firms and reducing their desire to employ workers in productive activity.
An economy can be constructed in terms of two broad sectors: the government sector and the non-government sector. We can further decompose the non-government sector into the private domestic sector and the external sector.
The government sectors adds to aggregate demand by spending and reduces demand by taxation. The private domestic sector adds to demand by consuming and investing and saving is thus a withdrawal of spending. The external sector adds to demand through exports but import spending (by all domestic sectors) reduces local demand.
Understanding these spending impacts allows us to clearly see what must happen if the private domestic sector is reducing its spending in order to net save. The only way the private sector overall can reduce its debt levels is to net save. As that process has unfolded, consumption and investment spending has fallen.
The US and most other nations run external deficits which drain demand from the local economy and are thus deflationary. So with the private domestic sector attempting to repair its "balance sheet" (reducing debt) and the external sector in deficit, there is only one sector left to fill the spending gap – the government sector.
Krugman acknowledges this:
What the government should be doing in this situation is spending more while the private sector is spending less, supporting employment while those debts are paid down. And this government spending needs to be sustained: we're not talking about a brief burst of aid; we're talking about spending that lasts long enough for households to get their debts back under control. The original Obama stimulus wasn't just too small; it was also much too short-lived, with much of the positive effect already gone.
So to restate the fundamental first principle of macroeconomics – firms produce to meet expected spending. All output will be sold if spending equals the sum of all income. If an agent spends less than its income, output will go unsold unless another agent goes into debt and buys that output.
If there is a generalised net desire to save – output will go unsold and the stock build-up will lead to declining production and employment.
The reverberations of the lost incomes generate a downward spiral in output. In this situation, the economic outcome depends entirely on the policy response by government. If demand for private production falls but people still desire to work then there is no valid reason not to switch them to public goods production until private demand recovers. Unemployment results when the policy response inhibits this switch.
In a paper I wrote in 1999 I said the following.
Unemployment will occur when the private sector, in aggregate, desires to earn the monetary unit of account, but doesn't desire to spend all it earns. That results in involuntary inventory accumulation among sellers of goods and services and translates into decreased output and employment.
In this situation, nominal (or real) wage cuts per se do not clear the labour market, unless those cuts somehow eliminate the desire of the private sector to net save, and thereby increase spending. This point is articulated in Post Keynesian theory but plays no role in the neoclassical/monetarist explanations of unemployment.
It is the introduction of "State Money" into a non-monetary economics that raises this spectre of involuntary unemployment. Extending the model to include the foreign sector makes no fundamental difference to the analysis and as we will private domestic and foreign sectors can be consolidated into simply the non-government sector without loss of analytical insight.
The only entity that can provide the non-government sector with net financial assets (net savings) and thereby simultaneously accommodate any net desire to save and eliminate unemployment is the government sector. It does this by (deficit) spending. Furthermore, such net savings can only come from and is necessarily equal to cumulative government deficit spending. National income accounting is thus underpinned by the identity; the government deficit (surplus) equals the non-government surplus (deficit). The systematic pursuit of government budget surpluses must be manifested as systematic declines in private sector savings. This is contrary to the mainstream rhetoric.
The non-government sector is dependent on the government to provide funds for both its desired net savings and payment of taxes to the government. To obtain these funds, non-government agents offer real goods and services for sale in exchange for the needed units of the currency. This includes, of-course, the offer of labour by the unemployed. The obvious conclusion is that unemployment occurs when net government spending is too low to accommodate the need to pay taxes and the desire to net save.
National government spending is never inherently revenue-constrained. It is only constrained by what is offered for sale in exchange for its currency.
Returning to the textbook case (with a consolidated private sector including the foreign sector), total private savings thus equals private investment plus the government budget deficit. And, if we disaggregate the non-government sector into the private and foreign sectors, then total private savings is equal to private investment, the government budget deficit, and net exports, as net exports represent the net savings of non residents.
In general, deficit spending to be necessary to ensure high levels of employment.
This framework also allows us to see why the pursuit of government budget surpluses will be contractionary. Pursuing budget surpluses is necessarily equivalent to the pursuit of non-government sector deficits.
They are the two sides of the same coin. In recent years, financial engineers have empowered consumers with innovative forms of credit, enabling them to sustain spending far in excess of income even as their net nominal wealth (savings) declines.
Financial engineering has also empowered private-sector firms to increase their debt as they finance the increased investment and production. The resulting sharp decline in the desire to net save temporarily allowed the US government to realise a budget surplus, but the process was not sustainable.
The decreasing levels of net savings 'financing' the government surplus increasingly leverage the private sector. Increasing financial fragility accompanies the deteriorating debt to income ratios and the system finally succumbs to the ongoing demand-draining fiscal drag through a slow-down in real activity.
It is clear that this understanding does not recognise the validity of fiscal rules that are independent of the state of the spending in the other sectors. To state that the public budget should be balanced over the business cycle is to ensure that the private domestic balance will be equal to the external balance over the same cycle.
So if an external deficit persists (and there is very little chance that the US economy will start delivering external surpluses any time soon), then pushing the budget into balance(even if you could) would be equivalent to forcing the private domestic sector into deficit (equal to the external deficit).
In other words, the fiscal austerity proponents do not understand that private deleveraging when there is an external deficit must be supported by on-going budget deficits. That is not likely to be a short-term affair.
The deficits support economic growth and income generation which provides the capacity of the private domestic sector to enjoy some consumption growth (which, in turn, is likely to stimulate investment growth) but also provides the scope for that sector to save overall. It is in this sense that Modern Monetary Theory (MMT) says that deficits "finance" private saving.
Without the deficits or with deficits that are inadequate (relative to the desire to net save), the economy stagnates and the process of private debt reduction becomes very painful and probably stalls overall.
In this context, Krugman says:
It's true that we're making progress on deleveraging. Household debt is down to 118 percent of income, and a strong recovery would bring that number down further. But we're still at least several years from the point at which households will be in good enough shape that the economy no longer needs government support.
Now consider the following graphs. Some one sent me a link overnight to a page which had a version of the first graph displayed. The graph is based on the US Federal Reserve Flow of Funds data. Note to Reserve Bank of Australia: I wish we published the depth of flows data for Australia that is available to US researchers. That would be a more useful task than spending time creating unemployment and threatening household solvency by manipulating short-term interest rates.
The first graph shows total borrowing by quarter from the first quarter 2004 to the third quarter 2010 and is suggestive of the scale of the problem that the US economy faced as the private sector began to unwind its unsustainable debt positions. The particular page extolled the wisdom of this shift from private to public debt as saving the US economy but the comment displayed on that page were mostly hysterical along the lines of "US government eats US children by going on a frenzied printing money binge" etc.
The graph shows how quickly the "private debt binge" paradigm changed and the private sector withdrew their spending (implicit). The fact is that the government had to step in or else the US economy would have experienced a depression.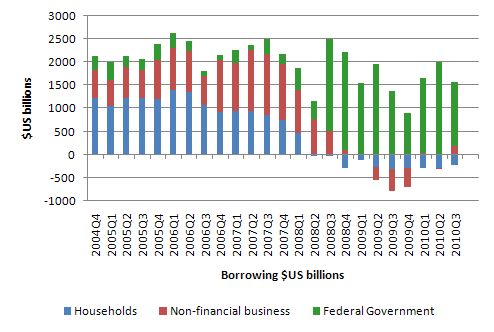 The debt dynamics just reflect the fact that the US government voluntarily issues debt $-for-$ to match its net spending. Although this behaviour is totally unnecessary it is nothing to be alarmed about. The US government can never be insolvent in its own currency and can meet any liabilities that are denominated in that currency. That status is not enjoyed by the non-government sector.
Please read my blog – On voluntary constraints that undermine public purpose – for more discussion on this point.
So public debt is not equivalent or comparable to private debt. Please read my blog – Debt is not debt – for more discussion on this point.
Public debt is equivalent to private wealth. The Ricardians (Barro etc) tried to deny this – claiming that the deficits have to be paid back with higher taxes and so the debt today is a higher tax burden tomorrow. That claim has not foundation in reality – Please read my blog – Pushing the fantasy barrow – for more discussion on this point.
Anyway, given all of that, it is quite remarkable how little insight seems to be demonstrated on these financial market home pages, blogs etc – as indicated by the comments I read on the site referred to above which had a graph similar to my previous graph. More worrying is that (as the saying goes) "these people vote"!
The next graph is drawn using the same data but just shows the annual growth in outstanding debt. Once again you should realise just what the US economy is having to deal with at present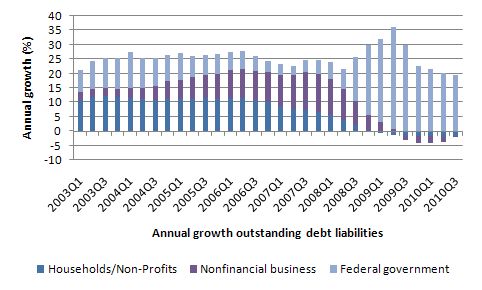 Krugman then loses the plot in saying:
But wouldn't it be expensive to have the government support the economy for years to come? Yes, it would – which is why the stimulus should be done well, getting as much bang for the buck as possible.
Exactly, why is a deficit "expensive"? All spending leads to real resource deployment. The only way we can consider "costs" is to assess the real resources that are being used to meet the spending. So yes net public spending "costs" the real resources that it brings into production.
But when the alternative is that these real resources would be languishing in unemployment or idle machines etc then the opportunity cost is very low indeed. It doesn't take much productivity to be better than zero!
The rising debt levels and the interest payments are not costs that have any relevance. The debt levels just signify rising non-government wealth stored in that particular savings form and the interest payments are income. It never ceases to amaze me that the mainstream consider private wealth and income growth to be good but cannot get their heads around the fact that government bonds and the interest servicing associated with the bonds are also sources of private wealth and income (respectively).
Conclusion
I agree with Krugman that the net public spending should be carefully designed to ensure it maximises the employment potential and improves the lot of the disadvantaged above all else. But he is completely in the mainstream camp when he says thing like "the …[tax] … deal will cost a lot – adding more to federal debt than the original Obama stimulus – it's likely to get very little bang for the buck."
Yes, it might not maximise employment etc per dollar spent (or foregone) but the rise in debt is irrelevant to the assessment of the "cost". In fact, in a sense (real terms), we actually should be extolling the virtues of very "costly" programs at present given the extent that productive capacity is being under-utilised around the world.
The more real resources that are tied up in fiscal programs the more quickly the world will recover and private spending resume.
That is enough for today!