There is no credit risk for a sovereign government
Today I read a very interesting article in the Financial Times by a professional who works in the financial markets. It was in such contrast to the usual nonsense that I read that it made a special dent in my day. I also was informed that a leading US academic economist had recommended we read the same article. I found that a curious recommendation given that this economist is not exactly in the Modern Monetary Theory (MMT) camp. Indeed, if you examine the course material he inflicts on his macroeconomics classes you would reach the conclusion that his Department is another that should be boycotted by prospective students. Anyway, the FT article makes it very clear – there is no credit risk for a sovereign government – and that financial market investors who have bought into the neo-liberal spin that public debt default for such sovereign governments is nigh have made losses as a result.

This morning. a reader brought this tweet to my attention (thanks Dennis). It was published by UC Berkeley economist Brad DeLong.

I wondered why anyone would be reading DeLong's twitter page but I suppose we all have different tastes.
I had already read the Financial Times article being linked which was written by Steven Major who is Global Head of Fixed Income Research at HSBC in London. I have had some correspondence with Steven in the last few years and he is clearly a thoughtful and insightful person. I will come to his narrative presently.
The first point that crossed my mind was what was going on in DeLong's head. Last week, another reader (thanks Bernard) asked me to comment on the teaching material that DeLong prepares for his introductory macroeconomics course at Berkeley. The reader thought the material was problematic. He was right.
DeLong likes to think of himself alongside Krugman as part of the "Keynesian" army against all the neo-liberals. Both are in fact New Keynesians. In that sense, they are not very dissimilar to Mankiw and his gang. Interestingly, they appear to be continually trying to one-up Mankiw as part of some internecine struggle within the American economics academy. But from a Modern Monetary Theory (MMT) perspective, it is hard to tell their various narratives apart.
DeLong has long been a user of the Internet for teaching purposes. Here was his full Introductory Macroeconomics lectures at Berkeley in 1996. As far as I can work out this course follows an introductory course in microeconomics (Econ 100a). The macro course used Mankiw as the textbook – at least in the sections on fiscal policy.
The curriculum is stock standard mainstream and perpetuates all the misunderstandings about the way the monetary system operates that are still crippling the contemporary policy debate. I will leave it to your interest to delve into the lecture material to see how many errors in logic and understanding you can pick. The course is a scandal.
Interestingly, DeLong told his students at the beginning of the course that:
… I may be the best person at Berkeley to teach this course because of what I did in Washington. Most of my job there–as Deputy Assistant Secretary of the Treasury for Economic Policy–was the subject matter of this course: business cycles, inflation, effect of economic policies on the stability of the economy, determinants of long-run growth and income distribution, effect of economic policies on long-run growth, and on income distribution. What is for you the subject matter of a course was, for me, the principal component of my job for two and a half years.
Which just told me that the advice the US Government was getting in this crucial role was deeply flawed. Nothing has changed.
There is nothing in a text book like Mankiw which would allow a student to understand how the monetary system operates; how the central bank operates (Mankiw tells students they control the money supply – which is totally false); how government spending and taxation works (Mankiw thinks governments have to finance spending which causes interest rates to rise); how inflation is generated (Mankiw claims increasing money base is inflationary – like just look at the juxtaposition between the US Federal Reserve balance sheet and the US inflation rate!).
I could go on. It is a depressing prospect that we send our bright young hopes into classrooms only to be confronted by neo-liberal ideologues who tell the students that the only ideologues are socialists and then proceed to fill their minds with misrepresentations and outright lies.
Fast-track 14 years. Nothing much has changed even though the understanding that mainstream economics purports to provide students has been deeply cruelled by the current economic crisis. So the mainstream approach to macroeconomics has been totally discredited by this crisis. Students taught in this tradition will have no understanding of what caused the problem nor why the current policy approaches being advocated are so damaging.
Anyway, here is what DeLong thinks is acceptable material to provide his introductory macroeconomics students in their first lecture in macroeconomics.
In a post to his introductory economics students (August 12, 2010) – First Draft of August 30 Principles of Economics Lecture: Introduction to Macroeconomics – DeLong sought to outline what the terrain of macroeconomics is. He said it involved four topics: (a) depression economics – which is about demand failures; (b) inflation economics – which is about demand excesses; (c) deficit economics – which considers the breakdown in trust in the government and monetary system – which is about how governments break promises by running deficits that are too large or build up excessive national debt; and (d) growth economics.
This is not the way I teach macroeconomics and the treatment of the topics as outlined by DeLong is likely to be a confused cocktail of Keynesian notions and Monetarist notions in the way New Keynesians delight.
How much content has much to do with fiat monetary systems? Answer: there is very little applicable content.
For example, in his description of deficit economics, DeLong writes (and his students will then rote learn and etch the following into their naive minds forever):
The consequences of such breakdowns …[he is talking about inflationary spirals causing trust issues with the currency] … are the third part of the domain of macroeconomics, which deals with the case in which the macroeconomic market failure is one of promise-keeping on the part of the government. As the late Milton Friedman put it, for the government to spend is for the government to tax. Whenever the government spends, it is also promising explicitly or implicitly to tax somebody, either in the present or the future, either directly or indirectly, to pay for that purchase.
I would never tell a student such a story. How does DeLong explain the decades of consistent budget deficits that the US government (and most other governments ran in the Post Second World War period? And that was for the most part a period when currencies were convertible and so governments did have financial constraints.
Implicit in this citation of Friedman is the Barro Ricardian Equivalence nonsense. Accordingly, students are told that governments can net spend now if they issue debt but because the debt has to be paid back there is an implied tax rise which is known by households and firms and they accommodate that into their present spending decisions.
The reality is that governments do not usually retire their outstanding debt obligations (other than the trivial situation of paying back maturing obligations as new obligations are issued).
Please read my blog – Pushing the fantasy barrow – for more discussion on this point.
But the more important point is that students should understand very early in a macroeconomics course that a sovereign government is never revenue constrained because it is the monopoly issuer of the currency. That is a basic starting point in exploring the differences between spending and taxation decisions of a sovereign government and the spending and income-earning decisions/possibilities of the private sector entities (households and firms).
The two domains – government and non-government – are very different in this respect and any attempt to conflate them as if both are subject to budget constraints is wrong and starts the slippery slide down into the total mispresentation of how the macroeconomics system operates.
So DeLong's students are already sliding down the chute into ignorance tainted by the implicit neo-liberal ideology that goes with this approach.
So a statement that "for the government to spend is for the government to tax" is without application in a modern monetary system where the national government is the monopoly issuer of the currency and floats it on international currency markets.
Such a government does not tax to raise revenue. Please read my blog – Functional finance and modern monetary theory – for more discussion on this point.
After duping the students with the Friedman line, DeLong goes to say the following:
The government can tax now to pay for spending later – and so run a budget surplus. The government can spend now and promise to tax later – and so run a budget deficit and increase the national debt. But what happens when the government runs up too great a debt and the political system tries to get the government to break its promise to tax? How to guard against such attempted promise-breaking by the government, and what happens when the government attempts such promise-breaking occurs is deficit economics. And once again it is not pretty: capital flight, disinvestment, stagflation, currency collapse, and hyperinflation.
Again, this is a total misrepresentation of the way the government and non-government sectors interact. A sovereign government does not have to run budget surpluses to spend later. Its capacity to spend now is never compromised in financial terms by its past net spending history unless the economy is already operating at full capacity in which case there is no further scope for aggregate demand growth.
In these situations, if the government wants to expand the public command on real resources it would have to reduce the private use of those resources by increasing taxation.
But there is no such thing as national saving in the sense that budget surpluses provide a stock of "money" which the government can spend later. Households save by foregoing current consumption in the hope that by expanding their financial resources (via compounding) they will be able to consume greater amounts in the future. But the household has no choice – they are financially constrained and their spending choices in each period reflect that constraint.
When a government runs a surplus it is not "saving" anything. The surpluses go nowhere! They are just flows that are accounted for and the aggregate demand which is drained by the surpluses is lost in that period forever.
Some might say that sovereign funds do stockpile public saving. But the creation of the fund meant that there was no accounting surplus anyway. The government just chose to purchase speculative financial assets instead of building schools or hospitals or providing public sector employment.
Further, a sovereign fund does not increase the capacity of a sovereign government to spend in the future. Such a government issues the currency under monopoly conditions and can always spend.
You can also see very emotive language in DeLong's notes to his students. What, for example, does "too great a debt" constitute? Is this a political statement reflecting an ideology or does DeLong has some financial formula to say that a sovereign government becomes incapable of servicing that debt after some point?
Answer: the former. There is no financial or economic logic in the statement that there is too much debt outstanding for a sovereign government. Governments just service debt by crediting bank accounts. They have an infinite financial capacity to do that.
So DeLong is actually teaching some bastardised course in Political Science here and only allowing the conservative side of the debate to be aired.
Finally, note the link between deficits and currency collapse and hyperinflation. Why not emphasise the importance of public deficits for sustaining employment and income growth and underwriting the desire of the private sector to save?
Of-course aggregate demand growth that outstrips the real capacity of the economy to absorb it will generate inflation. But any spending component – public, private or external – can drive spending over the acceptable nominal edge. Why force your students only to focus on public net spending in this context?
Which takes me back to the beginning. If DeLong thought the FT article by Steven Major was worth reading why hasn't he immediately told his students that the stuff he is proposing to teach them in this introductory macroeconomics course is misleading and not worthy of their attention?
Is this another Economic Departments that should be blacklisted? I think so. Please add it to your list.
In my view, his students would be better off driving across the bay (from Berkeley) and going for a surf at – Fort Point or to Ocean Beach or North Ocean Beach or to South Ocean Beach – to start with. Then they could pack the Kombi and head down the coast to some of the magic breaks that are to be found in that part of the world.
But I do wonder what DeLong gleaned from Steven Major's Financial Times article – 'True sovereigns' immune from eurozone contagion – which was published on August 16, 2010.
As an admin note, several readers wonder how they can get around the FT registration system that precludes you from reading to much on-line material for free. If you don't have a subscription, here is how you can get unlimited content. I assume all billy blog readers are sophisticates and only use Firefox. First, go to Tools/Options/ and click on the Remove Individual Cookies link. This is how FT checks to see how many times you have accessed their pages. Second, put FT in the search box when the window comes up and delete all the cookies that are listed. Third, do a Google search for the article title. Fourth, click the Google search link and you should be sweet. It is a bit of messing around but free.
What is the point about a sovereign government than DeLong seems to miss in his course design? Well the FT article helps us understand the point very clearly.
In his FT article – 'True sovereigns' immune from eurozone contagion – HSBC economist Steven Major opens with the following statement:
There are plenty of doomsayers who think it is only a matter of time before the sovereign risk crisis spreads from the eurozone to other countries, including the US, UK and Japan.

This is not going to happen in my view. That is because the obsession with public debt ratios fails to distinguish between different levels of sovereignty. The US, UK and others can maintain high public debt ratios for longer, especially given the amount of deleveraging being carried out by the private sector.

Not all sovereigns are the same. The US, UK, Japan and Canada are examples of what I call "true sovereigns". For these countries there is zero default risk. Investors should not worry about credit fundamentals, as they will always receive their coupons and original investment on redemption.
This is so contrary to what is being peddled each day in the financial press that a medal for bravery should be awarded. I just did that Steve(!)
MMT doesn't different between degrees of sovereignty. But the point is taken. MMT differentiates between sovereign and non-sovereign governments.
Steven Major chooses to term a government in the former category a "true sovereign" because it:
… can issue freely in its own currency, has full taxing power over the population and ultimately, if required, can create more of its own money. None of this means that true sovereigns can afford to be profligate, far from it, but it does mean there is no externally imposed timetable on fiscal retrenchment.
I am 100 per cent in agreement with this construction.
Note that in saying a (true) sovereign government is never revenue constrained because it is the monopoly issuer of the currency one is not advocating reckless net spending by the same government.
A (true) sovereign government should define its sense of public purpose which in my view will always include full employment using technologies that are environmentally sustainable. Then its fiscal position should enable the economy to achieve levels of activity that are commensurate with this idea of public purpose.
It should definitely not allow nominal aggregate demand to outstrip the real capacity of the economy to absorb it. That would be reckless. But in the scale of recklessness, it would be less reckless than allowing 10 per cent of your willing labour force to remain unemployed and at least another 6 or 7 per cent more of your available workers to be idle in other ways.
So I do not use the term "true" sovereignty but I understand Major's intent in introducing that to his audience.
He then said:
Investors in the "true sovereigns'" should worry about the level of interest rates and inflation, but not about credit risk. These factors, rather than the level of supply, will be the most critical in determining bond yields.

Market participants mixed up the different contributions to risk in government bond markets earlier this year when they started pricing in some element of default risk. Short sellers, sitting on significant losses, have been forced to cover their positions. The traders who thought 10-year US and UK government bonds were expensive in January when the yield was 4 per cent will not find them good value at close to 3 per cent.
So, no risk of insolvency should ever drive financial markets when dealing with the debt of a sovereign government. That is in contradistinction to the mania tha you hear and read each day from so-called informed commentators. That is all they focus on.
It is clear that bond investors can lose if there is inflation and/or unanticipated changes in interest rates. Bond traders are speculators after all. They thus have to price into their decisions the risk of price and yield movements.
But then we know that the central bank can effectively manage interest rates and, in doing so, condition differnt segments of the yield curve. In this way, the monetary authority can keep the risk elements attributable to interest rates that drive spreads between short- and long-rates low. That is, the central bank should be aiming to create a favourable investment climate to encourage productive capacity building.
In terms of inflation, MMT eschews the use of monetary policy and promotes functional finance principles. Inflation (unless it is cost-derived) arises from excessive growth in nominal aggregate demand. The most effective aggregate policy instrument for dealing with inflation is fiscal policy.
So by failing to understand the essentials of a fiat monetary system, many of the investors (the short-sellers) are now sitting on losses. If they understood the principles of MMT they would not have disadvanted their clients in this way. The fact they are now sitting on losses is a further empirical rejection of the mainstream macroeconomic depiction of the way the sytem works.
Then Steven Major notes that in the current environment:
… those who are worried about deflation and understand the different categories of risk will buy these bonds to maintain purchasing power. After all, investors have recently been gobbling up 10-year Japanese government bonds with a 1 per cent yield. They know that sovereign risk is zero so any amount of positive yield is attractive when inflation is negative.
There is a growing demand for sovereign government debt. This flies in the face of the rantings of Kotlikoff and Co who are claiming that governments are already insolvent.
A recent report in Australia showed that government debt returns outstripped the performance of the superannuation funds over the last decade.
Major then talks about the EMU governments and says:
By contrast, there is sovereign default risk in eurozone bonds. The countries that adopted the single currency immediately relinquished some policy sovereignty. But that only became crystal clear this year when Greece faced a liquidity crisis. This was caused by the market's loss of confidence in the Hellenic Republic's ability to pay bondholders as large redemptions?
I would not call any of the EMU governments sovereign. They do not issue their own currencies nor do they float them on international markets.
Please read the following blogs – Euro zone's self-imposed meltdown – A Greek tragedy … – España se está muriendo – Exiting the Euro? – Doomed from the start – Europe – bailout or exit? – EMU posturing provides no durable solution – for more discussion on the EMU.
But the point that Major is making is correct. An individual EMU government would not be able to save its own banking system without external help, for example.
The only reason that the situation has settled a little in the Eurozone is because the ECB are now playing fiscal policy games and buying government debt in the secondary markets – which means they are effectively providing the matching funds for the deficits of the EMU governments where the private bond investors are reluctant.
In this regard, Major notes that:
Receiving refinancing help from the eurozone and the International Monetary Fund dealt with the near-term concerns over ability to pay but did nothing to remove longer-term concerns over willingness to pay. That is true credit risk.
Yes, it is. Any of the EMU governments is at the risk of insolvency. But no sovereign government faces credit risk.
On that distinction, Major says that "Greece … cannot be compared with the UK position, for example":
Indeed, it was extraordinary that market professionals made the mistake of comparing Greek and UK budget deficit and outstanding debt ratios. Understandable, perhaps, if you are a politician trying to win an election but not if your job is to invest in the bond markets.
Which when combined with all those loss-making short-positions tells you that there is no deep wisdom in the financial markets. Some traders and insiders know how the system operates but most do not.
The fact that risk on a wide variety of financial instruments became impossible to price in the lead up to the financial crisis tells you that financial markets are incapable of efficient self-regulation. Bond traders and other investors make monumental errors – in part, because they have bought the neo-liberal ideology about government solvency.
Finally, while Major thinks that the "sovereign crisis for the eurozone is not over and markets are likely to require a greater risk premium for some of the weaker members if economic conditions become more challenging":
This is not the case for countries such as the US and UK. Yields there will be determined by the outlook for interest rates and inflation. The latter will be particularly important when policy rates are close to zero. Also, the fact that private sector borrowing has been contracting at a faster rate than budget deficits have been growing adds downward pressure to inflation.
Clearly this is consistent with the MMT position on the current state of play. The crucial point is that the public deficits have not been large enough to really underpin sustainable growth given the contraction of private spending (and borrowing). It was important for the private sector to find more sustainable long-run debt positions and thus increase saving.
But that required a commensurate increase in public net spending. The public deficits have helped the world economy to stabilise somewhat. But the detritus that remains in the form of persistently high unemployment just demonstrates the need for even larger fiscal stimulus to be introduced.
There is no solvency risk in expanding the public deficits nor is there any significant inflation risk at present (or in the foreseeable future). There is so much excess productive capacity to be absorbed back into effective use that aggregate demand growth is a long way from running up against the inflation barrier.
Anyway, it was nice to see the FT publish something that was sensible for a change.
Conclusion
And while I am on the Twitter theme, these tweets came in this afternoon as a reaction to the announcement today of the Coalition's jobs manifesto as part of the national election campaign. It is a non-jobs manifesto, in fact, but in this era of double speak surpluses and persistently high unemployment are good and creative fiscal leadership and full employment are bad. The latter are constructed as the hallmarks of fiscal irresponsibility. Strange world.
The tweets came from John Falzon who is CEO of the St Vincent de Paul Society in Australia and a very decent person to boot.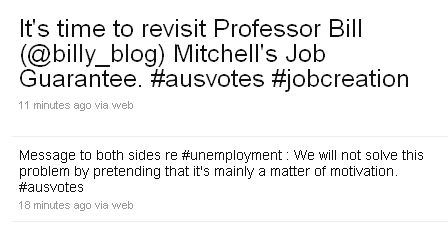 Total Aside – and sad
If you surf then there are hazards! They do not stop us however – Full Story.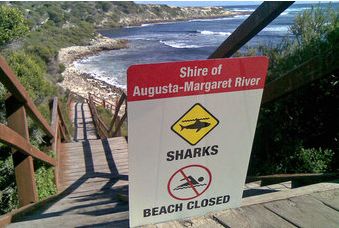 That is enough for today!