Counter-cyclical capital buffers
Recently (July 2010), the Bank of International Settlements released their latest working paper – Countercyclical capital buffers: exploring options – which discusses the concept of counter-cyclical capital buffers. This is in line with a growing awareness that prudential regulation has to be counter-cyclical given the destabilising pro-cyclical behaviour of the financial markets. Several readers have asked me to explain/comment on this proposal. Overall it is sensible to regulate private banks via the asset side of the balance sheet rather than the liabilities side. The countercyclical capital buffers proposal is consistent with this strategy and would overcome the destabilising impact of a reliance on minimum capital requirements that plagued the first two Basel regulatory frameworks. However, I would prefer a fully public banking system which can deliver financial stability and durable returns (social) with much less risk overall.

Background
Some of section and the next is based on a paper I wrote with Luke Reedman in 2002. Here is a link to the working paper version of the paper – Fiscal policy and financial fragility: why macroeconomic policy is failing.
What parades now as macroeconomic policy is a mishmash of half-truths and fallacy. At present governments around the world are being hectored by the IMF and other organisations into pursuing pro-cyclical austerity policy stances – which are an abuse of their fiscal policy capacity and responsibilities. In their latest latest paper on restoring growth in the Eurozone, the IMF model various public surplus debt profile scenarios.
The aim is to get public balances back into surplus as soon as possible, despite their being no sign that bank lending and private spending is picking up.
Unless a nation enjoys a strong trading environment, governments that pursue public surpluses are relying on the increased indebtness of the private sector to maintain economic growth. This strategy is unsustainable because private agents eventually increase saving to restore their balance sheets. Economic growth then falters, unemployment rises and the automatic stabilisers generate a public deficit.
To elaborate, we define involuntary unemployment as labour unable to find a buyer at the current money wage. In the absence of government spending, unemployment arises when the private sector, in aggregate, desires to spend less of the monetary unit of account than it earns. Nominal (or real) wage cuts per se do not clear the labour market, unless they somehow eliminate the private sector desire to net save and increase spending.
The non-government sector depends on government to provide funds for both its desired net savings and its tax obligations. The private sector cannot by itself 'net save' because saving is a signal to lend and so savers are always in an accounting sense matched by a borrower.
To obtain these funds, non-government agents offer real goods and services for sale in exchange for the needed currency units. This includes, of-course, offers of labor by the unemployed.
Thus, unemployment occurs when net government spending is too low to accommodate the need to pay taxes and the desire to net save. In general, deficit spending is necessary to ensure high levels of employment.
Persistent budget surpluses also force the private sector into increasing indebtedness. The sectoral balances (private, public and external) in the national accounts are:
(1) (S – I) = (G – T) + (X – M)
Equation (1) says that total private savings (S) is equal to private investment (I) plus the public deficit (spending, G minus taxes, T) plus net exports (exports (X) minus imports (M)), where net exports represent the net savings of non-residents.
Thus, when an external deficit (X – M < 0) and public surplus (G - T < 0) coincide, there must be a private deficit. While private spending can persist for a time under these conditions using the net savings of the external sector, the private sector becomes increasingly indebted in the process. So when the IMF is recommending a return to public surpluses they are really implying (though they do not say this) that private debt is better than public debt (given the stupid arrangements that governments have to issue debt when they net spend). Public surpluses just introduce fiscal drag (a draining of aggregate demand) to the economy. They do not provide a government with any 'saving" which can be used later to fund future public expenditure. It is a total neo-liberal myth that one budget position (a low deficit or surplus) provides a nation with more capacity to engage in a fiscal expansion that a higher deficit. To disabuse you of that myth, here is a quote from a paper I wrote with Warren Mosler in 2002:
Government spends by crediting a reserve account. That balance doesn't 'come from anywhere', as, for example, gold coins would have had to come from somewhere. It is accounted for but that is a different issue. Likewise, payments to government reduce reserve balances. Those payments do not 'go anywhere' but are merely accounted for. In the USA situation, we find that when tax payments are made to the government in actual cash, the Federal Reserve generally burns the 'money'. If it really needed the money per se surely it would not destroy it. A budget surplus exists only because private income or wealth is reduced.
In a recent FT article written by ECB boss Trichet, which was described in – this article – as exhibiting all the passion of a new religious convert" – Trichet "derides the previous economic panacea of boosting government spending to soften the economic downturn". He said:
With the benefit of hindsight, we see how unfortunate was the oversimplified message of fiscal stimulus given to all industrial economies under the motto: "stimulate", "activate", "spend"! A large number fortunately had room for manoeuvre; others had little room; and some had no room at all and should have already started to consolidate … [there is] … little doubt that the need to implement a credible medium-term fiscal consolidation strategy is valid for all countries now.
The budget surplus may be applied to running down debt (that is, forcing the private sector to liquidate its wealth to get cash) but this strategy is finite. So budget surpluses destroy liquidity (debiting reserve accounts) which is deflationary. The weaker demand conditions force producers to reduce output and layoff workers with rapid increases in joblessness. Investment irreversibilities driven by uncertainty of future demand conditions then retard capacity growth and prolong the downturn.
So the austerity measures are really setting the world up for the next crisis. At the best of times, for economic growth to occur, the pursuit of public surpluses necessitates an increase in the net flow of credit to the private sector and increasing private debt to income ratios.
At some point a threshold is reached where the private sector, by circumstance or choice, becomes unwilling to maintain these deficits? For this reason, the reliance on rising indebtednesses to underwrite private spending is ultimately, an unsustainable growth strategy.
The private sector (and the spending the debt has supported) becomes increasingly vulnerable to interest rate increases, declining asset values and lost incomes.
This insight is at the heart of Minsky's Financial Fragility Hypothesis and has implications for the latest offering from the Bank of International Settlements on countercyclical capital buffers as a preventative measure to offset future financial crises.
Of-course, with bank credit so weak at present, the austerity measures being implemented will more than likely stifle growth much earlier than would be the case if the private sector was embarking on a new wave of borrowing.
Minksy Financial Fragility hypothesis
Two questions are raised by the aggregate demand structure above. First, what motivates and enables the private sector to run deficits over extended periods? Second, how long can this process continue? Minsky's Financial Fragility hypothesis provides insight into these two questions.
The type of economic system envisaged by Minsky is a modern capitalist system consisting of long-lived, expensive, and privately owned capital assets with sophisticated financial arrangements (debt contracts) designed to fund the acquisition of such assets.
For Minsky, it is the processes and consequences of the investment in such capital assets in a modern capitalist system that forms the theoretical crux of the Financial Fragility hypothesis.
The Financial Fragility hypothesis has two fundamental propositions noted in the introduction:
First, the economy has financing regimes under which it is stable and financing regimes under which it is unstable.
Second, expansions driven by private spending are typified by agents taking increasingly fragile investment positions.
Debt-holders, meet their repayment obligations using cash flow derived from the investor's operations and/or fulfillment of owned contracts (both income cash flows); the sale of capital or financial assets (portfolio cash flows); and/or the issuance of debt (balance sheet cash flows).
The articulation between expected income cash flows and contractual obligations are what Minsky terms 'financial relations' with three categories being identified:
An investor is hedge financing if realised and expected income cash flows are sufficient to meet all their payment commitments.
An investor is engaged in speculative financing if their balance sheet cash flows exceed expected income receipts and they roll-over existing debt.
An investor becomes a Ponzi financial unit if they increase debt to meet the gap between their balance sheet cash flows and expected income receipts. So unlike hedge units, speculative and Ponzi financing units must engage in portfolio transactions to fulfill their payment commitments.
While the Financial Fragility hypothesis focuses on business enterprises, similar 'financial relations' apply to households. The debt financing of owner-occupied or investment housing also requires households to meet contractual payments from income, portfolio, and balance sheet cash flows.
It is the relative weight of income, balance sheet, and portfolio payments in an economy that determines the vulnerability of the financial system to disruption. An economy in which income cash flows are dominant in meeting payment commitments is relatively immune to financial crises whereas an economy is potentially financially fragile and crisis-prone if portfolio transactions are relied on for meeting payments.
Over a period of prolonged prosperity, the economy endogenously transits from stable financial relations (an aggregate liability structure dominated by hedge finance) to unstable financial relations (an aggregate liability structure dominated by speculative and Ponzi finance). This dialectic is exacerbated by the pursuit of public surpluses.
To understand the hypothesised dynamics, we begin in the aftermath of a recession where all investing units (hedge, speculative and Ponzi) re-evaluate their safety margins. Units that encountered stress in meeting debt obligations inflate their safety margins, even though they remained solvent during the downturn.
This process is referred to as 'balance sheet restructuring' or 'reliquification'. A typical expansion begins with a public deficit providing a floor under income cash flows and loose monetary policy allowing investors to validate the pre-existing debt structure.
Simultaneously, government debt is fed into the portfolios of banks and other financial institutions, decreasing the exposure of the banking and financial systems to default. This combined with the balance sheet restructuring allows the economy to emerge from crisis with a more 'robust' financial structure than it had when the crisis took place.
This process has been proceeding over the last year and a half as governments implemented their fiscal stimulus programs. The austerity push will prematurely terminate this process – premature in the sense that the process of balance sheet restructuring within the private sector is far from complete. There is no thirst for private debt at present and banks are definitely not feeding a credit expansion. The latest IMF paper provides strong evidence for the last point.
So there is every danger that the world economy will dip back into recession under the demand-draining pressure of the fiscal drag.
According to Minsky, if the economy does not dip back into recession, the recovery then gives way to a period of economic tranquility where the cash flow, capital value and balance sheet characteristics of borrowers and lenders continue to improve. As this period endures, investing units observe that realised quasi-rents on capital assets begin to exceed expectations.
In hindsight, it appears that safety margins incorporated into liability structures were too pessimistic as the effective demand for the goods and services of businesses exceeds ex ante aggregate supply. In the short run, firms accommodate the excess through higher capacity utilisation rates. But eventually investment rises and begins to draw on external debt and equity funds.
For a unit to increase its liabilities there must be corresponding lender. The Financial Fragility hypothesis asserts that bankers live in the same climate of expectation as the managers of capital assets. The increase in debt-financed investment depends not only on the expectations of investors, but also on the willingness of bankers to ratify, if not drive the leveraging.
Borrowers previously considered too risky now become acceptable risks. The same pattern emerges in the liability structures of financial intermediaries. Debt levels rise as views about an 'appropriate' liability structure change. The heightened expectations breed a disregard for the possibility of failure the expectations of a normal business cycle are replaced by the expectation of steady economic growth.
This change of state, called the economics of euphoria by Minsky, is characterised by the development of significant imbalances in credit and asset markets.
The strong economic growth is driven by large private deficits generated by excessive investment in capital assets and household items based on unrealistic expectations of income cash flows and freely available credit. Such periods are also accompanied by growing public surpluses through the operation of the automatic stabilisers and/or explicit spending cutbacks.
Through phases of recession, recovery, tranquility, and euphoria, the economy endogenously moves from robust to fragile financial structures. The fragile structure characterised by high levels of speculative and Ponzi finance becomes vulnerable to a multitude of shocks, any of which, in isolation or concert, can alter perceptions of future income flows needed to validate the debt structure and drive the economy into crisis.
Prudential regulation in a Minsky world
The latest financial crisis has shown categorically that financial markets operate in a pro-cyclical manner which is consistent with Minsky's insights. So in strong economic times, there is excessive risk-taking and then the opposite occurs after a recession.
While the financial market players like to present themselves as being important, in fact they a followers – and operate in herds and this drives the de-stabilising pro-cyclical behaviour.
At present, the banks are behaving very conservatively because they have been making larger provisions for bad debt which has impinged on their capital buffers. This conservatism is now impeding growth and so fiscal policy is required to sustain any semblances of a recovery. The austerity programs fail to acknowledge this fact.
Some commentators are pointing out that the surprise UK GDP growth figures are a sign that austerity is not damaging. That assessment is far-fetched. What the last week's national account result from the UK tells us is that there was sufficient fiscal stimulus added to aggregate demand to get the economy moving again. The austerity impacts are yet to come. They will be damaging.
The fact that financial markets operate in a pro-cyclical manner means that financial regulation should lean against the wind – that is, provide counter-cyclical capacity to the economy. In this way, the need for significant fiscal responses is reduced.
We have known about this for years but governments failed to introduce adequate regulatory environments. They were being constantly pressured by the neo-liberals to break down regulation because the financial market players knew that, in general, they could pocket the upside returns (made larger by excessive risk-taking) and socialise the downside losses (for example, all the recent bailouts).
BIS counter-cyclical capital buffers
In December 2009, the Bank of International Settlements put out two discussion papers – Strengthening the resilience of the banking sector – consultative document – which outlined "a package of proposals to strengthen global capital and liquidity regulations with the goal of promoting a more resilient banking sector" and – International framework for liquidity risk measurement, standards and monitoring – consultative document – which outlined "a package of proposals to strengthen global capital and liquidity regulations with the goal of promoting a more resilient banking sector."
The BIS said that:
The objective of the Basel Committee's reform package is to improve the banking sector's ability to absorb shocks arising from financial and economic stress, whatever the source, thus reducing the risk of spillover from the financial sector to the real economy.
These proposals will form part of the yet-unofficial Basel III accord. The key features will be more strict definitions of Tier 1 capital. Please read the blog – Bond markets require larger budget deficits – for more detail on that.
Further, the BIS are proposing to introduce a leverage ratio which will curtail excessive banking leverage and also supplement the risk-based assessment frameworks used by banks.
Another major change is the proposal to introduce a framework of counter-cyclical capital buffers. This framework will help attenuate the excessive cyclicality of the minimum capital requirement and conserve capital in good times.
The aim is to curb the pro-cyclical behaviour of the financial markets and to protect the banking system from excess credit growth.
Recently (July 2010), the BIS released their latest paper – Countercyclical capital buffers: exploring options – which discusses the concept of counter-cyclical capital buffers. This is in line with a growing awareness that prudential regulation has to be counter-cyclical.
As background, in this blog – Bond markets require larger budget deficits – I outlined the system of banking supervision based on capital adequacy requirements which has been developed by the Bank of International Settlements.
The idea of countercyclical capital buffers is simple. They aim to protect the banking system from future potential losses. The BIS say in their latest working paper that:
The proximate objective of countercyclical capital standards is to encourage banks to build up buffers in good times that can be drawn down in bad ones. Buffers should not be understood as the prudential minimum capital requirement. Instead, they are unencumbered capital in excess of that minimum, so that capital is available to absorb losses in bad times. Countercyclical capital buffer schemes can be thought of as having two closely related ultimate objectives … One is to limit the risk of large-scale strains in the banking system by strengthening its resilience against shocks. The second is to limit the banking system amplifying economic fluctuations. In most circumstances, the difference between the objectives is not significant. For example, it is precisely when the financial system experiences large losses that its impact on the macroeconomy is strongest, through the induced credit contraction and asset fire sales. However, the relative weight assigned to the two objectives can colour the assessment of various schemes. For instance, a policy maker with a focus on the first objective may be less tolerant of reductions in capital buffers in bad times even if this helps to sustain overall lending.
So by forcing banks to build up capital during growth periods, the proposal reduces the chance (and size) of a credit explosion. The banks would also not have to raise capital in bad times just when it is most difficult to do so (the so-called paradox of capital).
This proposal is a so-called "third layer" of protection. The BIS envisage a model that has the following features.
Layer 1 is the minimum capital requirement faced by all banks and expressed as some percentage of "risk-weighted assets". Failing this requirement would trigger an "operational intervention" – assets sales, forced capital raising or amalgamation with a competitor.
Layer 2 is the "conservation buffer" which would be some extra percentage above the minimum capital expressed in terms of risk-weighted assets. Falling below this buffer (but remainging above Layer 1) would place restrictions on the bank's capacity to distribute its earnings.
Layer 3 is the market-specific "counter-cyclical buffer" above the conservation buffer. It only becomes binding during a period of "excess aggregate credit growth" that is "associated with a build-up of system-wide risk". The BIS claim this might happen every 20 years years.
The BIS working paper discusses two approaches to determining the counter-cyclical buffer. They say:
A major distinction for countercyclical capital schemes is whether conditioning variables are bank-specific (bottom-up) or system-wide (top-down). The evidence … indicates that the idiosyncratic component can be sizeable when a bottom-up approach is employed. This would imply large differences in the values of the adjustment factors across banks, even in times when broad financial stability pressures build up. In addition, the persistence of bank-specific factors can be very low, so that the volatility in the target for the countercyclical capital buffer could be substantial, sometimes changing size and direction considerably in several successive periods.

For a top-down approach, the analysis shows that the best variables, which could be used as signals for the pace and size of the accumulation of the buffers, are not necessarily the best signalling the timing and intensity of the release. Credit seems to be preferable for the build-up phase. In particular when measured by the deviation of the credit-to-GDP ratio from its trend, it has proven leading indicator properties for financial distress.
So they suggest a "market-based" rather than a "bank-based" system.
The challenge in designing this sort of scheme which would work more or less like an "automatic stabiliser" is that the minimum capital requirement against which the buffer would be calculated is itself cyclical.
The paradox of capital relates to the way in which the minimum capital requirements actually work to undermine the stability of the financial system (this is the so-called paradox of capital). In bad times, as the Minsky ponzi phase is unwinding, the banks have to write-down their poor assets which reduces capital. If a bank drops below the minimum capital requirement they have to raise new capital (or sell assets) just when it is most difficult to do so. The risk of failure is then magnified.
So the countercyclical capital buffers are meant to address this weakness in the minimum capital rules. So when there is a crisis and the banks are writing-down bad assets, the capital buffers are diminished rather and this reduces the risk of driving the bank below the minimum.
The following graph is taken from the BIS Graph II.1 and shows the different types of counter-cyclical buffer schemes that are possible.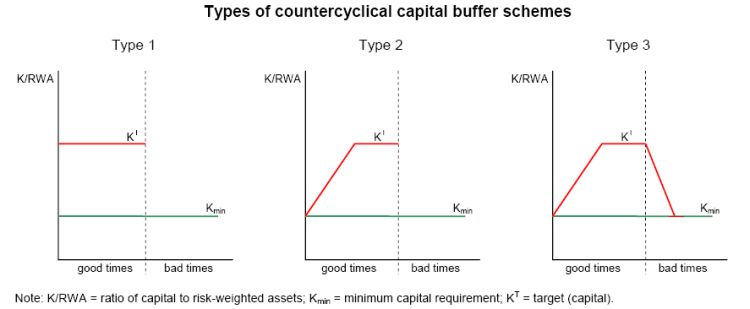 First, in the left-panel, in good times the banks would face a fixed percentage above the minimum but no requirement in bad times other than the minimum.
Second, in the centre-panel, requires "an increasing target in good times, possibly until it reaches some upper limit". The "build-up could be related to some conditioning variable (eg credit, earnings, a credit spread).
Third, release from the requirement "could either be instantaneous once bad times arrive (see Graph II.1, middle panel) or gradual, if it is linked to the same or another conditioning variable (see Graph II.1, right-hand panel)."
At this stage of the discussion phase, the BIS has offered very little specific information about the calibration of the buffers. How big will they be and what size is best?
The new developments are an improvement on Basel I and Basel II. Basel I was not very effective for many reasons, including:
There was only a partial differentiation of credit risk across the 4 asset categories.
The 8 per cent capital ratio was static and didn't reflect changing market circumstances (rising risk).
There was zero recognition of the term-structure of credit risk – that is, they did not incorporate the "maturity of a credit exposure".
They did not properly recognise portfolio diversification effects.
There were other problems and this led to the 2007 Basel II Capital Accord. You can read all the changes introduced by Basel II HERE. Essentially it added "operational risk" (losses arising from human error or management failure) and defines new ways of calculating credit risk. New approaches to assessing these risk exposures were recommended.
The problem with the Basel framework is that it gave banks an incentive to underestimate credit risk. The banks are allowed under the framework to use their own models of risk assessment to reduce the required capital and increase returns. Part of those returns are the fabulously large bonuses that are now common in private banking. It is clear the managers failed to allocate adequate capital as the risk exposure of their banks was increasing rapidly in the lead up to the crisis. It is clear that a system of self-regulation and the ability to under report risk failed.
So now there is a recognition that the minimum capital requirements are inadequate and can destabilise the financial system.
The obvious way a bank which is sitting on its requirement capital ratio can expand its capacity to lend is to increase its capital – which is exactly what the framework is designed to induce.
This raises the obvious tension that exists between the banks and the regulators. The former complain that any limitations on their leverage ratios reduces their profitability. Yes – which is exactly the intention.
Earlier this year (March 29, 2010), Andrew Sorkin in his New York Times column last week entitled – The Issue of Liquidity Bubbles Up – was arguing that any move to increase capital requirements for banks in the US would stifle economic prosperity. He quotes the now totally discredited Alan Greenspan:
A bank, or any financial intermediary, requires significant leverage to be competitive … Without adequate leverage, markets do not provide a rate of return on financial assets high enough to attract capital to that activity. Yet at too great a degree of leverage, bank solvency is at risk.
While this is correct, it makes a good (unintentional) case for public banking. Over what period do we compute the rate of return? What do we include in this calculation?
If we were to include the massive losses and public bailouts that were required to prevent the entire world financial system from collapsing then the risk-weighted returns would be negative by a long way. A public banking system can deliver financial stability and durable returns (social) with much less risk overall.
Conclusion
But overall, it is sensible to regulate private banks via the asset side of the balance sheet and that is the strategy employed by the capital requirements framework. It is also clear that higher capital requirements and more attention to "off-balance" sheet activity is now necessary.
In a system where the capital requirements are too low, the public exposure to bank failure is that much higher and the moral hazards are high. While the best option is to nationalise the banking system and make it 100 per cent focused on public purpose, the more realistic case is to ensure private banks have adequate buffers to insulate the system against panic.
That will reduce profitability (narrowly defined) but enhance social returns.
The other angle is that private investors would probably accept lower returns if there were tighter capital requirements because their risk exposure is lower. However, total costs to the sector rise when capital requirements rise.
In these blogs – Operational design arising from modern monetary theory and Asset bubbles and the conduct of banks – I outlined how I would reduce the role of banks which would make them much easier to regulate.
That is enough for today!