It will only take 6 months
I followed the attacks on pro-Israeli New York Times war monger Thomas Friedman some years ago, which centred on his support for the invasion of Iraq and his repeated prognosis that it would only take 6 months to decide the fate of the conflict. The six months never really materialised and by 2007 he was arguing, just as vehemently as he argued for war, for US disengagement because the strategy had failed. He was imbued with the WMD mania that was used by the US, Australian and UK governments to "justify" the unjustifiable despite them knowing there were no such dangers. So he is a guy who obviously knows what he is talking about! In his latest column he tries his hand at economics with a similar intellectual arrogance and lack of judgement that he brought to the Iraq issue.

As an aside, it was the Fairness and Accuracy In Reporting group that kept the issue of Tom Friedman's Flexible Deadlines alive so that his lack of judgement was visible for all to see. If you followed the discussion your only conclusion is that Friedman was pushing a biased agenda behind the cover of this NTY column and was hopelessly inadequate at assessing the reality he was continually writing (berating) about.
As FAIR note:
Friedman's appeal seems to rest on his ability to discuss complex issues in the simplest possible terms. On a recent episode of MSNBC's Hardball (5/11/06), for example, Friedman boiled down the intricacies of the Iraq situation into a make-or-break deadline: "Well, I think that we're going to find out, Chris, in the next year to six months – probably sooner – whether a decent outcome is possible there, and I think we're going to have to just let this play out."

That confident prediction would seem a lot more insightful, however, if Friedman hadn't been making essentially the same forecast almost since the beginning of the Iraq War. A review of Friedman's punditry reveals a long series of similar do-or-die dates that never seem to get any closer.
FAIR then listed 10 instances where Friedman proposed that the "next six months would decide everything" from 2003 to 2006, which leads them to conclude that is is a "long six months in Iraq".
In his recent New York Times column – Root Canal Politics – (published May 9, 2010), Friedman takes a visit to the dentist. I think his commentary on the Middle East is appalling but his foray into economic analysis is worse.
He starts by issuing a Death Notice:
DEATH NOTICE: The Tooth Fairy died last night of complications related to obesity. Born Jan. 1, 1946, the Tooth Fairy is survived by 400 million children living largely in North America and Western Europe, known collectively as "The Baby Boomers." "We'll certainly miss the Tooth Fairy," one of them said following her death, which coincided with the 2010 British elections and rioting in Greece. The Tooth Fairy had only one surviving sibling who will now look after her offspring alone: Mr. Bond Market of Wall Street and the City of London.

Sitting in America, it's hard to grasp the importance of the British elections and the Greek riots. Nothing to do with us, right? Well, I'd pay attention to the drama playing out here. It may be coming to a theater near you.
That is, coming to a theatre near you in about six months!
His so-called "meta-story behind the British election, the Greek meltdown and our own Tea Party" is that the parents of the "Baby Boomers" were the "The Greatest Generation" and made "enormous sacrifices and investments to build us a world of abundance" whereas the Boomers are the "The Grasshopper Generation" having "eaten through all that abundance like hungry locusts".
The solution is that we all have to become "The Regeneration" which "raises incomes anew but in a way that is financially and ecologically sustainable".
As soon as I see the words "financial" and "ecological" together I get suspicious and when combined with the word "sustainable" I get really suspicious. And sure enough, I had reason to be when reading this account of the crisis and the way forward out of it.
Apparently, the Tooth Fairy is an analogy for the situation we have been living in which would "allow conservatives to cut taxes without cutting services and liberals to expand services without raising taxes". Why did this happen? Well according to Friedman, who now is apparently an expert on macroeconomics:
The Tooth Fairy did it by printing money, by bogus accounting and by deluding us into thinking that by borrowing from China or Germany, or against our rising home values, or by creating exotic financial instruments to trade with each other, we were actually creating wealth.
Well there is a mixture for you. Some government transactions, some external sector transactions, and some non-government horizontal transactions, all in the same sentence.
I would also note that the Baby Boomer generation has only been adult in the post Bretton Woods period (after 1971) so the fiscal opportunities that our governments have had relative to the opportunities the Boomers' parents had are vastly superior. Not that you would guess that from the way our governments have (largely) behaved over this time period.
But it gets more complicated than that. The period that the Boomers have been adults has also been characterised by the rise to policy dominance of the economic rationalists or neo-liberals. Accordingly, the way we now view the state has changed fundamentally. And this has meant that the policy terrain that we now labour under is far removed from that which our parents benefited from in earlier times.
They were first adults in the Post World War II period and had been more or less directly affected by the The Great Depression. That experience taught them that, without government intervention, capitalist economies are prone to lengthy periods of unemployment. The emphasis of macroeconomic policy in the period immediately following the Second World War was to promote full employment.
Inflation control was not considered a major issue even though it was one of the stated policy targets of most governments. In this period, the memories of the Great Depression still exerted an influence on the constituencies that elected the politicians. The experience of the Second World War showed governments that full employment could be maintained with appropriate use of budget deficits.
The employment growth following the Great Depression was in direct response to the spending needs that accompanied the onset of the War rather than the failed Neoclassical remedies that had been tried during the 1930s. The problem that had to be addressed by governments at War's end was to find a way to translate the fully employed War economy with extensive civil controls and loss of liberty into a fully employed peacetime model.
So our parents enjoyed strong public sector infrastructure support and the benefits of the Welfare State. One of the things I get angry about is the fact that politicians who benefitted as kids and later while studying at university etc from the state support they received then in later life once they have influence try to undermine that welfare support structure for the next generation.
In my recent book with Joan Muysken – Full Employment abandoned we started in this way:
When we were young and later in our formative years, when we studied economics, everybody who wanted to earn an income was able to find employment. Maintaining full employment was an overriding goal of economic policy which governments of all political persuasions took seriously. Unemployment rates below two per cent were considered normal and when unemployment threatened to increase, government intervened by stimulating aggregate demand. Even conservative governments acted in this way, if only because they feared the electoral backlash that was associated with unemployment in excess of 2 per cent.

More fundamentally, employment is a basic human right and this principle was enshrined in the immediate Post World War II period by the United Nations. In 1945, the Charter of the United Nations was signed and ratified by 50 member nations. Article 55 defines full employment as a necessary condition for stability and well-being among people, while Article 56 requires that all members commit themselves to using their policy powers to ensure that full employment, among other socio-economic goals are achieved.

Employment transcends its income generating role to become a fundamental human need and right. This intent was reinforced by the United Nations in the unanimous adoption of the 1948 Universal Declaration of Human Rights. Article 23 of that treaty outlines, among other things, the essential link between full employment and the maintenance of human rights …

While unemployment was seen as a waste of resources and a loss of national income which together restrained the growth of living standards, it was also constructed in terms of social and philosophical objectives pertaining to dignity, well-being and the quest for sophistication. It was also clearly understood that the maintenance of full employment was the collective responsibility of society, expressed through the macroeconomic policy settings. Governments had to ensure that there were jobs available that were accessible to the most disadvantaged workers in the economy. We call this collective enterprise the Full Employment framework.
That framework has been systematically abandoned in most OECD countries over the last 30 years. The overriding priority of macroeconomic policy has shifted towards keeping inflation low and suppressing the stabilisation functions of fiscal policy.
Concerted political campaigns by neo-liberal governments aided and abetted by a capitalist class intent on regaining total control of workplaces, have hectored communities into accepting that mass unemployment and rising underemployment is no longer the responsibility of government.
As a consequence, the insights gained from the writings of Keynes, Marx and Kalecki into how deficient demand in macroeconomic systems constrains employment opportunities and forces some individuals into involuntary unemployment have been discarded.
The concept of systemic failure has been replaced by sheeting the responsibility for economic outcomes onto the individual. Accordingly, anyone who is unemployed has chosen to be in that state either because they didn't invest in appropriate skills; haven't searched for available opportunities with sufficient effort or rigour; or have become either "work shy" or too selective in the jobs they would accept.
Governments are seen to have bolstered this individual lethargy through providing excessively generous income support payments and restrictive hiring and firing regulations. The prevailing view held by economists and policy makers is that individuals should be willing to adapt to changing circumstances and individuals should not be prevented in doing so by outdated regulations and institutions.
The role of government is then prescribed as one of ensuring individuals reach states where they are employable. This involves reducing the ease of access to income support payments via pernicious work tests and compliance programs; reducing or eliminating other "barriers" to employment (for example, unfair dismissal regulations); and forcing unemployed individuals into a relentless succession of training programs designed to address deficiencies in skills and character.
In the midst of the on-going debates about labour market deregulation, scrapping minimum wages, and the necessity of reforms to the taxation and welfare systems, and cutting back on fiscal deficits, the most salient, empirically robust fact of the last three decades – that actual GDP growth has rarely reached the rate required to maintain, let alone achieve, full employment – has been ignored.
Further, the current crisis, which is getting worse again in Europe, has demonstrated beyond doubt that this paradigm is bereft of credibility. The ideologically-asserted belief that "free markets" were the best organising framework for the advancement of societal welfare and income generation and that they would "self regulate" to deliver these optimal outcomes – which is really the stuff of the Tooth Fairy Land – has been crushed by the events of the last 3 years.
None of this came as a surprise to those of us who operate within the framework presented by Modern Monetary Theory (MMT). It was obvious from the start that the move towards deregulation of all markets and the contraction of the government sector which was associated with rising non-government (particularly household) indebtedness was not a viable long-term growth strategy.
Once the private sector sought to save again overall and reduce its debt exposure then the fiscal drag coming from ideologically suppressed fiscal positions (often budget surpluses) would deliver a major recession. The collapse of the financial sector was always imminent given the reduced (and lax) regulation that the lobbyists had pressured governments around the world into introducing.
So Friedman is traversing a very complex historical period. He wrongly seeks to compare the welfare augmenting acts of government (during the full employment period) with the destructive deregulation acts of government (during the neo-liberal period). These periods are not commensurate.
Further, I am not sure who he thinks is borrowing from China.
But I agree with him that the neo-liberal period which has dominated the period that the Boomers have been maturing has created the illusion that nominal wealth is real wealth or ponzi wealth is real wealth. For those who have lost significant nominal wealth in the crisis the distinction will surely be obvious.
But this is not to say that there has not been a major accumulation of real wealth over this time. There has been but not everyone has shared in it.
In this blog – The origins of the economic crisis – I argued that the roots of the crisis were in part to be found in the way in which the neo-liberal policy agenda (the attacks on unions etc) allowed a major divergence between productivity growth and real wages growth to occur from around the mid-1980s (the date depends which country you are talking about).
This graph applies to Australia but the trend is apparent in most countries. You can see that real wages have failed to track GDP per hour worked (in the market sector) – that is, labour productivity. Real wages fell during the 1980s under the Hawke Accord, which was a stunt to redistribute national income back to profits in the vein hope that the private sector would increase investment. It was based on flawed logic at the time and by its centralised nature only reinforced the bargaining position of firms by effectively undermining the traditional trade union movement skills – those practised by shop stewards at the coalface.
Under the Howard years (1996-2007), some modest growth in real wages occurred overall but nothing like that which would have justified by the growth in productivity. In March 1996, the real wage index was 101.5 while the labour productivity index was 139.0 (Index = 100 at Sept-1978). By September 2008, the real wage index had climbed to 116.7 (that is, around 15 per cent growth in just over 12 years) but the labour productivity index was 179.1.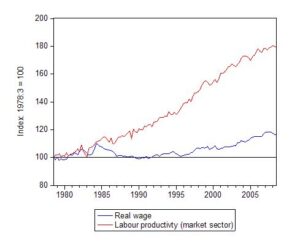 What happened to the gap between labour productivity and real wages? The gap represents profits and shows that during the neo-liberal years there was a dramatic redistribution of national income towards capital. The Federal government (aided and abetted by the state governments) helped this process in a number of ways: privatisation; outsourcing; pernicious welfare-to-work and industrial relations legislation; the National Competition Policy to name just a few of the ways. The next graph depicts the summary of this gap – the wage share – and shows how far it has fallen over the last two decades.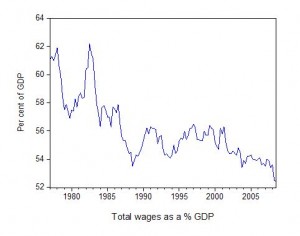 Of-course, such redistributions created tensions for the capitalist system. If the output per unit of labour input (labour productivity) is rising so strongly yet the capacity to purchase (the real wage) is lagging badly behind – how does economic growth which relies on growth in spending sustain itself? This is especially significant in the context of the increasing fiscal drag coming from the public surpluses which squeezed purchasing power in the private sector since around 1997 (in Australia)
In the past, the dilemma of capitalism was that the firms had to keep real wages growing in line with productivity to ensure that the consumptions goods produced were sold. But in the recent period, capital has found a new way to accomplish this which allowed them to suppress real wages growth and pocket increasing shares of the national income produced as profits. Along the way, this munificence also manifested as the ridiculous executive pay deals that we have read about constantly over the last decade or so.
The trick was found in the rise of "financial engineering" which pushed ever increasing debt onto the household sector. The capitalists found that they could sustain purchasing power and receive a bonus along the way in the form of interest payments. This seemed to be a much better strategy than paying higher real wages.
The household sector, already squeezed for liquidity by the move to build increasing federal surpluses were enticed by the lower interest rates and the vehement marketing strategies of the financial engineers. The financial planning industry fell prey to the urgency of capital to push as much debt as possible to as many people as possible to ensure the "profit gap" grew and the output was sold.
And greed got the better of the industry as they sought to broaden the debt base. Riskier loans were created and eventually the relationship between capacity to pay and the size of the loan was stretched beyond any reasonable limit. This is the origins of the sub-prime crisis.
So there were real gains to be made with all this deregulation and it is obvious that very few bankers have lost very much of their "wealth" during the crisis.
As noted in this blog – Fiscal sustainability and ratio fever – the The Sunday Times Rich List reported (April 25, 2010) that "the collective wealth of the 1,000 multimillionaires … [was up by] … 29.9% … easily the biggest annual rise in the 22 years of the Rich List".
So despite the most significant economic downturn in 80 years and sharply rising unemployment and home foreclosures, the top-end-of-town overall enjoys dramatic improvements in thier fortunes.
This directly bears on Friedman's "Grasshopper Generation" stylisation. There are now massive inequalities which have been exacerbated by the crisis but which were widening as the neo-liberal onslaught gathered pace. Some of the Boomers have clearly been eating well indeed, while others have been enduring increasing relative poverty.
As noted above, the Boomer period saw persistently high rates of labour market underutilisation which clearly imposed disproportionate burdens on certain segments of society and allowed the conservatives to reengineer the distribution of income in favour of the wealthy.
And that was Marx's point that I discussed in this blog – Fiscal sustainability and ratio fever – that at the height of the crisis – when there is so much (over)-production – the ones who created the real goods and services (the workers) have less than ever.
Friedman then continues to catalogue the problem but gets hopelessly confused:
Greece, for instance, became the General Motors of countries. Like G.M.'s management, Greek politicians used the easy money and subsidies that came with European Union membership not to make themselves more competitive in a flat world, but more corrupt, less willing to collect taxes and uncompetitive. Under Greek law, anyone in certain "hazardous" jobs could retire with full pension at 50 for women and 55 for men – including hairdressers who use a lot of chemical dyes and shampoos. In Britain, everyone over 60 gets an annual allowance to pay heating bills and can ride any local bus for free. That's really sweet – if you can afford it. But Britain, where 25 percent of the government's budget is now borrowed, can't anymore.
You can see how out of his depth on these issues he is. I am sure he has been reading Peter Schiff or some other economic illiterate when he was writing all this.
So the attack is not really on private indebtedness which was not clear in the article until this point. He is squarely aiming at public net spending and the associated debt-issuance. Note that this associated debt-issuance is a neo-liberal construct and imposed, unnecessarily, on governments to maintain their perverted notion of fiscal discipline. Clearly, from their own assestment (twisted logic) it has failed to do that but that is not the point I want to make.
What happens if the government wasn't issuing any public debt? A sovereign government is never revenue constrained because it is the monopoly issuer of the currency. In that sense, it doesn't issue debt to "fund" itself. So do a mental experiment and assume that governments become enlightened and stop issuing debt.
Further, worries about their being enough tax revenue are also meaningless from the perspective of "funding" government spending. As I explain in this blog – Taxpayers do not fund anything.
With those insights from MMT, then re-read Frieman's last quote. The question shifts from a faux notion of financial affordability to whether there is enough real goods and services available to accommodate the needs of the demographic cohorts being "supported".
It is quite irrelevant how much of the British government budget is borrowed. If there are heating materials available and enough steel to make the buses that drive down the road, then the British government will always be able to afford to purchase them. The question is whether it is politically possible to provide for these specific items against other competing needs. The analysis always has to focus on what real resources are available. Friedman has no inkling of that issue.
It gets worse, as Friedman gets all intergenerational with us:
Britain and Greece are today's poster children for the wrenching new post-Tooth Fairy politics, where baby boomers will have to accept deep cuts to their benefits and pensions today so their kids can have jobs and not be saddled with debts tomorrow. Otherwise, we're headed for intergenerational conflict throughout the West.
This so-called trade-off has no foundation. There is no such trade-off in financial terms. The conflict will come if idiots like Friedman keeps perpetuating these myths. They are akin to the WMD myths that he broadcasted far and wide to give the corrupt US government the smokescreen they required to get a footing in the Middle East.
The only issue is whether the consumption desires of the pensioners (the boomers) and their kids are commensurate with the supply of real goods and services as time passes.
There is clearly one area where there is conflict in this sense. In Australia, housing affordability is so low now that the boomers' kids are finding it hard to access the real estate market. There will be a fundamental change over the next 20 years or so in attitudes towards home ownership in this country. The kids will become the renters and their parents the landlords. But then Europeans, for example, came up against this finite land issue some hundreds of years ago.
Another area of conflict is in the environmental degradation we are leaving future generations.
But the real scarcity of land has no relevance to the public debt ratio. The government's debt level never (in financial terms) alters its capacity to spend. A sovereign government has the same financial capacity to buy goods and services or pay pensions whether it is carrying zero debt or "high" levels of debt relative to GDP. Note the parenthesis around "high" – which signifies that such descriptors are without much meaning. What is high? What is low? The answers are irrelevant to a sovereign government in financial terms.
The only meaning is in political terms and every generation more or less, chooses its own tax burden as a matter of political choice. The current dominant adult generation cannot impose a higher tax regime on a generation 100 years from now. They will choose when the time is up based on the needs to control aggregate demand and provide the government sector with idle real resources to pursue its socio-economic program.
Friedman, sadly, then decided that he would get onto the "need" for austerity – at the height of a crisis no less.
He waxes lyrically about a "British Conservative candidate" in the recent election who told him that:
… the Tories' most effective campaign ad was a poster showing a newborn baby under the headline: "Dad's eyes, Mum's nose, Gordon Brown's debt." Beneath was the caption: "Labour's debt crisis: Every child in Britain is born owing £17,000. They deserve better."
They certainly deserve better. They deserve to grow up in a nation that is free from cretinous-level political debates and false advertising. No child born in Britain legally owes anything upon birth. Their parents might have debts but they will be the result of private contracts they have signed with creditors. The public debt held by the British government is a liability only of itself.
Friedman focuses more deeply on the austerity issue:
Here is how The Financial Times described it on April 26: "The next government will have to cut public sector pay, freeze benefits, slash jobs, abolish a range of welfare entitlements and take the ax to programs such as school building and road maintenance." Too bad no party won a majority mandate in the British elections to do this job.

After 65 years in which politics in the West was, mostly, about giving things away to voters, it's now going to be, mostly, about taking things away. Goodbye Tooth Fairy politics, hello Root Canal politics.
The last thing any British government should be contemplating right now is cutting net spending. Private spending in Britain is dismal and the slight net export improvements are being driven by the depreciating sterling and falling import spending (as a result of the parlous state of the economy). As I demonstrated in this blog – People are now dying as the deficit terrorists ramp up their attacks – the only thing that Britain has going for it at present is its public deficit.
Start cutting that and you will see rising deficits as the economy collapses again and the automatic stabilisers go to work to provide some floor in aggregate demand.
Now is the time to expand public sector employment and pay, expand pensions and welfare entitlements and to increase investment in school buildings and road maintenance. Well perhaps invest in aged care facilities that are humane and public transport systems rather than school buildings and road maintenance. But spend nonetheless.
I might also remind Friedman that he should acquaint himself with the facts. In the April 2010 IMF World Economic Outlook, the following interesting pie-chart appeared. Accompanying the chart is relevant text.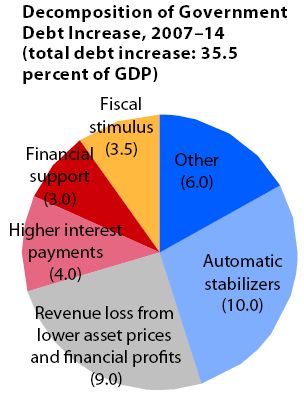 On Pages 5-6 of the April WEO you read:
Fiscal policy provided major support in response to the deep downturn, especially in advanced economies. At the same time, the slump in activity and, to a much lesser extent, stimulus measures pushed fiscal deficits in advanced economies up to about 9 percent of GDP.
Read it twice! Then E-mail it to Friedman!
On Page 9 of the April WEO you read:
Fiscal balances have deteriorated, mainly because of falling revenue resulting from decreased real and financial activity. Fiscal stimulus has played a major role in stabilizing output but has contributed little to increases in public debt, which are especially large in advanced economies.
Read it twice! Then E-mail it to Friedman!
The way to get the public deficits down and start stabilising public debt ratios (as if these goals meant anything) is to stimulate economic growth. That will not occur via austerity programs. That will only worsen living standards and push the ratios further into the realm of conservative hysteria.
The automatic stabilisers are reversable. That is why they are called automatic. There is no political dilemma involved – no programs that have to be cut – no incomes that have to be savaged. The budget balance is largely endogenous and is driven by private spending growth. Once that improves, which it will as public spending multiplies through the income generation process, then the budget balance will fall both in absolute terms and as a percentage of GDP.
The way to cut deficits is through growth. You cut a deficit by expanding it.
And finally today, Friedman is worshipping at the alter of the bond traders without the slightest lateral thought coming into his head:
We have got to use every dollar wisely now. Because we've eaten through our reserves, because the lords of discipline, the Electronic Herd of bond traders, are back with a vengeance – and because that Tooth Fairy, she be dead.
There are some very real ways in which we have "eaten our reserves". Our natural environment has been compromised – perhaps beyond repair; our climate is changing – perhaps irretrievably; conventional energy resources are dwindling; and our landscape is denuded through poor farming practices. Behaviour in this regard has to change for our kids to have a future.
But that is not what Friedman is referring to.
Finally, if the bond traders reduce the capacity of sovereign governments to pursue public purpose then there is one easy solution. Cut them out of the action. This can be done obviously by finally scrapping the neo-liberal practise of issuing debt to match net spending. It could also be accomplished by the central bank controlling the yield curve at appropriate maturities. The first option is optimal; while the second is a cop-out.
But ultimately it is always a sovereign government that rules. Please read my blog – Who is in charge? – for more discussion on this point.
As an aside, while I read the NYT regularly, this article was also brought to my attention by a regular reader from Southern California. He lives near to Beacon's Beach (down Encinitis way). If you know it (that is, you can find the beach at the end of the street) the left-hander off the south reef there is a pretty neat wave. Also, viewing the sunset from the cliff top is an experience that is worthwhile having at least once in your life. Nice place.
Coming up!
Many readers have written in asking me to explain what the US Federal Reserve swap lines, which have just re-opened, are all about. Some note my not-so-subtle reference when talking about the appalling behaviour of the European Central Bank to the bailouts they received courtesy of the US government.
Well tomorrow or another day soon I will explain what this is about and why it is exposing the US Federal Reserve to enormous default risk.
Also tomorrow the Australian federal government brings down its annual budget and I have columns to write for newspapers on that. So there might be some overlap with the blog depending on what other things I have to do in my writing time tomorrow.
But then I might write about something completely different tomorrow. Each day always brings a new slate!
That is enough for today!