Hyperbole and outright lies
Its been a big weekend for hyperbole which in this context is a polite term for outright hysterical lies. Today's blog reviews a few of the choice selections from a weekend's reading. It amazes me how people can even mis-represent their own research when they know the audience hasn't even read it in detail. It also is interesting to follow the way the media commentators are trying to out-do each other in use of superlatives – how much catastrophic can a catastrophy get – sort of thing. The analogies, the adjectives … are all designed to transport uninformed readers into a particular ideological space where the conservative forces can garner more of the national pie than otherwise might be the case. Anyway, that is what today's blog is about.

While we all think of Harvard University as some high quality ivy league sort of a place up there Cambridge, MA its economists are among those leading the charge in the mis-information stakes. I feel sorry for their students who get such a warped idea of how the economy works.
Over the weekend I read that Harvard's Rogoff Sees Sovereign Defaults, 'Painful' Austerity. That sounds bad. I wondered which countries he is talking about.
At the outset this is a case of someone who has conned a publisher into supporting the publication of a book that is timely – that is, will sell heaps to the growing deficit-terrorism market – but, which is highly misleading in several ways that are not necessarily apparent to the untrained reader.
And the more I read about the adventures of Rogoff and his co-auther Reinhart out into the popular media and the derivative articles that reference them the more I realise that the general public doesn't really know what is in the book and the authors use the book in ways that cannot be justified by its content and analysis.
Please read my blog – Watch out for spam – for more discussion on this point.
Anyway, the journalists Aki Ito and Jason Clenfield started out in a familiar way:
Ballooning debt is likely to force several countries to default and the U.S. to cut spending, according to Harvard University Professor Kenneth Rogoff …
At least children won't be getting scared with all these articles – they increasingly talk about balloons – and as we know balloons are fun for kids (until they go bang!).
But, we now have a prediction from Rogoff – several countries will default on their sovereign debt – but who and when? No precision just innuendo is provided.
The article quoted Rogoff as saying that "following a banking crisis":
we usually see a bunch of sovereign defaults, say in a few years … I predict we will again … We almost always have sovereign risk crises in the wake of an international banking crisis, usually in a few years, and that's happening … Greece is just the beginning.
He also mentioned that Greece's debt is "five times more than Russia owed when it defaulted in 1998 and Argentina when it missed payments in 2001".
Hmm, I know a bit about Russia and Argentina and last time I recalled I would not have characterised their crisis as being sourced in the banking system although ultimately the banks became implicated by the policy failures that led to their crises and defaults. I will deal with that soon.
In the interview, Rogoff did not say that the US was likely to default – but then, notably, he didn't say they would not either. This is a ploy I think. What he said was that the US had to "tighten monetary policy before cutting government spending" which would "send "shockwaves"through financial markets".
He claimed that US "(f)iscal policy won't be curbed until soaring bond yields trigger "very painful" tax increases and spending cuts". So you get the drift – tie the demands for fiscal austerity everywhere to the possibility of sovereign defaults in some nations – which have particular circumstances – like currency pegs or loss of currency sovereignty more generally.
However, Rogoff does not want to get too specific in helping the reader understand the complexity of sovereign default. Instead he wants to muddy the waters some more by saying:
Most countries have reached a point where it would be much wiser to phase out fiscal stimulus … Investors will eventually demand higher interest rates to lend to countries around the world that have accumulated debt, including the U.S. … [Japanese fiscal policy is] … out of control
So you see the associations are repeating – I predict sovereign defaults … most countries are in trouble … investors will punish all countries that have debt … including the US … Japan … the uninformed reader hasn't a chance of sorting out the truth from the fiction and the ideology.
I don't like their book – This Time is Different – for several reasons which I have discussed before. But quite apart from the other issues that one might have with Reinhart and Rogoff's analysis, one has to appreciate what they are talking about.
Most of the commentators do not spell out the definitions of a sovereign default used in the book. In this way they deliberately or through ignorance (or both) blur the terminology and start claiming or leaving the reader to assume that the analysis applies to all governments everywhere.
It does not. Reinhart and Rogoff say:
We begin by discussing sovereign default on external debt (i.e., a government default on its own external debt or private sector debts that were publicly guaranteed.)
How clear is that? They are talking about problems that national governments face when they borrow in a foreign currency. So when so-called experts claim that their analysis applies to the "entire developed world" you realise immediately that they are in deception mode or just don't get it.
While Rogoff does not say the economies of the US or Japan are included in their countries that will default the fact that he continually links the sovereign default forecasts with the need for the US to introduce an austerity program or that Japanese fiscal policy is "out of control" leaves the uninformed reader (or listener) with the impression that the US and Japan and any nation with rising public debt – are in the camp of defaulters.
The hyperbole at this point becomes lies.
For a start, the US government has no foreign currency-denominated debt. It has domestic debt owned by foreigners – but that is not remotely like debt that is issued in a foreign currency. Reinhart and Rogoff are only talking about debt that is issued in a foreign jurisdiction typically in that foreign nation's currency.
Japan has no foreign currency-denominated debt. The UK has very little foreign currency-denominated debt. Many other advanced nations have no foreign currency-denominated debt.
It turns out that many developing nations do have such debt courtesy of the multilateral institutions like the IMF and the World Bank who have made it their job to load poor nations up with debt that is always poised to explode on them. Then they lend them some more.
But it is very clear that there is never a solvency issue on domestic debt whether it is held by foreigners or domestic investors.
Reinhart and Rogoff also pull out examples of sovereign defaults way back in history without any recognition that what happens in a modern monetary system with flexible exchange rates is not commensurate to previous monetary arrangements (gold standards, fixed exchange rates etc).
Argentina in 2001 is also not a good example because they surrendered their currency sovereignty courtesy of the US exchange rate peg (currency board). See next section.
Further, Reinhart and Rogoff (on page 14 of the draft) qualify their analysis:
Table 1 flags which countries in our sample may be considered default virgins, at least in the narrow sense that they have never failed to meet their debt repayment or rescheduled. One conspicuous grouping of countries includes the high-income Anglophone nations, the United States, Canada, Australia, and New Zealand. (The mother country, England, defaulted in earlier eras as we shall see.) Also included are all of the Scandinavian countries, Norway, Sweden, Finland and Denmark. Also in Europe, there is Belgium. In Asia, there is Hong Kong, Malaysia, Singapore, Taiwan, Thailand and Korea. Admittedly, the latter two countries, especially, managed to avoid default only through massive International Monetary Fund loan packages during the last 1990s debt crisis and otherwise suffered much of the same trauma as a typical defaulting country.
Britain has defaulted only once in its history – during the 1930s – while it was on a gold standard. The Bank of England overseeing an economy ravaged by the Great Depression defaulted on gold payments in September, 1931. The circumstances of that default are not remotely relevant today. There is no gold standard, the sterling floats. Britain has never defaulted when its monetary system was based on a non-convertible currency.
A large number of defaults are associated with wars or insurrections where new regimes refuse to honour the debts of the previous rulers. These are hardly financial motives. Japan defaulted during WW2 by refusing to repay debts to its enemies – a wise move one would have thought and hardly counts as a financial default.
Further, how many nations with non-convertible currencies and flexible exchange rates have ever defaulted? Answer: hardly any and the defaults were either political or because they were given poor advice (for example Russia in 1998). See below for more on Russia.
Reinhart and Rogoff never make this distinction – in fact a search of the draft text reveals no "hits" at all for the search string "fixed exchange rates" or "flexible exchange rates" or "convertibility", yet from a modern monetary theory (MMT) perspective these are crucial differences in understanding the operations of and the constraints on the monetary system.
Further, if you consider the Latin American crises in the 1980s, as a modern example, you cannot help implicate the IMF and fixed exchange rates in that crisis. The IMF pushed Mexico and other nations to hold parities against the US dollar yet permit creditors to exit the country. For Mexican creditors this meant that interest returns skyrocketed (the interest rate rises were to protect the currency) and the poor Mexicans wore the damage.
It was clear during this crisis that the IMF and the US Federal Reserve were more interested in saving the first-world banks who were exposed than caring about the local citizens who were scorched by harsh austerity programs. Same old, same old.
But what about Argentina and Russia?
Argentina 2001-2002 …
In April 1991, Argentina adopted a rigid peg of the peso to the dollar and guaranteed convertibility under this arrangement. That is, the central bank stood by to convert pesos into dollars at the hard peg.
The choice was nonsensical from the outset and totally unsuited to the nation's trade and production structure. In the same way that most of the EMU countries do not share anything like the characteristics that would suggest an optimal currency area, Argentina never looked like a member of an optimal US-dollar area.
For a start the type of external shocks its economy faced were different to those that the US had to deal with. The US predominantly traded with countries whose own currencies fluctuated in line with the US dollar. Given its relative closedness and a large non-traded goods sector, the US economy could thus benefit from nominal exchange rate swings and use them to balance the relative price of tradables and non-tradables.
Argentina was a very open economy with a small non-tradables domestic sector. So it took the brunt of terms of trade swings that made domestic policy management very difficult.
Convertibility was also the idea of the major international organisations such as the IMF as a way of disciplining domestic policy. While Argentina had suffered from high inflation in the 1980s, the correct solution was not to impose a currency board.
The currency board arrangement effectively hamstrung monetary and fiscal policy. The central bank could only issue pesos if they were backed by US dollars (with a tiny, meaningless tolerance range allowed). So dollars had to be earned through net exports which would then allow the domestic policy to expand.
After they introduced the currency board, the conservatives followed it up with widescale privatisation, cuts to social security, and deregulation of the financial sector. All the usual suspects that accompany loss of currency sovereignty and handing over the riches of the nation to foreigners.
The Mexican (Tequila) crisis of 1995 first tested the veracity of the system. Bank deposits fell by 20 per cent in a matter of weeks and the government responded with even further financial market deregulation (sale of state banks etc)
These reforms loaded more foreign-currency denominated debt onto the Argentine economy and meant it had to keep expanding net exports to pay for it. However, things started to come unstuck in the late 1990s as export markets started to decline and the peso became seriously over-valued (as the US dollar strengthened) with subsequent loss of competitiveness in the export markets.
Lumbered with so much foreign-currency sovereign debt the decline in the real exchange rate (competitiveness) was lethal.
The domestic economy by the late 1990s was mired in recession and high unemployment.
And then the "Greek scenario" unfolded. Yields on sovereign debt rose as bond markets started to panic – a vicious cycle quickly became embedded.
In 2000, the government tried to implement a fiscal austerity plan (tax increases) to appease the bond markets – imposing this on an already decimated domestic economy. The idiots believed the rhetoric from the IMF and others that this would reinvigorate capital inflow and ease the external imbalance. But for observers, such as yours truly, it was only a matter of time before the convertibility system would collapse.
Why would anyone want to invest in a place mired in recession and unlikely to be able to pay back loans in US dollars anyway?
In December 2000, an IMF bailout package was negotiated but further austerity was imposed. No capital inflow increase was observed. Duh!
The government was also pushed into announcing that it would peg against both the US dollar and the Euro once the two achieved parity – that is, they would guarantee convertibility in both currencies. This was total madness.
Economic growth continued to decline and the foreign debts piled up. The government (April 2001) forced local banks to buy bonds (they changed prudential regulation rules to allow them to use the bonds to satisfy liquidity rules). This further exposed the local banks to the foreign-debt problem.
The bank run started in late 2001 – with the oil bank deposits being the first which led to the freeze on cash withdrawals in December 2001 and the collapse of the payments system.
The riots in December 2001 brought home to the Government the folly of their strategy. In early 2002, they defaulted on government debt and trashed the currency board. US dollar-denominated financial contracts were forceably converted in into peso-denominated contracts and terms renegotiated with respect to maturities etc.
This default has been largely successful. Initially, FDI dried up completely when the default was announced. However, the Argentine government could not service the debt as its foreign currency reserves were gone and realised, to their credit, that borrowing from the International Monetary Fund (IMF) would have required an austerity package that would have precipipated revolution. As it was riots broke out as citizens struggled to feed their children.
Despite stringent criticism from the World's financial power brokers (including the International Monetary Fund), the Argentine government refused to back down and in 2005 completed a deal whereby around 75 per cent of the defaulted bonds were swapped for others of much lower value with longer maturities.
The crisis was engendered by faulty (neo-liberal policy) in the 1990s – the currency board and convertibility. This faulty policy decision ultimately led to a social and economic crisis that could not be resolved while it maintained the currency board.
However, as soon as Argentina abandoned the currency board, it met the first conditions for gaining policy independence: its exchange rate was no longer tied to the dollar's performance; its fiscal policy was no longer held hostage to the quantity of dollars the government could accumulate; and its domestic interest rate came under control of its central bank.
At the time of the 2001 crisis, the government realised it had to adopt a domestically-oriented growth strategy. One of the first policy initiatives taken by newly elected President Kirchner was a massive job creation program that guaranteed employment for poor heads of households. Within four months, the Plan Jefes y Jefas de Hogar (Head of Households Plan) had created jobs for 2 million participants which was around 13 per cent of the labour force. This not only helped to quell social unrest by providing income to Argentina's poorest families, but it also put the economy on the road to recovery.
Conservative estimates of the multiplier effect of the increased spending by Jefes workers are that it added a boost of more than 2.5 per cent of GDP. In addition, the program provided needed services and new public infrastructure that encouraged additional private sector spending. Without the flexibility provided by a sovereign, floating, currency, the government would not have been able to promise such a job guarantee.
Argentina demonstrated something that the World's financial masters didn't want anyone to know about. That a country with huge foreign debt obligations can default successfully and enjoy renewed fortune based on domestic employment growth strategies and more inclusive welfare policies without an IMF austerity program being needed.
The clear lesson is that sovereign governments are not necessarily at the hostage of global financial markets. They can steer a strong recovery path based on domestically-orientated policies – such as the introduction of a Job Guarantee – which directly benefit the population by insulating the most disadvantaged workers from the devastation that recession brings.
However, the other lesson that Rogoff and his ilk don't emphasise – is that pegging a currency to another, guaranteeing convertibility and then allowing the financial sector to "dollarise" your economy (drown it in foreign currency-denominated debt) – is a sure way to force the country into financial ruin.
It has nothing to do with the volume of public debt issued in the local currency by a government which has sovereignty in that currency.
Please read my blog – Why pander to financial markets – for more discussion on this point.
And Russia 1998 …
Russia is another victim of a pegged currency and the financialisation of its economy.
I took some notes at the time the Russian government defaulted which go like this. After the breakdown of the Soviet Union they made their first major mistake – conveniently not mentioned by Rogoff – they pegged the ruble within tight range to US dollar – and thereby surrendered their currency sovereignty.
Their second mistake was to allow heavy borrowing in foreign currencies. There was considerable optimism in Russia at the time and all sorts of opportunists were set loose and their foreign currency exposure rose dramatically.
Then in November 1997, the Asian crisis causes a speculative attack on the ruble. The speculators knew that (a) it was going to try to maintain the peg; and (b) it was borrowed to the hilt in foreign currency. So, sell it short to death was a sure way to scoop the pool.
The problem was that the Russian government played right into their hands and instructed the central bank (CBR) to defend the ruble (that is, maintain the peg) and they lost around $US6 billion in reserves in doing so.
On top of the currency attack, a second shock came in late 1997 with the collapse of oil and nonferrous metal prices, upon which they heavily depended on to earn them foreign exchange.
Soon after (April 1998) there was another hedge-fund inspired speculative attack on the ruble which saw further foreign exchange reserves lost. The obvious reaction should have been to suspend the peg, float the currency and default on all foreign-currency loans (or negotiate conversion into local currency).
However, not to be beaten on May 19, 1998 the CBR increased their lending rate from 30 percent to 50 percent and spent a further $US1 billion defending the peg.
This mistake was magnified as oil prices kept dropping and the CBR kept bleeding US dollars.
Eight days later (May 27, 1998), the CBR increased the lending rate to 150 percent and the domestic economy was being scorched.
In August 1998 (the 13th), prices on Russian share and bond markets collapsed as investors sold off in the face of major fears of devaluation. Annual yields on ruble-denominated bonds exceeded 200 percent at this point.
Finally, four days later (August 17, 1998), the Russian government devalued the ruble, defaulted on domestic debt, and pronounced a moratorium on payments to foreign creditors (effectively a default).
On September 2, 1998, the government floated the ruble.
First, this was not a bank crisis. It was the result of the currency peg and the massive exposure to foreign-denominated debt.
Second, at any time they wanted to they could have floated which would have stopped the need to hike interest rates and kill their economy.
Third, they never needed to default on domestic debt. That was the act of sheer stupidity and the poor advice they were getting. There was never a solvency risk in their own currency. The IMF were in there telling the Russian government that they had to implement an austerity plan and convincing them that they needed to "raise money" to fund the deficit – both erroneous propositions.
They could have simply floated and become sovereign and then there was no solvency risk in all debts denominated in that currency.
The foreign debt was another question. Combined with the (voluntary) peg it was a lethal cocktail. The CBR lost huge stores of foreign exchange trying to defend the impossible. The rising interest rates to try to attract capital inflow to help shore up the excess supply of ruble into the foreign exchange markets only damaged the domestic economy further.
The problem stems from the early stages of capitalism where they embraced market liberalism with panache and allowed the foreign banks to hold them to ransom. It was madness to run a currency peg and then allow significant portions of the economy to borrow in foreign currencies.
They also go caught up in the Asian crisis and the collapse of oil prices.
The US, Japan, the UK, Australia and most nearly every other nation is nothing like this – (a) they have no foreign currency public debt; (b) they floats their currency; and (c) the IMF is not able to bully them around.
Greece and the EMU nations are another story!
Then I read about spending explosions …
The Washington Post carried a story on Sunday (February 28, 2010) entitled – Germany's frugality bemoaned for inhibiting euro zone growth.
The article was about the imbalance in spending within the EMU with the Southern European countries splurging and buying "everything from BMW sedans to Miele washing machines" which has kept Germany afloat – "where stagnant wages and a culture of conservative consumers has led to years of anemic domestic demand".
It is clear that aggregate demand in the Eurozone has been below that necessary to sustain full employment and the crisis has exposed that more brutally than ever.
It is also clear to me that part of the problem has been the artificial rules placed on government spending by the Maastricht treaty which have forced the private sector overall to use debt to maintain growth in spending. That was always going to be an unsustainable growth strategy.
But the hyperbole is something again.
The journalist Anthony Faiola, opened with the line:
Greek extravagance touched off the biggest crisis in the 11-year history of the euro. But the world's most ambitious monetary union faces a less obvious problem that might be even harder to lick — German frugality.
So we read about the "debt-fueled splurges" of Southern Europe (Greece< Spain, Italy, Portugal) and "Southern European profligacy" and "Greece must slash spending and put its books in order to restore faith in the euro" etc. According to Faiola, the Germans now are feeling indignant towards the Greeks (we will just add the Greeks to most other European nations that Germany feels indignant towards - same old story really) because while they have:
… made painful cuts in social services even as countries like Greece had an explosion in government spending.
Okay enough already! I decided to see how bad government spending in Greece was and so I did what one might reasonably do and I consulted some relevant data.
I just love the way journalists use phrases like "Greece had an explosion in government spending" as if it means something and is based in fact. I was expecting a sharply upward-sloping government spending curve – outstripping everything.
The following graph is taken from the National Accounts data available at the National Statistics Office of Greece. It shows real GDP growth (indexed to 100 at first quarter 2000) and the other main components of aggregate demand – consumption (C), investment (I), government spending (G) and net exports (NX).
Unless you have a different definition of exploding I cannot see evidence of any expenditure item exploding.
I see a spike in G in recent quarters driven by a collapse of net exports and investment (that is, reacting to a major collapse in aggregate demand – a strong portion of the reaction being automatic stabilisers). But General Government spending over this period has not even grown as fast as real GDP.
I wonder if the journalist actually has studied the data before writing the article. I sent him an E-mail over the weekend suggesting that maybe he hadn't taken the time to examine the expenditure data. No reply!
Would be President reveals herself to be a terrorist …
Reuters reported last Thursday (February 25, 2010) that U.S. deficit now a security issue. Who other than a rabid Austrian schooler or Barrow, Mankiw, and Rogoff (BRM) would say something as stupid as that?
Answer: US Secretary of State Hillary Clinton that's who!
She is reported to have told the US Senate Committe on Foreign Relations that:
"outrageous" advice from former Federal Reserve Chairman Alan Greenspan helped create record U.S. budget deficits that put national security at risk … It breaks my heart that 10 years ago we had a balanced budget, that we were on the way of paying down the debt of the United States of America …

I served on the budget committee in the Senate, and I remember as vividly as if it were yesterday when we had a hearing in which Alan Greenspan came and justified increasing spending and cutting taxes, saying that we didn't really need to pay down the debt — outrageous in my view …

We have to address this deficit and the debt of the United States as a matter of national security not only as a matter of economics … I do not like to be in a position where the United States is a debtor nation to the extent that we are.

The moment of reckoning cannot be put off forever … I really honestly wish I could turn the clock back.
You can watch the whole proceedings but I wouldn't waste the time. You get the gist.
In wanting to turn the clock back, I would just remind her that the budget surpluses of the late 1990s not only squeezed the private sector and helped start the private debt-binge but also led to the recession in the early 2000s and allowed Bush to gain office.
Further, the deregulation during those years helped lay the basis for the current crisis.
And, what exactly is the day of reckoning? What does she expect will happen? The debt might acquire arms and legs and take over America! Idiotic talk.
I would sack her for promoting terrorism which I thought was one of the key things that the US State Department wanted to reduce.
Then I read that Australia is back to full capacity …
The trend among the bank and financial commentators at present is to make outlandish claims about the impending inflation threat and the need to keep a lid on economic growth. Last time I noted (September quarter) GDP growth was still crawling along near the zero line. We will have the December quarter figures on Wednesday.
Anyway, today, the ABC News reported that a "leading unofficial measure of inflation edged up last month" (by 0.1 per cent) and showed that annual inflation was "below the Reserve Bank's inflation target band of 2 to 3 per cent". The trend indicated by the series is downward.
Tomorrow the RBA will meet to determine interest rate settings and all the "markets" are predicting a further rise, although they predicted that last month "with a probability of one" (as some cocky character said at the time) and the central bank held rates constant.
Anyway, the only so-called "expert" the ABC bothered to interview today was a financial market economist at a securities company. After accepting that "inflationary pressures are being contained" (looking at the data what other conclusion could you reach), she went on to claim that there was a strong case for the RBA to raise interest rates tomorrow. This is her assessment:
Recent monthly inflation reports were sending signals that inflationary pressures were building up a head of steam, hence this benign report suggests runaway inflation isn't entrenched, yet … As the unemployment rate continues to shrink and spare capacity is all but absorbed, the RBA Board tomorrow can comfortably recommend another 25 basis point rate rise to 4 per cent …
First, the estimated inflation rate is below the RBA's mindless band (2-3 per cent) and falling so even under inflation targetting you could not make a case that interest rates had to rise.
Second, the use of terms like "runaway inflation isn't entrenched, yet" suggests we have runaway inflation but it isn't entrenched, but it will be unless monetary policy action thwarts it.
Since when has a falling tendency of a level been "runaway" anything? Seriously.
Third, "unemployment rate continues to shrink and spare capacity is all but absorbed" suggests a very high pressure economy. The fact is that the unemployment rate has fallen 0.3 percentage points in recent months and is still 43 percent above the low-point of the last cycle (February 2008). Further, underemployment has now risen to 7.5 per cent.
Total labour underutilisation is now at 13.5 per cent of available labour resources. More than 1.5 million Australians in a labour force of just over 11 million are either unemployed or underemployment. 895 thousand haven't got enough hours of work and 612 thousand haven't got any work at all.
What part of the word "duh" doesn't this so-called expert commentator understand (thanks to Roger for the quip!).
Fourth, capacity utilisation in industry is still estimated to be well below the previous peak.
The following graphs put this into pictures.
First, the labour market. The following graph is taken from the ABS labour underutilisation data and shows total estimated labour underutilisation. As noted above, 13.5 per cent or more than 1.5 million workers are not being fully utilised.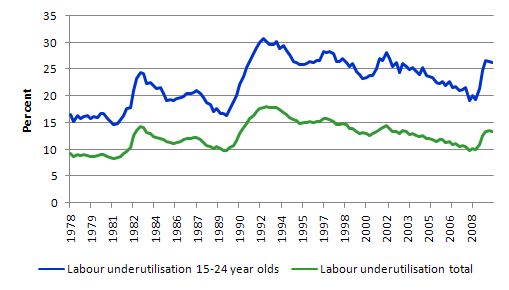 The next chart is taken from the latest NAB Survey of Capacity Utilisation (January 2010) and shows the estimated capacity utilisation since January 2000. From my examination of the data … and I might be stupid … but it looks to me as if there is spare capacity to work with the huge pool of underutilised labour.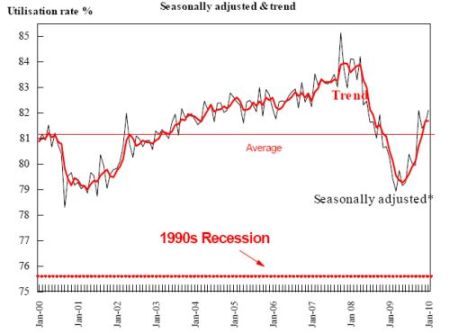 Conclusion
You can see what sort of weekend it was in the keeping up to date with the financial press.
I am thinking a Truth Commission should be set up and these characters forced to appear before it to account for themselves. I would be chairperson, of-course, and please don't comment that this just proves that MMT is a sly way of imposing communism (-:
That is enough for today!