Budget deficits are part of "new" normal private sector behaviour
Today I am in the nation's capital, Canberra presenting a class at the European Studies Summer School which is being organised by the Centre for European Studies at the Australian National University. My presentation is entitled – the Euro crisis: fact and fiction. I will have more to say about that in another blog. Today I am considering the issues surrounding the decline in personal consumption spending and increased household saving ratios. The argument is that this behaviour which is now clearly evident in most economies marks an end to the credit-led spending binge that characterised the pre-crisis period of the neo-liberal era. But with that era coming to an end and more typical ("normal") behaviour emerging, the way we think about the government (as the currency-issuer) will also have to change. There is clearly resistance to that part of the story, in part, because there is a limited understanding to the central role that the government plays in the monetary system. As private sectors become more cautious, we will required continuous budget deficits to become a part of this return to the "new" normal.

There were two competing articles in the Australian press today – Fight the slump with a wide-open wallet – by Yale economist Robert J. Shiller and Brace for pain at passing of the old order by Australian economist David Llewellyn-Smith.
I disagree with the main thrust of both articles although they are very interesting in their own way.
Robert Shiller's article (January 17, 2012) argued that with the US political process in "gridlock" which "implies that there will not be any collective decision to spend more as a nation to get the United States out of its slump", the US:
… must pin … [their] … hopes for a robust recovery on the willingness of millions of consumers to spend substantially more.
He thinks that economists "aren't very good at predicting spending shifts". Which begs the question – why not wait for them to manifest and in the meantime maintain fiscal support for aggregate demand.
This strategy also has the consequence of providing the conditions for the private sector to regain confidence.
Mass unemployment is a sure sign that the budget deficit is too low given the current private spending and saving decisions.
His article is aimed at sharing the insights into a new book – Beyond Our Means: Why America Spends While the World Saves – which he says provides "some insights" into why consumers are currently not spending.
The hypothesis is that spending patterns are "driven most prominently by our reaction to major events in our collective memory, including wars and depressions, and that it also depends on national character, which differs across countries and through time".Which is not a controversial proposition.
Moreover, in times of relative stability consumer spending patterns also exhibit stability. One of the essential conditions for stability is that private balance sheets are sustainable which is tantamount to saying that consumption growth is driven by real wages growth which is proportional to productivity growth.
In the neo-liberal (last 25-30 years) this pattern was interrupted as governments attacked the capacity of workers to secure real wages growth in line with the growth in productivity. The massive redistribution of national income towards profits that has been characteristics of the neo-liberal period to date has provided evidence of that.
This real income grab provided the resources for the financial sector which allowed it to grow so spectacularly. It also meant that consumption growth had to be "funded" via the acceleration of credit which over time led to the deterioration in private balance sheets and, ultimately, the financial collapse.
Robert Shiller says that the above-mentioned book considers the US "is an exception" because:
More than any other country … it elevates consumer spending to a virtue, sometimes minimising saving. There is even an idea here that it is patriotic to spend, rather than to save.
He cites the post-September 11 2001 appeal by the then president for Americans to "Get down to Disney World in Florida" and spend up – as evidence that consumption spending can stimulate growth and push an economy out of recession.
His point is that confidence is a key to spending. He believes that confidence is currently lacking as a result of all the talk about doom.
Expectations and confidence are slippery concepts for economists who want to reduce everything to optimising calculus (the main tools of mainstream economics).
We know that when there is unemployment and falling income, private confidence will be low and subdued spending behaviour will follow. Firms will not invest until they are sure that they can sell the extra output that would be produced by the new productive infrastructure.
Consumers will not provide them with those guarantees because they are worried about their job viability.
Then add the fact that this is a balance sheet recession to the mix which requires years of private deleveraging to restore the sustainability of private balance sheets.
The result – a very drawn out period of subdued private spending overall.
Under those conditions, sustained budget deficits are required to support aggregate demand growth, which in turn, helps the private sector regain confidence.
But in a period of balance sheet adjustment, private spending will remain flat because the main task is reducing debt to sustainable levels.
However, there may be more to it than that. While it is clear the households are lifting their saving ratio out of disposable income and private investment remains relative subdued, my contention is that this is part of a long-term adjustment going on back to what we might consider to be normality.
The following graphs show the two sides of the same coin. Both use the US Bureau of Economic Analysis National Accounts data.
The first graph shows the share of real personal consumption expenditure in real GDP in the US since the first-quarter 1947.
After the recovery following the Second World War occurred there was a period of relative stability. Real wages grew in proportion to labour productivity which helped fund consumption growth – although the share remain more or less constant until the 1990s.
As the wage share was being reduced by various government policy changes and other factors in the 1980s and 1990s, the growth of credit accelerated and personal consumption jumped as a share of real GDP.
The other side of this coin, is the personal saving as a percentage of disposable personal income shown in the next graph. the red line is the sample average 7.1 per cent (from March-quarter 1947 to September-quarter 2011). If we take out the period after December-quarter 2004, the sample average rises to 7.5 per cent.
The decline of the saving ratio broadly corresponds to the rising consumption share shown in the first graph. At first, as real wages growth was being squeezed in the US, households maintained spending by reducing their saving ratio.
That trend accelerated in the latter half of the 1990s as financial market deregulation allowed the financial markets to create all sorts of "financial instruments" which were all designed to push more and more credit onto the private sector.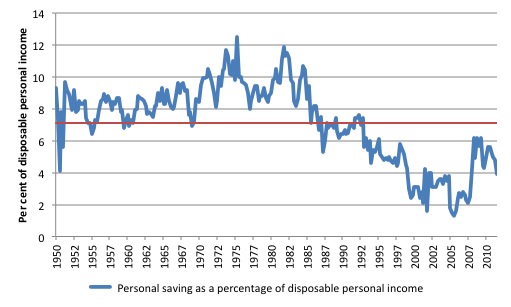 Clearly, the situation was unsustainable as the balance sheet risk increased.
The point is that the period before the neo-liberal era was characterised by several features.
1. Relatively continuous use of fiscal deficits.
2. Stable personal saving ratio of around 7-8 per cent of personal disposable income.
3. A consumption share of around 65 per cent of GDP.
4. Real wages growing in line with labour productivity – so that consumption could be driven by real wages growth rather than credit.
The neo-liberal period is in fact the outlier – an atypical period. Which makes the claims by those who hold out that governments should return to surplus as a demonstration of fiscal responsibility rather difficult to understand.
Please read my blog – The Great Moderation myth – for more discussion on this point.
In many cases, where actual budget surpluses were recorded, the economies went into recession soon after. The important point though is that the surpluses were made possible by the unsustainable growth in private credit which drove private spending and boosted tax revenue.
In the Eurozone, Spain and Ireland recorded budget surpluses in the lead up to the crisis and were held out as the exemplar of fiscal prudence and financial management. History has a way of showing nonsense for what it is. Their ridiculous real estate booms drove the surpluses. The surpluses, in fact, squeezed the capacity of the private sectors to maintain reasonable saving ratios – which would have ensured better private risk management.
So it is highly likely that we are returning to a more normal environment now where the private sector are attempting to save more out of disposable income and reduce its reliance on credit.
Two implications arise if that if the private consumption is returning to more normal levels then two things follow:
1. The government will more likely have to run budget deficits of some magnitude indefinitely – as in the past.
2. Real wages growth will have to be more closely aligned with productivity growth to break the reliance on credit growth.
And when the nature of the balance sheet adjustments that are going on at present are included in the assessment these two points become amplified.
So waiting for a private consumption boom to save the economy is probably going to be a long wait. But it is also a trend that we don't want to see revived under the previous circumstances – noted above.
This also makes the quest for fiscal austerity to be mindless and very destructive. Where will growth ever come from if consumers are returning to higher saving ratios, firms are very cautious, all countries are eroding each other's export markets, and governments are adding tot he malaise?
Answer: nowhere. That is the problem.
The second article – Brace for pain at passing of the old order – is more Australian focused and considers what the future might look like for our economy.
The author, David Llewellyn-Smith argues that:
The shift is that yesterday's demand-driven economy, which relied upon debt to inflate assets and drive private balance sheet growth as well as consumption, has ended.

It is finished permanently (or for so long that it might as well be permanent). The global growth of the future will be driven by the forces of investment, production and intensified competition for that limited demand.
This sounds like we agree that private balance sheets are in retreat which will put a stop to the rampant consumption-binge that the world experienced in the lead up to the crisis.
He considers that the "the European "crisis" is nothing more than the latest expression of the underlying reality that countries will now need to compete successfully to grow".
Then we depart. The European crisis is the result of the flawed design of their monetary system. They refused, from the outset, to put in place a fiscal capacity that could respond to a major negative demand shock. They took currency sovereignty away from member states and separated fiscal and monetary policy. They fixed exchange rates which meant the external imbalances could only adjust via domestic deflation.
Sure enough the private debt binge associated with (but not exclusively) to the real estate booms in various nations was tied into the crisis. That sector collapsed and governments, bound by their strange commitment to fiscal austerity, refused to stop the financial mess spreading into the real sector.
But all of that could have been more easily accommodated had the member states retained their floating currencies and enjoyed integrated central bank- treasury relationships.
The other point is that you don't get growth without spending. That means that the "investment-led" growth competing for demand will only be supportable if there is spending.
The challenge is to re-balance the composition of final output across the spending categories rather than rely on credit-fuelled consumption spending for growth.
The author then thinks that his investment-led, tight demand "paradigm shift":
… reframes as visionary Germany's recalcitrant insistence that its southern peers reform their economies in return for fiscal support (even if its various tactics for achieving this end are self-defeating).
Today I mentioned in my presentation at the Euro summer school that the celebration of German prudence is a misnomer. Just as the celebration of Spanish and Irish surpluses was a misnomer. Both relied on something else happening.
In the German case, they deliberately suppressed domestic demand (by containing real wages growth well below the growth of labour productivity – via the Hartz and other reforms) as a way of maintaining external competitiveness once they had abandoned their floating exchange rate.
In the past, the Bundesbank would manage monetary policy to ensure the mark was low enough to keep the German export machine competitive.
The effect of the German government's decisions to push through the Hartz reforms which effectively undermined the capacity of workers in Germany to enjoy appropriate real wage increases meant that not only did German "investment" have to go in search of profit opportunities but that the German economy became increasingly dependent on spending from other nations for their growth.
The suppression of consumption in Germany and the reliance on capital export to the "south" to maintain growth has been very damaging to the member states in the south. But the obvious point is that if the "southern states", now being vilified as being profligate, hadn't maintained their spending (and purchasing of German exports) the German economy would have falling into recession.
The two sides of the same coin: "visionary German" austerity – "lazy Greek profligacy".
David Llewellyn-Smith also gets aboard the fiscal consolidation train claiming that his "new paradigm":
… repositions the period of relatively stable economic growth currently enjoyed in the US as little more than an oasis of demand-driven calm before the real work begins of addressing its growing fiscal burden and ongoing credit excess.
There will be no investment boom until there is renewed aggregate demand growth. A nation cannot build up a capital goods industry forever. Capital goods generate consumer goods and services which have to be purchased.
There may well be some investment renewal based on best-practice technology which will try to compete for market share. But growth will only return when the consumer goods and/or public infrastructure spending increases.
It is clearly preferable, going on the logic outlined above, that households be supported by fiscal policy to return their balance sheets back into safe waters. That will require governments returning to their "normal" role – running budget deficits.
That is the "ongoing credit excess" in the private sector has to be reversed and that will require public net spending support.
There is no "growing fiscal burden" in the US. It might be that the political process will endorse a larger share of public resource usage over time as the population ages and health care provision needs increases.
The net burden of that trend will be the sum of the resources deployed in the health and aged care industries minus the resources freed from other areas (like primary school education, child health centres).
The US government will always be able to purchase whatever level of goods and services it deems politically appropriate as long as they are for sale in US dollars. There will be no financial burden involved.
I agree with David Llewellyn-Smith that there are major shifts afoot in world demand patterns – for example, China and India are emerging as the powerhouses and this will change energy use and have serious ramifications for Australia, the US and other nations that have been enjoying cheap energy resources for years while China and India remained poor.
Please read my blog – Be careful what we wish for … – for more discussion on this point.
But these large shifts are not going to reduce the central role that the currency issuer has to play in an economy if domestic prosperity is to be pursued.
David Llewellyn-Smith thinks that this "new era" will have many "downside risks" for nations such as Australia. He thinks that much of the "old part of the economy" (non-Mining) is moribund and that "(h)ousehold debt levels are still very elevated".
I agree.
He says that consumers will not be resuming their credit-binged consumption growth.
As noted above, I agree with that.
This will lead firms to seek cost efficiencies and "(p)roductivity will raise its head from the canvass" with the upshot that "jobs will go".
With the external sector riding on the back of the Chinese growth period and the services sector languishing, he expects that economic "growth will be lacklustre".
Then he concludes:
Irrespective of growth outcomes, expect more fiscal tightening in 2012.
Why should we expect that? It will probably happen but not as an act of appropriate fiscal policy – more a stubborn act of ideological vandalism.
With lacklustre growth and the East Coast economy (non-mining, and most populated) in near recession we should be demanding our government increase its fiscal support for the private sector deleveraging.
The obsessive pursuit of budget surpluses, even though that pursuit will be self-defeating in the face of the automatic stabilisers that will react to the "lacklustre" growth, is not a rational policy position.
That obsession will ensure that the big changes that have to happen in re-balancing spending etc will stall and we will end up in a malaise.
Conclusion
I haven't had much time today and now I have to run for a flight home.
The point is that unless we understand the central role that the currency-issuing body (government) plays in aggregate demand we will keep making policy positions that undermine or exacerbate the trends in the private economy.
There is no doubt that the private behaviour is shifting back to what we might have considered to be more normal positions with respect to saving and consumption. That will require governments returning to their historically normal behaviour – which means that fiscal austerity or consolidation or whatever you might like to call it – is the anathema of that requirement.
That is enough for today!