Being objective … and lying rodents
Today there were two feature articles in the Australian press which attracted attention. The first article was an interview with the former Australian prime minister (Howard), who (by the way) was called a "lying rodent" by one of his own colleagues during his time in office. The second article was by the Sydney Morning Herald's political editor who claims the Time has come for Rudd to face the big test. Both articles carry the same messages which are relevant to the macroeconomic debate in all nations (so this is not a parochial Australian discussion). They also nonsensical pieces of fiction when you consider them from the perspective of modern monetary theory (MMT). They show the power of the mainstream macroeconomics "textbook straitjacket" which has the world debate in a vice-like grip.

Objective: adjective 1. not influenced by personal feelings or opinions. 2. not dependent on the mind for existence; actual.
Neutral: adjective 1. impartial or unbiased. 2. having no strongly marked characteristics.
Just in case, you think using the English Oxford is biased, here is the Webster's definition:
Adjective

1. Undistorted by emotion or personal bias; based on observable phenomena; "an objective appraisal"; "objective evidence".

2. (grammar) serving as or indicating the object of a verb or of certain prepositions and used for certain other purposes; "objective case"; "accusative endings".

3. Emphasizing or expressing things as perceived without distortion of personal feelings or interpretation; "objective art".

4. Belonging to immediate experience of actual things or events; "concrete benefits"; "a concrete example"; "there is no objective evidence of anything of the kind".
Clear enough. Apparently not.
First, the very popular textbook The Principles of Economics by Mankiw (I am referring to the first edition here) covers some of the issues raised by today's articles in Chapter 25. In fact, the underlying economics that is expressed by the Peter Hartcher (in the Sydney Morning Herald) and the former Prime Minister is developed in textbooks like this.
In Chapter 25, we read how mainstream economics analyses "the effects of a budget deficit". We will trace this through to tie the journalism to some body of "theory".
First, using the loanable funds model, Mankiw says a budget deficit decreases the supply of loanable funds which pushes up the interest rate because there is an excess demand at the old interest rate.
He tells his students that a "budget deficits lowers national saving". This is step one in his on-going deception of the students. So a budget surplus is constructed as an increase in national saving. The diagram is reproduced from his Figure 25-4 on page 555).
Where is this alleged saving stored? I invite all of those who read this blog who are sceptical of MMT to do some research. Write to the treasuries and central banks in your nation and ask them to tell you where the "national savings" derived from a budget surplus are stored.
You can traipse all over Washington, London, Canberra, Tokyo or wherever you like and you will not find hide nor hair (which I discovered today is now the reverse meaning of the Old English term).
The point is that there is no saving. It is nonsensical to construct a government that is sovereign in its own currency as saving it. Budget surpluses go no-where – they are accounted for as a net drain of financial assets by some accountants but there is no stockpile of funds waiting to be spent at a future date.
Further, a surplus undermines private saving by squeezing private purchasing power relative to the taxation obligations levied in the unit of account (the currency). Conversely, budget deficits stimulate private saving by increasing national income.
Mankiw also claims that:
because the budget deficit does not influence the amount that households and firms want to borrow to finance investment at any given interest rate, it does not alter the demand for loanable funds.
Quite apart from the totally inapplicable concept of "loanable funds", it is highly likely that a deficit will underpin higher levels of private confidence and encourage investors to resume building productive capacity – because they become more certain that they will realise revenue from production that would be forthcoming from the new capacity.
Allowing an economy to wallow in pessimism is the last thing a government should be doing. And the only way it can get the economy back to "health" is to net spend if private spending has collapsed or is being withdrawn.
Mankiw then explains why the supply of loanable funds contracts. Remember in MMT there is no credible concept of "loanable funds". It assumes a finite pool of saving and the money multiplier exists – neither mainstream concepts have any applicability to a modern monetary economy.
He concludes the supply shifts left (as shown in the diagram) because:
… when the government borrows to finance its budget deficits, it reduces the supply of loanable funds available to finance investment by households and firms.
This is step two in his on-going deception of the students. First, the government voluntarily imposes the constraint on itself that it issues debt to match its net spending. There is no financial need for it to do so.
Second, even though it imposes this constraint on itself, it only borrows back what it has already spent and added to bank reserves. Would it still be able to spend if it didn't borrow. Of-course, it spends in the same way irrespective of what else it does by way of monetary operations – it credits bank accounts.
It does not spend by printing money – ever! Any commentator who tries to argue that it does will have to demonstrate it operationally (don't even bother trying) for me to accept the comment.
If they don't accomplish the impossible (demonstrate governments spend by printing money) and they still tell us that governments are printing money then I will delete their comment and refer them to the mint statistics to verify that the government does print currency notes but that has nothing to do with its spending via fiscal policy.
Mankiw then draws his fabrications to date into the point he wants to make. This is step three in his on-going deception of the students.
… this higher interes rate … [from the deficits] … then alters the behavior of the households and firms that participate in the loan market. In particular, many demanders of loanable funds are discouraged by the higher interest rate. Fewer families buy new homes, and fewer firms choose to build new factories. Teh fall in investment because of the government borrowing is called crowding out … That is, when the government borrows to finance its budget deficit, it crowds out private borrowers who are trying to finance investment. Thus, the most basic lesson about budget deficits … When the government reduces national saving by running a budget deficit, the interest rate rises, and investment falls. Because investment is important for long-run economic growth, government budget deficits reduce the economy's growth rate (emphasis in the original).
Mankiw (page 557) also includes the following Robert Weber Cartoon (which was first published in The New Yorker on March 27, 1989). The inclusion is associated with his discussion of the "chronic problem for the U.S. economy" that he claims the Reagan and Bush deficits engendered. Of Reagan he says "… he was committed to smaller government and lower taxes. Yet he found reducing government spending was to be more difficult politically than reducing taxes."
So the cartoon is meant to introduce negative emotions among the tens of thousands of students that are forced to use this textbook around the World.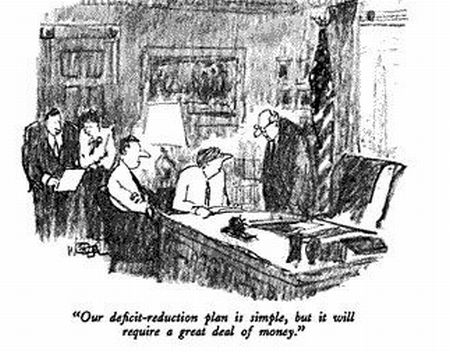 But from a MMT-perspective the cartoon works well to illustrate that when there is a deficiency of aggregate demand brought on by a desire of the private sector to increase their saving ratio and a failing confidence among investors, the only way that the government can ensure that output and employment do not fall is to increase its net spending by crediting bank accounts.
This in turn becomes a deficit-reduction dynamic because as the private confidence recovers and consumers start to spend a bit more and investment starts to grow again, the automatic stabilisers built-in to the budget process go to work and start reducing the budget outcome. That is, tax revenue starts to rise and welfare payments decline.
Governments are also able to withdraw, if they like, some of the stimulus measures they may have introduced, although the ease that that can be accomplished depends (politically) on how well they were designed in the first place.
Finally, the other point MMT would tell us is that it is futile to have a deficit-reduction plan unless you are approaching full real capacity in the economy and want to avoid over-heating the economy. Even then, you may want to keep the deficit at whatever size it is and start cutting back private spending capacity by increasing tax rates.
The increased tax rates do not fund the deficit – they just reduce the spending possibilities for the private sector. The government would do this if it wanted less private spending without compromising public spending.
And now back to today. Sydney Morning Herald writer Peter Hartcher says this of himself on his home page:
In 27 years working for the Australian Financial Review and The Sydney Morning Herald he has developed a reputation as an authoritative, rigorous, nonpartisan reporter and analyst.
Non-partisan = objective and neutral as above.
His Wikipedia entry says that "Hartcher has been cited as one of the most objective opinion-setters in the country in a 2007". What does objective mean anymore?
This assessment was apparently based on him being listed as being closer to Marx than Thatcher on the Bias-o-Meter at Crikey, the latter which in need of some better calibration one would think after reading his weekly neo-liberal (uninformed) bleeding.
When all you do is repeat the mainstream economics textbook mantra which may have been applicable during the gold standard era (and even that is questionable) and lace your journalism with ideological biases/fears about the dangers of governments and continually feed the prejudices of those who use socialism and government in the same sentence (unless it is a conservative government selling everything off to the rich or handing out cash to the top-end-of-town) – then you have to question the attribution of the term objective?
Here is how Hartcher began his piece today:
No one doubted that the Government could spend the money to buy 12 new submarines and 100 new combat aircraft. Spending is easy.

But could the Government wring serious savings out of the portfolio to help pay for it?
So you are introduced to the world of government budget constraints immediately as if there is no issue. Yes spending is technically easy – the government just credits bank accounts.
No, the government doesn't need to "pay for it" other than in the sense that the spending absorbs real resources which are the "cost" and have to be available to facilitate the spending.
The government may decide it wants to keeps its net spending constant in which case it would reduce spending elsewhere ("wring serious savings out of the portfolio") but that has nothing to do with "paying for the spending". The last concept is totally inapplicable in a fiat monetary system.
Hartcher then continues this aberrant theme:
Spending taxpayers' money is easy. Saving is hard. The Rudd Government was exceptionally lucky to inherit government with no net debt and with a $19.7 billion surplus in the federal budget.

It was lucky, first, because it meant that Australia was almost unique among the rich countries of the world in being so strongly financed. It was lucky, second, because it was not any national inevitability but a whim of personalities that allowed it to happen.
The inheritance of the zero net debt position has had no bearing on the current government's capacity to pursue a stimulus program in the face of the global economic crisis. Nothing at all!
It also didn't inherit any "money in the bank" as a result of the surpluses that the previous national government ran. In fact, those surpluses so undermined public infrastructure that our future growth prospects were reduced.
They also pushed the private sector into record levels of indebtedness that the need for deficits is now greater than it might have been given the private sector is now trying to repair its balance sheet by increasing the household saving ratio.
If the previous government had not have run those surpluses, it is highly likely that household balance sheets would be in better shape now and unemployment and underemployment would have been lower.
Hartcher then says that the former Treasurer:
Costello managed to put some money aside, unspent, as surpluses. If there had been a less assertive treasurer, or a less prudent one, Australia would have had a very different national fate.
As I argue above (and below) there was no "money put aside". Surpluses or deficits occur on an hourly basis. In the case of a surplus, at each accounting period the national government credits bank accounts (spends) by less than it is debiting bank accounts (collecting taxes).
The impact is to squeeze the private sector of purchasing power as the government net drains financial assets from the non-government sector. There is no van that goes around collecting "money" and taking it to some vault for later use. That is a total misrepresentation.
I am sure Hartcher knows that there was no stockpile of money which makes his journalism more culpable – it takes it from being dumb bias (that is, errors which support the neo-liberal ideology that arise from omission and ignorance) to being deliberately biased (that is, deliberately false writing that supports the neo-liberal ideology).
Neither are acceptable, the latter requires he be dismissed.
Hartcher then descends even further into the myth-making:
… This was the third way in which Australia was exceptionally lucky. Because when the global recession hit, we were one of the very few countries in the world with enough cash in the bank for the Government to be able to use it decisively as a recession-buster. Almost uniquely among the advanced economies, Australia was not constrained by debt worries.

Proportionately, the Rudd Government spent more to fend off recession than any of the rich countries in the Group of 20.

Britain and Germany spent the equivalent of 1.6 per cent of their total economic output, or GDP, on stimulus this year, a comparison of stimulus spending published this week by the International Monetary Fund shows, while Canada spent 1.9 per cent, the US spent 2 per cent and Japan 2.4 per cent.

Australia? We outspent them all, outlaying 2.9 per cent of GDP for 2009. Canberra's spending is fully half as much again as the average for the rich countries in the G20.
First, the reason that Australia is better off at present is because we net spent more and earlier. An unambiguous success for the fiscal initiative and should forever silence the neo-liberals who claim fiscal policy is ineffective.
Second, the capacity to do this had nothing to do with fiscal position the Rudd Government inherited. All sovereign governments could have done the same independent of their accumulated debt going into the crisis.
It is one of the major misrepresentations to suggest that there was "cash in the bank" that allowed the Rudd government the space to act. There was no more money in the Rudd fiscal policy capacity than there was in any country. There is no financial constraint on any sovereign spending which means theoretically it could infinitely credit bank accounts at any time it chose.
It would not be economically prudent to do that but financially it could.
Third, there was no "cash in the bank" as I explained above.
Hartcher then focuses on the future:
For the Rudd Government … [spending] … was the easy part. The hard part is upon it: to rebuild the budget, to rebuild a surplus, and not to piss away the national future on populist spending to get re-elected.

But which lesson will they learn? Will Rudd and Swan learn the narrow political lesson of the Howard "nightmare" and try to spend as much as they can get away with?

Or will they learn the bigger lesson, the lesson of the national interest, and put rigour into the national budget?
What the hell does this mean? What exactly is the "national future"? My take is that the government's primary responsibility is to ensure total output is sufficient to fully employ the available workforce; to ensure that public infrastructure is the best that is available and equitably distributed; to ensure education is equitably-accessed and person's potential is wasted; to ensure first-class public health care is available to all; and to make sure this all happens within an environmentally sustainable way.
If they followed Howard's route and try to run surpluses they will undermine all these responsibilities.
The only way the economy can grow if the government sector is running increasing surpluses and there is not a large current account surplus (not the slightest bit likely) is if the private domestic sector increasingly goes into debt. That is the failed growth strategy we followed over the last 15 odd years and it was always destined to fail.
It is an unsustainable growth strategy. Doesn't Hartcher understand that the private sector cannot go into increasing levels of debt indefinitely? At some point they will try to resume saving and then things will unwind and the government will find itself in deficit anyway – except this will be a bad deficit – with none of the quality infrastructure and modern skills to show for it.
Hartcher then addresses the trade question and says that with "China and India … [set to boom again] … their demand for Australian minerals will create a mining boom without parallel in Australian history … [which will cause] … wrenching change … In stark layman's terms, Australia faces the prospect of returning to our industrial structure of a century ago – as a quarry and a farm."
Well in trading terms we are still not much more advanced than that anyway. We export very few manufacturing goods and our tourist industry is about 3.7 per cent of total GDP. More significantly, outbound spending by Australian tourists typically exceeds inbound spending by foreigners (Source: Source).
But the point he wants to make about government budget policy is captured as follows:
How then to manage an income flow that is higher on average, over a long period, but potentially more volatile? Other countries have faced this challenge and met it. When Norway discovered oil, it set up a fund in the 1960s to save the windfall revenues against the day when the oil would run out. The fund today has some $US400 billion.

When Chile ran into the commodities boom of this decade, as Australia did, it set up two reserve funds in 2006 to accumulate the windfall revenues from a soaring copper price. Those funds today hold about $US17 billion.
The volatility of this foreign-sourced income flow does not change the capacity of the national government to pursue its socio-economic program. It does mean that the budget deficit will be smaller at times via the automatic stabilisers.
But the important point that Hartcher doesn't grasp is that it is not about revenue. It is the state of aggregate demand that the government has to manage – it never has to worry about revenue.
So if we get to the point that net exports are driving aggregate demand growth (and typically they do not) then as in Norway, the government may have to run a surplus to keep aggregate demand growth in line with real production capacity.
But that will be a relatively easy thing to manage because it will have high levels of employment and high quality public infrastructure. Australia currently has neither. Norway always has had both – independent of its recent resource discoveries.
So the sovereign fund issue is a side-show. Let us get to full employment with first-rate broadband infrastructure, the best health system that is technologocially available; first-class dental care for everyone including indigenous Australians; first-class universities and schools; best practice water and land-use management protocols ….
and … let's get rid of the Coal industry and reform farming so it doesn't is carbon neutral C02.
Then if there is a need for a sovereign fund … we can talk about it.
Prediction: we will still need government deficits.
That last prediction is based on my objective understanding of MMT and my biased view that full employment and equity is better than high unemployment and inequality.
But Hartcher does not separate the two because he has not real understanding of how the monetary system operates – and in choosing to repeat what defunct economists recite from textbooks he is just passing on their ideological biases – word for word.
And now to the lying rodent …
A lying rodent never changes its spots …
On a related theme, today's article in the The Sunday Telegraph – I'd stop the boats: Howard – reminds us of why Australia is so lucky it tossed out the last conservative government. Not that the current government is much better – a small improvement one might say.
In an interview with The Sunday Telegraph, former Prime Minister (aka the lying rodent) said that the current government "has wasted the nation's savings" by moving the federal budget into deficit.
The lying rodent (former PM) was quoted as saying:
The Rudd Government comes up very short. I can't think of a major thing it has done, except spend the bank balance that Costello and I left behind. Nothing else …

Mr Rudd will say he had the global financial crisis to handle. Well, courtesy of us he was well endowed with money in the bank.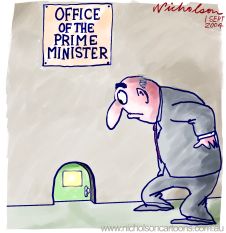 There was "no money in the bank". The previous government ran 10 surpluses in the 11 years we were unfortunate to have them in office. Towards the end of their tenure as the bond markets were drying up (they had retired the debt) they created the Future Fund, which involved the government speculating in financial assets (that is, spending on various speculative assets) instead of providing for public infrastructure that was, by then, starting to decay badly.
The idea that these surpluses created savings "money in the bank" is preposterous. I wonder if the ex-PM (aka the lying rodent) could tell us the address of the bank that the "cash" was held in?
He might say the Future Fund was "the bank". First, it is a funny way to save … buying speculative assets, some of which have lost value significantly. The question Howard should answer is was the purchase of these assets the best thing for a country which was running down its education system (witness the current spate of collapses in the privatised education system); its public health system; its road and transport systems; and lagging behind the rest of the developed world in IT infrastructure provision, to name some elements of neglect that were magnified under his rule.
Second, and more importantly, the national government does not need to store up cash to spend in the future (unlike a household). The current government (as does any national government that issues its own currency) always has the capacity to spend whatever it has done in the past. There was no money in the bank because that is not the way the government operates in a financial sense.
The national government is not a household and the textbooks that pretend otherwise are fatally flawed and should be mulched and use on community gardens that will have to spring up everywhere when we start to dismantle the food industry monopolies that have turned food into something different – at our expense.
And … sorry to the rats … they don't deserve to be tarred with an association to the so-called lying rodent …
PS: The interview was more about the shameful asylum seeker policies that both the past and present government are pursuing – and as the debate goes at present it was – a sort of "who can be the meanest to the boat people seeking refuge" contest. It makes our nation look pitiful and mindlessly xenophobic but that is another story for another day.
That is enough for tonight.