With corporate profits booming, business can afford to pay higher wages
Last week, I provided a graph in this blog post – The Left/Right distinction is as relevant as ever as corporations gouge profits out of pushing inflation (May 2, 2022) – which showed negotiated wages growth in Europe was declining and real negotiated wages had fallen sharply over the last several months. I am continually on the lookout for evidence that the current inflationary episode, no matter how alarming, is not being driven by structural forces in the labour market even though unemployment rates have fallen somewhat. A music segment follows.

Wages outlook in Europe
There was an interesting graphic presented by Philip Lane, a ECB Executive Board member during a speech he gave on May 5, 2022 – The euro area outlook: some analytical considerations.
The ECB is one central bank that hasn't pursued the kneejerk interest rate rise, which increasingly mark a reimposition of the old NAIRU mentality that I had hoped was being abandoned.
So I watch what its officials say and write because every nuance provides information on what they might do.
Philip Lane identified three major challenges facing "the economic and inflation outlook for the euro area."
1. The on-going pandemic – a "first-order driving force".
2. The "significant jump in energy prices … represents a major macroeconomic shock" – which, importantly, he noted correctly was "ultimately a level effect" rather than necessarily being an on-going source of inflationary pressure.
The rising energy price level has effectively been a redistributive process – transferring income to the oil companies and their shareholders at the expense of the rest of us.
It can only drive higher inflation rates, if the oil prices keep rising continuously, and a major global recession that would follow would bring an end to that anyway.
3. "the Russian invasion of Ukraine" – which has amplified the "energy shock", created new supply bottlenecks, and pushed down "consumer and business confidence".
Together, these factors impart both an inflationary impulse on nominal aggregates and a recessionary impact on the real aggregates (output).
That is, of course, a difficult duo to deal with.
It would have been worse in Europe if not for government spending.
Philip Lane showed that "consumption and investment remain below pre-pandemic levels, whereas government spending (the sum of public consumption and public investment) has been substantially above the pre-pandemic level since the second half of 2020."
We use words in different ways.
Substantially to Lane is government consumption and investment spending being around 5.5 percentage points above the December-quarter 2019 level, whereas to me that is a relatively modest fiscal response, given the circumstances that were being faced in early 2020.
Private consumption is about 4 points below the December-quarter 2019 level and private capital formation (investment) is around 10.2 points below.
So it is no wonder real GDP is still below the pre-pandemic level, which tells me the fiscal intervention was too weak.
He also showed that these factors are killing manufacturing new orders and export demand in Europe.
This is a contagion effect arising from the initial supply disruptions that then work their way through the supply chain.
One factory stops producing or has trouble delivering materials to another process further down the chain and the disruption multiplies.
And then the OPEC oil restrictions pushing up energy prices have spread throughout the entire sectoral landscape.
It was always going to be difficult avoiding inflationary impulses in these circumstances.
Philip Lane does acknowledge the transitory nature of these impulses:
Bottlenecks are also generating temporary upward pressure on costs, even if the eventual resolution of these bottlenecks should reverse these cost pressures in the future …

To the extent that the increase in energy costs is ultimately a level effect and bottlenecks eventually are resolved, this suggests that there is a temporary component in the current rate of goods inflation.
Which is why I maintain my position that the current inflation, however difficult for low income families to deal with, is transitory in nature.
And I repeat, what some commentators, including ABC finance tweeters do no seem to get.
Transitory doesn't necessarily mean short-lived. It means as long as the extraordinary drivers are driving.
And that view is reinforced by the next part of his analysis.
He presented this interesting graph (Chart 8), which is the "development of nominal wages, including the information embedded in an experimental forward-looking wage tracker developed by the ECB staff".
This is a very telling graph.
The evolution of wages since early 2019 has been firmly down until the latter half of 2021.
After that there has been a very modest rise.
Using the forward-tracker, which takes into account "microdata on wage agreements in Germany, Italy, Spain and the Netherlands", the predicted trajectory is to flatten out well below the pre-pandemic growth rate.
That growth rate was not seen as being problematic.
Now the outlook is for wages to grow even more slowly than that.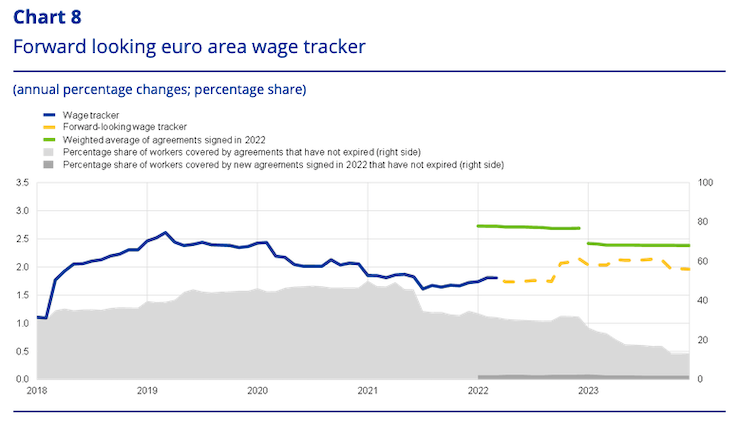 Philip Lane concludes that:
The overall tracker indicates only sideways movement in aggregate wage growth at around an annual two percent rate … In assessing wage developments, it is also relevant that, under typical conditions and allowing for labour productivity growth at about one per cent, nominal wage growth at three per cent is consistent with the two per cent inflation target.
Which is why the ECB has not joined the rush to push up interest rates.
They clearly have a better understanding of what is driving the inflation than other economists who are getting ahead of themselves in calling for rate hikes.
He also shows that estimates of inflation expectations from the 'market' indicate that there is a convergence on a medium-term stable inflation rate around 2 per cent.
He concluded that:
For these reasons, the calibration of our policies will remain data-dependent and reflect our evolving assessment of the outlook.
Evidence not ideology.
A good thing in this case.
Fast track to the Australian election campaign
Yesterday, the Labor Opposition leader who remains in a good position to win the May 21, 2022 federal election from one of the worst conservative governments that we have had to endure here, was cornered about what he would do with respect to the federal minimum wage if he won government.
Each year the Fair Work Commission makes a judicial judgement on what the minimum wage will be for the next 12 months and takes submissions from all interested parties, including state and federal governments.
The conservative government doesn't make a submission based on a percentage change and usually plays along with the wage moderation case presented by the business lobbies who typically argue for miniscule increases.
I saw the Chamber of Commerce CEO on the morning show early today and the presenter asked him whether the minimum should rise by 5.1 per cent (the current inflation rate), which is what the Australian Council of Trade Unions (ACTU) has submitted to the Fair Work Commission.
He said no that was reasonable for it to be a maximum of 3 per cent.
The presenter then said – so you think it is reasonable to cut the real purchasing power of the lowliest paid workers in Australia – many who are in cleaning and health care positions, which saved us during the pandemic.
He replied that it was not a cut in real living standards.
That is, saying, bold-faced, that black is white.
The current government refuses to say what the rise in July should be.
But the Opposition leader told reporters yesterday that he supported the ACTU's position that the lowest paid should not fall behind the inflation rate.
Well the torrents of abuse he has received from the federal government – "undermining the economy", "killing jobs", and more is only matched by input from economists and their mates in the corporate lobbies who are claiming business cannot afford this and they would have to lay off workers as a result.
The usual problem these creeps present to the unknowing populace that says – things are bad whichever way we go, but it is better to keep working for us on poverty wages than get wage rises and lose your jobs.
Except, not everything is bad in this little play act the corporates spin out each time a wage rise is mentioned.
Early in the pandemic, the wage share in Australia (in national income) fell below 50 per cent for the first time since 1959.
Of course, that means the profit share increased further.
In the June-quarter 2020, national accounts release we observed company profits jumping by an unprecedented 14.9 per cent in the quarter, while total wage bill paid to workers fell by a record 2.5 per cent.
The profit surge, was in part, funded by the fiscal support provided by the federal government. It shows that when designing fiscal interventions, governments have to be sure they don't just transfer income to the corporate sector at the expense of the rest of us.
The situation hasn't improved for workers since.
Company earnings in Australia are at record levels – 10 per cent higher in 2022 than in 2019
Corporate profits are also booming.
Just yesterday, we learned that the big four banks recorded first-half 2022 profits on around $A14.4 billion, which was an increase of 5.1 per cent on the results the year before.
Energy companies are 'rolling' in profits.
Russia's invasion of the Ukraine "has led to 'windfall gains' tp Australian companies" that sell iron ore, gas, and base metals – that is huge profits. (Source)
The latest ABS data – Business Indicators, Australia – shows that for the year-ended December 2021, corporate profits overall rose by 13 per cent.
That is, a huge real gain in company profits.
So the question is why should the lowest paid workers in Australia endure real cuts to their wages when the firms they work for are going ahead in leaps and bounds?
What sense can we make of the claim that business cannot afford to pay higher wages (which are at record low growth rates) when their profits are booming?
No sense at all.
Music – the Lester Young Trio
This is what I have been listening to while working today.
It is played by one of the greatest tenor players – Lester Young – who I featured a few weeks ago playing Hoagy Carmichael's Stardust from 1952.
I was talking with another sax player yesterday about the evolution in technique from Coleman Hawkins to Lester Young and so this morning I put this album from 19
He was also the mentor for one – Charles Christopher Parker Jr. – which means he played really well.
This song is the George and Ira Gershwin number – The Man I Love – which came out on the 1955 release from the – Lester Young Trio (the cover is from the 1994 Verve Records re-release of the 1946 Hollywood recordings).
The sonority of Lester Young's playing was something else really.
The trio comprises 3 of the biggest jazz players ever:
1. Lester Young – tenor sax
2. Nat King Cole – piano
3. Buddy Rich – drums
That is enough for today!
(c) Copyright 2022 William Mitchell. All Rights Reserved.