Progressive media criticising fiscal stimulus as a recession threatens – such is the modern Left
I have regularly noted how the UK Guardian, the so-called newspaper for progressives as opposed to The Times, which serves the Tories, has been a primary media instrument for propagating neo-liberal economic myths. It has also been part of Project Fear, which the Remainers thought would see the June 2016 Referendum resolved in their favour, and have ever since been moaning about the need for another vote – you know, democracy as long as it delivers what you want. But when the Tories outflank them by electing Boris Johnson who then determines he will take the intransigent European Union on by calling their bluff and pushing ahead with Brexit by hook or by crook, the Remainers scream about democracy being trampled and all the rest of it. And when the Johnson Tories announce that they will introduce a significant fiscal stimulus to head-off any possible non-government recessionary forces (which is sensible and responsible fiscal conduct), the Remainers open their beloved Guardian to find their favourite journalists raving on about how such a move is risky because it will 'damage public finances' and predicting, derisively, that the Government will have to break their ridiculous fiscal rules because of the scale of the stimulus required. This is par for the course for the Europhile Left these days – champions of neoliberalism.

The UK Guardian article (September 1, 2019) – Javid greets big moment with more splash-the-cash short-termism – continues a series of articles by its economics correspondent (Richard Partington) who cannot seem to make up his mind on how to spin his anti-Brexit, anti-Tory line.
He regularly reports how bad things are getting in the UK as the "Brexit uncertainty takes toll" but also knows he must deride the use of fiscal stimulus by the Tories.
But then he cannot eschew fiscal stimulus per se because then the Labour Party would be on slippery ground – more slippery than it already is.
So he has had to work on a pitch that criticises the Tories for proposing fiscal stimulus, declaring it will not work anyway and will just make things worse, but then leave room open for a Labour fiscal stimulus, which will work and make things better.
Go figure that agenda!
I have been following his writing for some time now as he dodges and weaves trying to sound credible. He fails miserably as do all 'progressives' who try to couch the economic debate within the neoliberal framing of sound finance and fiscal rules but then somehow still claim they are going to reform the EU and transform the British economy.
His latest article (cited above) breaks new ground.
The basic thesis in the article (if you could call it that) is that the Tories are proposing a significant fiscal stimulus after years of damaging austerity.
But because a recession might follow a no-deal Brexit – the fiscal stimulus will risk damaging the government's finances (yep) and making things worse.
And as a result, the Tories will have to abandon the fiscal rules (that define austerity) and that will mean they lose credibility. All through the article there are terms like "fix the public finances", which disclose the neoliberal framing that drives his writing.
One doesn't 'fix' public finances. They are not a car that breaks down and needs some new part.
I told you it was a slippery slope he was skating down.
Let's investigate that causal chain of misery.
First, the Tories are acting sensibly by promising to provide significant fiscal support to the British economy as it approaches separation from the European Union, which was always going to be disruptive – more or less, depending on the way the exit is achieved.
My view has been that if sufficient fiscal support is provided for long enough there need not be any recession and the painful adjustments that accompany any major structural shift such as Brexit will be done within a growth environment, which always makes transition easier than if the adjustments have to be made in a deep recession.
So the Tories are following script here.
Their promises will not reverse the damage of 9 years of austerity – those costs will haunt Britain and its people for decades to come. They have undermined business investment, severely compromised the capacities of local council to deliver services, have degraded public infrastructure to the point that Britain is lagging well behind other OECD nations, and have impoverished many people and communities of people.
So the fiscal stimulus being announced this week will not compensate for that damage for which the Tories will forever be held accountable.
Destructive and mindless policies for 9 years.
However, they seem to understand that without fiscal support, Brexit (no-deal or other) will create short-run disclocations and could lead to recession.
In that context, what the Chancellor is proposing this week should not be cast as – "the end of austerity" – as Partington tells his readers. Rather it is a cyclical initiative to offset any negative non-government spending.
What happens when recession is avoided will tell us whether the Tories are bringing and end to austerity or not. I would doubt they are so inclined but we need to wait and see on that.
As a cyclical offset strategy, it is perfectly reasonable for the government to announce a large fiscal stimulus at this point.
And it is also perfectly reasonable that the stimulus be able to offset non-government spending reductions in the short-term.
Partington's criticism that "the spending review is only covering a 12-month period" is invalid.
Sure enough, Britain will have to make some longer-term decisions with respect to reversing the damage done to people and public infrastructure as a result of austerity.
But that need doesn't substitute for short-term spending stimulus if Brexit does result in a recession trajectory.
Partington then demeans the fiscal strategy with emotional constructs such as:
The Tories have shaken the magic money tree with abandon, producing crowd-pleasing dollops of cash for public services since Johnson's elevation to No 10 in July.
The fact that the new regime is finally using its fiscal capacity to advance public services should be celebrated after what has been the norm since 2010.
Since when has the 'progressive' media been against improving public services – especially when they have been starved of adequate funding for years?
And what logic leads Partington to claim that an increase of "£6bn of extra spending" on improving school funding, hospitals, police services:
… is a high-risk strategy when a no-deal Brexit could sink the country into recession and damage the public finances, making it tough to bring about the end of austerity.
Well the logic apparently is somehow related to whether the Government will be able to "stay within the fiscal rules set by his predecessor".
He acknowledges these are "self imposed rules" and it is clear if Brexit brings recessionary forces and the Government, responsibly, offsets them with an appropriately sized fiscal stimulus then the rules will be broken.
That is the nature of stupid fiscal rules – they are always broken in times of cyclical downturn.
The Government will not be able to "bring the public finances into balance by the mid-2020s" at the current rate (especially with Brexit about to shock the economy) and we should only say – so what?
This is the problem the British Labour Party will also have if it is ever in government and a major recession strikes. As I have explained many times, its so-called Fiscal Credibility Rule will be shot to pieces by such an event.
So why even bother with these rules?
Partington then speculates on whether the Chancellor has the "headroom … to stay within the rules next year" and equates these fiscal rules with:
… keeping the country's finances on an even keel.
Neoliberal framing.
Neoliberal language.
The 'progressives' doing the work for the neoliberals.
That is what the mainstream Left in Britain seems to have become.
Why try to score points against the Tories by criticising them for possibly breaking away from a blind adherance to neoliberal rules?
Why wouldn't the Left seize this opportunity to mount an education campaign showing why such rules are damaging and irrelevant to the achievement of prosperity?
Why wouldn't they educate the population that there is nothing meaningful in the neoliberal term "keeping the country's finances on an even keel", that the purpose of fiscal policy is to create generalised well-being, provide high quality infrastructure and public services and high levels of well-paid employment?
Why wouldn't they?
Oh, I forgot, because they have a stupid fiscal rule too!
Fiscal space aka headroom
And all this talk of headroom … what is the benchmark again?
Oh, those self-imposed financial ratios which bear no particular relation to anything that matters with respect to the well-being of the people.
When we talk about fiscal space the only meaningful way to construct the problem is to define the spending options for government within the real resource constraints applicable at any point in time.
So if all productive resources are being fully utilised then there is no spending room left for government, taken into account that the government wants to maintain both full employment and price stability.
In that situation, if the government wanted to increase its share of real resource use then it has to use policy measures (taxes, regulation, etc) to deprive the non-government sector of their use.
Richard Partington clearly doesn't understand that point.
He is content to quote some management consultant-type as saying that "a no-deal Brexit could damage the public purse to the tune of about £40bn":
It would not make sense to rush any additional spending at this stage … It makes sense to be prudent and say: 'I'm going to hold back to leave a bit of margin for Brexit.'
Which is meaningless nonsense.
First, there is no meaning in the terminology "damage the public purse".
Partington thinks that a rising deficit is damaging and vice versa. I can damage by knee when I run. But we cannot injure a fiscal state.
We can assess fiscal policy settings to be inappropriate in relation to the purposes of fiscal policy – to achieve full employment, equity, price stability etc.
Second, there is no meaning to the concept of "hold back to leave a bit". Hold back what? Government spending?
The British government can buy whatever is for sale in its currency, including all idle labour.
If it spends a billion pounds today, that doesn't stop it repeating the act tomorrow and the next day – in financial terms.
Governments that issue their own currency do not 'save' in that currency to allow them to spend more tomorrow. That is what households, who use the currency the government issues do.
We have to save to increase our future consumption possibilities, other things equal, because we are financially constrained.
A currency-issuing government never has to do that.
And on the issue of fiscal space (as defined within MMT), if Brexit does cause such havoc as Project Fear has predicted (over and over, and repeatedly wrong), then there will be an abundance of real resources idle – that the Government can bring back into productive use with a sensible fiscal intervention.
Further, the years of austerity have created such a backlog of spending opportunities that the Government will be hard pressed to know where to start fixing the damage of the last three decades.
For example, the OECD published a working paper (No 1244) on July 6, 2015 – Improving Infrastructure in the United Kingdom – which presented a scathing critique of the damage that the last three decades of neoliberalism and the associated fiscal austerity has caused to the quality and scope of infrastructure in Britain.
Britain has:
1. "spent less on infrastructure compared to other OECD countries over the past three decades".
2. "The perceived quality of UK infrastructure assets is … lower than in other G7 countries."
3. "Capacity constraints have emerged in some sectors, such as electricity generation, air transport and roads" due to inadequate provision and maintenance.
4. "Infrastructure contributes to productivity, economic activity and people's well-being".
5. "Infrastructure is essential in attracting foreign direct investment. For instance, a recent survey has found that transport infrastructure is the second most important criterion for multinational firms when choosing where to invest, behind workforce availability and skills".
6. "The economic structure of the UK exhibits a wide dispersion in regional productivity and activation levels … Adequate infrastructure provision would be instrumental in lowering regional disparities."
This graph (compiled using OECD Economic Outlook data) shows how far government investment in the UK has fallen behind other nations as a proportion of the size of the economy.
The OECD paper also presents a graph which shows how far UK transport infrastructure spending has fallen behind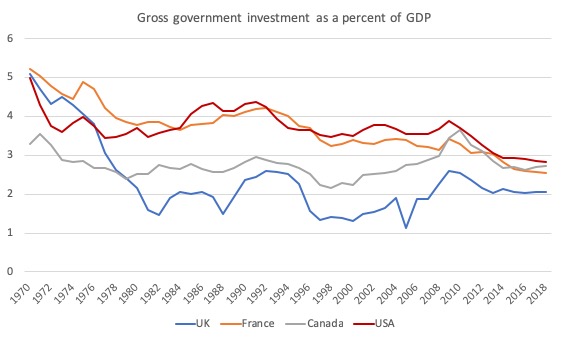 We learn that:
… the government has identified major infrastructure investment needs in the UK to 2020 and beyond amounting to GBP 460 billion (around 25% of 2014 GDP).
That represents a major fiscal opportunity should the real resources be available to facilitate such infrastructure development.
The OECD also note that:
Rising private sector participation since the 1980s in the absence of a coherent long-term infrastructure strategy … may have led to sector fragmentation, impaired an across-sector view of infrastructure and, in some cases, could have weakened accountability for investment to build sufficient long-term capacity.
They cite issues with a range of areas: transport congestion, railways, air travel infrastructure, water and flood defences, supply constraints in the electricity and gas supply, digital infrastructure, among others.
They cite that Britain is lagging behind the provision of environmentally-friendly transport options
The longer term …
Richard Partington then thinks it is sensible to create uncertainty by claiming that the Government will not be able to keep within its fiscal rules.
Okay so it will break them.
And then what?
So while writhing about in his word cloud finding some angle on which to criticise a government that is intent on using its fiscal capacity to offset the shock from Brexit, which it now seems determined (finally) to push through, and, trying to claim there is no "headroom" for the government to do anything meaningful, etc, Richard Partington then has to salvage the game somehow.
So we read:
The UK has significant scope to raise spending on public services, given historically low borrowing costs on the international market. The deficit has been cut down to a 17-year low. Rather than a panic-driven spending round, real issues must be tackled over the long term, such as reducing child poverty, improving social care, fixing the country's productivity puzzle and reversing cuts to local council services.
Oh, so there is a lot of 'headroom' (using his logic).
And, of course, the neoliberalism is there to the end in Partington's reasoning.
The previous quote is a classic demonstration – that the government only has spending capacity if the deficit is low and bond yields are low.
Which, of course, is nonsensical.
The British government can spend whenever.
It doesn't have to borrow if it so chooses. And shouldn't.
And if it does borrow it can control all borrowing 'costs' (yields) if it so chooses.
The British government is not subjugated to bond markets. It is the other way around.
Conclusion
After acknowledging that there are plenty of long-term spending projects available to the British government, it is clear that Richard Partington just doesn't like the Tories using these opportunities.
Why?
Because in using their fiscal capacity, they will be able to demonstrate that Brexit was never going to deliver the massive losses that Project Fear has been trying to get people to believe will occur – as part of the Remain agenda to 'make democracy work again'.
You know the line. Democracy is only working if it delivers the results that you want. If it doesn't then we have to restore democracy.
And please do not infer I support the Tories in any way. Nothing could be further from the truth.
The point is that the mainstream Left has become so bereft in this debate that the British people are:
1. Increasingly shifting support to Boris Johnson (Source).
2. Labour is going backwards – at the end of August, the Tories led 34 per cent to Labour 22 per cent. The Liberal Democrats were on 17 per cent (Source).
And that is because the Left are caught up in a neoliberal economic prison and cannot articulate beyond that.
And they have the UK Guardian as their daily word cheer squad – the cheer squad from hell.
That is enough for today!
(c) Copyright 2019 William Mitchell. All Rights Reserved.