Amazing what politics does to people
In 2012, while unemployment and underemployment was still at elevated levels after rising in the early days of the GFC, non-government spending was weak, the external deficit was around 4 per cent of GDP, real GDP growth remained well below its trend in the 5 years before the GFC, and the economy was no-where near full employment, the then Treasurer, Wayne Swan launched into the largest fiscal shift away from deficit in recent history (in the modern era since 1970). He was obsessed with 'getting the budget back into surplus' in the following year because somehow he had gleaned from the work of John Maynard Keynes that a responsible government has to pay back deficits with surpluses. The Australian government's deficit had risen because tax revenue had fallen as a result of the slowdown in activity and because the Government introduced a rather large fiscal stimulus, which saved Australia from going down the recession route that other nations were mired in. Maintaining that deficit or enlarging it with further stimulus is what a responsible government should have done. But Swan, apparently thought that with Europe heading further into the morass (as a result of mindless austerity) that he had to show the world what a good government does – run surpluses. Apparently, he thought the credit rating agencies would close the government down. Apparently, he thought inflation would runaway from its low levels. Apparently, he believed the lie that fiscal deficits pushed up interest rates. Apparently, he didn't know that introducing fiscal contraction when non-government spending was weak would further slow the economy and damage confidence. All of which happened. Quite obviously he didn't know a thing. Swan, ever the politician (but in opposition now) is apparently thinking differently – now he is claiming fiscal deficits have to rise to push the economy towards full employment. This chameleon-like performance is rather sickening given the damage he caused when he was actually the Treasurer in charge of fiscal policy and full of neo-liberal lies and confusion.

Last week (March 15, 2017), former Australian Treasurer Wayne Swan, now an Opposition backbencher, gave a speech in Adelaide – Beyond the GFC: Foundations for Prosperity and Inclusion – at one of our universities, which were compromised by Federal spending constraint while Swan was Treasurer (2007-2013).
He castigated the G20 for being "woefully impotent in meeting the challenges posed by these trends". This is a G20 that he himself praised as being on the ball during the crisis ((Source).
He claimed that "In the United States in particular, this failure of leadership has allowed radical populists to seize the initiative."
What, instead of Hillary and her corporatist bankster-type mates implementing neo-liberal attacks on the poor and increasing inequality even further?
His message was that:
… it seems undeniable we are witnessing the most significant shift in the tectonic plates yet of the European-American political and economic order …

[and] … that this is not a time for "business as usual" in this political and economic climate.
And so?
He said:
1. "Policy makers need to implement new reforms to kick start inclusive growth."
2. "The trend towards rampant inequality has to be reversed, and economic growth must be reshaped to deliver benefits for all."
3. "Let's look beyond the GFC and talk about the role government has to play in this challenge."
Which all sounds fine to me.
But then he starts articulating what he means by these statements. Wheels fall off at that point.
He lauded the fiscal intervention that he introduced as Treasurer (while still in government) in late 2008 and early 2009.
He said:
As the crisis unfolded it became increasingly clear it was no ordinary financial crisis. We quickly realised we were staring into the economic abyss …

[We were] … willing to do whatever it took to spare the wider community from the horrors of another Great Depression.

…. Our willingness to embark on two significant stimulus packages, totalling just over $50 billion in the face of significant domestic political and economic opposition set Australia apart from most other advanced economies.

And we knew that the political fallout would see us held hostage to Tea Party scaremongering particularly from the Liberals and their allies in the Murdoch press.

Daily we faced the confected fear campaign about higher debt and the inevitability that there would be implementation issues associated with the roll out of such a large number of construction projects.
And the Government, initially resisted all that mindless pressure and the stimulus did save the country from recession, albeit with a slowing of growth and a rise in labour underutilisation because the intervention wasn't large enough (that is, they didn't fully ignore the neo-liberal squawking).
He then turned to what the "Economic Role of Government in the 21st Century (Fiscal Policy)" should be.
He was correct in saying that:
Wealth Isn't Just Created In Mahogany-lined Boardrooms

Central to combating populism is government and society's view of the generators of growth.

We need to recognise that nurses, builders, teachers, construction site labourers, hairdressers, shop assistants, waitresses and truck-drivers are all as much generators of growth as bankers, investors, businesses and multinational companies are.

As the IMF has shown increased inequality erodes the spending capacity of the middle class who support the demand necessary to drive economic growth.
Spending equals income. A nation cannot cut spending without cutting income.
Which then exposes the massive gap in what is largely a self-congratulatory speech by Wayne Swan.
Yes, we did well to avoid recession but what did we (HE) do then?
Read on.
In late 2008 and early 2009, the Federal Labor government in Australia introduced a significant fiscal stimulus program encompassing cash handouts to stimulate immediate consumption (the so-called 'flat screen' stimulus – because there was a rush on new TVs) and two large infrastructure initiatives (school building enhancement and insulation in all homes).
It worked virtually immediately as it was designed and while the rest of the world was falling into the morass of recession, Australia barely noticed the GFC.
It was a very sound intervention from a macroeconomic perspective even though the design of the programs did not yield enough jobs per dollar spent and the stimulus wasn't large enough.
Wayne Swan was Treasurer then.
Prior to the crisis emerging, he was pumping the line the the biggest threat facing Australia (and the World) was inflation, which at the time had little foundation in reality. He thought it sounded 'responsible' to play into the hands of the conservative lobby who wanted even bigger fiscal surpluses despite broad labour underutilisation remaining around 9.5 per cent (at the peak of the last cycle).
Then came the stimulus which saved Australia from recession.
Within a short period though, Wayne Swan was back to appeasing the neo-liberal 'fake knowledge' crew (most economists) trying to claim that while he was a Keynesian and that meant he had to return to fiscal balance back to surplus as soon as possible.
In the 2011-12 Fiscal Statement (aka 'The Budget'), delivered in May 2011, we read that:
The Budget will get back to surplus in 2012-13 as planned, get more people into jobs and spread the opportunities from Mining Boom Mark II to more Australians.
Things were deteriorating in Europe and Britain (after the first George Osborne efforts) and in December 2011, the Australian government issued its Mid-Year Economic and Fiscal Outlook which said:
… the Government remains on track to deliver a budget surplus in 2012-13 … downward revision to the economic outlook from Budget has reduced tax receipts by over $20 billion … Lower employment growth since Budget is impacting on taxes on wages and salaries, and volatile financial markets are affecting equity prices and hence capital gains receipts …

While the revised outlook for revenue has made the return to surplus more difficult than at Budget, the European sovereign debt crisis has underscored the importance of maintaining fiscal credibility.
In his preparation for the 2012-13 Fiscal Statement, he told the ABC News (March 7, 2012) – see Surplus in the spotlight as economy slows – that:
I believe it's really important to return the budget to surplus … It sends a very clear message to the world that Australia is in good nick. If you want any reminder about the importance of that look again today at what's going on around Europe … We've been exercising very considerable expenditure restraint to come back to surplus in 2012-13 … This is going to make this task harder, but we absolutely need to do it given the circumstances.
At the time I noted that if the fiscal balance was indeed in surplus and economic growth was strong with full employment and private domestic saving overall was at desired levels, then an informed commentator might concluded things were sound.
But at the time, Australia was nowhere near achieving full employment and non-government saving intentions, given the record levels of debt, were not being satisfied.
The combination of an external deficit (of about 4 per cent of GDP) with the need for the private domestic sector to save more overall, meant that a fiscal deficit that was even larger than was the case was required.
At the time, the Australian economy was languishing in low growth, with at least 14 or 15 per cent of its willing labour force not working and the private domestic sector was trying to reduce its massive debt levels.
In the previous year, the Treasurer had released an essay – Keynesians in the recovery – where he tried to put an intellectual stamp on the surplus obsession. He wrote:
If we are going to be Keynesians in the downturn, we have to be Keynesians on the way up again. That means a speedy return to surplus … I want to explain how one of the 20th Century's great thinkers, John Maynard Keynes, helped us find the answer, in the process influencing the Government's response to both the global downturn and our strategy for the recovery. More broadly, I want to describe how economic policy informs the delivery of not just responsible management but a modern progressive agenda. Most importantly, I want to make the point that being a Keynesian means supporting a counter-cyclical fiscal policy with government making room for the private sector when economic growth is strong.
He should have resigned as Treasurer immediately upon writing that.
His conception of the role of fiscal policy was deeply flawed and demonstrated that Treasurer Swan (and whoever wrote this essay) did not have a solid grasp of either Keynes or macroeconomics.
First, Australia had not restored its pre-crisis prosperity (as above).
Second, and more substantively, the fiscal outcome is endogenous, which means that it is determined by the system, in general, rather than the specific policy decisions taken by government.
In fact, the government cannot realistically target a fiscal outcome because changes in non-government spending can thwart any efforts made by the government to achieve that target.
Indeed, we have seen during the crisis that many governments who had imposed fiscal austerity with the intended purpose of reducing their fiscal deficits, instead, saw their deficits rise (or not falling as quickly as planned) because non-government spending did not respond in the way they had envisaged.
The impact of the austerity was to further slow growth in incomes and cause unemployment to rise, which at a time of weak non-government sector growth, just meant that the latter became even more pessimistic and further reduced their spending.
In this regard, the sensible strategy for a government is always to target full employment and allow the fiscal balance to be whatever it takes to achieve that goal. The government can always achieve a given employment target because it can run a buffer stock of jobs (the Job Guarantee) which would ensure that anyone who wants a job but cannot find one elsewhere can work for pay in the public sector.
Third, there is nothing sacrosanct about a fiscal surplus in isolation from what is happening in the rest of the economy. A fiscal surplus might be appropriate in some circumstances (rare) but usually will not be so.
At the time, Australia had a current account deficit which is expected to increase and the private domestic sector was also returning to previous savings patterns in order to reduce the massive debt overhang that emerged during the credit-binge leading up to the crisis.
In those circumstances, it is highly likely that growth will require continuous support from fiscal deficits. It is true that if private investment growth strengthens and the economy approaches full capacity, then there may be some grounds for imposing net public spending restraint on the economy. But it is still likely that fiscal deficits would be required given the external sector deficits.
A fiscal strategy that restrains net public spending to keep the economy below the inflation barrier does not, inevitably, mean a fiscal surplus is required. In fact, a fiscal surplus would only be indicated if the economy had a very strong external surplus, the private domestic sector was saving overall at its desired level, public infrastructure and services were first-class and the economy was at full employment.
That conjunction of events is rare.
Fourth, a counter-cyclical fiscal strategy does not mean that the government should achieve a surplus. To think otherwise is to demonstrate a lack of understanding of the main sectoral aggregates and why they interact at various levels of economic activity.
The concept of counter-cyclicality more correctly refers to the direction of change of the aggregate. The government should certainly not be expanding its deficit if the economy is already at full capacity and it is satisfied with the private spending mix. Such an expansion would be pro-cyclical. But holding a steady deficit where the external deficit is steady and the private domestic sector is saving overall and content with that outcome is not pro-cyclical.
Under those circumstances, growth would be steady, and, hopefully, sufficient to absorb all the available capacity.
By 2011-12, Treasurer Swan was, in fact, pursuing a pro-cyclical fiscal strategy – that is, the government was cutting their net discretionary spending at the same time that the economy was slowing.
Such a strategy is the anathema of sound and responsible fiscal policy conduct.
So Wayne Swan's attempt to appeal to John Maynard Keynes as an authority for the obsessive pursuit of a ficsal surplus was pure cant. There was never an economic (nor financial) justification for the Government's surplus obsession at the time.
It is being driven purely by politics.
But Swan certainly inflicted damage on the economy as a result of his surplus obsession.
The following graph is interesting because it shows the way in which fiscal balances vary with the economic cycle. The blue line is total Australian government spending and the red is total receipts (taxes etc). The dates are fiscal years (so 1970 is 1970-71 etc).
Australia had a large recession in 1991 and the GFC impacted on activity in 2009 onwards. You can see that tax revenue fell sharply as a per cent of GDP during both episodes and spending was less cyclical, which meant that the fiscal deficit rose in each situation.
In fact, in the recent downturn Wayne Swan as Treasurer started to hack into spending significantly in real terms in the 2012-13 fiscal year (a cut of 3.2 per cent) pulling 0.9 per cent of GDP out of public spending.
In the same time, revenue taken out by the government rose from 22.1 per cent to 23 per cent of GDP even though GDP growth was subdued.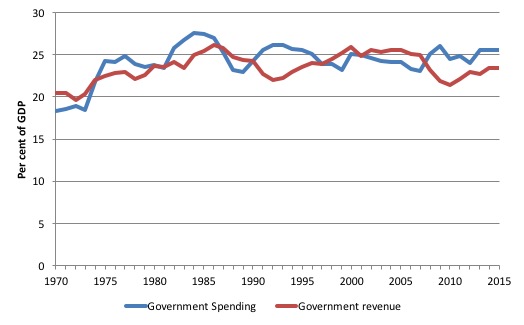 This was an unprecedented fiscal shift.
The following graph shows the recent history (from 1970-71) of fiscal shifts (annual swings in fiscal outcomes) up until the financial year 2015-16. The largest fiscal shift in the sample period shown was the second-last fiscal statement from the previous Labor government under Treasurer Wayne Swan in 2012-13 which was equivalent to 1.7 per cent of GDP.
That government was obsessively trying to achieve a fiscal surplus in the next year and was blind to the reality that the non-government sector was not going to fill the spending gap left by the retrenchment in net government spending.
The result – which was totally predictable – was that the economy took a nosedive, tax revenue fell even further and the fiscal balance moved further into deficit with unemployment rising. The reversal in the fiscal balance was larger than the attempted contraction the year before (1.8 per cent increase in deficit compared to 1.7 per cent decrease the year before), which just tells you that it is folly to try to cut a deficit when private demand is weak.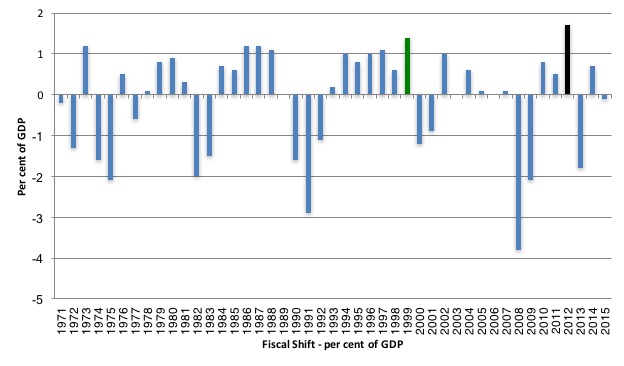 Swan had justified his austerity shift by claiming that the economy was back on trend.
In his essay (cited above), Swan said that:
… you can't be a Keynesian on the way down, but not on the way back up … in an economy moving back towards trend growth … it is appropriate for the Government to be returning the budget to surplus
But it is important to nail this down a bit more accurately.
Several points can be made about this.
First, trend growth is not the relevant benchmark if the economy has been operating at levels of activity for many years, which are patently well below full employment. Over the last three decades, government policy has deliberately maintained a state of the entrenched labour underutilisation.
At the time Swan took over the Treasurer's position, labour underutilisation (unemployment and underemployment) was running at nearly 10 per cent – that is, nowhere near full employment.
So using the trend rate of growth associated with this historical period as the policy goal is to adopt a somewhat diminished aspiration and belies a commitment to full employment.
Second, Treasurer Swan lied when he said the economy at the time was moving back towards trend growth.
The following graph is taken from ABS National Accounts data and shows the annual rate of real GDP growth since the March quarter 2000 to the December quarter 2016 (blue bars). The red line is the average growth rate (0.8 per cent) for the 20-quarters before the recent crisis impacted (September 2003 to September 2007).
The Australian economy started slowing in the March 2008 quarter and did not go close to achieving the growth rate that was enjoyed in the 5 year period before the crisis. The pace of growth was gathering on the back of the fiscal stimulus in the December 2009 to June 2010 quarters but then fell away as the fiscal stimulus was withdrawn.
At the time, Treasurer Swan was hacking into public spending (2001 to 2013) – because Keynes told him too! – private domestic spending growth remained subdued and the pursuit of the fiscal surplus introduced serious spending drag on the growth rate.
As you can see real GDP growth was nowhere near its past trend let alone full employment.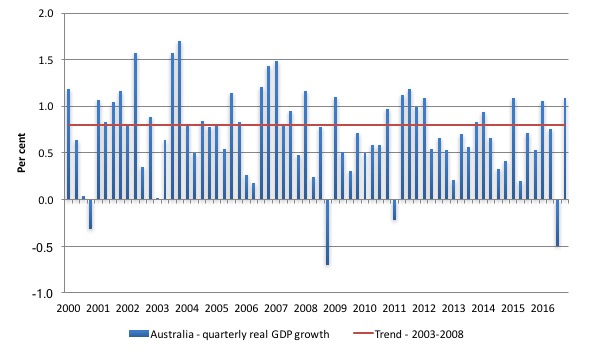 The result of Treasurer Swan's fiscal incompetence are still with us. The unemployment rate began rising again as did underemployment. The participation rate fell leaving tens of thousands of workers who wanted work classified as being outside the labour force because employment growth was so weak they gave up looking.
Some legacy … and … the deficit kept growing as you would expect.
Swan effectively sabotaged his own fiscal stimulus, which, if he had left in place to do its full work, would have brought unemployment down significantly and allowed the economy to maintain a better trajectory back to full employment.
Which means his new entry back into the economic debate appears to be rather laden with hypocrisy.
And now …
In his Adelaide speech he completely ignored his policy reversal in 2012. He didn't tell his audience that he introduced the biggest shift away from deficit in history because he was obsessed with surpluses (as any neo-liberal is) and the economy tanked as a result.
Now, he is claiming that:
Society and government must recognise that every person in an economy has a part to play in generating growth and higher living standards.

And that government has a responsibility to ensure every person shares the benefits of the growth they help to generate.

Here fiscal policy is critical.
He talked about the need for a "progressive tax system that provides the incentive for people to work hard and for capital to invest is essential."
He revealed his neo-liberal belief though when he claimed that:
Not only does the erosion of our progressive tax system limit the government's ability to invest in health, education and infrastructure, it is one of the primary reasons public faith in democratic institutions has been trashed.
He is clearly thinking the tax revenue lost from such an erosion limits government spending. Same old Wayne!
No it doesn't. Governments can spend what they like and should spend as much as is required to bring all idle productive resources back into effective use.
The imposition of taxes doesn't fund this spending – it just creates the 'fiscal space' which is equivalent to real resource space (the idle resources that are not used because the taxes drain the non-government sector's spending capacity.
Then he went further and claimed that:
Despite Labor's successful use of fiscal policy during the GFC the conservative side of politics has continued to be reluctant to use fiscal policy.
Labor's period in office was not marked by a "successful use of fiscal policy". As noted above, the fiscal stimulus was withdrawn too early and Swan used the same sort of neo-liberal arguments to justify that withdrawal as the current conservative government uses to justify their incompetence with respect to fiscal policy.
But Swan now thinks that:
Australia should embrace the use of fiscal policy to get to and stay at full employment.

Pushing the economy back to full employment would restore the bargaining power of workers and repair the broken link between labour productivity and wages.

And when we talk about full employment we're talking about secure ongoing jobs.

In doing so governments must not only direct their emphasis on job training and re-skilling initiatives but must also be willing to contemplate more ambitious programs of public investment and direct employment.

Such an embrace of activist fiscal policy would also act as a natural countercyclical buffer against unbridled market forces.
Absolutely true.
But Swan rejected all that while he was Treasurer. He refused to introduced large-scale public employment programs. He oversaw a dramatic deterioration in the teenage labour market and offered "job training and re-skilling" as the only solution.
He oversaw a rise in underemployment as spending was constrained.
He oversaw the beginnings of the record low wages growth that is now seeing real wages growth flat if not negative.
Conclusion
Why didn't he push Australia to full employment when he actually had the power to do so instead of being obsessed with fiscal surpluses?
The answer is because he was a politician then. And now? It serves his political interests to pressure the Government into doing the opposite to what he proposed when he was Treasurer.
What road near Damascus has Swan been on? Probbably none. Just more of his usual I was great stuff.
The fact that he completely ignored his record in office after 2011 in his Speech is testament to his propensity to spin the facts rather than state them.
I wrote about Wayne Swan's past performance in these blogs among others:
2. Australia output gap – not close to full capacity.
3. Back off austerity and give growth a chance.
4. Keynes would not support fiscal austerity.
5. Economy faltering – Australia's wind-up Treasurer "We will cut harder".
6. Distorting history to appear progressive.
7. These were not Keynesian stimulus packages.
8. How could you vote for any of them?.
9. What part of accounting don't they get?.
That is enough for today!
(c) Copyright 2017 William Mitchell. All Rights Reserved.