Employers have too much power
I have been travelling the last two days and have disrupted work patterns. But I did manage to read a few things in between other things today which made my hair stand on end and suggest that the austerity debate has moved ground. So desperately lacking is the real evidence which might support the economic claims the conservatives have been using to justify their manic desire to savage public spending when there is 10 per cent unemployment (and worse) – that the deficit terrorists are now appealing to morality – that public deficits and debt are immoral. It makes you wonder why these characters just don't become stand-up comedians. But given how dangerous they are as a result of their positions in government it is clearly not a laughing matter. I would seek to try these characters for crimes against humanity when it becomes obvious to everyone how wrongful their actions are. It is interesting though – the descent into "moral" arguments means that you can conclude that even the conservatives know that the bevy of economic arguments that they use to justify their damaging policies are nonsense. But there is a new emerging problem. As I write today the entrenched unemployment that the deficit terrorists are now acknowledging they will cause to worsen is giving rise to employers discriminating against the most disadvantaged workers that are seeking work. What this tells us is that the employers have too much power.

I regularly update my transition probability matrices for different countries (sounds like an interesting life doesn't it!) to work out if it is getting easier for the unemployed to get jobs. For the US you can investigate this issue by examining the Gross labour flows that are available from the US Bureau of Labor Statistics. I last did this in October 2010 in this blog – The plight of the unemployed – under growth and decay.
To fully understand the way gross flows are assembled and the transition probabilities calculated you might like to read these blogs – What can the gross flows tell us? and More calls for job creation – but then. For earlier US analysis see this blog – Jobs are needed in the US but that would require leadership
As a refresher, gross flows analysis allows us to trace flows of workers between different labour market states (employment; unemployment; and non-participation) between months. So we can see the size of the flows in and out of the labour force more easily and into the respective labour force states (employment and unemployment).
The various inflows and outflows between the labour force categories are expressed in terms of numbers of persons. But a useful alternative presentation is to compute transition probabilities, which are the probabilities that transitions (changes of state) occur. For example, what is the probability that a person who is unemployed now will enter employment next period.
So if a transition probability for the shift between employment to unemployment is 0.05, we say that a worker who is currently employed has a 5 per cent chance of becoming unemployed in the next month. If this probability fell to 0.01 then we would say that the labour market is improving (only a 1 per cent chance of making this transition).
The following table shows the schematic way in which gross flows data is arranged each month – sometimes called a Gross Flows Matrix. For example, the element EE tells you how many people who were in employment in the previous month remain in employment in the current month. Similarly the element EU tells you how many people who were in employment in the previous month are now unemployed in the current month. And so on. This allows you to trace all inflows and outflows from a given state during the month in question.
The transition probabilities are computed by dividing the flow element in the matrix by the initial state. For example, if you want the probability of a worker remaining unemployed between the two months you would divide the flow (U to U) by the initial stock of unemployment. If you wanted to compute the probability that a worker would make the transition from employment to unemployment you would divide the flow (EU) by the initial stock of employment. And so on. So for the 3 Labour Force states we can compute 9 transition probabilities reflecting the inflows and outflows from each of the combinations.

The first graph compares the US transition probabilities as at January 2008, January 2009, January 2010 and January 2011 (see the accompanying Table for values). The data is from the US Bureau of Labor Statistics. I also include the January 2000 observation which is the month when the chances of leaving unemployment for employment (UE) was the highest in this data set (since 1990).
The probability of getting a job if you were unemployed in January 2011 was 16.7 per cent and has hovered around that mark for some months. Twelve months ago it was 17 per cent so the situation has deteriorated over the last year. The chances of remaining unemployed is now rising (64.1 per cent compared to 52.5 per cent in January 2008). An unemployed person is more likely to exit the labour force altogether (19.2 per cent in January 2011) than to enter employment. These transitions (UN) will surely contain a significant hidden unemployment component.
The probability of retaining a job if you have one is virtually unaltered over the period shown although in recent months it has fallen (January 2011 = 95.5 per cent compared to January 2008 = 96 per cent).
Further, new entrants to the labour market face a declining likelihood that they will enter employment (January 2011 = 4 per cent compared to January 2008 = 5 per cent).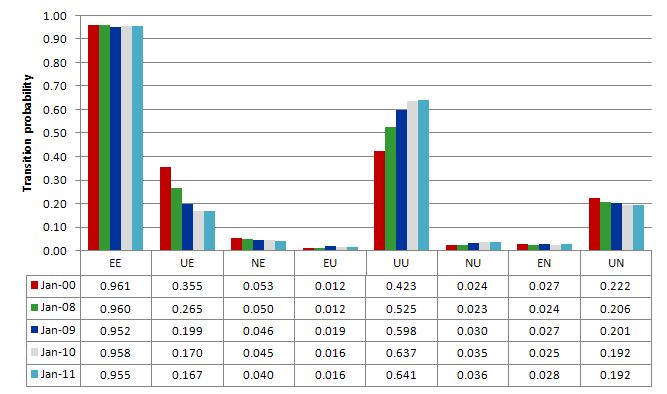 Conclusion: It is now harder to transit from unemployment to employment in the US compared to a year ago and much harder than 2 years ago. An unemployed person is much more likely to drop out of the labour force than to enter employment.
The following graph shows the transition probabilities of an unemployed person gaining employment (blue line) and exiting the labour force (red line) since 1990. You can see that the latter transition overtook the former during the crisis for the first time since the data has been made available.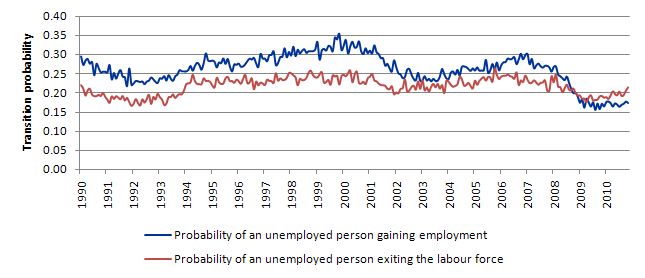 So life for an unemployed person in the US is not looking up. Then I read this editorial in the New York Times (February 19, 2011) – The Unemployed Need Not Apply – which puts this aggregate data into an even grimmer light.
The editorial says that:
The Federal Reserve is projecting unemployment to continue at or near 9 percent for the rest of the year. That is 13.9 million Americans out of work. Here is more grim news: Barriers to employment for jobless workers may be even higher than previously thought. As the Fed updated its forecast last week, the Equal Employment Opportunity Commission held a forum on discrimination against unemployed job seekers. Members of Congress had urged the commission to explore the issue, after reading press reports of numerous instances in which employers and staffing agencies refused to consider the unemployed for openings.

The message – "the unemployed need not apply" – has at times been explicitly stated in job announcements. In other cases, unemployed job seekers have reported verbal rejections after a recruiter or employer learned they were not currently working.

One of the questions for the E.E.O.C. is whether excluding unemployed applicants is illegal. Jobless workers are not specifically protected by antidiscrimination laws, but various laws outlaw hiring bias on the basis of sex, race, national origin, religion, age and disability. Since African-Americans, older workers – especially older women – and disabled workers have been hit particularly hard in the downturn, discriminating against unemployed people in those groups may violate the law.
In an accompanying – Press Statment – (February 16, 2011) we learn that the Meeting of February 16, 2011 – EEOC to Examine Treatment of Unemployed Job Seekers exposed "the emerging practice of excluding unemployed persons from applicant pools".
The EEOC has identified employers using "an individual's current or recent unemployment status as a hiring selection device" which is clearly no surprise. Marx identified a long time ago the role that the reserve army plays in providing the edge to capital in the bargaining process. When the labour market is slack, employers have the sway. They can pick and choose at will and indulge in perverse behaviour including discrimination.
I learned about discrimination early in life – growing up on one of the post war housing commission estates in Melbourne where the adults were typically poor and the baby boomer generation was emerging. Just being poor was enough. I wasn't black, female, jewish, asian, or disabled. That multiplied the prejudice and clearly I cannot articulate what that feels like. So when I started studying economics and came upon the topic of discrimination I was highly skeptical.
The seminal mainstream work in this field was by University of Chicago economist Gary Becker who's work has mostly been centred on banal applications of microeconomic behaviour where the paper starts off – we have a problem – government intervention – solution – eliminate the government and free up the market some more. His 1957 book The Economics of Discrimination (which was his PhD thesis) outlined his "tastes and preferences" approach to discrimination where these amorphous "utility-maximizing economic agents" (that is, you and me) calculate "discrimination coefficients" according to our tastes and preferences which allow us to put a monetary value onto our hatred of minorities (although last time I looked males barely outnumbered females!).
Becker claimed that we desire to maximise utility (measured in monetary terms) and we are prepared to forfeit income to indulge our prejudices. The theory then claimed that increased competition was the answer because it made the monetary costs of discriminating against people too high – the competition would soon hire all the good (black) workers and sell into markets where consumers were loathed by the discriminating producers.
Clearly this has been highly contested by those who consider that discrimination is an institutional feature of the social structure rather than being just a manifestation of individual preferences which can be driven out of the market by increased competition.
The problem with the approach is that by engaging in wide-scale deregulation of the labour market, the government would be further shifting power to the bosses (employers). Becker's model of perfect labour market stylises it as a large number of independent agents coming together with capital and labour for mutual advantage. That is not what capitalism is about though.
Capital stands before many workers – the latter who ultimately have to work to survive and have little real choice in determining who they work for (at the margin). Undermining legislative protections for workers and destroying the trade unions exacerbates that power imbalance.
There is a much better way to reduce discrimination – create full employment.
The EEOC heard evidence during those meetings which showed that while certain racial and ethnic minorities are bearing the burden of the unemployment (20 per cent of African-American workers are unemployed whereas they comprise only 12 per cent of the workforce), the discriminatory practices are likely to frustrate any attempts by government to improve the circumstances of these cohorts.
The EEOC said that:
At a moment when we all should be doing whatever we can to open up job opportunities to the unemployed, it is profoundly disturbing that the trend of deliberately excluding the jobless from work opportunities is on the rise.
Well the solution is simple and doesn't involve Becker-style deregulation which only hands more power to the employers especially when there is an overall demand constraint (deficiency) preventing the economy from offering enough jobs to satisfy the preferences of the workers for employment.
The solution is for the government itself to undermine the prejudice by ensuring there are enough jobs available. Given that the unemployment is focused among the most disadvantaged workers the most immediate solution that the US government could introduce would be a Job Guarantee.
As I explained in this blog recently – We gonna smash their brains in – a Job Guarantee would ensure that workers could always find jobs at a living minimum wage if they were willing and able to work.
The employers would then have to rethink their hiring behaviour should they wish to expand their output. No longer would they be able to draw from a huge pool of desperate unemployed workers and indulge in vicarious discrimination as they wielded their "market power".
Instead, bad employers would be sorted out very quickly. That is a much more effective way of dealing with discrimination. Just starve the perverted bosses who wish to indulge.
Having considered all that I wonder why this Wall Street Journal author is earning a wage so low is his contribution to society –
The WSJ column is published under the heading "WSJ Blogs – Deal Journal – An up-to-the-minute take on deals and deal makers" which sounds as if there should be vibrant, cutting edge stuff on offer. Instead you get mindless drivel from a sociopath.
The writer claims that he is "actually hoping for something really bad to happen" in the form of a US government debt default, the Republicans shutting the government down, "Moody's to downgrade our debt and China and Japan to stop buying Treasurys", public servants in the US to be unpaid and elderly pensioners "to be handed worthless I.O.U. notes instead of Social Security checks". He went on to wish that the elderly were deprived of health care. Why?
Apparently:
… then and maybe only then will America wake up and do something about its coming fiscal disaster.
Which fiscal disaster? Well not one that anyone who is actually making deals seems to recognise. This "expert" acknowledges that "The U.S. government bond market, the true and final arbiter of our nation's fiscal health, is saying something quite different" given yields remain very low and unmoving.
While I don't accept the statement that the bond markets determine the fiscal health of a nation such as the US – using the logic that this genius would accept – does the evident ease with which the US government issues its debt tell this bone-head something.
Doesn't two decades of Japan issuing debt with ease (even though their public debt ratio is now 2.5 times or more the disaster level that those other geniuses Reinhardt and Rogoff have been claiming tell this bone-head something.
Apparently, the 2012 US "budget should terrify bond investors. But it didn't. Treasurys rallied for two days following the release of the budget. They're rallying again today".
The author claims that the reason the bond markets are not in open revolt and driving the US government into insolvency is because the market is "just wrong"! Evidently, it is because foreigners are buying about 50 per cent of the debt being issued and the Federal research is buying the rest. The facts of that claim are also disputable but even if it was true what difference would it make to anything? Answer: not a lot.
He claims that the low yields are distorted by the huge Federal Reserve purchases and this is distorting the market. He says:
Remember all those supposedly Triple AAA CDOs and CMOs? Then Bear Stearns, Lehman and everything else, pretty fast. You know the saying, "Everything is okay, until it isn't."
The US government is not a private investment bank. Even if the market assessment of the returns on public bonds was wrong it would make no difference to the capacity of the US government to spend. It might have to change a rule or two should the bond markets go into outright revolt and stop buying its debt. While such a result will not happen it wouldn't matter at all to the capacity of the US government to spend in US dollars.
This character wants a " big, messy U.S. default to give everybody a different and very necessary frame of mind". It sounds to me that he is desperate for some evidence to "prove" his theories are consistent with the facts. The problem is that there is no fiscal disaster in the US that doesn't come in the shape of a bone-headed commentator (like this guy) or a politician who is willing to sacrifice the opportunities of the weak and poor to validate their extremely paranoid and erroneous version of reality.
The only fiscal disaster is that these views are holding political sway and forcing the US government to being implementing an austerity campaign.
It seems that the politicians in the US are heading now threatening to shut down the Government unless the budget cuts are deeper than currently proposed (as if they were not already ridiculously damaging). The US National Public Radio (NPR) carried a story on Saturday (February 19, 2011) – Threat Of Shutdown Looms Large Over Budget Debate and included some quotes from the new speaker of the House the bone-headed John Boehner.
Boehner said:
Our goal is to reduce spending; it is not to shut down the government … Since President Obama has taken office, the federal government has added 200,000 new federal jobs … And if some of those jobs are lost in this, so be it. We're broke.
Given my earlier discussion of the deterioration in the chances of the unemployed to get work and the discriminatory practices that are compounding that struggle I find this sort of "financial" posturing to be immoral.
The US government cannot go broke! It issues its own currency and can meet all its liabilities in US dollars whenever they arise. To say otherwise is to lie. To then deliberately set out to cause job loss based on that lie is immoral.
The Democrats are not much better. The NPR article reported that they have been playing a spending cutting game where they deliberately targetted government outlays that provide work in Boehner's home state of Ohio as a sort of juvenile payback.
Politicians are meant to be serving the people. When will the US people follow the lead of those in the Middle East that seem intent on getting rid of governments that have ceased to defend the interests of all? It could not come soon enough in my view.
The conservatives however are casting the austerity campaign as a "moral challenge". In this article (February 19, 2011) – Ryan says tackling U.S. debt problem is moral challenge.
Ryan is a Republican representative from Wisconsin. He told a conservative gathering that:
We must also recognize that our nation's debt problem isn't just a fiscal challenge involving dollars and cents. It's a moral challenge involving questions of principle and purpose. The size of the budget is a symptom of deeper causes, and it points to different ideas about government … Let's choose to put proper limits on our government and unleash the initiative and imagination of the world's most exceptional people …
It is clear that Ryan isn't among the "world's most exceptional people".
The US debt problem is exclusively in the private sector. The relationship to fiscal policy is that expansionary net spending was required when that private debt problem (caused by the sort of policies that the likes of Ryan and Boehner have advocated) exploded and private spending collapsed. Then the only action that saved the US from total economic meltdown was the fiscal intervention. It wasn't large enough and that is why the unemployment situation is now so bleak.
The US fiscal policy is that the net public spending position is too low.
But you can see the basis of the austerity – it is a religious crusade based on some cock-eyed notion that the size of government is a moral issue. The only moral issue is that the government acts honestly to advance public purpose. Whatever else you might say in the US at present the US government has to be "larger" because it has to expand to generate more jobs for the unemployed. The moral responsibility that governments have is to ensure there are enough jobs and to fill the spending gap when private spending collapses.
If the US private sector was able to spend more and to provide those jobs then government could be smaller in size (as a per cent of total activity). But the issue would be that that smaller size would be consistent with higher employment and lower unemployment. It would not be about "size" per se.
The size of the deficit should never be the object of policy. While fiscal sustainability is being defined by austerity proponents in terms of some arbitrary financial ratios (public debt to GDP etc) the reality is that deficits should be whatever is required to maintain overall spending at the level consistent with full employment. No more, no less. Fiscal sustainability is about fulfilling the government's responsibility to maintain inclusive society which at the most basic level requires that everyone who wants to work can.
The conservatives have some weird notion that it is per se that matters irrespective of what that scale of activity might mean for the prosperity of nation. They usually lie and claim that cutting back government net spending will be expansionary. It used to be considered non-controversial that government deficits could stimulate production by increasing overall spending when households and firms were reluctant to spend.
In a bizarre reversal of logic, neo-liberals talk about an "expansionary fiscal contraction" – that is by cutting public spending more private spending will occur. This assertion comes with the fancy name of "Ricardian Equivalence" but the idea is simple. Consumers and firms are allegedly so terrified of higher future tax burdens that they increase saving now to ensure they can meet their future tax obligations. So increased government spending is met by reductions in private spending – a stalemate. But they say if governments announce austerity measures, private spending will increase because of the collective relief that future tax obligations will be lower and economic growth will return.
All the evidence shows that firms are currently very pessimistic and will not expand employment and production until they see stronger growth in demand for their products. Consumers are also pessimistic because they worry about losing their jobs. They are also heavily indebted and are trying to save to reduce the risks involved should they become unemployed. By cutting public spending, this pessimism will worsen. The greatest neo-liberal lie is in denial of all the facts relating to human psychology. The early indicators from Britain – poor growth figures and surveys of private firms and consumers pointing to growing pessimism – are already undermining the substance of the Government's austerity strategy.
The only way economies grow is through producers responding to increased demand for their products. At a time when private demand is subdued, the only way out is for government spending (via deficits) to support the growth process. Austerity will just withdraw the lifeline that has been keeping our economies growing in the last year or so.
So while the conservatives usually lie and claim that austerity is good now it seems some of them are blowing their cover and admitting that if some "jobs are lost in this, so be it". And then trying to justify this insolence by claiming the higher moral ground.
Sheez!
Conclusion
I think that once the conservatives start appealing to the higher moral ground you can conclude that even they know that the bevy of economic arguments that they use to justify their damaging policies are nonsense.
Where does that leave their mainstream economist lackeys who they wheel out in the media to provide the pointy-head justifications? They were nowhere anyway!
Have to run …
That is enough for today!