The US should have universal public health care
I have been resisting writing about the US health care fiasco because frankly the whole debate is a fiasco and demonstrates the ability of mainstream economics to obscure a widespread understanding of how the monetary system operates and the opportunities that system provides a currency-issuing government. But I have had more E-mails on this topic over the last few weeks than most other issues (bar EMU). Most readers want some analysis from a Modern Monetary Theory (MMT) perspective and so here it is. If only to stop the E-mails.

To start with here is a personal message to all the fine American readers of my blog (there are thousands). I live in a nation where I can ride my bike for hundreds of kms unimpeded although I do have to wear a helmet these days as a result of invasive law changes. I live near the beach and can go and surf the waves whenever there are some as free as a bird. I walk the street each day without fear of arrest and interrogation.
I even criticise the national government relentlessly on national media and no-one comes round in the dead of the night to take me away. I can travel where I like (mostly). The citizens can toss a government out of office if they do not like them at regular (relatively short-spaced) intervals.
The only time I see the Australian army is on TV when the news shows them getting shot up in far of lands where they have no place to be.
I have to stop at red lights but consider that probably is a health issue rather than an infringement on my civil liberties. Which brings me to the next point …
I live in a system with universal health care where the poorest Australian can access first-class medical and hospital services on demand. It is not perfect and there are significant inefficiencies in certain areas mostly involving private insurers and greedy medical professionals. But overall it works fine.
This health system hasn't turned Australia into a totalitarian state. The material means of production are mostly privately owned. And even though I agree with Marx, that capitalism represents the chimera of freedom … we do not live under the oppressive iron glove of a dictator – communist or otherwise!
So when President Obama's health changes were passed the other day, the reaction among some was idiotic. I got this retweet which was originally tweeted by one Solly Forell who calls himself a conservative American blogger:
ASSASSINATION! America, we survived the Assassinations and Lincoln & Kennedy. We'll surely get over a bullet to Barrack Obama's head.
Some reaction to a piece of legislation that hands over billions in public funds to corrupt and powerful private health insurers.
Even the right-wing News Limited press in Australia, which is usually rabid on these matters, noted in relation to President Obama's health changes:
On the lunar Right, claims that the legislation follows the mindsets of Lenin, Stalin and Kim Jong-il are equally wide of the mark.
Problems with US health care
Now here are some questions.
How many people die in Australia because they cannot access health care? Answer: probably none.
How many people die in the US per year – the richest nation on Earth – because they cannot access health insurance? Answer: 45,000 (Source). The last figure came from a study published by the American Journal of Public Health and conducted by the Harvard Medical School and Cambridge Health Alliance.
The Harvard study also found that "(u)ninsured, working-age Americans have 40 percent higher death risk than privately insured counterparts" and this was "up from a 25 percent excess death rate found in 1993". Their research demonstrates that "(d)eaths associated with lack of health insurance now exceed those caused by many common killers such as kidney disease".
The two introductory questions were different – one related to health care (Australia) the other to health insurance (USA). These differences are telling.
For in the US the "increase in the number of uninsured and an eroding medical safety net for the disadvantaged likely explain the substantial increase in the number of deaths, as the uninsured are more likely to go without needed care".
So if you are not insured you are unlikely to be able to access health care when needed. All Australians can access health care when they need it. The USA is also the only advanced nation that does not provide universal health coverage.
A further problem with the US system is that it defies the health care principle that early intervention is the best strategy. It is clear in the US that uninsured people cannot get basic screening examinations and/or simple pharmaceutical remedies and they have to wait until they are near death before they get treated. At that stage the overall imposition on real resources is disproportionately higher.
Health and financial risk management is also highly related. Poor health can lead to poverty in the richest nation in the World. Another Harvard Medical School study found that:
… the medical bankruptcy rate rose from 46.2% in 2001 to 69.1% in 2007 – a 49.6% increase. This is clear evidence that health care is becoming less affordable to American families, including American families with health insurance.
Medical bankruptcies contribute to "more than half of all bankruptcies and homes lost due to foreclosures".
The problem with the US system is that the health care providers run the system and can push whatever charges they can get away with. Regulation and public competition is desperately needed.
Another study by the Harvard Medical School found that:
… administration accounted for 31.0 percent of health care expenditures in the United States and 16.7 percent of health care expenditures in Canada.
So this is just gouging – management fees
ABC economics commentator Stephen Long had an interesting article this week (March 23, 2010) entitled – What's wrong with the Obama healthcare plan? and concluded that:
The United States is the only rich nation that lacks universal healthcare coverage. In the world's most affluent country, tens of millions of people can't afford to see a doctor or have an operation. It has by far the most expensive healthcare system in the world yet its health outcomes are poor.
While Americans outlay a much larger percentage of their GDP on healthcare (nearly twice as much as Australia) its "adult mortality rate is almost twice as high".
The following graph shows total health expenditure as a percentage of GDP from 1971 to 2007 in the left-panel and in $US purchasing power parity terms in the right-panel. The OECD provide an excellent health dataset which I have used here.
The data shows that broadly the nations selected (and Denmark is representative of Europe) have comparable outlays on health and the US is a very significant outlier.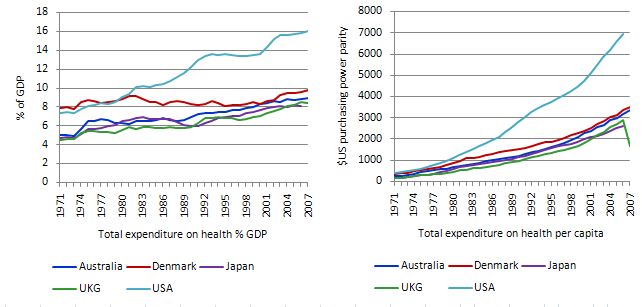 The OECD data has also just added public health outlays to their suite which is interesting. The following graph shows public health expenditure per capita from 1971 to 2007 on a $US purchasing power parity basis. So public health spending in the US per capita is not as much an outlier. So the major discrepancies in the graphs above reflect private spending. Private Americans spend a lot on health care overall.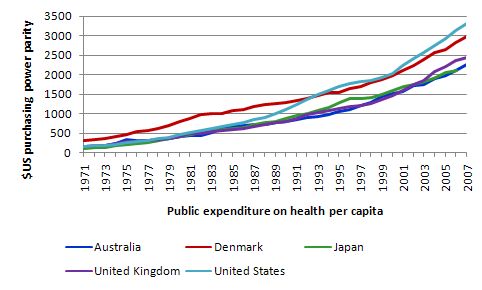 Is it working? Well I don't intend to undertake a complete analysis here but the OECD data does provide health risk facts. An obvious one is the percentage of obese citizens in the population. The following table shows these percentages for the last observation available. So private Americans are very much fatter and spend more on health care than the other representative nations, which could, of-course, be causal (_: [<= joke]. But it suggests that the health care debate is better fought on lifestyle grounds than fiscal grounds where the discussion is largely irrelevant as we will see.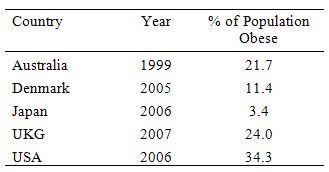 Long says that there are several reasons for the poor health outcomes:
They include entrenched under-privilege and high rates of preventible disease among the black and hispanic populations and the American love affair with junk food – extremely hard things to change. Then there's the huge expense and inefficiency of privatised, financialised care. Health insurance companies run for profit grossly inflate the cost of medical care in the United States.
While somewhat lateral, the following graph also suggests something about the national priorities of the US. It shows total military spending in the US as a percentage of GDP. Information from the Stockholm International Peace Research Institute (SIPRI). Again the US is an outlier.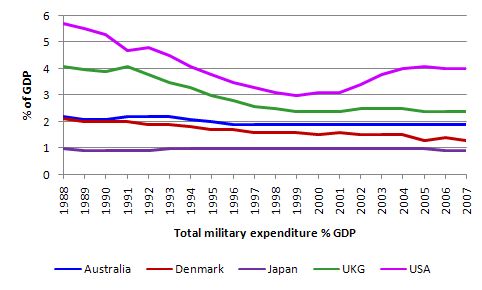 The SIPRI conclude that:
There is a large gap between what countries are prepared to allocate for military means to provide security and maintain their global and regional power status, on the one hand, and to alleviate poverty and promote economic development, on the other.
The Obama health care changes
President Obama's reform package is so flawed that it will do very little to redress the health care disadvantages in the US.
Stephen Long says that:
The Obama administration intends to create tens of millions of new customers for the insurers by subsidising Americans on low and middle incomes to take out policies. President Obama's healthcare system is flawed in its basic design. It's being billed as a historic reform but it actually entrenches a failed status quo. His "reforms" are designed to push more people into private health insurance. But the centrality of private health insurers is part of the problem in the United States, not the solution …

The administration is hoping to push down the costs of healthcare coverage, but it's hard to see how its measures will achieve that aim without compromising care and disadvantaging citizens.
My sometime co-author Randy Wray also noted that getting more insurance coverage doesn't mean they will get more "care paid for". This is an important issue when the providers run the system with little regulative checks and an absence of competition. He says that people:
… will get hit with deductions, co-pays, annual limits (for several more years), exclusions, out of pocket expenses. This will ensure that health CARE remains too expensive to actually take advantage of their new INSURANCE. And many currently insured people are going to get higher taxes. Premiums will rise. Government is going to shovel more of the costs to you. Wall Street needs your money …

We don't need more health insurance. We need less. We need health provision; and we need to get it out of the hands of Wall Street.
The US government has also let the pharmaceutical industry off scott free. These drug companies make huge profits and actively undermine cheaper preventative alternatives. The history of ulcer treatment is a classic case of this. The drug companies were happier that people took Z… for the rest of their lives and tried to prevent the knowledge that ulcers can be treated with anti-biotic medicine and permanently eliminated from gaining traction in the medical profession. Eventually, the Australian discovery became standard treatment but not without a huge resistance from the traditional drug suppliers.
The big US drug companies are also trying undermine Australia's publicly-subsidised pharmaceutical program where they have to supply at prescribed prices to get the subsidy (which means that they cannot gouge the local market excessively). They are arguing that under the ridiculous Free Trade agreement the two governments signed a few years back such regulations are a restraint of trade. They will lose because the Australian government will rip up the agreement before they would dare face the wrath of the voters here.
But by not taking on the pharmaceutical companies, the American government has side-stepped a major issue. They would do well to study the Australian scheme, which is imperfect but operational and contains the profits in this sector.
What the US reforms should have delivered a fully national free public hospital and medical system. That is the system that I can access 24 hours a day over here.
All Obama has really done is to extend private health insurance to 95 per cent of his citizens instead of 85 odd per cent (Source: US Census Bureau)
Sure enough the companies will be prevented from denying anyone coverage for pre-existing conditions so that families with sick children will now be able to get coverage. The companies will also not be able to deny insurance to a person once they become ill. Both of these changes are helpful.
But what was needed was a fully public health insurance system which Australia enjoys. My preference overall is to wipe out the private insurers. They are as sneaky in Australia as they are in the US – always seeking to avoid payment and would go out of business if they were not subsidised through fiscal policy.
The previous conservative Australian government tried to get rid of the public health system by forcing more and more people into private insurance schemes. At the time of the policy change, membership in private funds was falling dramatically as people preferred the public health system. The response from the government was to subsidise the membership fees even for the highest earners and impose higher tax penalties on those who resisted. But it still remains that there is a significant public system which I can access whenever I need to.
Health care as a rights agenda
So not only is there a major difference in priorities in the US in terms of using real GDP for health care, the access to it is is highly skewed in favour of the high income earners and wealthy.
Now in a so-called "free" nation (although that is questionable when applied to the US), people can spend their incomes the way they like subject to agreed rules relating to things like what is legal and what is not. But that means if you want to increase access to health care you have to rely on the public sector to achieve that goal. There are very good reasons why the public sector should take a central responsibility in this regard.
I go along with the sentiments expressed in the major international treaties. The UN Human Rights Declarations includes that everyone has a right to work and it is government's responsibility to ensure that right is realised. When I developed the Job Guarantee concept in 1978 I was motivated by that charter.
The constitution of the World Health Organisation says:
The enjoyment of the highest attainable standard of health is one of the fundamental rights of every human being without the distinction of race, religion, political belief, economic or social condition.
So I see this debate as part of the overall "rights agenda". Which points to the central role of the public sector.
Last time I looked, and the Americans among us should be able to recite it chapter and verse, the Declaration of Independence says:
… all men are created equal, that they are endowed by their Creator with certain unalienable rights, that among these rights are life, liberty and the pursuit of happiness.
Now we can add the other gender and dispense with the religious fundamentalism but I read this as a statement which says that health care is an inalienable human right for all Americans under the constitution.
So I don't even see this as a progressive (left) issue. But it is the public's responsibility – in my opinion – to ensure that all people have access to a job, high quality education and high quality health care. To me that is a hallmark of a sophisticated nation that is maximising the potential of its citizens. It is clear to me that the US government to date has deliberately overseen a system that wastes the potential of a huge number of its citizens to the detriment of the individuals and the nation as a whole.
The fiscal debate
There has clearly been a strong health industry lobby trying to derail any move to a fully-funded public system of universal health care so as to protect their dominance in the sector.
But the fears that there will be a fiscal blow out and Americans will live in high-taxed penury forever because some latinos or blacks are getting health care now has also driven the debate.
From a MMT perspective, the fiscal component of the debate is irrelevant.
A typical bogus attack is that (Source):
… it is likely to come at a heavy cost to the soaring US federal budget deficit … What is beyond dispute is that after the global financial crisis and the bailout of the banking system, the US budget deficit is 10 per cent of GDP and is piling up a compounding interest bill for future generations. Regardless of whatever savings can be made through health reform, extending insurance cover to a further 32 million people is likely to add substantially to the deficit, carrying a serious risk of undermining the strength of the US economy. Critics also fear that over time, the impact of the bill will include higher insurance premiums and poorer quality of healthcare. Such serious concerns will need to be monitored, but would be difficult to address.
Response: What is a heavy cost? What is a soaring deficit? These are irrelevant concepts devoid of meaning.
Once you run a rights agenda then the only sensible health care option is a universal public system. Within this rights framework the idea of "making profit" maintaining a human right starts to look odd. Under the rights agenda, no-one should become impoverished because they lose their job or because they fall ill. I would eliminate private providers altogether.
But this is not likely to happen any time soon. In that context, the public sector has to create a universal system and operate within it as a provider to maintain competitive discipline on the private segment with significant regulative restrictions on the latter assisting in keeping the real costs of the system down and maintain equity access.
The only way that these sorts of debates will progress, however, is to take them out of the fiscal policy realm where they are largely inapplicable and start talking about rights and what different interpretations of these rights concepts have for real resources allocations and redistributions.
Whether a nation can afford first-class health care depends only on the real resources that are available. The US can clearly afford that level of care for all of its citizens. There is never financial constraint on the national government (where it is sovereign) from providing that level of health care. Subject to real resource availability, the only issue then is political.
The idea that the public fiscal position has to "seek savings" to make fund future spending (on health care and other programs) is a fundamental misconception that is often rehearsed in the financial and popular media.
This misconception has been driving the so-called intergenerational debate where governments are being pressured to run surpluses to pay for the retirement of baby boomers and the growing healthcare costs for them as they age further.
MMT demonstrated categorically that public surpluses do not create a cache of money that can be spent later. Currency-issuing governments spend by crediting bank accounts. There is no revenue constraint on this act. Government cheques don't bounce!
Additionally, taxation consists of debiting a bank account. The funds debited are 'accounted for' but don't actually 'go anywhere' nor 'accumulate anywhere'.
The concept of pre-funding future liabilities does apply to fixed exchange rate regimes, as sufficient reserves must be held to facilitate guaranteed conversion features of the currency. It also applies to non-government users of a currency. Their ability to spend is a function of their revenues and reserves of that currency.
In fact, the pursuit of budget surpluses by a sovereign government as a means of accumulating 'future public spending capacity' is not only without standing but also likely to undermine the capacity of the economy to provide the resources that may be necessary in the future to provide real goods and services of a particular composition desirable to an ageing or sick population.
By achieving and maintaining full employment via appropriate levels of net spending (deficits) the Government would be providing the best basis for growth in real goods and services in the future. In a fully employed economy, the intergenerational spending decisions on pensions and health come down to political choices sometimes constrained by real resource availability, but in no case constrained by monetary issues, either now or in the future.
All governments should aim to maintain an efficient and effective medical health system. Clearly the real health care system matters by which we mean the resources that are employed to deliver the health care services and the research that is done by universities and elsewhere to improve our future health prospects. So real facilities and real know how define the essence of an effective health care system.
Clearly maximising employment and output in each period is a necessary condition for long-term growth. It is important then to encourage high labour force participation rates and maintain job opportunities for older workers. There is a strong correlation between unemployment and health problems.
Anything that has a positive impact on the dependency ratio is desirable and the best thing for that is ensuring that there is a job available for all those who desire to work.
But this is about political choices rather than government finances.
The ability of government to provide necessary goods and services to the non-government sector, in particular, those goods that the private sector may under-provide is independent of government finance. Any attempt to link the two via erroneous concepts of fiscal policy 'discipline', will not increase per capita GDP growth in the longer term.
The reality is that fiscal drag that accompanies such 'discipline' reduces growth in aggregate demand and private disposable incomes, which can be measured by the foregone output that results. Fiscal austerity does help low inflation because it acts as a deflationary force relying on sustained excess capacity and unemployment to keep prices under control. Fiscal discipline is also claimed to increase national savings but this equals reduced non-government savings, which arguably is the relevant measure to focus upon.
Please read the following blogs – Deficit spending 101 – Part 1 – Deficit spending 101 – Part 2 – Deficit spending 101 – Part 3 – for further information on these points.
An aside
While I fully support public provision to ensure everyone has access to a job and also to health care I also have a philosophical position that a lot of people on the left do not share that citizens also have to exhibit reciprocal responsibility. That is, I do not support income support for those that can work (the ill, the aged, the disabled clearly cannot work).
In relation to health care, I see reciprocal responsibility taking the form of attention to fitness and diet. The issues that then arise in this context include – should a person who has not demonstrated basic nutritional discipline and is obese or a person who smokes cigarettes be afforded free health care?
The issue is vexed and I haven't time today to explore it any further here. But the hint to my opinion lies in the concept of reciprocal responsibility subject to being able to receive adequate public education etc.
Ultimately, before the flame throwers come from the left field – I would never deny anyone first-class public health care if they needed it. But if they had adequate income then I might charge them a levy if they had been irresponsible!
Conclusion
Once you run a rights agenda then the only sensible health care option is a universal public system. I would eliminate private providers altogether. But given this will not happen in many places, the public segment has to maintain competitive discipline on the private segment with significant regulative restrictions on the latter to help.
The only way that these sorts of debates will progress, however, is to take them out of the fiscal policy realm where they are largely inapplicable and start talking about rights and what different interpretations of these rights concepts have for real resources allocations and redistributions.
Whether a nation can afford first-class health care depends only on the real resources that are available. The US can clearly afford that level of care for all of its citizens. There is never financial constraint on the national government (where it is sovereign) from providing that level of health care. Subject to real resource availability, the only issue then is political.
Saturday Quiz
There was too much boasting this week both publicly and via private E-mails about the improving scores. I won't tolerate that sort of idle self-promotion. Tomorrow's quiz which will appear sometime will be brutal (-: [<= joke] That is enough for today!