The year ends badly and then …
The year and the decade are rapidly closing out (early evening Thursday AEST). It is been an incredible year to be an economist with some of the swings in aggregates not seen before in most of our lifetimes. The degree to which nation's have gone backwards has been staggering. For a researcher like me it has opened up so many new lines of enquiry. I always worry that my major research angle – the study of unemployment – gives me a job as long as there are others without them. But someone has to keep the topic at the top of the agenda and that is what I have devoted my academic and public career to doing. I have also been staggered this year by the sheer audacity of the mainstream economists who went to ground when the crisis emerged because their theories were shamefully wrong – but who are now popping up again – in all their arrogance – leading the charge of the deficit terrorists and undermining the capacity of governments to fight the crisis effectively. They should have just stayed in their slime. Anyway, my final post for the year has some sad things to say … and then …

The Guardian published a report today (December 31, 2009) entitled – UK standard of living drops below 2005 level – which paints a grim picture of the Old Dart.
Evidently, "GDP per person is £225 lower than in 2005 and UK living standards trail those in US by 25%" although its unemployment rate is still below the US.
The Guardian reports on a so-called thinktank Oxford Economics who have just released a consulting brief (it is not available to the public although you can see the press release) which says that:
The decline in UK GDP per capita over the last four years contrasts markedly with the improvements seen over the Labour government's first two terms. Coupled with the tax rises to be implemented over the coming years – starting on 1 January 2010 – this research underlines the new age of austerity facing the UK economy.
Not to mention the savage spending cuts that the British Government is inflicting on its citizens because they have bowed to the conservative pressures to cut their deficit at exactly the time they should be increasing it.
Taking into account the differences in the relative cost of living (that is, adjusting the data for purchasing power parity), the data shows that:
British living standards in 2009 were still higher than in Germany, France, Italy and Japan. But UK living standards still trail those in the US by almost 25% on this measure and the gap is expected to widen in 2010 as the US economy recovers more strongly.
I then noted some tory sympathiser writing in The Times under the guise of an independent journalist. The article – Lipstick and daffodils won't save Britain now – ran the line that the UK had to get back to the fundamentals of Thatcherism and reject policies that "squeezed the rich till the pips squeaked, ran out of juice anyway" and "propelled Britain's public debt into the stratosphere".
According to this article the deficit had to come down much earlier than the government was planning. The journalist said:
… when the Tories berate Gordon Brown for saving nothing while the sun was shining, they are being too kind … It has, in truth, been raining almost throughout new Labour's interminable parade … Mr Brown broke through the previous Conservative Government's public spending ceilings … Britain's finances were in deep structural deficit before the crisis hit – one reason why, even with aggressive fiscal pump-priming, it has taken Britain longer than any other major economy to start emerging from recession.
So you can imagine that I assess that this person knows nothing at all about the way the monetary system operates. The British government budget position prior to the crisis hitting had nothing at all to do with the length of time Britain is taking to record positive growth again.
A sovereign government such as Britain's faces no financial constraints on its spending. The problem is that it is not spending enough in the right places and it was lax in its supervision of the financial system exactly because it inherited the Thatcherist neo-liberalism and tried to soften it with the ridiculously titled Third Way. Folks we are neither free marketeers nor socialists was their calling sign.
But they took their eyes off the road with respect to its banking and financial sector and are rueing the day. Their fiscal position had nothing to do with that policy failure.
Further, while the journalist wants the conservatives to save Britain and restore its fortunes the reality is the policies they are advocating will worsen the situation.
Anyway, that was long-winded way of introducing a few graphs I made today using data from the IMF World Economic Indicators database, which is becoming more user friendly by the year.
While the UK report was interesting I thought I would check out the performance of a greater number of countries including Australia. One of the stark things to come out of the September National Accounts data in Australia was the continued decline in per capita GDP (that is, on that measure we have become poorer) despite our relatively superior performance on overall growth outcomes.
This graph shows the change in Real Gross domestic product per capita valued in local currencies between 2008 and 2009 (2009 is estimated by IMF). The countries shown is a sample of the IMFs advanced economies.
The 2009 data, while estimated, looks fairly good to me when I compare it to the known data up to the third quarter 2009. So all of the advanced countries shown went backwards on this measure with some such as Iceland and Ireland the worst performers. Finland also went backwards significantly.
The best performer is Australia followed by … Greece (that so-called basket case – at least on this measure the rising deficits appear to be looking after its people better) and Korea.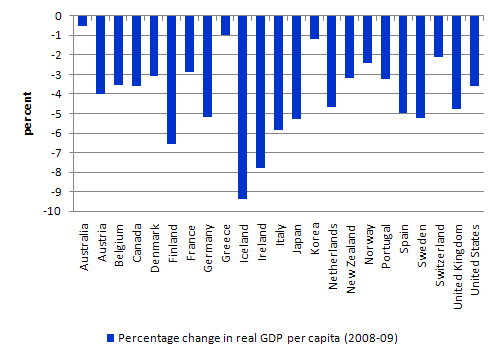 What happens when we take into account the differences in the relative cost of living – so we adjust the data for purchasing power parity?
The following graph shows the change in Gross domestic product per capita adjusted for purchasing power parity (by the IMF) between 2008 and 2009 for the same sample of advanced countries.
The basic idea is that exchange rate movements driven, say, by financial asset speculation can alter the valuation of a nation's GDP in USD terms (as an example). So if the Australian dollar is depreciating against the USD our GDP measure will be valued downwards in USD terms implying we are now poorer. But in AUD terms, the fall in standards of living (measured imperfectly by GDP per capita) will only reflect the reduced capacity to buy imported goods and services rather than command over non-traded goods and services sold in AUD to the domestic market.
The PPP method overcomes this deficiency by creating a basket of goods and expressing currencies in relation to that basket. Using this measure you can see that Australia, Greece, and Korea have actually increased their income per capita command on a world basket of goods and services.
Australia has experienced an appreciating exchange rate which some say will reach parity with the USD before too long. So this increases our command over the goods and services of the rest of the world. But in time it also undermines the competitiveness of our traded-goods sector (unless it is offset by rising global demand for the goods of that sector).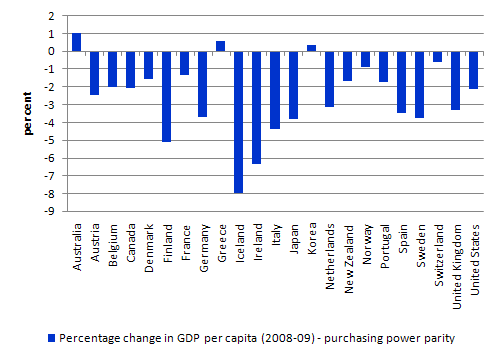 But to focus our minds in this last post before 2010, the next graphs look at unemployment rates? The point that is often forgotten as economies start to recover in terms of stock markets and real economic growth is that the tail of the recession is generally very long when we consider the labour market.
It takes years to generate the employment growth that is sufficient to not only absorb the new entrants into the labour force but also to start eating into the pool of jobless left to decay by governments after the recession. In Australia it took some 15 years after the 1991 recession to return to the unemployment low that was recorded in November 1989. And that level that took some 15 years to get back to was still a long way from full employment.
The following graph shows the unemployment rates for the same sample of advanced countries in 2007 and 2009. The average for all countries in the sample between 2000 and 2007 was 5.9 per cent
The decline of Iceland and Ireland and Spain is notable but joblessness is now the greatest problem facing all these nations.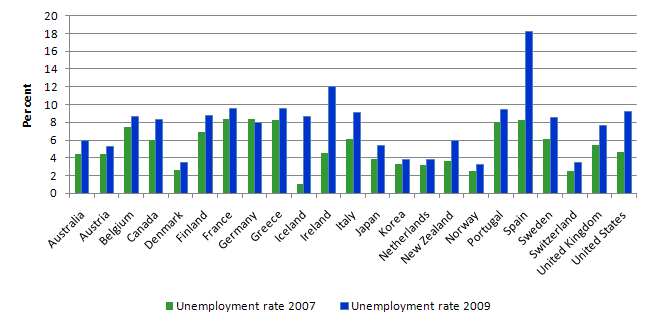 The change in the unemployment rate in the last year (2008-09) is shown next and just makes it easier to see how quickly the labour market contracted in some nations.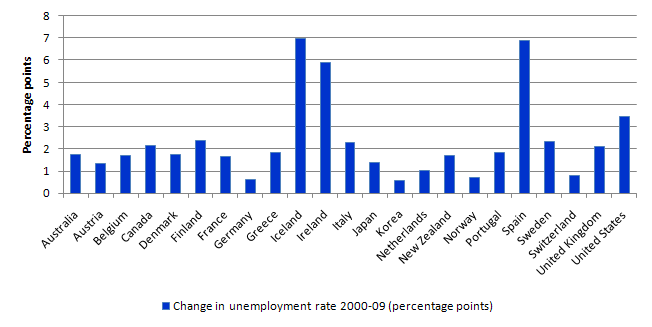 In general there is no reason to have any unemployment in excess of so-called frictional unemployment (people in the process of moving between jobs). While aggregate demand failures will lead to private employment falling, the correct role for the public sector should be to absorb all the workers into the public sector.
There is never a shortage of work – just a shortage of someone who is willing to pay the wage. When the private sector is unwilling then the only sector that is left is the public sector.
An efficient solution to the rapid escalation in unemployment that occurs during recessions would be to have a permanent Job Guarantee in place which would provide workers unable to find work elsewhere an immediate minimum wage job in the public sector engaging in productive work that would advance public purpose.
While it is not a perfect solution to the vicissitudes of cyclical swings in aggregate demand it is light-years ahead of what we tolerate now – pushing people into joblessness and in many cases into poverty.
It is a no-brainer and the only reason governments do not do this is because they are blinded by an ideology that says they "cannot afford it" and "it would be unproductive" and "private firms might find it hard employing people again" and all the rest of the wrongful and tedious arguments that get wheeled out by the conservatives.
The bosses don't want this scheme because they would be forced to restructure their workplaces and eliminate underemployment and poverty wage levels.
The government won't do it because they are advised by people who have learned their economics from textbooks like Mankiw (and a host that are as bad).
There is no financial constraint on the government introducing an employment buffer stock. Only the political will and good sense is constrained.
Finally … for 2009
So I am taking my annual rest now until 2010.
The macroeconomic scene is likely to be pretty awful as the policy makers stumble around limited by their understandings of how the system we elect them to run actually works and constrained by their own largely conservative ideologies.
In that respect I make special mention of Hugo Chavez's plan to take over the Toyota factory in Venezuela unless they produce things his country wants. He was quoted as saying (Source):
We're not interested in these traditional companies that have been here 50 years or more, they've never transferred technology … I suggest they gather their things and go, and we'll bring in the Russians, Belarusians and Chinese who want to make cars here."
I thought that was pretty solid. If all the less developed governments followed suit things would be much better for their citizens.
Which brings me to my chart of the year – which I produced for this blog – IMF agreements pro-cyclical in low income countries in October. It uses data from the World Development Indicators, provided by the World Bank. It shows Gross National Income per capita, which, in material terms is an indicator of increasing welfare.
The overwhelming evidence is that these programs increase poverty and hardship rather than the other way around. Latin America and Sub-Saharan Africa (which dominates the low income countries) were the regions that bore the brunt of the IMF structural adjustment progams (SAPs) since the 1980s.
While the high income countries enjoyed strong per capita income growth over the period shown (since 1980), Latin America (and the Caribbean) has experienced modest growth and the low income countries actually became poorer between 1980 and 2006.
The two trends are not unrelated. The SAPs are responsible for transferring income from resource wealth from low income to high income countries.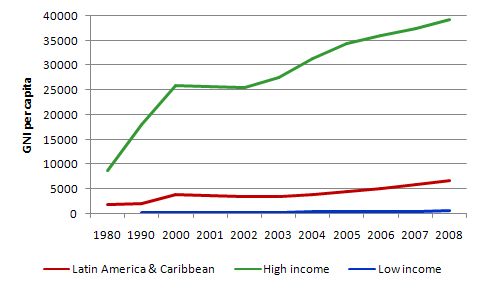 When I see this sort of data I wonder what the hell we are doing? Well I know what we are doing in fact, but it is not what we say we are doing. A new paradigm for economic and social development in less developing countries is needed. I am working on a book on this topic at present centred around modern monetary theory (MMT) and a domestic-focused development strategy with employment guarantees.
On the topic of "awards", I could give out awards for the most ridiculous piece of economic commentary for 2009 but I would have to ship a lot of medals to a lot of places and the postage bill would get out of control.
How the public can be so duped on a daily basis by so many so-called experts who only mislead, deceive, dissemble and just show their total ignorance of how a modern monetary system operates is beyond me.
But if we have to have one award then I guess it would go to Mark Thoma's nonsensical story about banking which I wrote about on November 26 in this blog – An unholy gathering is emerging. His followup reaction when some commentator requested he debate his ideas with a fellow academic (me) was an appalling statement of an arrogant closed mind. But hey, we are dealing with mainstream economics here – so it was no surprise to me.
But I have to force Mark to share this prize with another professor of economics Tony Makin whose rantings I covered on December 15, in this blog – Lost in a macroeconomics textbook again.
But when I think about it with some recent memory intact, I think they both have to share the prize with Sydney Morning Herald senior economics commentator Ross Gittins who tried to tell his readers that they could understand all there is to know about economics by rote learning Mankiw's ridiculous 10 Principles of Economics. I covered that on December 29 in this blog – Do not learn economics from a newspaper.
You will note that most of these articles are of recent origin. That is because my memory about how bad things have been in 2009 on the professional commentary is fading. I know it has been bad but I just haven't the heart to go back and check the reality.
So in that context and in the true spirit of collectivism I thus invite all readers to send in (via your comments) your own nominations for the worst statements, articles, pictures, etc from the so-called expert commentators. Don't hold back is my motto. Let them have it! They deserve no better.
As to politicians, the worst comment in my view from a politician has to be the US President's enlightened declaration that the US government was running short of money. I covered that stunning piece of awareness on December 4 in this blog – The US government has run short of money.
If you disagree with that assessment then please send in your own recommendations for the "worst comment from a politician in 2009" award. I know there were many shockers.
Overall in 2009, we have had holes of all types and magnitudes opening up all over the place and getting bigger so that squirrels, who should have been saving, were falling into catastrophic voids.
I noted each time we discussed a new hole that was looming below our feat or in our garden buckets or wherever the commentator had located them that the discussion always seemed to be about sovereign governments who issue their own currency and never need to finance their spending. Read: never!
But then we did have some holes opening up in Greece and other EMU nations which seemed to be telling me something about the lunacy of their monetary system. Why did the citizens of these countries (especially those on the periphery of European wealth – for example, Greece, Spain, Italy, Portugal) ever let their stupid governments do this to them? My enquiry on that score will continue in 2010.
We have also investigated why sovereign governments (those that issue their own currency with flexible exchange rates) then act as if they have to finance their spending which then forces them to face the public furore about the (totally unnecessary) public debt levels and ratios and all sorts of other meaningless configurations that are wheeled out nightly to scare the bjesus out of us all.
Thankfully, I have never been scared! That must be because I am one of those dinausaurs who still believe that fiscal policy can underpin aggregate demand and employment and should always be used to advance public purpose. Unfortunately most governments do not use the opportunities they have as currency issuers in a fiat monetary system to promote public purpose.
We have also discussed the ins-and-outs of banking – their reserves and all the rest of it and I am sure that this is the first time that many of you have spent your precious evenings sitting squinting in front of a computer screen coming to terms of the ennui of bank accounting and other matters that have previously not been discussed much in public space. But I can assure you – every last one of you is better off for it. (-:
In that respect, my award for "Diligence in Rising to the Challenge" goes to regular commentator – Lefty from Gladstone, Queensland – who told us some time during the year that he had been downloading RBA data in his spare time to analyse it and was also threatening to introduce his own currency (Lefty Units) to prove there were no financial constraints on a government of issue (in his house presumably). Lefty had previously told us he that he works as a school janitor in the Queensland education system who had a passing interest in economics. A very solid performance and deserving of the prestigious award. He knows more about the operations of the modern monetary system than most mainstream economists who have Phds.
Finally, I have run out of time again … it always happens to me … every day in fact.
So if you have other awards you want me to offer this year let us know about them and we can get the Awards Committee to deliberate and get things moving.
While the macroeconomic environment is looking bleak it doesn't mean necessarily (as long as you have a job) that the personal outlook for 2010 should be compromised by what our stupid governments do in our name. Their time comes around in most countries and hopefully they get their comeuppance from the voters. Although it is rather sad to note that in most countries I am familiar with the political choice is conservative in this corner versus conservative in the other corner. While the voters in the UK will probably go to the tories in 2010 their policies will just make matters worse.
But our personal lives still have lots to offer – friends and family and drug-free cycling and great music and occasionally some surf (its been dreadful the last two weeks!) and nice gardens to hang out in – and who knows what you all find interesting – but on that dimension I wish you all a happy 2010.
Thanks for being part of the billy blog collective and I hope your participation endures into 2010.
I really appreciate all the comments that people take the time to make. I also apologise for not being as timely in my replies. It is not a reflection of my disinterest or disregard of the comment – just that I never have enough time. I will make it my resolution to catch up on the backlog of comments and be better next year. But I really appreciate it also when others take up some of the work and answer questions that have been raised.
I really enjoyed meeting some of the regular billy blog commentators who came from afar (India, USA, Sydney!) to the CofFEE conference in Newcastle this year to meet all the modern monetary theory gang. I hope it becomes an annual intention.
Anway, with that said, my annual leave starts now and it is time to go home. See you tomorrow and best wishes.
PS: where did the last year go to?