We are in trouble – squirrels are falling down holes
Today we explore the problem of squirrels falling down holes. The exact number and size of the holes is to be determined – there is some disagreement. Who the squirrels are is also somewhat confused. But some thorough analysis should get us through this difficult task. Suffice to say, I have been reading the World financial press again … as I do against my own better judgement on a daily basis … and have done for the last too many years.

A lead article in the New York Times – Wave of Debt Payments Facing U.S. Government on November 23, 2009 quoted one William H. Gross who thinks he has pearls of wisdom that he wants us to share:
What a good country or a good squirrel should be doing is stashing away nuts for the winter. The United States is not only not saving nuts, it's eating the ones left over from the last winter.
After that, I conclude that perhaps Gross should stick to stamp collecting rather than to engage in furthering the public ignorance about how the monetary system operates. Being successful in managing financial assets does not mean that a person understands the operational dimensions of the monetary system and the way fiscal policy operates.
Last time I looked the US Budget balance (12 months to September 2009) was -10.0 per cent of GDP, the Current Account Balance was -3.8 per cent of GDP, which means the domestic private sector must be saving at a rate of 6.3 per cent of GDP over the last 12 months.
The following graph is taken from the excellent Valance Chart pack and shows quarterly (purple bars) and annual changes (blue line) in US Household debt. Clearly the payback has started.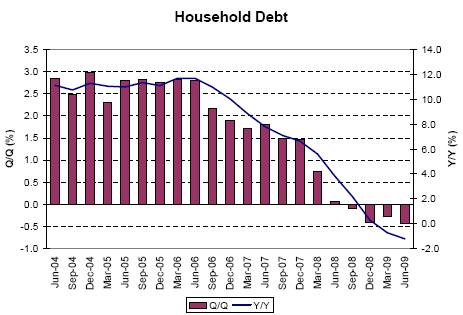 So the squirrels who have to save are doing that and also paying back past excesses although the hangover will be profound. Given that the US Current Account is not heading into surplus anytime soon, the only way the squirrels can achieve their aims of building up some "nuts" for the future is if the big nut provider pumps more into circulation than they take out.
So net public spending is required to "finance" the household saving and debt reduction process that is now on-going and essential for recovery. Modern monetary theory (MMT) uses the term "finance" in the sense that private (and hence national) saving is a function of aggregate income growth (GDP growth).
Income growth, in turn, is dependent on aggregate demand (spending) growth. If spending growth falters, then output and income growth falters and the capacity to save by the private sector is compromised.
So the budget deficits (net public spending) are maintaining growth in demand to keep income growing and hence support private saving. That is the way the real squirrel world operates.
In the case of the UK, which still hasn't seen the light of positive GDP growth (after 6 consecutive quarters) it is clear that the budget deficit is not large enough and is failing to offset the contractions in aggregate demand. That is very clear and is never addressed by the budget terrorists who never connect things up in a consistent way.
Any notion that the big nut provider will ever run out of nuts is ludicrous and incorrect.
I was talking to one of my PhD students today and the conversation – initially was about whether the student should get involved with continental philosophers (Foucault, Derrider etc). My advice was that is a hole that any unwary student can fall down and get lost down, almost forever.
But then we talked about how the deficit terrorists talk in slogans (for example, "debt is socialism"; "drowning in debt"; "not saving enough nuts") but exploit the ignorance of the populace (and probably their own) in failing to connect all their claims into a stock-flow consistent, accounting framework.
When challenged to do so they baulk and chant even more virulent slogans – but by this time they are usually personal – and will almost inevitably include a reference to a "person's obvious communist leanings" and the like.
For example, they say they want private sector debt to fall and the private sector to increase their savings. Okay, so do I. Then they say they want public debt to fall as well. But of-course they would never broach a change in legislation or custom that voluntarily constrains governments to issue debt to match $-for-$ their net spending.
After all, they claim that imposes a fiscal discipline on dangerous inflationary public spending. Debt is bad so governments will try to avoid the public ignomy associated with it.
So what they must be saying and they do is that they also want the government budget to be in surplus.
But if there is a current account deficit running (whether you like that or not is not the point) – then their demands are mutually inconsistent.
If the private sector was to increase saving (with a CAD running) and nothing else accompanied that change then aggregate demand would fall, output and employment would fall, unemployment would rise, and the budget would be pushed via the automatic stabilisers into deficit. The income decline would stop when the deficit matched the desired private saving plus the CAD.
So the terrorists ambitions would be foiled.
Alternatively, the government might realise that they do not want to end up with a bad deficit (with rising unemployment and stagnation) and so they match the desired leakages (private saving intentions) with an increasing budget deficit. Again, the budget ends up matching the desired private saving plus the CAD but the economy is in good shape.
But if you confronted the anti-deficit crew with this totally comprehensible and consistent understanding of the way the national accounts work together and the economic adjustments (income) that ensure the stock-flow consistency they would just shriek some more slogans.
Anyway, talking off holes … We read often about there being a "hole in the fiscal bucket" despite the fact that modern monetary theory allows us to understand that there is no bucket!
In the November 19th edction of the The Economist, Jon Berkeley writes about Dealing with America's fiscal hole.
The Economist article says:
FOR years America's fiscal problems had a surreal quality. No one disputed that an ageing population and health-care inflation could bust the budget, but that prospect was decades away and procrastination seemed painless. No longer. A giant hole has opened in the budget because of stimulus, bail-outs and a recession that has savaged economic growth and tax revenue. On current policies the publicly held federal debt, 41% of GDP last year, will double in the next decade … Total government debt will move well above the G20 average. In a few years the AAA rating of Treasury bonds, the world's most important security, could be in jeopardy.
No-one? Not a single person? All those who understand MMT never considered the issue of the ageing population to be financial. So there were at least 18 of us! (what is the latest count anyway?). We conduct a head count at next week's CofFEE Conference. I jest. Sorry. I know the ageing population is a serious issue.
But the serious issues are political in nature because I cannot foresee us running out of titanium for the hip replacements. The younger generations might all instruct their governments not to make the outlays necessary to provide first-class health care. Certainly in the US, the political system already ensures the most disadvantaged Americans miss out of the health care that other richer citizens have access to.
So in liueu of the nation (World) running out of real health care resources, all the allocation issues will be political. The US or any sovereign government will be able to afford whatever there is for sale at any point in the future.
Further, the AAA rating of US Government debt is irrelevant. Japan proved that when the ratings agencies played their games on them some years ago and significantly "downgraded" their public debt. It didn't stop Japan running huge deficits, selling huge amounts of debt into the markets and keeping interest rates at zero and inflation negative or zero.
The ratings agencies should be legislated out of business which would force private firms to better appraise the debt that is available in the private capital markets. I cover that issue in this blog – Ratings agencies and higher interest rates
Anyway, now we have this giant hole. I was curious. I consulted the definition.
A hole is:
* an opening into or through something
* one playing period (from tee to green) on a golf course; "he played 18 holes"
* an unoccupied space
* a depression hollowed out of solid matter
* a fault; "he shot holes in my argument"
Hmmm, tricky. What exactly is a budget deficit first?
Every day the government is crediting private bank accounts (directly or via cheque issuance) to pursue its socio-economic program. Each day also, they collect tax revenue by debiting private bank accounts (or writing receipts over counters to payees). The tax revenue is accounted for but "doesn't go anywhere" in a physical sense.
A deficit arises when the spending exceeds the revenue and the net result is an addition of net financial assets (bank reserves). In achieving this outcome, the government hopes that its spending will boost aggregate demand ("finance" the leakages from the income-expenditure system), and, hence maintain high levels of employment and material prosperity.
The only hole I can see is one that needs to be filled. That is the spending gap – the leakages from the income-expenditure system – that are created when there is a CAD and/or a desire by the private sector to save.
Budget deficits should aim to fill that hole in and not allow aggregate demand to "fall through it", which would lead to income and employment collapses.
If budget deficits are underwriting income growth, then workers can enjoying secure employment and achieve their saving desires – which will enable them, should they wish to use purchase some golf clubs and play a few "holes" in their leisure moments. Sounds good.
I won't go on except to say that MMT shoots "holes" in the mainstream economic theory because the latter is not stock-flow consistent.
The Economist article then says:
Uncertainty over how taxes may be raised to shrink deficits may already be weighing on business confidence. Worries about inflation or default could start to push up interest rates. Eventually, private investment will be crowded out.
So you note that the crowding out argument is not the typical textbook ploy based on either loanable funds theory (finite savings being eaten up by government debt issuance) or liquidity preference arguments (money demanders need higher rates to hold more money). Both of these textbook arguments are plainly false and reflect an ignorance of the operational reality of the monetary system.
This time the crowding out is based on a fear of inflation (so long debt rates rise to reflect the risk of holding for long periods) or default.
When has the US Government ever defaulted? Never.
What is the rate of capacity utilisation in the US at present? Answer: around 70 per cent if lucky.
What is the broad labour underutilisation rate in the US at present? Answer: around 17.2 per cent.
Does this sound like the US is going to be short of real resources and productive capacity any time soon? Not to me. And by the time the economy is growing fast again and private spending returns the deficit will be coming down via the automatic stabilisers.
So this commentary from The Economist is just fuelling mindless paranoia.
The Economist then gets wise:
Barack Obama and Congress can pre-empt such corrosive uncertainty with a plan to reduce the deficit now … America's deficit problem is in essence a spending problem, so spending must bear the brunt of adjustment.
Yes, it is like those squirrels again. The deficit is a spending problem. But it is the failure of private spending that has demanded such large fiscal responses (and you have to ignore the TARP component which the deficit terrorists like to add into the conventional fiscal measure to make it look worse).
Spending has to bear the brunt of adjustment. Private investment has to increase before any realistic reduction in the deficit will be possible.
Anyway, The Economist article just got more puerile as it went on and I decided to seek solace in the New York Times. Big mistake.
A lead article in the November 23, 2009 edition (the one with the squirrel's quote) said that:
The United States government is financing its more than trillion-dollar-a-year borrowing with i.o.u.'s on terms that seem too good to be true.

But that happy situation, aided by ultralow interest rates, may not last much longer.

Treasury officials now face a trifecta of headaches: a mountain of new debt, a balloon of short-term borrowings that come due in the months ahead, and interest rates that are sure to climb back to normal as soon as the Federal Reserve decides that the emergency has passed.

Even as Treasury officials are racing to lock in today's low rates by exchanging short-term borrowings for long-term bonds, the government faces a payment shock similar to those that sent legions of overstretched homeowners into default on their mortgages.
But, sir, the US government, which issues the currency, is not remotely like a household, which uses the currency of issue. The US government faces no payment shock at all, unless of-course the keyboard operators employed by the Treasury Department have RSI or something that gives them pain when they are typing (very big) dollar numbers into spreadsheets and bank account ledgers.
And note that our giant hole is now also a mountain. I guess in a stock-flow sense, if there is a hole the dirt has to have been accumulated somewhere.
The NYT writer continued:
The potential for rapidly escalating interest payouts is just one of the wrenching challenges facing the United States after decades of living beyond its means … But there is little doubt that the United States' long-term budget crisis is becoming too big to postpone.

Americans now have to climb out of two deep holes: as debt-loaded consumers, whose personal wealth sank along with housing and stock prices; and as taxpayers, whose government debt has almost doubled in the last two years alone, just as costs tied to benefits for retiring baby boomers are set to explode.
Just when we were thinking there was one giant hole that the US was falling through, we now learn there are actually "two deep holes". I suppose deep and giant are similar and the NYT just likes to run with a bit of modest understatement compared to the very English Economist Magazine.
To get matters into perspective – the US government will make the interest payments in exactly the same way it spends generally. Some electronic entries will appear in the banking system somewhere. There is no special onerous process called interest payments unless the keyboard operators have some kinky customs and self-flagellate to reflect their guilt on behalf of the government as they make their keyboard entries making the interest payments. Last time I heard they do not do that.
Certainly, the US private sector (consumers and households) have to sort out their balance sheets. That is clear and necessary. But as taxpayers all they have to do is ensure they pay on time.
They are not responsible for the public debt. They will never have to "pay it back" in the form of higher taxes. As the economy grows as the stimulus packages restore some demand growth and confidence to the US economy, tax revenue will rise. That is because the more people will be employed and earnings will be up.
It might be (as occurred in the 1990s) that tax revenue will outstrip the debt servicing payments, especially if the Fed keeps rates low for longer than they will, and the debt will also fall, without any necessary cut-backs in discretionary spending.
That is not to say I support the composition of the spending side of the US budget. Clearly I do not. There is a totally insufficient spending focus on creating jobs, especially for the unemployed and too much emphasis on helping the top-end-of-town stay there.
Anyway, the NYT articles rambles on like that. Intergenerational disasters in health and aged care. Yawn. Blowouts when the Federal Reserves restores interest rates to normal. Yawn. What is normal anyway? No-one to buy the debt despite all the bond auctions being "solid". Yawn.
"all that new government debt is likely to put more upward pressure on interest rates". Yawn.
"Inflation, higher interest rate and rollover risk should be the primary concerns". Yawn.
And so it went.
I had more fun today while I was looking for some data. I stumbled across one of the more hysterical sites out there and I noted a link Example of Socialism. I won't link to the site itself because I don't feel like making them feel like they are popular. That fact that I was duped into visiting the site in search of some information is enough.
But an "example of socialism" – that would be scary. Was this a www-site that pretended to be promoting deficit terrorism but was really a socialist front to beguile us into clicking on the link and risking falling prey to their evil mantra? These questions rushed through my mind. But I clicked. I couldn't help it.
Anyway, if you are curious about what might be the steps to socialism then you will learn that the "example" is in fact the US Federal Communications Commission (FCC) Lifeline Program to help guarantee Universal Service in the US to low-income families who qualify under Federal poverty guidelines. Think about how useful a telephone is to you. Well it is probably that useful to everyone to help keep tabs on family and friends.
Socialism requires at the very least the nationalisation of all means of production. A modest program that allows kids to telephone their parents in time of emergency etc is a way removed from that socio-economic change.
I wonder why Americans are so hung up about socialism anyway. In all the places I have travelled it is the US that is the most fearful. Perhaps they don't trust their so-called system of "wealth generation", which by any measure has left a signficant proportion of the population behind.
Here is an essay question I have created based upon another quote on the site with the link to "example of socialism".
Critically analyse the following statement which circulates throughout the Internet.
…all dollars come from the people. Where do … [you] … think Coca-Cola gets the money to pay its taxes, Exxon gets its money to pay the Exxon Valdez fines, Denny's gets the money to pay its Justice Department fines, or even Microsoft gets the money to defend itself? It all ultimately can come from only one place, and that's from individuals.
For full marks, make sure you discuss in your answer how inflationary budget deficits are and how they also push up interest rates and destroy the entrepreneurial ambitions of good people all over the world. Ensure you introduce some animals into the analysis (perhaps a few squirrels) and provide exact engineering specifications for the diabolical holes that our national governments are about to fall down.
Also include a thorough analysis of how net public spending is equivalent to socialism and an invasion of our basic freedoms. Integrate terminology such as "public debt is cancer" and "public debt is communism" into your answers.
I urge you to use Mankiw's Principle of Economics as your primary and sole source and plagiarism is encouraged.
Good luck!
Conclusion
I think that is enough for now.
It is time to have some food … I think I am becoming weak.
Youtube
If you want smaller snippets (question by question) of the modern monetary interviews I posted yesterday, they are now available (first 10 questions) on Youtube.
Just type in Modern Monetary Theory and you should find them. We are working to refine the quality in the coming weeks and will post the rest of the material once that is accomplished.
We will also have a lot of videos from next week's CofFEE conference.