Prospective future Labor Prime Minister wants to channel those who cut real wages, privatise and extol neoliberalism
It's Wednesday, and I am flat out today on a range of things including two live events to finish of the edX MOOC we have been running over the last 4 weeks. These sessions go for around 90 minutes each and have given the participants from all over the world a chance to discuss things about Modern Monetary Theory (MMT) and clarify uncertainties etc. It also helps me find out what beguiles those who come into the material for the first time. So it works to benefit both ways. Today, I am sad that the Australian Labor Party federal leader, who is in the box seat to become the next Prime Minister in May this year has just announced his model is a past Labor prime minister (Hawke) who turned out to be a US corporate spy acting against the labour movement when he was President of the Australian Council of Trade Unions (the peak body) and who fast-tracked neoliberalism in Australia during the 1980s. His other model apparently is John Howard, the conservative prime minister from 1996 to 2007, who accelerate that neoliberalism, locked up refugees on remote islands indefinitely (some are still there), turned against the unions, turned against the unemployed, and oversaw the explosion of household debt while his government ran surpluses and crippled public infrastructure and services. What gives? And the music today had to be an antidote to the anger that the Labor leader's revelations today have engendered. And a tiny thought on Russia.

Australian Labor remains unelectable if you have progressive aspirations
Today the Federal leader of the Labor Party, which is a solid chance to take the government in the May federal election, presented to the 'Business Summit', which is sort of like the British Labour Party duchessing the City financial moguls, begging them to not veto them (as John McDonnell did before 2017 election).
The UK Guardian article (March 9, 2022) – Anthony Albanese to embrace Labor luminary Bob Hawke's consensus style if ALP wins election – provides a clue to what the Australian Labor leader is pitching.
None of it is good.
He is going to "take his lead from Bob Hawke" to reduce business costs and energise industry.
Hawke was Labor prime minister from 1983, before he was deposed by his scheming Treasurer in 1991.
His government reduced costs for business by undermining the capacity of individual unions to gain wage risess through his prices and incomes accord.
Real wages were systematically cut under his watch and he oversaw a massive redistribution of national income to profits.
He claimed the business sector promised to lift investment rates if the real wages were cut. They didn't – instead they pocketed the largesse and we started to see the obscene corporate takeovers and massive rises in executive salaries as the result.
His government also changed industrial relations legislation that made it extremely hard for workers to enjoy wage rises and for low-income workers to share in national productivity gains.
His government also pushed the fiscal surplus mantra heavily and began the privatisations, outsourcing and the deregulations generally that transferred wealth to the top-end-of-town.
He is a summary graph that captures the Hawke government's approach to workers – who after all are the reason the Australian Labor Party exists – as the political voice of the unions.
Hawke was elected in 1983. The graph shows that this was the point where labour productivity and real wages diverged for the first time in recorded history.
The Hawke government engineered this divergence as noted above. It celebrated the redistribution of national income to profits.
It shows that over the period of the Hawke government real wages barely grew after falling for several years. Meanwhile productivity outstripped real wages growth significantly, redistributing GDP to profits.
That trend continues today, but it was Hawke and his institutional machinery that began the rot.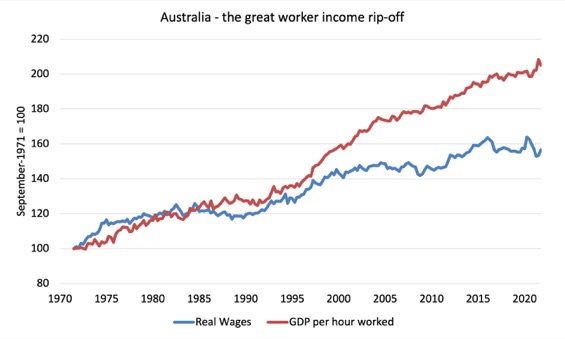 His period of office was a disaster.
Recently, it has been disclosed that he was also a traitor to the union movement while he was leading it.
This UK Guardian article (July 3, 2021) – Secret embassy cables cast the Bob Hawke legend in a different light – tells the sordid story:
Papers show Hawke as a unionist said one thing to his members, and something quite different to his US embassy friends
For a modern Labor leader to aspire to model the Hawke government is a disgrace.
Worse still, we learn that:
While styling himself in the consensus tradition of Hawke, Albanese will also borrow a maxim from John Howard, noting you never reach the finish line in the race for economic reform because there is always more to do to make the economy stronger and more productive.
John Howard did little reform – in the sense that reform makes things better.
He just took the ground that the Hawke-Keating government had shifted towards neoliberalism and refined the perniciousness of that regime even further.
No Labor leader should take anything from his 11 years in power.
Sanctions will not stop Russia making bullets
The propaganda coming out of the West is not surprising – it is the norm.
But ordinary people believe this stuff.
I read in the news this morning that a senior official from a Washington think-tank claimed that the latest US sanctions banning the US purchase of Russian oil was welcome and would prevent Russians capacity to earn income:
… to rely on to keep making bullets, to keep making armour …
Russia is a massive exporter of iron ore and has all the steel-making capability that it requires to make the nasty weapons.
Much of the talk about sanctions has ignored the fact that Russia is a currency issuer and has a diversified manufacturing sector that can supply most of its capital equipment needs.
And it has many avenues still to gain imports that it cannot produce itself.
There was a case in history where trade did influence military might.
Between November 1938 and January 1939, there was a major industrial dispute at Port Kembla in NSW, Australia which became known as the – 1938 Dalfram dispute.
Port Kembla was then a vibrant port linked to the steelmaking in the area and the waterside workers union refused to load pig iron on a ship – the SS Dalfram – because it was going to take the resources to Japan.
It was destined to supply the inputs to the Japan Steel Works LTd in Kobe, which was producing weapons and ammunition in the Japanese government's military assault on China (the undeclared war).
The dispute was motivated by the Nanking Massacre in December 1937.
The trade unions argued that the pig iron would be used to make military weaponry that would kill innocent Chinese, and, perhaps, later Australians. They were prescient in that regard.
There were several other union-led resistance efforts in other Australian ports that were protesting against the Japanese aggression towards China.
The Dalfram dispute lasted for more than 10 weeks as workers refused to load.
The Federal Attorney General at the time was Robert Menzies, who would eventually become Australia's longest serving conservative prime minister.
In typical form, he was anti-union and claimed that only the federal government had the right to make decisions with international ramifications.
He gained the nickname 'Pig Iron' Bob during the dispute.
It was later used in the Second World War to conjure images of the conservatives shipping steel making resources to Japan only for them to return in the form of ammunition killing Australian soldiers.
Music – The King
This is what I have been listening to while working this morning.
In general, I was not a rocker in my youth. In fact, I was mod-oriented and the local rocker gang in the housing commission slum I grew up in in Melbourne hated the long-hair, corduroy jacket-wearing mods.
They used to walk around with transistor radios bigger than them with their slick back hair and their portable radios pumping out – Elvis Presley – songs. Ad nauseum.
I was into R&B, Jimi Hendrix, and starting to appreciate fusion jazz.
So it was a bit hard embracing his music even though I had seen the movies and secretly loved his voice, which ranged between high baritone register and tenor (quite unique), and beautiful sense of melody.
If we abstract from the syrup (they were the times) and the American jingoism then some of this songs were incredibly well crafted and his guitarist – Scotty Moore – was a legend.
So sometimes I listen to some of the early songs that I liked and still find motivational – despite the sentiments sometimes expressed in the lyrics.
The composition and delivery is the thing that makes Elvis a 'King'.
Here is a song – Can't Help Falling in Love – which was from the 1961 album – Blue Hawaii. I can't recall when I saw that film – sometimes later in the 1960s – but this song hit me.
It has the fabulous – The Jordanaires – on backing vocals, who are worth listening to in their own right and – Floyd Cramer – on piano, who was a great musician and defined the Nashville sound.
It's melody repeats the classical French romance song from 1784 – Plaisir d'amour.
I don't have regrets but the closest thing is that Elvis is one performer I would have loved to see live but never got the chance. Although his later live performances on this song, which usually closed his shows, became over produced with excessive string arrangements and other superfluous noise!
While it is naive to keep spreading the peace and love message – I wish for a moment naivety ruled in Europe at present.
That is enough for today!
(c) Copyright 2022 William Mitchell. All Rights Reserved.