A 10 per cent unemployment rate is not a "tremendous achievement" – it is a sign of total policy failure
It's Wednesday, and a quiet day for writing blog posts for me. But I want to comment briefly on the latest economic news that sees the IMF claiming the Australian economy will contract by 6.7 per cent in 2020 and the Treasury estimates that the unemployment rate will rise to 10 per cent (double) by June this year. While this all sounds shocking, the emerging narrative in the media and among politicians is that this is sort of inevitable given the health crisis and the Government's Job Keeper wage subsidy, which the Treasury claims will constrain the unemployment rate rise to 10 per cent rather than 15 per cent without it is a jolly decent thing for the politicians to have done and keeping the unemployment rate down to 10 per cent is a "tremendous achievement". Well, apart from the wage subsidy leaving a million workers outside of any benefit and cutting wages for thousands who will receive the support, I fail to see why the unemployment rate should rise at all. The government has options: (a) wax lyrical about achieving a disaster – 10 per cent unemployment; or (b) create jobs via a Job Guarantee and see the unemployment rate fall to 2 per cent or so. For the neoliberals who run the place and their media supporters, a 10 per cent as a "remarkable achievement" and that is the TINA narrative they are pumping out to assuage the population. For the likes of yours truly, a 10 per cent unemployment rate is not a "tremendous achievement" – it is a sign of total policy failure. The government can always intervene and create sufficient jobs that will be of benefit to the society, can be designed to be safe in the current health context, and maintain the connection for most of us with paid work? Even if some of them would require the workers stay at home while being paid. For me that is a no-brainer.

There was an article in The Australian newspaper this morning (April 15, 2020) – Coronavirus: Nothing will challenge Australia's pre-crisis values (paywall) – which was written by one of the older political commentators, Paul Kelly.
I don't intend to comment on the principle contention that Australia's values are too entrenched to ditch our neoliberal ways – spare the thought that we would ever "revert to a new protectionism or socialism, despite the populist drumbeat that is under way to resurrect failed nostrums the country has permanently left behind".
I actually cannot recall any time in Australia's history that we have pursued 'socialism' and I am a fairly keen student of our history and history in general.
So it is hard to say we have "permanently left … [it] … behind".
But trifling.
The point I want to take issue with is this:
If the Treasury estimates are correct and Australia's unemployment rise is limited to a devastating 10 per cent, a doubling of the pre-crisis rate, that would constitute a remarkable achievement, sure to be below the US peak. Treasury's estimate of a 15 per cent rate without the $130bn package quantifies the extent to which ­policy has averted a deeper crisis heading to depression.
The Australian Treasury is claiming that by June, Australia will have an official unemployment rate of 10 per cent but it would have been 15 per cent had the Government not introduced its Job Keeper wage subsidy plan ($A133 billion worth).
Here is the Treasurer's statement – Jobkeeper payment supporting millions of jobs.
As a matter of fact, if the Job Keeper payment is only accounting for 5 per cent of the Labour Force then that amounts to 685.7 thousand jobs (based on February data) rather than "millions". Typical political spin.
However, the question that is not being asked nor answered by anyone other than the likes of me (it seems) is why the hell is the unemployment rate going to be allowed to rise to 10 per cent?
There is no reason for that to happen if the Government adopts the correct fiscal interventions.
During the early days of the GFC, I wrote this blog post – There is no financial crisis so deep that cannot be dealt with by public spending – still! (October 11, 2010), which was based on a working paper I wrote in 2009.
Despite the COVID-19 crisis being somewhat different sort of event, the same logic holds.
If you recall, a few weeks ago I did some rough modelling of my own which I presented in these blog posts:
1. "We need the state to bail out the entire nation" (March 26, 2020).
2. The government should pay the workers 100 per cent, not rely on wage subsidies (March 30, 2020).
I provided this Table, which helps us understand the relationship between GDP growth and changes in the official unemployment rate.
| | | |
| --- | --- | --- |
| Period | GDP contraction (peak to trough) % | Increase in UR to peak (points) |
| September 1981 to June 1983 | -3.71 | 4.69 |
| June 1990 to June 1991 | -1.43 | 4.71 |
From that Table, we derive a rough rule of thumb that:
For every 1 per cent that GDP contracts, the unemployment rate rises by 2.5 percentage points, which given the current labour force would add 304 thousand workers to the unemployment queue.
There are cyclical effects on participation etc that are not included in these types of estimates but they help ground us in reality.
Accordingly, the following estimates can be derived.
| | | | | |
| --- | --- | --- | --- | --- |
| Fall in GDP (per cent) | Rise in UR (points) | Estimated UR (per cent) | Unemployment (000s) | Change in Unemployment (000s) |
| 1 | 2.3 | 7.5 | 1,024 | 304 |
| 2 | 4.5 | 9.7 | 1,335 | 615 |
| 3 | 6.8 | 12.0 | 1,647 | 927 |
| 4 | 9.1 | 14.3 | 1,958 | 1,238 |
| 5 | 11.4 | 16.6 | 2,269 | 1,549 |
| 6 | 13.6 | 18.8 | 2,580 | 1,860 |
| 7 | 15.9 | 21.1 | 2,892 | 2,172 |
| 8 | 18.2 | 23.4 | 3,203 | 2,483 |
| 9 | 20.5 | 25.7 | 3,514 | 2,794 |
| 10 | 22.7 | 29.9 | 3,826 | 3,106 |
The IMF is predicting a fall in real GDP growth of 6.7 per cent this year as a consequence of the crisis.
Based on past experience, that would drive the unemployment rate up to somewhere between 18 and 21 per cent.
The wage subsidy will clearly reduce that a bit but 600-700 thousand jobs being somewhat protected, albeit with substantial wage cuts in some cases, this is not the solution.
The government can always render estimates such as these irrelevant if it chooses the right policies.
So when Paul Kelly claims that keeping the rise in the official unemployment rate down to 10 per cent "would constitute a remarkable achievement" I take exception.
It would be an expression of the total failure of government policy.
Unfortunately, this Kelly-type narrative is being spread by many commentators.
That, somewhow, we should be grateful to our government for stopping the unemployment rate going to 15 per cent and 'achieving' a 10 per cent ceiling.
Next week, I will outline some specific ways in which a Job Guarantee can be implemented to effect in Australia right now which would allow the unemployment rate to fall to 2 per cent, notwithstanding the crisis.
That is the option – does the Government just sit back and leave another 1.4 million workers go to the scrap heap on top of the 700 thousand in February who were unemployed?
Or does it intervene and create jobs that will be of benefit to the society, can be designed to be safe in the current health context, and maintain the connection for most of us with paid work?
For me, that is a no-brainer.
But the neoliberals who run the place and their media supporters think that a 10 per cent as a "remarkable achievement".
And I don't see much pushback for that from the Labor Party or The Greens. But then they adopt the neoliberal path as well.
Take another article in The Australian today, which shows why the Australian Labor Party keeps losing elections.
Written by the former Labor Party Senator, Stephen Loosely, who was also the Party's National Secretary for a time and was embroiled in a financial mismanagement controversy at the time about the way the HQ allocated funds, the article (April 15, 2020) – All is in place for nation to reconsider the rate of GST (paywall) – claims that the Government should not "never waste a crisis" (channeling the arch neoliberal, Raul Emanuel).
What should they do?
The best service the national cabinet can deliver us is to move to raise the GST from 10 per cent to 15 per cent.
Why the hell would they want to put taxes up when the IMF is predicting a contraction of 7 per cent this year in real GDP and the Treasury is claiming the unemployment rate will rise to 10 per cent?
Well according to this genius:
We all know the coffers are empty and we are in serious national debt, worsened by the pandemic. To act decisively and provide a more robust social and economic base for further generations, the GST … needs to be lifted and the additional funds raised dedicated to programs of national resilience.
Almost all the myths in a few sentences – concise neoliberalism at its most daft.
But this view pervades the Labor party thinking here and among social democratic political forces across the globe.
Which is why this side of politics mostly loses elections, and, in many nations, are in danger of disappearing altogether.
Loosely should ask:
If the "coffers are empty" then where did the $133 billion come from for the Job Keeper allowance?
I am always on the lookout when I read some text that starts with "We all know" or similar ('As everyone knows' etc, ad nauseum).
Well Stephen Loosely, I am part of "We" and I don't know any of that.
Nor does anyone who actually knows anything about these matters.
If our health services are "under-resourced" as Loosely notes, then it is because government's have made political choices to restrict these services to the population.
As we have seen in the last week:
1. Millions of medical supplies have been 'found' within weeks.
2. Whole new hospital capacity has been built (from scratch – Monash Medical Centre) or gained from repurposing or reintroducing old space.
3. Thousands of new nurses have been recruited and/or retrained in ICU methods.
4. etc etc.
The politics shifted – and the cash flowed – and the resources were garnered.
Call for MMTed Support
I imagine the current crisis will put a halt on people donating to causes.
But we are making progress in developing the program that will become – MMTed.
I ran my first Masterclass in London recently and it was well attended. I received good (useful) feedback from several people which will help tune the way we run these face to face classes.
The planned further Masterclasses (May in Australia, June in Europe, September in the US) are on hold while we assess the state of the world. But I hope we will be able to offer them sometime this year.
And on-line curricula is being developed.
But we still need significant sponsors for this venture to ensure that we can run the educational program with negligible fees.
If you are able to help on an ongoing basis that would be great. But we will also be appreciate of once-off and small donations as your
You can contribute in one of three two ways:
1. Via PayPal – which is our preferred vehicle for receiving donations.
The PayPal donation button is available via the MMTed Home Page or via the – Donation button – on the right-hand menu of this page (below the calendar).
2. Direct to MMTed's Bank Account.
Please write to me to request account details.
Please help if you can.
We cannot make the MMTed project viable on a sustainable basis without funding support.
We will always maintain strict anonymity with respect to donations received, except if the donor desires to be publicly associated with the venture and gives their permission in writing to appear on the Donors Page.
Up until now, all donors have wished to remain private.
Music – Classic R&B from the 1960s
This is what I have been listening to while working this morning.
This was one of the earliest albums I seemed to have acquired although I am not sure whether my first exposure was because my older brother had it or whether it was one of my purchases.
The Rolling Stones released – Out of Our Heads – on the Decca label on September 24, 1965 and it was one of those short albums that were common in those days (33:24 minutes).
In terms of covers, Australia received the US cover, while the Decca version had a different cover (and one which would show up on a later album – December's Children – released by the band that arrived in Australia).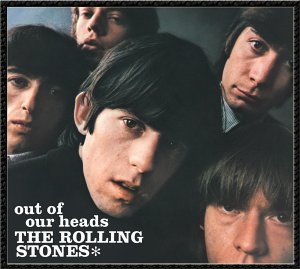 This was their third studio album and continued their development of British interpretations of American blues and R&B, although the original tracks were starting to enter the picture (4 out of 12 tracks).
But it was classic R&B and I learned a lot of guitar riffs off that album as I got older.
And this was their first number 100 on the US Billboard 200 rankings.
The sound was sophisticated relative to their previous albums, not in the least because Ian Stewart played piano and Jack Nitzsche played organ on this track.
This song – Cry to Me (Barry Berns) was, in fact, Solomon Burke's second hit single (in 1962). Barry Berns, by the way, co-wrote that classic from the 1960s – Hang on Sloopy – which many a garage band from that era, I can report personally, covered. In retrospect, I am not sure why any of us did that. But the 1960s were back then!
The release of the song – Cry to Me – by Solomon Burke also marked a shift in nomenclature for the African-American artists in the US – he was termed a 'soul' singer and the name took hold.
It was about loneliness, which I thought might be appropriate in these days of social isolation.
The feature for me was the incredibly clean guitar riffs. Perfect.
That is enough for today!
(c) Copyright 2020 William Mitchell. All Rights Reserved.