Australia's bushfire dystopia – another entry for the neoliberal report card
I decided that I would run the CFA Franc series in three consecutive parts to maintain continuity and allow me to edit the final manuscript which Pluto Press will use to finalise the book by Fanny Pigeaud and Ndongo Samba Sylla. That meant that my usual Wednesday snippets sort of blog post didn't happen this week. So, given that I have to travel for several hours today, Thursday becomes Wednesday and I just want to write a few comments about the current crisis in Australia (from the perspective of someone who has done considerable research for the United Firefighters Union here over many years) and also announce the details of the first MMTed Masterclass to be held in central London in February. I will be in Adelaide for the sustainability conference and other commitments over the next few days.

Australia's crisis
It is hard to feel any further shame about my nationality than I already do given the way that we have allowed successive Australian governments to indefinitely imprison innocent refugees on Pacific Islands over many years now.
These people were seeking shelter from oppression and turmoil, much of it sourced, initially, by the fact that our governments decided to play ball with the disgusting and illegal invasions of various nations (Afghanistan, Iraq, etc) by the Americans.
There is a deep cultural insecurity in Australia where we seem to think that anything American is to be celebrated and prioritised over our own identity and capacities.
That 'cultural cringe' cuts across all areas of our lives – political, cultural and educational. We need to grow up.
In the 1960s, our Prime Minister was asked to summarise our foreign policy. He replied "All the way with LBJ"!
In 1999, various media outlets started referring to our Prime Minister (then John Howard) as America's deputy sheriff in reference to our compliance in joining the US military activity, mostly illegal in the region. Howard never denied or disabused the use of the term.
It was deeply embarrassing for an independent nation but we still went along with the Americans.
Here we were, like a lap dog, joining illegal ventures at the dictates of a crazy character like Bill Clinton and then George W Bush.
We should have lauded our independence and our own confidence to resist the US imperialist culture and the cult of the celebrity.
All very shameful.
But, that level of shame has risen in recent years, as it becomes obvious that our government is leading a climate change denial cabal, which is undermining global efforts to fast track reasonable responses to the crisis.
For some years now, I have been undertaking commissioned research projects for the United Firefighters Union on a range of different issues.
I like to think that as a result of that work I have a fairly good understanding of the sector, its challenges, and the risks that our communities face in this context.
If people in the wider population really understood how vulnerable we have become in terms of protection from fire as a result of government austerity then the sense of alarm would be massive.
We calculate response rate and damage quotients and are able to fairly accurately compute when the damage moves from minor to serious property losses to human losses.
Response rates are driven by the investment in infrastructure and skill development, and numbers of firefighters able to be deployed quickly.
I've written before about the myopia of neoliberalism (for example):
1. Mental illness and homelessness – fiscal myopia strikes again (January 5, 2016).
2. British floods demonstrate the myopia of fiscal austerity (January 4, 2016).
3. The myopia of fiscal austerity (June 10, 2015).
4. The myopia of neo-liberalism and the IMF is now evident to all (October 8, 2014).
There are countless examples throughout this neoliberal era where governments, seeking to reduce their net spending, in order to run surpluses without regard to whether that ambition is appropriate given the non-government spending and saving decisions, end up having to increase their net spending by multiples of the amounts initially reduced as a result of the impacts of those initial reductions.
My own research for the UFU over many years has indicated a substantial underfunding of fire services.
The federal government, which issues the currency, always sheets home the blame for any issues like this to the state governments, which according to our Constitution, assume most of the spending responsibilities within our nation.
However, it is obvious that the federal government can always increase grants to the states to fund essential national infrastructure.
So, ultimately, the underfunding of essential services such as fire protection comes down to the failure of our federal government.
Both sides of politics in Australia are obsessed with obtaining a fiscal surplus, even though they have no comprehension of what that goal actually means in terms of its impact on the overall economy.
It is a mindless pursuit of ignorant men and women who are blindly devoted to their own image and maintaining power.
It is now clear, that delegations of experts in the fire sector, including former fire chiefs at the state level, sought extra funding from the federal government in early 2019 on the pretext that Australia was facing a disastrous immediate future as a result of a long-term drought, which had left our forests and grasslands dry and vulnerable.
As I understand it, the Prime Minister refused to meet with them.
It was clear from as early as winter, when the bushfires began, that something unprecedented was ahead. Our bushfire season is typically in February (at the end of summer) not during winter.
The government didn't respond to those early season bushfires, which then progressively became worse until almost the whole country is ablaze.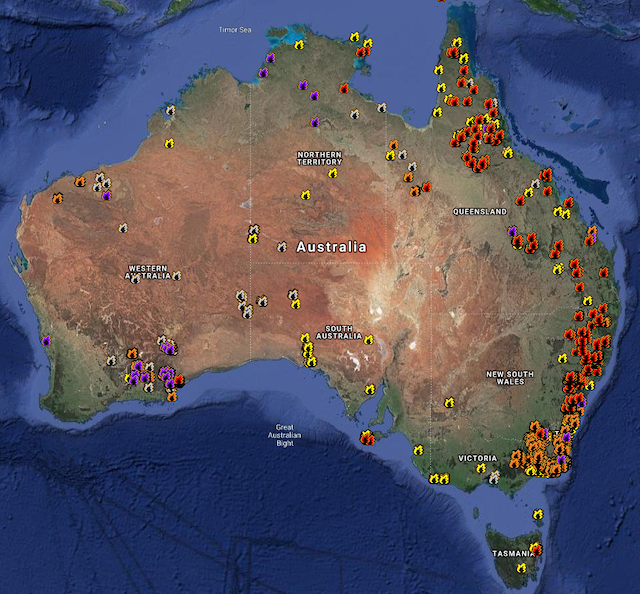 Millions of animals have been burned alive. Their habitat destroyed. An unknown but huge number of houses have been destroyed and in some cases towns wiped out.
The whole town has had to seek shelter on the beach and wait to be rescued by Navy vessels as their town burned and ran out of essential items such as food and water.
Here they are waiting: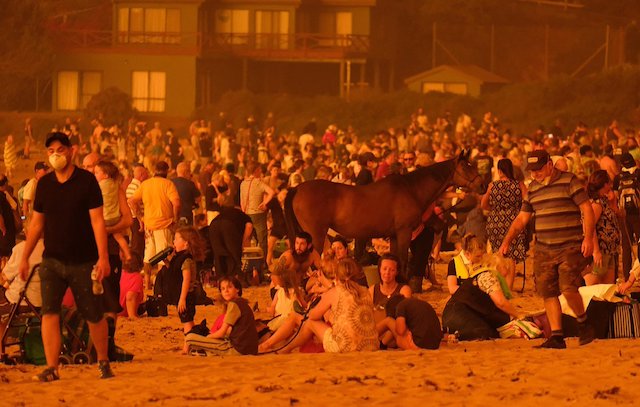 Millions of hectares of bushland have been destroyed.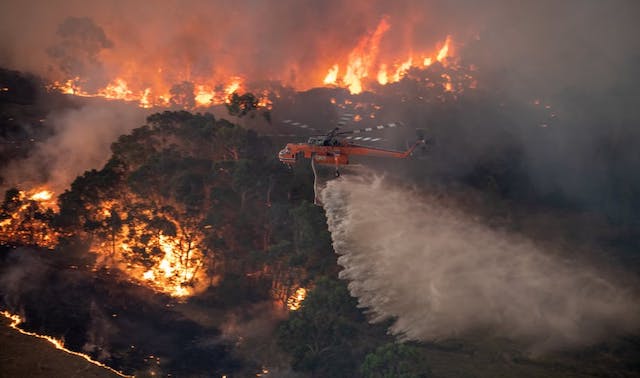 It's estimated that the regrowth might take 100 odd years given how dry our nation has become and how ferocious these fires have been as a result.
The Conservative government keeps saying that Australia always has bushfires. But it's very hard, for anyone who understands our history, to match the current disaster.
When the bushfires began, the federal government made a huge thing of criticising anyone who dared link the disaster with the climate change debate.
Their agenda has been clearly to deny any climate change and to refuse appropriate policy action.
While I know all the arguments about data trends and the fact that data has only been available for so long, so extrapolating from a limited (hundreds of years) dataset might be fraught, the fact remains that 2019 was a record-breaking year for weather extremes in Australia.
The Bureau of Meteorology reported that (Source):
1. "There has been a clear upward trend in average temperatures over the past century."
2. "it was the first time an annual anomaly had been two degrees above average."
3. "It was also Australia's driest year on record, with only 277.6 millimetres of rain for the country on average, 40 per cent less than the long-term average."
4. "Dry years are often hot because rain cools things down, but this is the first time a year has been both the hottest and driest on record."
5. "Major flooding from February to April across western Queensland brought relief to some and devastation to many."
6. "dust storm after dust storm swept across the country along with a number of storm storms that caused havoc – from wrecking the vineyards of South Australia's Riverland to pelting down 11-centimetre hail in Queensland's Wide Bay region."
7. "The south-east of the country was even sprinkled with snow at one point."
8. "January was plagued by heatwaves, making it Australia's hottest month on record."
9. "Fires burned through Tasmania for weeks, resulting in the state's worst fire season since 1967."
10. "There were also major blazes in Victoria and Western Australia early in the year, only for that devastation to be eclipsed by the recent horror fires."
11. "On December 17 and then 18, Australia surpassed its hottest day on record – the 19th only missed out on the hat-trick by a whisker."
They link these extreme shifts in our weather to "very-well-defined and clear trends … that we've seen over the past seeral decades.
On February 9, 2017, our Prime Minister who was then Treasurer brought a lump of coal into the national parliament as a statement of support for the fossil fuel industry and a indication that he rejected any climate change narratives.
Here he is, in full mindless mode: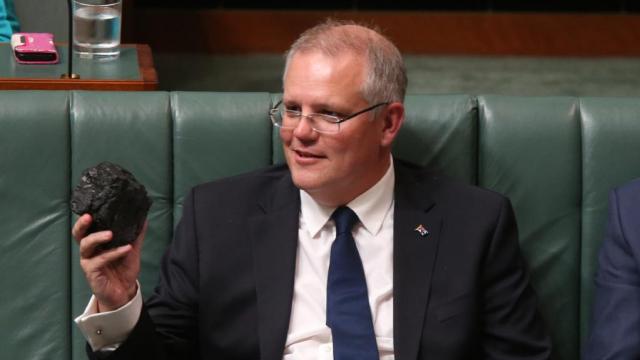 And his colleagues on the front bench thought it was hysterical: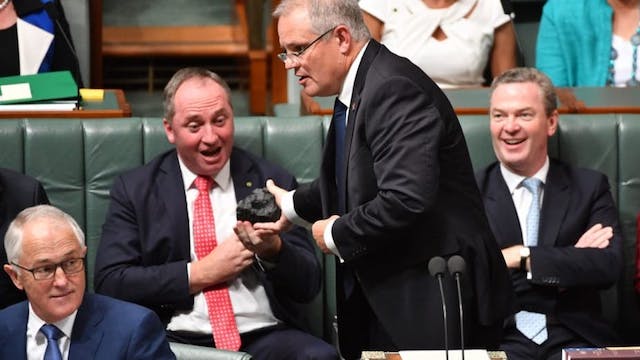 The government keeps saying that even if there was climate change occurring, Australia should not act in any significant way because we are too small to influence the overall outcome and therefore would only damage our economy.
The argument, of course, has no moral value.
But, it is also clear that our position, for example, at the recent United Nations climate change conference in Madrid, was a disgrace.
Not only did our government seek to cheat the process through the use of an accounting loophole to meet our climate target, we also combined with the US and Brazil to thwart progress at the meeting.
And then, our forests and towns really started to burn.
So we have a scientifically ignorant government, who refuses to use its fiscal capacity in a responsible way, and the result is massive destruction across our nation.
The government, ultimately for political reasons, will be dragged into the recovery process and will be forced to outlay billions of dollars as a result.
The media is already banging on about how this will jeopardise the fiscal surplus.
The fiscal surplus aim was always irresponsible given we have more than 13.5 per cent of our willing and able labour resources idle.
The media should learn that first and stop holding out the fiscal surplus as being some reasonable policy target that is just been made impossible to achieve because of the massive environmental and civil disaster brought on by the bushfires.
We should understand that the scale of the environmental and civil disaster, is in part, due to the pursuit of the fiscal surplus and the underfunding of environmental programs and fire protection.
In that sense, the federal government has acted in a criminal manner.
There has also been an outpouring of offers of financial assistance from various well-known people, which get headlines in the local media each day.
One almost gets the impression, in a similar vein to what happened after the fire at Notre Dame in Paris, that these 'celebrities' into some sort of competition as to who can offer the most.
We are also exhorted daily by the media to donate to various charities to help the recovery process.
The problem is a vexed one.
On the one hand, the financial assistance will probably provide some relief, although the lack of accountability in some cases raises doubts as to the effectiveness of the funds.
On the other hand, it lets the government off the hook.
One of the hallmarks of the neoliberal era has been the rise of charities to fill the spending gaps left by the withdrawal of the state as they pursue fiscal rectitude.
The government offers a smoke screen that isn't it wonderful that the citizens of all demonstrating their generosity at times of crisis, while at the same time undermining the capacity of the communities to deal with crisis through their pursuit of mindless fiscal austerity.
So the act of private donations really takes the pressure off the government to use its fiscal capacity appropriately, and, often just shuffles funds from those in need to others in need, under the guise of community generosity.
It's not an easy thing to discuss or to solve.
And in the cities, it has come to this.
Yesterday, the smoke pollution in Newcastle was so bad that I had to put on a P2 Mask (we purchased a whole box) to go for my early morning 10k run around the ocean front.
I have never had to do that.
Life in this environmental dystopia.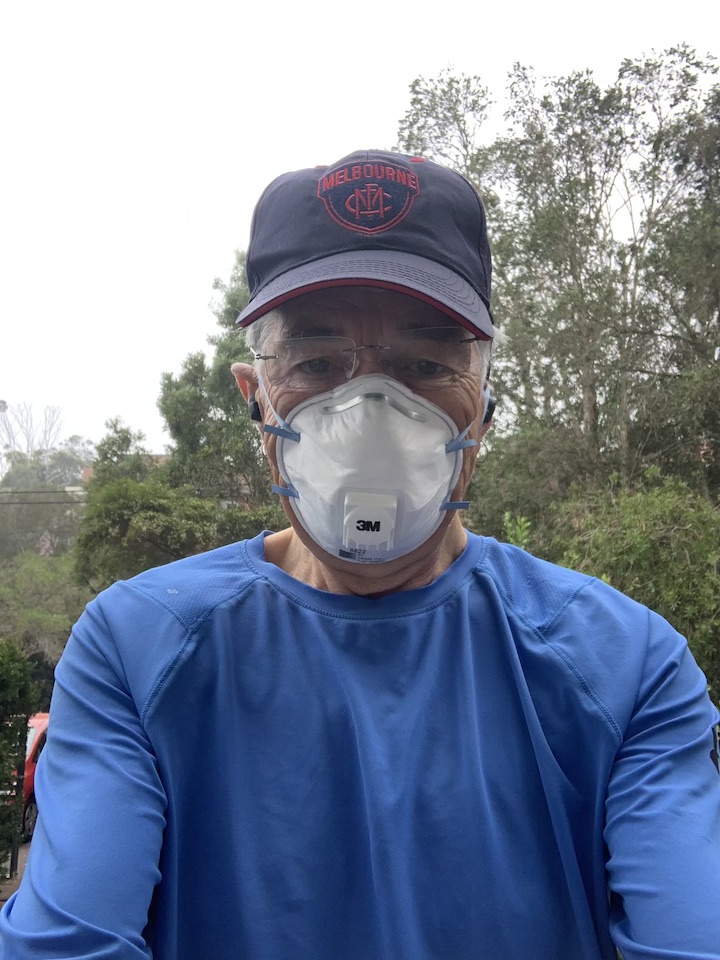 MMTed Masterclass – London, February 22, 2019
As part of the MMTed initiative, I am holding an MMT Masterclass in London on Saturday, February 22, 2019.
The class will run from 14:00 to 17:00.
The syllabus will be covering basic MMT concepts and the material will be accessible to all. However, it will be an academic-oriented presentation meaning that I want to advance educational goals as a priority.
The Masterclass will be held at:
2Northdown
2 Northdown Street, King's Cross
London, N1 9BG
https://www.2northdown.com/about
This is a small venue in the heart of heart of King's Cross, London.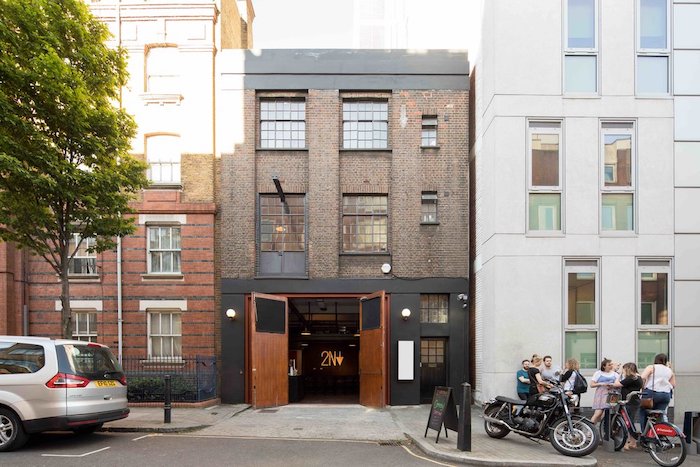 There is space for 65 people to attend.
The venue has a licensed bar for refreshments. No catering will be provided by MMTed.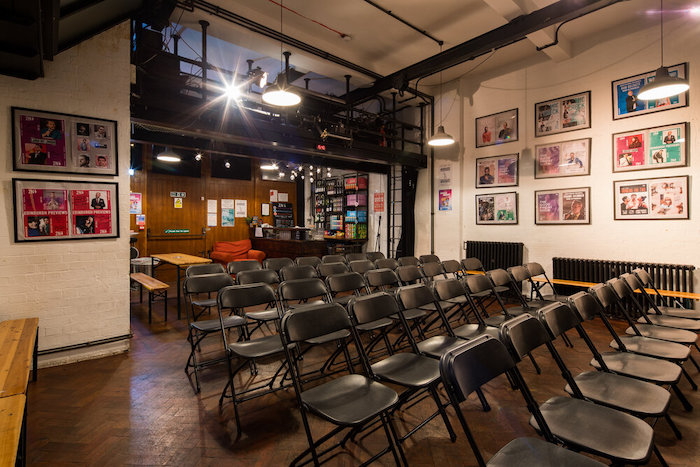 Here is a map to guide you to the venue:
There will be a small charge – £5 – for attendance, which will help cover the costs of the venue hire.
Tickets can be purchased via the eventbrite site in the coming week.
Alternatively, if you wish to secure a spot in advance, you can write to me and I will send you details of how to pay and guarantee a seat.
Sustainability Conference, Adelaide, South Australia, January 10-12, 2020
I will be speaking at the Sustainability Conference on Friday and Saturday but have other commitments during those days as well.
On Friday afternoon, I will be engaged in discussion: "Why MMT Is Good for All Workers", which is a public event hosted by Australian Unemployed Workers' Union.
I was invited by the AUWU to discuss how Modern Monetary Theory can help the Australian working class movement advance its interests.
The event will take place at the South Australian Council of Social Service (SACOSS) offices at 47 King William Rd, Unley, South Australia.
It will be held on Friday, 10 January 2020 from 16:30-18:30.
I urge all those concerned with this topic to attend.
February 2020 – European and UK Speaking and Lecture Tour
Here is my current schedule for February in Europe and the UK.
The 'tba' listings mean either I haven't agreed yet to current proposals to speak or that the day is free of events so far.
If anyone wants to organise and event or set up a meeting, then please contact me and we will see what is possible.
Monday, February 03, 2020 – Speaking on 'What is the meaning of political economy today?' at Think Corner, Helsinki – 17:00 to 19:00
Tuesday, February 04, 2020 – Teaching, University of Helsinki – 16.15-17.45, Porthania P674 – all lectures are public.
Wednesday, February 05, 2020 – Teaching, University of Helsinki – 10.15-11.45, Language Centre in Fabianinkatu room 207
Thursday, February 06, 2020 – Teaching, University of Helsinki – 10.15-11.45, Main building, Hall 16
Friday, February 07, 2020 – tba
Saturday, February 08, 2020 – tba
Sunday, February 09, 2020 – tba
Monday, February 10, 2020 – tba
Tuesday, February 11, 2020 – Teaching, University of Helsinki – 16.15-17.45, Porthania room 723
Wednesday, February 12, 2020 – Teaching, University of Helsinki – 10.15-11.45, Language Centre in Fabianinkatu room 207
Thursday, February 13, 2020 – Teaching, University of Helsinki – 10.15-11.45, Main building, Hall 16
Friday, February 14, 2020 – Presentation, Dublin.
Saturday, February 15, 2020 – Presentation, Dublin.
Sunday, February 16, 2020 – tba
Monday, February 17, 2020 – tba
Tuesday, February 18, 2020 – Paris, Reception, French Senate, Palace of Luxembourg – 18:00
Wednesday, February 19, 2020 – Paris, events and interviews – details to follow
Thursday, February 20, 2020 – Paris, Presentation to French Senate Commission, Palace of Luxembourg – 8:30-10:30
Thursday, February 20, 2020 – London, GIMMS presentation, MMT education – afternoon – details to follow
Friday, February 21, 2020 – Manchester, GIMMS presentation, The Harwood Room in the Barnes Wallis Building, University of Manchester, details to follow).
Saturday, February 22, 2020 – MMTed Masterclass, London, details above.
Sunday, February 23, 2020 – Amsterdam – tba
Call for financial assistance for MMTed
If I am to get the – MMTed Project (aka MMT University) – up and going to provide formal courses to students in all nations to advance their understanding of Modern Monetary Theory then I need financial assistance.
I need significantly more funds to get the operations off the ground.
Please help if you can.
We cannot make the MMTed project viable without funding support.
Please write to me with offers of support and I will send you relevant details.
Music
I have always liked the guitar playing of – Jeff Beck – which is different to saying I like everything he has done. The latter is definitely untrue.
But when he offers lyrical work as in this case, he is pretty much at the top of the pile of players.
This version of his band, was in my view, one of the better lineups.
The concert was recorded at Ronnie Scott's nightclub in central London in 2007. I saw this version of the band around that time while he was touring Australia at the famous – Palais Theatre – in Melbourne.
Not all the material he played was memorable but no-one gets that sort of found from a stratocaster.
The bass player is Australian Tal Wilkenfeld, drums from Vinnie Colaiuta, and Jason Rebello on keyboards.
Imogen Heap provides her almost 'breathless' guest vocals to make a pretty good combo altogether.
That is enough for today!
(c) Copyright 2020 BIll Mitchell. All Rights Reserved.