The mindless and myopic nature of neoliberalism
A short blog post as per my usual Wednesday behaviour these days. Fiscal austerity manifests in many ways, all of them unpleasant, destructive and unnecessary. Here is one of the more insidious ways that mindless cuts in government programs have long-term damaging impacts. In 2013, the Queensland State Government was taken over by a conservative extremist as Premier who thought it was a good idea to hack into sexual health programs targetted at indigenous communities. Over a few short years, this was just one of a huge number of social and health cuts that were made by that particular state government. More than 14,000 public service jobs were cut (a huge relative number). The State government fiscal deficit fell from a predicted $A6 billion in 2013-14 to $A2.58 billion. But like all these austerity cuts which deliver short-run reductions in public spending, the longer-term effects of the cuts lead to much higher amounts of public spending. Neoliberalism is not only mindless but myopic. I have made this point often in regard to infrastructure cuts. In the end, the government has to spend much more fixing the crisis the initial cuts create. Not a sensible strategy at all. The 'chickens' (manifestation) of those cuts in Queensland a few years ago are now coming home to roost. As predicted at the time, there is now a health crisis in the form of a STD epidemic moving across the north of Australia from east to west, purely because this idiot wanted to 'save' a few pennies. Now serious public cash is being required to put a brake on the health crisis he created. There are countless examples across the world over this neoliberal era of this same phenomena. Myopic and mindless.

Campbell Newman served as Premier of Queensland from March 2012 to January 2015, a short period but with devastating consequences.
Check out this page – How evil is Campbell Newman – which documents his policy legacy. It is not pretty.
On July 12, 2013, the Brisbane Times carried this story – STI rates will soar when health service goes: doctors – which reported that:
Rates of sexually transmitted infection will soar in Queensland following the slashing of services at Brisbane's only free sexual health clinic …
A doctor predicted that STI such as chlamydia, gonorrhea and syphilis would all rise as a consequence.
The government lackeys all "rejected claims" that this would happen.
Sort of like European Commission employees in senior, well-paid positions tweeting about how wonderful the European Union is (eh Thomas!).
The government was effectively cutting "an essential service to decrease sexual health diseases".
The Federal government at the time (Labor) noted that the "Queensland government's decision to scale back sexual health clinics in north Queensland opens the door to a potential epidemic of sexually transmitted disease migrating across from Papua New Guinea" (Source).
The following graph shows the incidence of various STD from 2004 to 2017 (data from the Australian Institute of Health and Welfare).
After bringing Chlamydia under some sort of control before this madman took office, its incidence has now accelerated. While the scale does not show the extent of the Syphilis epidemic that is now raging, the data is that in 2010 there were 11.2 cases reported per 100,000 persons.
By 2017, the incidence had risen to 25.7.
A similar story can be told for Gonorrhoea where the incidence has risen from 35.6 in 2004 to 118 in 2017.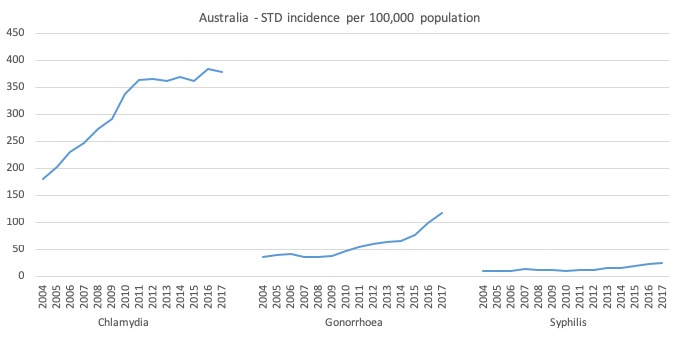 The recent ABC news report (January 8, 2019) – Syphilis outbreak control attempts a 'total failure' says Australian Medical Association – relates that the current attempts to halt the syphilis epidemic has been a "total failure".
But the interesting aspect of the research into the epidemic is that:
… it spread from north Queensland in 2013, now reaching three states and the Northern Territory …
The president of the local Northern Territory Australian Medical Association is in no doubt that:
The problem is a lot of the sexual health programs have actually been defunded, so all the people you need on the ground are not there any more to educate people on safe-sex practices.
Result: the spread of the disease to epidemic proportions.
The indigenous Australians are most affected and this just reinforces their disadvantage.
The Federal government is now committing funds to help curb the epidemic but their austerity-biased brains can only come up with pennies when many millions are needed.
And all those who preach austerity including the majority of the economics profession, who continually are claiming that these sort of fiscal cutbacks are necessary to reduce the 'burden' on the future generations, are silent when these sorts of events occur.
Syphilis not only damages the current generation but also "can be fatal for newborns" and can leave children born to parents stricken with the disease with long-term problems.
And, a related theme is when hard-line conservatives often claim that there should be no support from the State for those in poverty who keep having children.
Remember the call from the British Tory MP Nadhim Zahawi in 2013, who was claiming public funds to "heat his mansion and stables", for "child benefits to be cut for poor families" (Source).
In Australia, there are ongoing claims that single mothers keep having sex and babies to get more from the public pension.
All smokescreens to allow the top-end-of-town to take more for themselves.
Brexit …
I get quite a bit of 'hate' E-mail about this topic.
The latest intensification has been lecturing me along the lines that as an Australian who didn't live through the Brexit referendum process or who will have to live with the consequences of the outcome I should not comment.
This is the classic – unless one is directly and materially impacted by something one should not have an opinion.
It is a corollary or complement to the unless one has experienced something you cannot know what it is like and so you cannot talk about it.
As a public intellectual I have a responsibility to bring my skills to provide different perspectives to a debate. I never speak on matters publicly where I am not qualified in terms of my professional background (for example, PhD in economics).
But being Australian is irrelevant.
I would guess that I know more about the data, legal frameworks, history and all the rest of the relevant matters pertaining to the EU etc than the average British citizen.
Further, I find it rather odd when those on the Europhile Left who continuously preach about international solidarity and building global Leftist movements start telling me to butt out of the Brexit debate or the Eurozone debate because I don't live there.
I would have thought they would have welcomed the interest of an Australian from the Left as a global partner in the struggle to re-establish the 'Internationale'.
But then that would be as if I was trying to find some consistency in the stance taken by these characters. I may as well keep an eye out for those pigs that might fly by.
An a great oldie here …
I was listening this morning to this album – Halfbreed – which I purchased in 1970 just days after it arrived via import in Australia (it was released in the UK in 1969).
The song is Born to Die.
The band is the Keef Hartley Band (named after its drummer and leader).
They were one of the few British bands to appear at the first Woodstock festival.
Keef Hartley was also the only other musician on John Mayall's first released the Blues Alone (the first album I ever purchased as a teenager).
This was their first album and was probably their best.
They had lots of changes in line-up which Keef Hartley justified as being like a 'jazz outfit', where musicians can freewheel in and out and improvise.
I liked that about them and formed a penchant in the early 1970s in bands I played in for free form.
The lead guitar player on this song and album was Ian Cruickshank, one of the more competent British guitar players who few have ever heard about. He died in 2017.
After starting out in this sort of blues outfit he became a Django Reinhardt devotee and played in his band – Ian Cruickshank's Gypsy Jazz. He also wrote several books about Django.
This song features beautifully phrased guitar (Gibson SG) and a perfect blend of Hammond B-3 through some sweet Leslie Cabinets.
What a combination!
And much better than thinking about filthy politicians who cause venereal diseases to spread through communities all for the sake of 'saving' a few bucks.
The idiocy of that type of fiscal behaviour is now obvious.
That is enough for today!
(c) Copyright 2019 William Mitchell. All Rights Reserved.