Friday lay day – a mini-Job Guarantee proves beneficial in the US
Its my Friday lay day blog and I am working on various projects today so I will cut this blog relatively short. Two things came up this week that I thought were interesting but only require a noting by way of blog entry. The first was a report about a mini-Job Guarantee type program in the New Mexico city of Albuquerque, which is demonstrating that public job creation programs can change peoples' lives for the better when there is no hope and no other opportunities. The second story I read that was interesting was the Wolf Street Report (October 24, 2015) – Barcelona Threatens to Print Parallel Currency, Madrid Seethes – which discussed the plan by "Barcelona's left-wing city council plans to roll out a cash-less local currency that has the potential to become the largest of its kind in the world". The austerity-mavens in Madrid and their puppet masters in Brussels will be having conniptions at the prospect.

Albuquerque's mini Job Guarantee
I was sent a report his week from the Albuquerque Journal (September 1, 2015) – New outreach set for panhandlers in Albuquerque – which described a program introduced by the local council and a welfare agency – St. Martin's Hospitality Center.
There is also a more recent report (October 14, 2015) – Albuquerque Spent $50K to Give Panhandlers Jobs and Resources – Here's How That's Working Out So Far.
St Martin's assists homeless and near-homeless people in Albuquerque in a number of ways including accommodation, dental and mental help, behavioural and mental health services, and employment and income support.
The Program provides an innovative solution to the panhandling problem. Panhandling is a cute American term for begging and is usually associated with unemployment and homelessness.
The Albuquerque program involved a $US50,000 grant from the local government to St. Martin's to help provide homes, food, support and … JOBS to the beggars within the city.
The City's Pilot Outreach program – There's a Better Way – sends out a "16-passenger van" twice a week to cruise around the city to "pick up panhandlers who want to work and earn cash for the day".
Here is the van: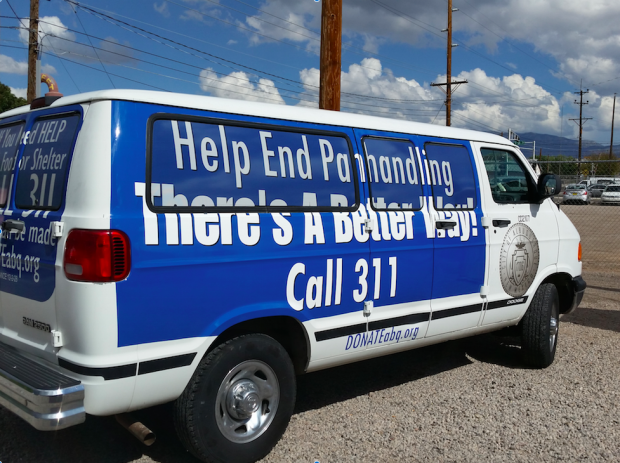 If they agree to work they hop in the van and there is lunch offered immediately.
Anyone who accepts a job are paid $US9 per hour which is just above the minimum wage in New Mexico of $US8.75 (although a lower minimum wage can be paid if the employer is providing healthcare and/or childcare benefits and for tipped employees – see Albuquerque Minimum Wage Increase – 2015)
The workers are "employed to pick up trash, pull weeds or complete other landscaping projects" on five-and-a-half hour shifts.
The Mayor told the press (Source) that:
We want to give the dignity of work for a day … The dignity of a day's work for a day's pay is a very good thing. It helps people stabilize, it helps them with their self-confidence, and it helps them get back on their feet.
Around 10 of every 12 asked agree to work.
After the workday is over, the van drops the participants off at St. Martin's where they are offered food, shelter and support services if they desire them.
The City is seeking funding to expand the program and make it a permanent feature of the city.
The Mayor is a Republican. His colleagues in the US Congress might do well to abandon their ridiculous obsessions with fiscal austerity and the rest of the nonsense they go on about and allocate a large amount of federal funding to any city who wants to emulate the great work of Albuquerque.
In case you are among the group who think this cohort never want to work anyway and take the 'easier' way out by begging you might like to read the results of a research program published in 2001 in the Canadian Medical Association Journal – Income and spending patterns among panhandlers.
[Reference: Bose R, Hwang S.W. (2002) 'Income and spending patterns among panhandlers', Canadian Medical Association Journal, 167(5), 477-479].
The authors studied a cohort of beggars in Toronto – defined as "as individuals who were soliciting donations of money for personal use from passersby, without providing any goods or services in return".
The participants were paid for their time and were asked 90 questions about personal characteristics (demography), substance use, income, and a range of other questions.
One interesting question was:
Which would you prefer: a minimum-wage job ($6.85 per hour) or panhandling?
The response:
… 70% … stated that they would prefer a minimum-wage job, typically citing a desire for a "steady income" or "getting off the street." However, many felt they could not handle conventional jobs because of mental illness, physical disability or lack of skills.
The overall conclusion of the study was that "the majority of panhandlers in Toronto are homeless and living in extreme poverty".
A mini-Job Guarantee – but it seems to enrich the participants and even one person given a job who wants to work is a step away from the mainstream approach which uses unemployment as a source of social and economic control.
Barcelona's new currency
In 2009, the state of California proposed to introduce an IOU system to alleviate its crisis.
I wrote about it in this blog – California IOUs are not currency … but they could be!.
I also wrote to the then governor of California (Arnold Schwarznegger) about the plan – My letter to the Governor (arnie)
The point was that if any state or city in a Federal system announced that it would accept IOU vouchers (their face value in the currency of the nation) as legitimate vehicles to liquidate one's tax obligations to the State or city then the situation changes dramatically.
To circulate the vouchers, all state or city employees could receive some (or all) of their pay in the IOUs (bits of paper or via electronic transfer into special voucher banks), which they could then use to pay their taxes. If all the citizens in the state or city could similarly extinguish their tax obligations using these vouchers then there would be a generalised demand for them, which means that State or city employees would be able to spend the IOUs in shops as they would the the nation's currency.
The state or city in question would have no financial constraint in the IOU vouchers. It would simply spend them (pay its workers) and collect the taxes later as people handed them back to satisfy their legal obligations. Imposing the tax obligation (in vouchers) creates a demand for them and allows them to circulate as a 'currency'.
Soon enough, the banking system would develop IOU Voucher Accounts and related products. In this way, the state or city could more easily maintain its level of services without imposing huge costs on the disadvantaged. The state or city could also expand public employment to attenuate the labour market impacts of the recession.
There might be some reluctance to hold the vouchers. If the state or city had have decreed that any resident could extinguish their tax obligations using the warrants then they would become more broadly accepted as an alternative currency in that region.
So the proposed Barcelona experiment is very interesting and will bear watching. Expect trouble from Brussels though (via Madrid).
The article says:
The idea is for local stores and residents to be able to exchange euros for the new currency at a one-to-one parity, and use it to purchase products and services at a discount or with other kinds of incentives. But it doesn't end there: the new parallel currency may also be used to pay certain subsidies, taxes and local services such as public transport … Municipal workers could also receive part of their salary in the new money.
So the makings of an alternative currency and in the context of Catalonia's campaigns to break away from Spain a very interesting development.
The report asks whether "Barcelona's local city currency" could:
… serve as a springboard to a region-wide parallel currency? After all, if Catalonia's leaders are genuinely serious about breaking away from Madrid and creating a new nation-state (still a sizable "IF"), they will need to dramatically reduce Catalonia's financial dependence on the central government's treasury, the Bank of Spain and by extension, the European Central Bank. The only way to do that is to launch its own currency. As Greece's Syriza party learnt the hard way, it's no good threatening to go your own way without first having a parallel currency in place.
Syriza never threatened to go its "own way", which was the problem and why they are now just puppets of the Troika.
We learn that "opposition to the scheme in Madrid is fierce" with a senior Bank of Spain official claiming the scheme was "impossible" and "undesirable."
The Local Council claims it just wants a way to "increase local government spending" and "there's no easier way of increasing government spending than printing your own money and then using it to pay salaries, benefits and public services!".
Exactly.
We will watch it unfold.
Music – from the Inna De Yard Allstars
This is what I have been listening to this morning while I have been working.
The Inna De Yard Allstars are a fluid group of great Jamaican musicians more or less led by the fabulous guitar player – Earl Chinna Smith.
They combine acoustic guitars with hand drums, bass and various percussion kits and play and record in the backyard of Smith's house in St Andrews, Jamaica.
The French music label – Makasound – have released the recordings. The group in various compositions tour and give live concerts.
This track – Daniel – is off the 2008 album by Earl "Chinna" Smith and Idrens. It was recorded in August 2004 in Chinna's yard. Idrens is a Jamaican slang term for 'brethren' and in this context encompasses a host of other musicians who were in the yard playing on the recording including Jah Youth, Ken Bob, Emmanuel I and Kush McAnuff
If you are in Melbourne this Sunday, my band – Pressure Drop – will be featuring at the Run For Palestine 2015 event – down near the Tan Track (Botanical Gardens) from midday (for one hour).
Then later in the afternoon from 15:00 to 17:00 we will be playing at Kindred Studio in Whitehall Street, Yarraville.
A solid afternoon of reggae that means. Hope to see some of you there.
Saturday Quiz
The Saturday Quiz will be back again tomorrow. It will be of an appropriate order of difficulty (-:
That is enough for today!
(c) Copyright 2015 William Mitchell. All Rights Reserved.