Time to ditch the export-led growth mania
Last week, the former head of the Australian Treasury, Ken Henry gave a speech at the Australian National University entitled – Writing a New Australian Story – which received considerable press coverage. His message has relevance to all advanced nations who are engaged in a war on their population via fiscal austerity and attacks on workers wages and conditions as a enhancing so-called international competitiveness and engendering an export-led recovery. He considers these things are fine but not as ends in themselves and successive Australian governments have forgotten that message and undermined our national prosperity as a result. He believes it is time to reorient the public debate to focus on the challenges ahead rather than be mired in single-minded goals that only help a small sector of our society. I agree with some of what he says but we reach the same conclusions from an entirely different body of economic understanding. I had a 4-hour flight today on my way up to the North of Australia and this is what I wrote on the journey to keep myself amused.

By way of background, Australia like most nations has been caught in the IMF-led spell of export-led growth strategies. These are extolled as almost the epitome of virtue because they provide a smokescreen for an ideology that opposes government-led stimulus aimed at promoting domestic demand-led growth.
The latter was a major component of the Post World War II full employment era, which didn't eschew developing robust export sector but also knew that if national prosperity was to be maintained and developed then a strong government role was necessary to build public infrastructure, directly employ people to provide services using that infrastructure and also those who were left behind in one way or another by the private market economy.
It was an era of falling income and wealth inequality, jobs for all whenever, growing real wages in line with labour productivity growth, and accordingly, improvements in health, education and general prosperity.
But it was also an era that the captains of industry – then the old-industries – manufacturing, steel, chemicals etc – were forced to compromise on their never-ending lust for more power and wealth.
Social democrat governments emboldened by the Post War quest for 'democracy' and 'inclusion' stood between the workers and the bosses – walking a tightrope between their conflicting aims. I wouldn't say for one minute that this circus feat was even-handed.
Lobbying from the elites of capital saw that the governments (and the competing political parties) remained captive in one way or another. But the political processes were less influenced by the 24-hour news cycle and the media manipulation of the likes of the filthy Murdoch camp.
The rapport between the politicians and the people was mediated in old-style town hall meetings and the like, which is why modern politicians, particularly Americans, think they can appear legitimate if they engage in some grass roots campaigning.
The fact is that people demanded full employment because the War had embued a collective will – we were all in it together and a job for me should be a job for you. We believed in eliminating poverty and giving everyone a chance.
Politicians had to resist falling completely captive to capital, who hated full employment. Otherwise, they would lose office. If you examine the political mantras of the 1950s up until, maybe the mid-1970s, you will see how different they were when compared to the narrative of today.
Even the Republicans in the US, the Liberals in Australia and the Conservatives in the UK, and all the rest of the pro-business political parties couldn't escape this reality.
But then things changed. The collapse of the Bretton Woods system in August 1971 (although it was not formally abandoned until a few years later) changed things considerably.
One of the big changes was that the IMF lost its raison d'etre as soon as the Bretton Woods system of fixed exchange rates collapsed. The IMF was created as a core institution within that system as part of the Post War quest for stability.
It role was to provide funds to nations that were struggling to maintain the fixed parities agreed by participants in the system. It was Keynesian in outlook, which meant that it knew that full employment was the best goal that a nation could pursue.
At the outset, its loans were largely unconditional, although that changed somewhat towards the end of the 1960s, as the neo-liberal ideology that now dominates the economic thinking was starting to emerge. But the idea that the nations would be subjected to harsh austerity demands just to access IMF funds, that they had, in part, contributed to as part of their quota as members of the Fund, was alien.
But after 1971, flexible exchange rates became the norm across most economies, which meant that trade and capital flow imbalances would be mostly resolved by instantaneous shifts in the exchange rate rather than the previous situation, whereby nations with current account deficits had to scorch their domestic economies to quell imports and/or reduce inflation rates, just to take pressure of the exchange rate so they could maintain their parities as agreed.
In the new flexible exchange rate world of fiat currencies (not backed by gold nor convertible into gold on demand), the IMF suddendly had no meaningful purpose to fulfil.
In his 2002 book, Joseph Stiglitz provided a fascinating account of how the IMF sought to dominate thinking about economic policy in both developed and developing countries to give it a new role to play.
Not only did he strongly criticise the 'one-size-fits-all' nature of the IMF policy prescriptions, but he also observed that (page 42):
The IMF is like so many bureaucracies; it has repeatedly sought to extend what it does, beyond the objectives originally assigned to it. As IMF's mission creep brought it outside its core area of competency in macroeconomics, into structural issues such as privatisation, labour markets, pension reforms and so forth …
He argued that the combination of the IMF's fierce promotion of the current dominant neo-liberal ideology in economics, its simplistic yet well-defined policy framework and its good political contacts in the Western world, has rendered it a very powerful institution, which often usurped the World Bank's role in its dealing with poor countries. Stiglitz was also critical of the World Bank but that is another story.
[Reference: Stiglitz, J.E. (2002) Globalization and its discontents, London, Penguin Group].
The IMF became one of the neo-liberal attack dogs. Governments could hide behind the anonymous, unaccountable face of the IMF to push back social democratic forces and accept more easily the fact they were captive of capital, increasingly, international in scope and empowered commensurately.
The captains of industry also started to see a shift in their membership – the old school, the old money, started to see some loud-mouthed, upstarts entering their power spectrum. The era of the financial capital elites had begun in earnest.
This is not to say that the bankers were not without influence prior to this. Of course they were. But with the opening up of global financial markets, courtesy of the collapse of the fixed exchange rate system, a whole new range of options was available (derivatives etc) to speculate with and against, and the bankers more easily were recognised as banksters.
The OECD went through a similar metamorphosis. You might recall that the Paris-based organisation was set up after World War II, to help reconstruct Europe under the Marshall Plan. Its name tells you that it was established to foster 'Economic Co-operation and Development'.
It was firmly Keynesian in the 1960s. But it jumped with the IMF to become another attack dog for the neo-liberal policy agenda and its particular role is exemplified in the OECD 1994 Jobs Study which set the framework by which government abandoned their commitments to full employment and, instead, started promoting and pursuing the diminished role of 'full employability'.
Unemployment shifted from being a systemic failure to create enough jobs to a failing of the individuals who were jobless. Increasingly moralistic overtones entered the debate and public narrative. The victims of the system failure were now characterised as indolent, lacking motive, aspiration, endeavour and, seemingly content to enjoy the 'high life' on the pittances that were provided by way of income support.
The rest of us fell for it, which is more our shame. But to be fair we were bombarded almost daily with a media onslaught promoted by these elites and self-serving politicians in their captive that if someone wanted to work they could always find it and what right had they to live on the efforts of the rest of us.
We all hated work (mostly) and would much rather be out surfing or lying around watching TV. So why should the lazy unemployment take our 'taxes' and live it up.
It was a nonsensical narrative but such is the nature of mass media indoctrination it has proved to be a very effective one.
The elites promoted it because it they hated full employment. Marx was never more correct in his analysis of the functional role that unemployment plays in keeping wages growth low and helping the capitalists get their hands on a bigger share of real income.
As trade unions were corralled by various legislative changes and large pools of unemployed were created by governments abandoning the use of fiscal deficits to ensure there were enough jobs available to match the desires of the available labour force, the capitalists started to enjoy higher profit shares via the growing gap between real wages and productivity growth.
The OECD is at the centre of that despicable attack on human rights.
The economic narrative has become homogenised in the 1970s after the big OPEC oil price hikes had created mayhem in advanced, oil-dependent nations. The dislocation gave the neo-liberals the cover they needed to attack the Keynesian consensus that had underpinned the commitment to full employment.
We were all individuals. There was no such thing as society. Leaving the 'market' to do its job would maximise our individual prosperity – all of us.
I examined the rise in homogeneity of thinking or cognitive bias in my book on the Eurozone, which will be published in both English and Italian versions in early 2015.
The major economic institutions and the policy makers were trapped in Groupthink, which refers to the way self-reinforcing group dynamics ensure that only certain issues are considered to be important and matters that challenge the underlying premises of the ruling paradigm are actively eschewed.
Economists and policy makers were trapped by the peer-group belief that self-regulated private markets would always adjust to avoid any economic crisis. Within that intellectual prison, there was simply no need for strong fiscal agency or regulative structures.
By the end of the 1980s, this view was dominant in the academy and had infiltrated the major multilateral institutions (for example, the IMF, World Bank, OECD), treasuries and central banks across the advanced world.
Economists and policy makers were trapped by 'confirmation bias', which refers to the dynamic whereby people only admit as 'fact' information that reinforces their own world view and refuse to acknowledge other information that might challenge that view.
Groupthink dominated Governments all around the world as they ignored the persistently high unemployment that the deflationary biases in economic policy had caused. Worse was to come in the GFC, particularly in Europe.
The neo-liberal economic framework promoted vigorously by many economists, the multinational agencies such as the International Monetary Fund (IMF) and the Organisation for Economic Co-operation and Development (OECD), and conservative politicians including the Eurozone establishment in Brussels and Frankfurt, blinds the public eyes to realistic alternatives by deliberating confining the boundaries of the public debate through the use of selective priorities, wrongful causalities, and scandalous misrepresentations of reality.
And as part of this process of obfuscation, the export-led and competitiveness mantra became an important plank to justify the reduction in government function and oversight.
In his speech last week, the former Australian Treasury head, Ken Henry touched on some of these themes, although I would not say he would share the way I would tell the story. He is a neo-liberal but is also a thinker rather than a shame-faced ideological operative.
His speech outlined how, as part of the growing neo-liberal anti-government narrative, Australia was caught up in new ideas, fiercely promoted by industry groups and politicians that mimicked their demands.
The Labor government, which assumed office in 1983, led the way in laying the neo-liberal policy foundations in Australia. The Labor Party had been established to be the political arm of the trade unions. By the 1980s, it was full of university-educated spivs who hadn't done a day's manual labour in their life. Lawyers, etc and they longed to become part of the elite themselves.
So they did the bidding of the capitalists. The second-half of the 1980s was dominated by claims that the only way to achieve prosperity was for the workers to accept real wage moderation, which became orchestrated real wage cuts under the so-called Prices and Incomes Accord.
As an aside, the bosses never formally signed up to the Accord so profits were excluded from the 'incomes' that were being moderated. And, further, the government quickly learned that under our constitution it couldn't legally control prices anyway.
In other words, the fabulously named Prices and Incomes Accord became a wage guideline and by the latter parts of the 1980s it became a real wage cutting tool.
The unions signed up to it as they lost their compass. This was an era of growing corporatism in the unions and some union leaders started to resemble industry bosses in their demeanour and appeared to be more comfortable eating and drinking in corporate boxes at major sporting events than wandering around the shop floor seeing what concerned their membership.
The wage cutting narrative was accompanied by claims that if we achieved higher levels of productivity and competitiveness, redistributed national income to profits, and cut tariffs and freed up trade markets, there would be an investment and export bonanza and workers would reap the bounty.
The then treasurer, Paul Keating, himself a spiv who had left his working class roots behind long ago, led the chorus and called on all of us to modernise and become an export-led nation of untold wealth and reward.
Suddenly, there were trade union delegations to Scandinavian nations to learn how to become an export powerhouse. Lots of long and well-catered for lunches and expensive wines were no doubt consumed during these 'study tours'.
In July 2014, the peak body, the Business Council of Australia released a major report – Building Australia's Comparative Advantages
The whole tenor of that Report was that:
… the next decade of growth must be one where Australia comes to terms with an increasingly dynamic and global marketplace … [and] … The only way to guarantee success in this world is to be competitive at a world standard.
Its concept of public policy was as follows:
Governments should be facilitating competitive industry sectors by taking a sector view of the economy and prioritising all decisions and reforms to promote Australia's comparative advantages.
Export competitiveness becomes the priority! This requires among other things, reducing regulations on business practices (meaning policies that protect the environment, promote honesty etc), "reducing labour market rigidities" (meaning job protections, wage rules etc), "Developing physical infrastructure" (meaning – using the public purse to build infrastructure purely to benefit business without being able to capture the appropriate social returns), etc
It was in this context that Ken Henry delivered his message and asked "how should one assess the wealth of a nation; and what are its policy determinants?"
Reflecting back on Adam Smith and his 'Wealth of Nations', Henry told his audience last week that:
Like Adam Smith, we know that mercantilism is misguided. The idea that public policy should be organised to protect and advance the interests of exporters has no support in economics.

And yet, in Australia today, 238 years after the publication of The Wealth of Nations, the dominant economic narrative goes like this: reforms that enhance productivity and cut costs build international competitiveness; international competitiveness drives exports; exports drive growth; growth drives jobs; and jobs support living standards.
He went on to say that the export-led mantra that has dominated the last three decades has undermined our best interests as a nation.
As a result "we are now paying a price for past expedience. The mercantilist narrative is so deeply entrenched that it is crippling sensible attempts to deal with some of our biggest challenges."
He then focuses on the concept of real exchange rates.
Ken Henry told his audience last week that it was clear the fortunes of the nation were tied intrinsically to our capacity to back our export industries, which were dominated by mining and agriculture.
The following graph confirms the loss of international competitiveness for the Australian export sector. Its shows the movements in the Bank of International Settlements monthly Effective exchange rate indices – from January 1994 to August 2014.
You can learn about this data from their publication – The new BIS effective exchange rate indices – which appeared in the BIS Quarterly Review, March 2006.
There was an earlier publication – Measuring international price and cost competitiveness – which appeared in the BIS Economic Papers, No 39, November 1993.
Real effective exchange rates provide a measure on international competitiveness and are based on information pertaining movements in relative prices and costs, expressed in a common currency. Economists started computing effective exchange rates after the Bretton Woods system collapsed in the early 1970s because that ended the "simple bilateral dollar rate" (Source).
The BIS say that:
An effective exchange rate (EER) provides a better indicator of the macroeconomic effects of exchange rates than any single bilateral rate. A nominal effective exchange rate (NEER) is an index of some weighted average of bilateral exchange rates. A real effective exchange rate (REER) is the NEER adjusted by some measure of relative prices or costs; changes in the REER thus take into account both nominal exchange rate developments and the inflation differential vis-à-vis trading partners. In both policy and market analysis, EERs serve various purposes: as a measure of international competitiveness, as components of monetary/financial conditions indices, as a gauge of the transmission of external shocks, as an intermediate target for monetary policy or as an operational target.2 Therefore, accurate measures of EERs are essential for both policymakers and market participants.
If the REER rises, then we conclude that the nation is less internationally competitive and vice-versa.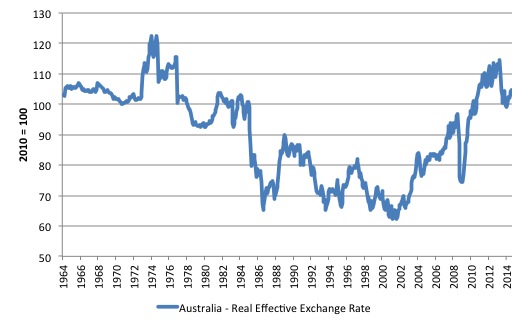 The movements in Australia's international competitiveness is driven by the shifts in the nominal exchange rate rather than disparate inflation trends between Australia and the rest of the world. Please read my blog – Manufacturing employment trends in Australia – for more discussion on this point.
But what point was Henry trying to make?
The deregulation, wage cutting regime was ratcheted up and miners started to reap even greater profits from extracting our minerals and shipping them to China and Japan (mainly). Governments gave them such ridiculous concessions, especially considering how much of the capital in the industry was foreign-owned.
Ken Henry has now challenged this narrative.
According to Henry, Australia workers and society in general have been caught out twice by this mantra.
As noted above, workers real wages were cut to deliver the export competitiveness in the 1980s. Henry outlined how wage indexation was abolished (which led to the real wage cuts) and tariffs were reduced severely (which led to widespread job losses).
He notes that:
… there was another, complementary, piece of the narrative developed in Australia in the 1980s: a tighter fiscal policy would improve the prospects of a real depreciation, further boosting exports, and export growth would cause the current account deficit to narrow, thus dealing with the threat posed by ever-increasing international indebtedness. Thus was born the sub-narrative of 'debt and deficits', part of the broader story of Australian mercantilism.
Now, after a boom in world commodity prices that led to the so-called Mining boom, Australia has experienced a rise in its real exchange rate as documented above – "in the order of 50 per cent", which has "damaged our international competitiveness".
So what has to happen now?
The mercantilist narrative is driving:
… various proposals designed to reverse the real currency appreciation caused by international commodity price inflation: cut business costs, especially wages and taxes; boost productivity; and cut government spending.
He says doesn't that "sound familiar" – cut wages, cut government spending.
His conclusion:
No matter what the malady, Australian mercantilism will always prescribe the same treatment. And of course it must, because no volume of exports will ever satisfy a committed mercantilist.
Ken Henry didn't say we should abandon helping exporters. But he said we should realise that it wasn't an end in itself but should be seen as a means to improving national prosperity.
He listed a number of sub-narratives that are undermining the way we meet the challenges of the future.
He notes that the export competitiveness story has damaged the capacity of governments to implement new taxes to deal with things such as carbon use.
Of great importance to the mercantilist narrative is the promotion of cheap energy as a way of ensuring the Australian economy maintains its export competitiveness.
In the 1970s, we were led to believe that cheap energy was good because it allowed industry to lower costs and become more competitive.
The trend as climate change becomes more obvious is to force industry and households to pay the 'full cost' of the energy they consume, which means the environmental damage of extracting and using that energy has to be included in the price to discourage use.
The current conservative government has moved in the opposite direction, appealing to what might have been acceptable in the 1970s when less people were concerned or had any knowledge of what the environmental damage was and would be.
So we saw the rescinding of the Carbon Tax and last week the Industry Minister told a leading neo-liberal economic conference (CEDA) at their – CEDA Energy Series: that
… issues relating to energy and energy market reform are central to our economy, because access to affordable and reliable baseload power has long been one of Australia's most potent competitive strengths. It will be equally as important in building the industries of the future.
He went on to recite the mantra – "Competitive markets should drive pricing, supply contracts and project investments" and "Our abundance and diversity of energy supplies has given Australia the opportunity to firmly establish itself as an energy superpower" (read: coal).
And – "our Government's predecessor … not only eroded our competitive edge in energy markets, but actively sought to put a handbrake on our energy industry through policies such as the carbon tax and the mining tax."
The Prime Minister keeps batting on about Australia becoming an "affordable energy superpower" and that we need to make energy as cheap as possible. Exit Carbon Tax and enter promotion of the coal industry – a leading exporter.
The Government also set up a review of the Renewable Energy Target (Warburton Review) which reported in August – Renewable Energy Target Scheme Report.concluded that (page 43):
However, access to cheap and reliable power (historically, predominately provided by coal) helps to underpin Australia's economic growth and Australia needs to balance its emissions reduction efforts with the need to maintain this source of competitive advantage.
So the link between environmental vandalism and the export competitiveness mantra is entrenched and dominant.
His solution is to introduce "a more honest narrative".
Conclusion
I haven't time today to outline his full plan because I disagree with much of it.
But I agree that government policy should avoid "short-termism and has no taste for protecting vested interest; a place in which governments have the intellectual capacity and political courage to articulate a compelling vision of what could be.
That vision should see a return to placing full and decent employment at the heart of policy goals within the context of environmentally sustainable development.
But it is unquestionable that:
The public policy of Australia should be directed to ensuring that all Australians, including those not yet born, are endowed with the capabilities that afford them the opportunity to choose a life of value. That is the measure of the wealth of Australia and also of the sources of its wealth.
We are a long way from that both in Australia and elsewhere.
Organisations such as the IMF continue to bully governments into accepting the export-led narrative. Part of the problems the Eurozone are experiencing relates to the dominance of that narrative with the distinctly German bias.
I could go on and talk about Africa etc but we just landed.
That is enough for today!
(c) Copyright 2014 Bill Mitchell. All Rights Reserved.