MMT is not conservative thought
Last night I sent the final manuscript of my Euro book to the publisher and felt somewhat downcast – that always happens after an intensive piece of work is finished. But this morning, I woke up free of that and focusing on the next task in the list. The list is always bubbling away and one juggles multiple projects at the same time, with more or less intensity. Curiosity demands that. But at some point more effort goes into one to complete it and the others wait in the queue for their turn. My next major deadline is an Modern Monetary Theory (MMT) compilation commissioned by my publisher Edward Elgar. The compilation will be my version of the roots of MMT and the development of its major ideas and influences. I have to write an overview piece explaining why I selected the literature and how it fits into the intellectual MMT tradition. It will obviously be an eclectic exercise and there is no certainty that my other original developers of what is now more broadly known as MMT will agree with my compilation or emphasis. I plan to start with Theories of Surplus Value – for reasons I explained in this blog – We need to read Karl Marx. I also do not plan to eulogise John Maynard Keynes, even though many of my colleagues think he is the most important link in the chain. It is here that I have to walk the fine line between technical detail and a broader reflection on how values intersect with what we might call the facts.

On July 2, 2014, the OECD published a report – Policy challenges for the next 50 years – which predicts:
a major shift of economic balance towards emerging economies, particularly those in Asia, with the share in world GDP of non-OECD countries rising well beyond that of the current OECD area by 2060.

In the period to 2060, global growth prospects seem mediocre compared with the past, with GDP in the OECD and the emerging G20-countries likely to grow by 2.7% in 2010-2060, compared to 3.4% in 1996-2010.
There is a summary page – HERE.
I won't explicitly consider the OECD projections today. Suffice to say they are bizarre and rely on the application of deeply flawed econometric models, the sort which kept telling countries within Europe that if they imposed harsh austerity, their economies would grow like Topsy.
None of which happened. And, none of which would ever have happened given the circumstances. It was a case of the domination of ideology over understanding and evidence. But that is the modern day OECD.
Some of the assumptions the OECD make, which drive their simulations, are very unrealistic. The biggest driver assumed is IT-induced productivity growth, which defies recent history – the magnitudes assumed, at least, and probably the overall direction of the impact.
The OECD believe that overall growth rates in the advanced nations will slow dramatically because the so-called 'catch-up' effects of population growth, education, urbanisation, that trigger economic development start to wane. Advanced nations will be left with ageing populations as migration from poor to rich countries will evaporate. That will occur because the current poorer nations will start providing for their own populations.
They claim that unemployment will not rise in the face of the falling growth rates because the labour forces will shrink with the ageing of the populations.
But even with the ageing population, the OECD assumes massive population growth for advanced nations. This is one of the sleepers in the coming years. Environmental refugees will become a very large world issue. These are people who for environmental reasons can no longer survive where they currently live.
There are currently projections that "Fifty million "environmental refugees" will flood into the global north by 2020″ (Source)
So when Australia starts worrying about 30 to 100 people on a leaking boat trying to access our shores in search of a better life, what will be required in the future will be mind-boggling.
The OECD also consider that climate change could seriously erode growth opportunities as productive capital is wiped out by extreme weather events, coastlines disappear and agricultural land becomes so degraded that it ceases to be usable.
They also predict rising income inequalities between rich and poor within and between nations as the demand for low-skill workers evaporates (replaced by machines, robots etc). These rising inequalities will undermine growth in the advanced nations.
The OECD recognises that capitalism is facing a dilemma, even if they don't express it in that way. They say (p.8):
With growth increasingly driven by knowledge and skills, growth in itself could keep generating rising tensions and inequalities. On current trends, earning inequality in the average OECD country may have risen by more than 30% in 2060 and would then face almost the same level of inequality as is seen in the United States today. Moreover, structural adjustment will continue, especially across firms within sectors (e.g. from low to high productivity and from polluting to less polluting firms) and in emerging economies, and the consequences for workers' wellbeing will have to be managed. If left unaddressed, such increases in inequality and costs of adjustment could eventually backlash on stability and growth.
So to engender growth, there has to be massive structural changes, which will increase inequality and polarise urban centres in the advanced nations.
If a nation pushes for even higher growth rates to provide better real outcomes overall, then they have to accept even greater polarisation in incomes and opportunities.
But the rising inequality will inevitably undermine growth because the income growth will become concentrated at the top end of the distribution where saving rates are much higher. The financial markets will boom and undermine overall prosperity and social instability will increase.
Reading between the lines, one gleans a very grim ideological campaign is being started by the OECD. They claim there will be a need for more "effective redistributive policies, a strong focus on equality of opportunity and a review of the funding systems of public services and of tax structures" but then they advocate increased fiscal austerity, increased privatisation of public assets and infrastructure, and significantly more migration.
Fiscal austerity, typically worsens inequality and denies opportunities to the most disadvantaged. As the labour market polarises in terms of skills – with the private sector no longer desiring low skill workers, there will be a great need for very large-scale public employment schemes, which can utilise the labour shed by the profit-motive.
The beauty of public employment schemes is that they can be evaluated on totally different criteria than the decision by a private employer to take on an extra worker.
There will be a massive number of jobs in areas of environmental and personal care services over the next 50 years as the climate and land-use damage from capitalism takes its toll and the population ages. There is significant scope to offer well-paid and secure employment to those being rejected by the private sector as robots take over assembly line and other work.
The OECD conception of growth is one driven by profit. My conception of growth is unrelated to that. If the population increases, then economies need to grow to provide income earning opportunities for all. But growth via public service oriented employment leaves a totally different footprint than that driven by private market incentives.
That is what I tell green-followers who demand no growth. There has be growth, the challenge for progressives is to channel it into green-consistent activities. The government sector has to lead the way in that regard and use its currency-issuing monopoly to mobilise productive resources that the private sector chooses to leave behind (lower skilled labour etc).
There is massive scope to redefine what we mean by productive work – artists, musicians etc – can become public servants on secure pay, which would transform the green-quotient of the real GDP growth rate.
Jazz and reggae concerts and art displays and circuses (without animals) are less environmentally damaging than smokestacks! But the dollars spent on them woud deliver the same growth rates as a dollar of coal exported.
Inequality can also be reversed if governments use their fiscal capacities to advantage and ensure that all workers have opportunities to earn decent incomes. Banning most of the financial speculation will also help.
This also ties in with infrastructure. The trend to privatisation and public-private partnerships has undermined the quality and scope of major infrastructure in the advanced world.
Governments should take back control of that development and use major infrastructure projects as vehicles for employment, wages growth, and altering the nature of urban centres. More public transport, better energy systems, better communication systems, etc can be spawned through public sector leadership.
One of the big claims that the privatisation lobby made was that private firms faced 'unfair' competition from public enterprises. I always found that ridiculous.
Using our real resources in the best way possible at the lowest cost is the aim of any economy. Waste is typically bad. So if a public firm can access funds cheaply relative to a risky private firm but produce something people want then that is to be applauded. Capitalists are always looking for subsidies as long as they only go to them! Leaving the market free to them is a form of public subsidy.
Overall, the UK Guardian article (July 8, 2014) headline – The best of capitalism is over for rich countries – and for the poor ones it will be over by 2060 – seemed apposite.
The Guardian concluded that:
The ultimate lesson from the report is that, sooner or later, an alternative programme to "more of the same" will emerge. Because populations armed with smartphones, and an increased sense of their human rights, will not accept a future of high inequality and low growth.
Which brings me back to Marx and Keynes.
Keynes was a conservative but not like the free market conservatives who I consider not to be conservative at all. Conservatives want to conserve things, which include jobs. Free marketeers consider (if you believe their narratives) that recessions will be worked out by private adjustments given that decision-making must have gone awry to create the over-production.
Keynes, clearly understood that the private sector will if left alone, be prone to get bogged down in recessed states with high unemployment and there is no dynamic within the private sector to move the economy on.
But he was pro-capitalist as well and realised that democracies cannot survive long periods of entrenched mass unemployment. His advocacy of strong macroeconomic intervention was to preserve capitalism and could hardly be considered a revolutionary set of ideas.
We used to talk about the 'Keynesian Revolution', in the context of his debunking of the perceived Classical thinking at the time (1930s) but it was replacing a flawed theoretical structure with a conservative set of ideas based on reality. Hardly revolutionary.
Bruce Bartlett recalls a 1991 Forbes interview with Peter Drucker the management theorist who recalled that Keynes had:
… two basic motivations … One was to destroy the labor unions and the other was to maintain the free market. Keynes despised the American Keynesians. His whole idea was to have an impotent government that would do nothing but, through tax and spending policies, maintain the equilibrium of the free market. Keynes was the real father of neoconservatism, far more than [economist F.A.] Hayek! (Source)
The interview was in July 1991 with Mark Skousen by the way if you want to read the whole thing. It is not available on-line but through electronic databases if you have access to them.
Keynes preferred growth to come via private profit. In the General Theory (Chapter 12 The State of Long-Term Expectation) he went into this at considerable length. In Section VII, he wrote:
It is safe to say that enterprise which depends on hopes stretching into the future benefits the community as a whole. But individual initiative will only be adequate when reasonable calculation is supplemented and supported by animal spirits, so that the thought of ultimate loss which often overtakes pioneers, as experience undoubtedly tells us and them, is put aside as a healthy man puts aside the expectation of death.

This means, unfortunately, not only that slumps and depressions are exaggerated in degree, but that economic prosperity is excessively dependent on a political and social atmosphere which is congenial to the average business man. If the fear of a Labour Government or a New Deal depresses enterprise, this need not be the result either of a reasonable calculation or of a plot with political intent; – it is the mere consequence of upsetting the delicate balance of spontaneous optimism. In estimating the prospects of investment, we must have regard, therefore, to the nerves and hysteria and even the digestions and reactions to the weather of those upon whose spontaneous activity it largely depends.
In contrast, Abba Lerner who was very partial to Marx noted in 1951 (page 15) that:
A kind of timidity makes them shrink from saying anything that might shock the respectable upholders of traditional doctrine and tempts them to disguise the new doctrine so that it might be easily mistaken for the old. This does not help much, for they are soon found out, and it hinders them because, in endeavoring to make the new doctrine appear harmless in the eyes of the upholders of tradition, they often damage their case. Thus instead of saying that the size of the national debt is of no great concern … [and] … that the budget may have to be unbalanced and that this is insignificant when compared with the attainment of prosperity, it is proposed to disguise an unbalanced budget (and therefore the size of the national debt) by having an elaborate system of annual, cyclical, capital, and other special budgets.
I see MMT as a progressive body of thought and consider that progressives should first and foremost seek to educate the public about how the economy and money actually operates and what opportunities the government has to act on our behalf to advance our well-being
If we think in this way, then options that have been constructed by the neo-liberals to be 'dangerous', 'radical' or 'taboo' will start to appear reasonable and grounded in reality. The next step is that they eventually become the mainstream orthodoxy.
I see MMT as demonstrating the power of public economic endeavour to fundamentally transform the structure of the economy and the opportunities it provides, which will deliver a very different sort of growth than would be forthcoming if we just uphold the sanctity of capitalism and liberalism a la Keynes.
Conclusion
Keynes advocated government intervention to preserve private profit whereas I advocate it to reduce the importance of it to the well-being of citizens and overall prosperity which includes a concern for the natural world.
More on this theme as time passes.
Corruption in Newcastle politics – state and local
There is a major scandal going on at present in my town – Newcastle. Corrupt donations to political parties by property developers etc.
The Mayor is now being called to stand down – after allegations that he turned up outside the workplace of a member of parli
The local newspaper ran this story today – ICAC: Councillors seek urgent meeting with lord mayor Jeff McCloy, poll.
The local newspaper is running a poll – Should Newcastle lord mayor Jeff McCloy resign immediately? – I voted yes!
We need to clean out property developers from local government and implement a sensible urban renewal strategy that is not based on profit and privatisation of the harbour and beaches.
Current results of the poll (late Tuesday afternoon):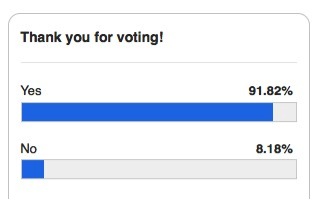 That is enough for today!
(c) Copyright 2014 Bill Mitchell. All Rights Reserved.