The brightest minds can be so dumb in particular circumstances
Its late Sunday afternoon in London as I write this (but already early morning in Australia) – so this is Monday's blog – I have a busy work day tomorrow. I have been reading about an interesting debate in network theory over the last few days. I was familiar with the debate when it surfaced and have been following it off and on since. It provides a classic example of how the brightest minds can be so dumb in particular circumstances. It also provides a way of understanding how my own profession functions and might also clarify for regular readers of my blog the way I consider my colleagues. Gaining a PhD generally takes some advanced intelligence (not to mention application). But that intelligence can be so specific and not preclude attempts to apply the knowledge too broadly and most importantly to areas where applicability is impossible. Counting how many angels on a pin head is a highly complicated and sophisticated area of analysis but it has no resonance in the real world. Anyone who thinks it does is dumb.

What do you think this picture has to do with anything – other than being very pretty?
It was produced in an article published in the Nature Magazine in 2000 – Error and attack tolerance of complex networks – which predicted that the Internet would be vulnerable to attacks on a few key network links (core routers) which would then undermine the capacity of the network to distribute information effectively.
The picture compares an "exponential network: (on the left) which the authors say is "homogeneous: most nodes have approximately the same number of links" to a "scale-free network" on the right, which "is inhomogeneous: the majority of the nodes have one or two links but a few nodes have a large number of links, guaranteeing that the system is fully connected".
The importance of scale-free networks is that when "connectivity is maintained by a few highly connected nodes … whose removal drastically alters the network's topology, and decreases the ability of the remaining nodes to communicate with each other."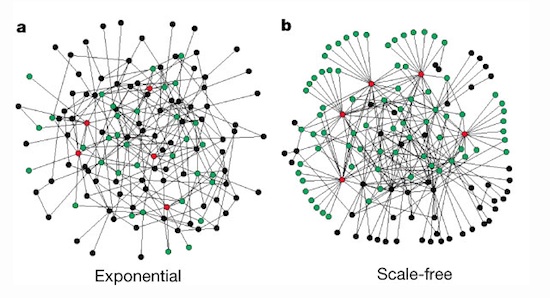 This was a claim made by a structural physicist – one Albert-László Barabási (and his team) – in a series of scientific articles in 1999 and 2000. This CNN article (July 26, 2000) popularised their claims – Scientists spot Achilles heel of the Internet.
Barabási was quoted as saying that "Internet terrorists could cause great damage by targeting the most connected router". Barabási compared the Internet to the US airline network where thousands of flights to most destinations are channelled through 4 major hubs (Chicago, Atlanta, New York and Los Angeles).
A network researcher at Caltech – – attacked these ideas. He told the Discover Magazine in November 2007 – This Man Wants To Control the Internet – that:
Everybody who knew how the Internet worked was puzzled by all this … [claim about the Achille's Heel] …
This article (February 18, 2005) – The "robust yet fragile" nature of the Internet – published by PNAS and written by Doyle and his team, demonstrated the falsity in Barabási's claims.
Doyle and his team of network engineers developed an extremely detailed "map" of the Internet and (Source):
… found no Achilles' heel. The Internet does have a few large servers at its core, but those servers are actually not very well connected. Each one has only a few links, mainly to other large servers through high-bandwidth connections. Much of the activity that occurs on the Internet actually lies out on its edges, where computers are linked by relatively low-bandwidth connections to small servers; think about how many e-mails office workers send to people in their building compared with how many they send overseas. If one of the big links at the core of the Internet crashed … it would not take the Internet down with it. Traffic could simply be rerouted through other big links.
In this more recent article (thanks Larry) (March 7, 2012) – A Contrarian Worth Listening To: Caltech Professor John Doyle Thinks "Complexity" is Over-Simplified – the Achilles issue is rehearsed again.
It note that John Doyle considered Barabási's:
… analysis was not just wrong, but so "comically wrong"'" to anyone who knew anything at all about Internet architecture that "most engineers thought it was a hoax."
And so what has that got to do with anything?
I get E-mails from those aggrieved by my representation of mainstream economists. The argument I am presented with goes that the economists I criticize are very intelligent men and women and accusations that they are dumb cannot be sustained. I am asked why would I be so arrogant to claim these characters are dumb and should be disregarded when they have PhDs in economics like me, have published in the journals and written books like me. How can I claim some sort of superiority and ask people to dismiss the views of my colleagues?
The point is that most of us are dumb in different ways. Professor John Doyle was the first to acknowledge that the physicist Albert-László Barabási is "a maestro, he is brilliant". And as we noted it is that realisation that "scares Doyle the most" (Source).
The erroneous claims by Barabási and his colleagues were "not a one-off mistake by a well-intended theorist ignorant of how the Internet actually works, but a symptom of how some of the smartest members of the research community have fallen in love with, and misapplied, what has been dubbed the 'Science of Complexity'".
The networks dispute is about bright people who have developed clever analytical frameworks. These researchers are obviously "bright" in some specific meaning of the word.
But in a most important way they are dead dumb because they attempt to apply highly complex tools and thoughts to areas which the concepts are not applicable and where it is obvious they do understand the basic operational characteristics of the systems they are analysing. The work of John Doyle and his team has demonstrated that point beyond doubt.
The article cited above – A Contrarian Worth Listening To: Caltech Professor John Doyle Thinks "Complexity" is Over-Simplified – notes that the "Science of Complexity" is a new approach where:
… theorists (often physicists) apply statistical physics to problems in fields like engineering and biology. After reading through many such papers, Doyle says it's a recipe: Authors combine the same physics theories in the same definable steps to reach sometimes far-fetched conclusions. "What they've done is standard operating procedure in the physics literature, but now they've stretched it into a regime where we can check the answers," says Doyle, "If you're not a particle physicist, it's hard to check a measurement in quantum mechanics; but if you're an engineer or a biologist, you know they make claims about how things work in engineering and biology that are obviously absurd."
Mainstream economics shares this tendency. If you went to graduate classes in macroeconomics (and micro for that matter) you will realise how technically complicated the mainstream economists have made the discipline. Graduate students are imbued with a sense of self-importance because they can parade over others with the jargon-laden claims about the economy – appearing as deep thinkers who combine a complex understanding of human psychology with sophisticated analytical mathematics to solve intertemporal maximisation problems that have no real limits.
The problem is that when it comes down to it there are several problems. The mathematics uses is not so complex relative to what actual mathematicians do. The understanding of human psychology is deeply remiss and my colleagues think they can get away with a few glib and untested assumptions such that we are all greedy, very clever (capable of complex optimisation), and competitive – when the empirical tests from real psychologists refute these basic starting points.
Further, the models are so deeply flawed in terms of the way they construct the analytical framework that they are not applicable to the real world that these economists wish to make statements about.
As I have noted often, we get a ridiculous version of the monetary system offered where, apparently central banks control the money supply, via a non-existent concept they call the money multiplier. We are told that budget deficits drive interest rates up when in fact they tend to put downward pressure on rates given certain central bank behaviour.
The mainstream conception of the economy is as irrelevant as the work by Barabási and his team is to understanding the way networks such as the Internet operates.
In our case, the network engineers are those operators in the central banks who deal with liquidity management every day and who know that the mainstream monetary economics is false.
Please review my blog last week – When central bankers debunk mainstream monetary theory – as an example.
It is already obvious that none of the key macroeconomics text books can remotely explain the current crisis and the mainstream profession has been in a state of confusion, hastily trying to add financial sectors to their New Keynesian frameworks because they discovered they were absent yet seemingly important in understanding what has been going on.
I have noted this observation by American (Marxist) economist Paul Sweezy before. In 1972, he wrote in the Monthly Review Press an article entitled Towards a Critique of Economics that orthodox (mainstream) economics:
… remained within the same fundamental limits … of the C19th century free market economist … they had … therefore tended … to yield diminishing returns. It has concerned itself with smaller and decreasingly significant questions … To compensate for this trivialisation of content, it has paid increasing attention to elaborating and refining its techniques. The consequence is that today we often find a truly stupefying gap between the questions posed and the techniques employed to answer them.
So when I was in graduate school the rage at the time was the "Economics of Marriage", the "Economics of Slavery", the "Economics of Sex" and we had to sit through highly mathematical derivations of when a person went from petting to heavy petting to intercourse – each step being the result of a complicated evaluation of the marginal costs and benefits (optimised over a life-time) that moving from one state to the next would involve.
For any one who had studied mathematics previously (such as me) the classes were a joke. But the lecturers were able to beguile most of the students into thinking the material was complex and meaningful. In fact, it failed at the first hurdle to understand any of the essential characteristics of human behaviour as subsequent studies in experimental behavioral economics have revealed.
I have also referred to the following quote before which resonates strongly in this context. Post Keynesian economist Paul Davidson [in the book by Bell and Kristol The Crisis in Economic Theory, Basic Books, 1981, p.157] describes how mainstream economics uses methods and approaches that renders it unable to embrace real world problems:
There are certain purely imaginary intellectual problems for which general equilibrium models are well designed to provide precise answers (if anything really could). But this is much the same as saying that if one insists on analyzing a problem which has no real world equivalent or solution, it may be appropriate to use a model which has no real-world application. By the same token, if a model is designed specifically to deal with real-world situations it may not be able to handle purely imaginary problems.

Post Keynesian models are designed specifically to deal with real-world problems. Hence they may not be very useful in resolving imaginary problems that are often raised by general equilibrium theorists. Post Keynesians cannot specify in advance the optimal allocation of resources over time into the uncertain, unpredictable future; nor are they able to determine how many angels can dance on the head of a pin. On the other hand, models designed to provide answers to questions of the angel-pinhead variety, or imaginary problems involving specifying in advance the optional-allocation path over time, will be unsuitable for resolving practical, real-world economic problems.
Note that I am not against simplified (abstract) modelling. Clearly, it is essential if you want to gain some traction on a real-world problem that is complex. But the models have to be capable of capturing real-world dynamics. A model that claims central banks control the money supply via the money multiplier will always be false and provides no relevant information to the user.
So economists who develop the highly technical models of the economy which are internally elegant (sometimes) and which allow them to conduct very complicated exercises all aimed at counting "how many angels can dance on the head of a pin", with all sorts of variations on how large the pinhead might be or the constraints the angels might be facing at any point in time – may exhibit a highly advanced intelligence and creativity.
But once they think that these models are capable of saying anything about the monetary system we live within – then they immediately demonstrate how dumb (or venal) they are.
It is in that context that I argue that my profession largely has failed to be clever.
Which brings me to Erskine Bowles, a former cabinet member in the Clinton Administration, who most recently co-chaired the National Commission on Fiscal Responsibilities and Reform with Alan Simpson and then started the "Fix the debt"
In Newcastle (NSW) where I currently live (mostly), there has been a campaign run by property developers under the title "Fix the City", which is just a smokescreen to allow them to get their hands on more of the city's property assets, rip up the train line to get more land for to make profit from and generally transfer public wealth and commons into their own hands.
Unfortunately for Newcastle, the recently elected mayor is one of the key proponents of fix the city and thinks markets should be left free to solve allocation problems (including the creation of tasteless developments which ruin public amenities and rip up public transport systems).
On a grander scale, there is a Fix the Debt campaign, which is run by Erskine Bowles and Alan Simpson, two US business and political types and supported by a host of conservative organisations that demonstrate an advanced lack of understanding of how the economic system operates.
The comments that emanate from this campaign are so flawed that no one should seriously given them any credibility at all. They are dumb with a capital D.
In a recent article – Erskine Bowles, Former Clinton Cabinet Member, Tells ISU That Congress Must Fix the Debt Now – the former Clinton cabinet member showed us how dumb he was.
The article notes that the Bowles-Simpson plan "came up with would reduce the nation's debt by $4 trillion over the next 10 years and hopefully do a minimum amount of damage to the fragile economy". The "hopefully" is telling.
The Plan, in fact, if implemented would have driven the US economy back into recession and damaged the prospects of millions of Americans in their search for work.
The Plan was based on a deeply flawed understanding of what the problems facing the US economy were and remain. It was predicated on the idea that the social security and health care systems would become insolvent in the not too distant future.
A simple question – so the US government will run out of dollars? If you believe that it will then you have no understanding of how the monetary system you are commenting about works. The US government can never run out of dollars.
That is not the same thing as saying that at any point in time – the dollars it always can create will translate into the equivalent real basket of goods and services. The US government will always be able to pay the $US nominal pensions that are legally binding at any point in time.
Will those $US pensions provide the same real living standards in 2020 as they do today (or better)? We don't know. It depends on what real goods and services are available in 2020 and the price they are available at.
Therefore, the issue is not whether the US government will be able to afford to maintain its medical care and pension systems. Of-course it will be able to. The term "afford" is not applicable to a currency-issuing government.
Rather, the issue is what real goods and services will be available in the future and what political constraints the electorate will place on governments.
It might be that the younger generations – sick to death of their parents pressuring governments to run budget surpluses which have undermined job opportunities now and degraded public schooling and higher education systems etc – will retaliate upon the age of majority and force governments to reduce pensions and health care benefits for their ageing parents.
There would be some justice in that political shift from a macro perspective (ignoring whether an individual would want to punish their own parents in that way).
Erskine Bowles is one such adult that is using his influence to undermine the current and future prospects of our children.
In relation to the claim that "100 percent of the nation's revenue in 2011 went to mandatory spending programs – Medicare, Medicaid and Social Security — and interest on the debt", he was quoted as saying:
That means every single dollar we spent last year on two wars, national security, homeland security, education, infrastructure, high-value added research – every single dollar – was borrowed and half of it was borrowed from foreign countries. That is crazy. That is a formula for failure in anybody's book …
Whether it is even accurate accounting is one point – largely irrelevant.
But in what way is this accounting a "formula for failure"?
The borrowing he notes is really just a portfolio swap where the government borrows funds that are sourced from its own spending and would otherwise have been sitting in bank reserves earning an inferior yield.
If the US government announced it was suspending all private bond market issues would it still be able to prosecute the two wars and all the rest of the items of expenditure noted by Bowles?
Answer: of-course, it issues the currency?
Would that decision be inflationary? Answer: no more than the spending currently is. The inflationary consequences of government spending (or any spending) relates to the capacity of the economy to absorb the nominal spending growth by increasing real output. The fact that inflation has been falling in the US means that the economy has had more than enough capacity to respond to the spending by increasing output.
Is the fact that the "Chinese" are buying US government bonds important? Answer: it is totally irrelevant.
There is general alarm that somehow China is keeping the US government from insolvency and if they stop purchasing US treasury securities then the US government will go broke.
We always have to go back to first principles to understand what is going on. Even though Chinese interests currently hold billions of $US worth of US government securities, the fact remains that the US government really only owes the Chinese holders of these instruments the regular interest payments that are associated with the particular security.
What do I mean by that? If you think about it, these bond holders purchased the bonds with US dollars that they had gained from trade surpluses with the US (and elsewhere). The Chinese preferred to have the US dollars than the real goods and services they shipped to US consumers and firms in exchange for them.
Which side of the deal got the better outcome? It depends on whether you value real goods and services or bits of paper more!
The point is that the US dollars earned by the Chinese as exporters were sitting in US bank accounts and the holders of the deposits decided to convert them into interest-earning assets by buying bonds. One US-dollar bank account was reduced (as the withdrawals to pay for the bonds occurred) and another US-dollar bank account (at the Federal Reserve) was opened – the payment for the bonds.
The Federal Reserve at some point will instruct some accounts operative to transfer funds from the "Public Debt Account" to the holders private account once the bond matures and add some interest.
The main research question of a US Federal Reserve Bank research paper (published earlier in 2012) – Foreign Holdings of U.S. Treasuries and U.S. Treasury Yields – was:
Would a slowing of foreign official purchases of Treasury notes and bonds affect long-term Treasury yields?
The paper said that most of the growth in foreign holdings of US treasuries came from nations "running large current account surpluses" as I have noted above.
The question is whether a marked slowdown in these purchases would have a major impact on US Treasury Security yields. They concluded that if the foreign holdings fell by $US100 billion in a month (about a 2 per cent decline – which would be a major shift by historical standards) then the yields on 5-year bonds would rise in the long-run by "about 20 basis points".
In other words, hardly at all. I wonder if Mr Erskine Bowles has read (and understood) that paper and absorbed its findings.
The US Federal Reserve held 10.9 per cent of total US public debt in December 2011 – that is, more than China (at 7.6 per cent). The total holdings were around $US 1,274,274 million.
According to the US Treasury the total outstanding US public debt on March 26, 2012 was $US15,586,074.5 million, which means the US Federal Reserve holdings (latest data March 22, 2012 – $US1,662,477 millions) represent around 10.6 per cent of the total outstanding US public debt.
Since January 7, 2010 the US Federal Reserve has increased its public debt holdings from $US 776,591 million to $US1,662,477 million (as at March 22, 2012) a change of $US885,886 million, whereas total US public debt has risen from $US12,280,845 million to $US15,584,905.8 million – a change of $US 3,304,060.8 million).
In other words, the US central bank has accounted for 27 per cent of the rise in US public debt – the dominant source.
However, the data for 2011 is even more stark. The following Table shows the proportions of the total change in US federal government debt for the calendar years 2005 to 2011 accounted for by the main holders – Other Federal Government Agencies, Total non-government (public), which is, in turn, split between Federal Reserve holdings and other non-government.
In 2011, the increases in the US Federal Reserve's holdings accounted for 69 per cent of the total increase in US federal government debt.
There was a dramatic shift in the mix of debt holders other than Federal Government accounts in 2011.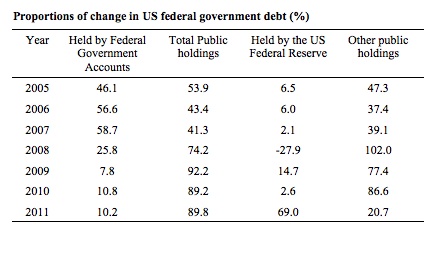 Given the change in US Federal Reserve holdings over the last year or more one might easily conclude that the US government (consolidated Treasury and central bank) is its largest lender. That is, the Government borrowing from itself!
While the US public debt ratio has risen beyond what the mainstream claim is the danger point (80 per cent) – the point where they claim governments become insolvent (Rogoff and co), the private demand for US public debt has risen. Private markets know that there is no substantive default risk involved in holding the US Treasury debt.
The other point, in relation to the rising foreign share is that you cannot conclude that the foreigners (China, Japan etc) are "funding" the US government. The US government is the only government that issues US currency so it is impossible for the Chinese to "fund" US government spending.
The rising proportion of foreign-held US public debt is a direct result of the trade patterns between the countries involved (and cross trade positions) – as explained above.
For example, China will automatically accumulate US-dollar denominated claims as a result of it running a current account surplus against the US.
These claims are held within the US banking system somewhere and can manifest as US-dollar deposits or interest-bearing bonds. The difference is really immaterial to US government spending and in an accounting sense just involves adjustments in the banking system.
The accumulation of these US-dollar denominated assets is the "reward" that the Chinese (or other foreigners) get for shipping real goods and services to the US (principally) in exchange for less real goods and services from the US. Given real living standards are based on access to real goods and services, you can work out who is on top (from a macroeconomic perspective).
Note that a worker in Detroit who is suffering from unemployment as a result of cheaper imports coming from nations with lower labour standards (pay and conditions) than the US is unlikely to agree with me. In his/her case I wouldn't agree with me either. But I am writing as a macroeconomist here without regard to equity which isn't to say that equity isn't a crucial policy aim as well.
Once we take into account that reality (rather than dumb ideology) then there is clearly nearly infinite demand for the US government debt. The US Federal Reserve has no effective limits on its holdings or purchasing capacity.
I conclude that Mr Erskine Bowles is dumb – in relation to his comments about the US economy. He might otherwise be highly educated and intelligent.
Erskine Bowles claims that the US faces "five challenges" that should be at the centre of the current Presidential election.
1. "The biggest challenge is health care". In this blog – The US should have universal public health care – I discussed the US health care system.
I noted that tens of thousands of Americans die each year because they are too poor to access health insurance? In a study by – (Harvard Medical School researchers – published by the American Journal of Public Health we learned that:
… (u)ninsured, working-age Americans have 40 percent higher death risk than privately insured counterparts" and this was "up from a 25 percent excess death rate found in 1993 … [and that] … (d)eaths associated with lack of health insurance now exceed those caused by many common killers such as kidney disease.
For in the US the "increase in the number of uninsured and an eroding medical safety net for the disadvantaged likely explain the substantial increase in the number of deaths, as the uninsured are more likely to go without needed care".
So if you are not insured you are unlikely to be able to access health care when needed. The USA is also the only advanced nation that does not provide universal health coverage.
A further problem with the US system is that it defies the health care principle that early intervention is the best strategy. It is clear in the US that uninsured people cannot get basic screening examinations and/or simple pharmaceutical remedies and they have to wait until they are near death before they get treated. At that stage the overall imposition on real resources is disproportionately higher.
All that seems to be a problem that warrants immediate attention in the form of increased funding to permit the access to basic health care for all Americans irrespective of income and wealth.
The US government should wrest the health system away from the greedy jaws of the private insurance system and the pharmaceutical industry and institute a universal publicly-funded health care system, which would redistribute real resources away from the wealth and rich towards a more equitable access.
Whether a nation can afford first-class health care depends only on the real resources that are available. The US can clearly afford that level of care for all of its citizens. There is never financial constraint on the national government (where it is sovereign) from providing that level of health care. Subject to real resource availability, the only issue then is political.
The idea that the public fiscal position has to "seek savings" to make fund future spending (on health care and other programs) is a fundamental misconception that is often rehearsed in the financial and popular media.
This misconception has been driving the so-called intergenerational debate where governments are being pressured to run surpluses to pay for the retirement of baby boomers and the growing healthcare costs for them as they age further.
Modern Monetary Theory (MMT) clearly demonstrates that public surpluses do not create a cache of money that can be spent later. Currency-issuing governments spend by crediting bank accounts. There is no revenue constraint on this act. Government cheques don't bounce!
Additionally, taxation consists of debiting a bank account. The funds debited are 'accounted for' but don't actually 'go anywhere' nor 'accumulate anywhere'.
In fact, the pursuit of budget surpluses by a sovereign government as a means of accumulating 'future public spending capacity' is not only without standing but also likely to undermine the capacity of the economy to provide the resources that may be necessary in the future to provide real goods and services of a particular composition desirable to an ageing or sick population.
By achieving and maintaining full employment via appropriate levels of net spending (deficits) the Government would be providing the best basis for growth in real goods and services in the future. In a fully employed economy, the intergenerational spending decisions on pensions and health come down to political choices sometimes constrained by real resource availability, but in no case constrained by monetary issues, either now or in the future.
All governments should aim to maintain an efficient and effective medical health system. Clearly the real health care system matters by which we mean the resources that are employed to deliver the health care services and the research that is done by universities and elsewhere to improve our future health prospects. So real facilities and real know how define the essence of an effective health care system.
Clearly maximising employment and output in each period is a necessary condition for long-term growth. It is important then to encourage high labour force participation rates and maintain job opportunities for older workers. There is a strong correlation between unemployment and health problems.
Anything that has a positive impact on the dependency ratio is desirable and the best thing for that is ensuring that there is a job available for all those who desire to work.
But this is about political choices rather than government finances.
The ability of government to provide necessary goods and services to the non-government sector, in particular, those goods that the private sector may under-provide is independent of government finance. Any attempt to link the two via erroneous concepts of fiscal policy 'discipline', will not increase per capita GDP growth in the longer term.
Mr Erskine Bowles then lists defense as the second challenge. He says that:
America cannot afford to be the world's policeman … "There is just one problem with that. We will have to borrow the money from China to do it. That is crazy"
America will continue to be able to afford – from a financial perspective – to strut around invading nations, usurping democracies, torturing innocent people, and making the world an increasingly unsafe place to travel within.
I wish the most martial nation in the World would see the folly of this and reduce the size of its military forces and stop behaving like this. But the macroeconomist in me knows that if they cut military spending then they would have to redirect that spending elsewhere under current conditions (non-government spending levels) or else there would be a recession.
Mr Erskine Bowles thinks the US tax code is the most stupid that could be conceived. I won't comment on that today due to a shortage of time. But the problem is that Mr Bowles erroneously thinks that taxes fund government spending. Once you fall into that "dumbness" then all sorts of erroneous conclusions follow – however intelligent they are when considered relative to their own (flawed) logic.
Please read my blog – Taxpayers do not fund anything – for more discussion on this point.
His fourth challenge is social security. As above. He is dumb.
Finally, we get technical and Mr Erskine Bowles thinks that "compounding interest" is the fifth challenge. Some adviser went wild with a spreadsheet and used the in-built compounding function to generate some large numbers corresponding to future outlays on public debt interest payments.
From which Mr Bowles dumbly concludes:
That's $1 trillion we can't spend on infrastructure. That's $1 trillion we can't spend on education …
To which I reply: how so? Will the interest payments cause all the real resources (cement, steel, trucks etc) that would have been deployed to make the public infrastructure to vanish?
Will there be no teachers or class rooms available or will there be no building materials to build more schools etc?
And if the answer to those questions is yes, then all you can conclude is that the US has run out of real resources. That will have nothing to do with the central bank crediting some bank accounts for interest payments that the US Treasury is liable for.
Conclusion
Once you understand the difference between nominal government outlays for a government with no effective financial constraints and the availability and deployment of real resources then you will agree with me that Mr Erskine Bowles is dumb when it comes to matters economics, no matter how bright he is in other areas.
It might be that the US electorate will only vote for future governments that refuse to invest in public infrastructure or education. The Republicans are certainly seeking a mandate on that sort of myopic platform.
But that political choice will not reflect any fundamental financial constraints faced by the US government.
A smart commentator would note that and argue his/her case for a reduction in social security, defense spending and the rest of it on other grounds.
But then what other grounds would they have? That would give their true agenda away and their connivance would be transparent.
Some one told me I can get some spare tickets to see Billy Bragg perform his Woody Guthrie Tribute in London tonight. So that is where we are headed. Fingers crossed!
That is enough for today!
(c) Copyright 2012 Bill Mitchell. All Rights Reserved.