The US is living below its "means"
<![CDATA[The US press was awash with claims over the weekend that the US was "living beyond" its "means" and that "will not be viable for a whole lot longer". One senior US central banker claimed that the way to resolve the sluggish growth was to increase interest rates to ensure people would save. Funny, the same person also wants fiscal policy to contract. Another fiscal contraction expansion zealot. Pity it only kills growth. Another commentator - chose, lazily - to be the mouthpiece for the conservative lobby and wrote a book review that focused on the scary and exploding public debt levels. Apparently, this public debt tells us that the US is living beyond its means. Well, when I look at the data I see around 16 per cent of available labour idle in the US and capacity utilisation rates that are still very low. That tells me that there is a lot of "means" available to be called into production to generate incomes and prosperity. A national government doesn't really have any "means". It needs to spend to get hold off the means (production resources). Given the idle labour and low capacity utilisation rates the government in the US is clearly not spending enough. The US is currently living well below its means. But the US government can always buy any "means" that are available for sale in US dollars and if there is insufficient demand for these resources emanating from the non-government sector then the US government can bring those idle "means" into productive use any time it chooses. Spending equals income. Someone has to spend for incomes to exist. For incomes to grow there has to be growth in spending. There are three sources of spending growth in a macroeconomy – the external sector (if net exports are positive); the private domestic sector; and the government sector (if the budget is in deficit). That is indisputable. Economic growth is defined in terms of production and production only occurs if there are goods and services being purchased. Firms do not produce to hold inventory. Firms may invest in response to their guesses about future sales. These guesses will be heavily influenced by current consumer actions. So when you get commentators and high-level monetary officials arguing that growth comes from not spending you have to ask why anyone would listen to their views and why they are paid to express them. I don't mind bloggers who do it for free saying what they like but when highly-paid and highly-visible express views that are not grounded in any economic theory that is comprehensible but nonetheless seek to influence the policy debate then I get angry. First up today is the Bloomberg report (May 29, 2011) – Hoenig Seeks Higher U.S. Interest Rates to Boost Saving, Avoid New Bubbles – which suggests that in the wake of a very subdued recovery accompanying very little credit growth to speak off and persistently high unemployment, monetary policy should tighten. Why? To encourage personal saving (that is, anti-spending). The boss of the Federal Reserve Bank of Kansas City Thomas Hoenig told CNN that:
… the U.S. needs to raise interest rates to encourage individuals to save and avoid future asset bubbles.
In the same interview he said:
If we want to be a great nation, continue to be a great nation, then we do have to address our fiscal challenges …
Which when you put the two statements together (even without examining the logic) tells us he wants the US economy to go back into recession. He thinks that US monetary policy is too "slack" and that there is a "very easy credit environment" which "encourages consumers to spend at a time when the U.S. needs higher savings rates to ensure long-term prosperity". The
US Bureau of Economic Analysis
report that in April 2011 the personal saving as a percent of disposable income was 4.9 per cent and this is up on the low points prior to the crisis (it reached 0.8 per cent in 2005). Demand for credit is low as is growth in consumer spending and private investment. Net exports are also draining economic growth. It is clear that if you also cut public net spending ("address our fiscal challenges") and "encourage" private saving (with private investment growth stalled) then you will see production decline and unemployment will rise. Further, US households are still carrying large debt burdens (see analysis next) and are being cautious at present although the severe and entrenched unemployment is not conducive to strong credit growth anyway. The following graph is taken from data provided by the
US Federal Reserve
and shows its Financial Obligations Ratio (FOR) (quarterly from March 1980 to December 2010). The US Federal Reserve describe the FOR as an "estimate of the ratio of debt payments to disposable personal income" where "Debt payments consist of the estimated required payments on outstanding mortgage and consumer debt" plus "automobile lease payments, rental payments on tenant-occupied property, homeowners' insurance, and property tax payments". It is their most comprehensive measure of the burden of personal debt in the US. As household saving has increased a little since it hit rock bottom just before the crisis the FOR has fallen. The lower interest rate environment is also helping.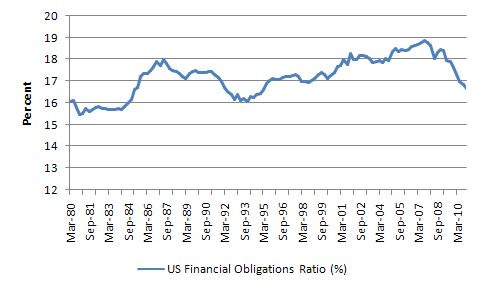 But the point that is lost in Hoenig's call is that the fastest way for households overall to save is to grow the economy. Household saving is a positive function of national income which means that the stronger is the growth in income the stronger (other things equal) the growth in saving. Like all these ratios that are income sensitive (saving ratio, budget deficit to GDP, public debt ratio) the way to reduce them is to push growth. Trying to engineer an increase in personal saving at this time while also reducing the budget deficit is the best way to reduce the saving ratio. The other point is that with net exports draining demand (and growth) in the US, the modest rise in the personal saving ratio since the crisis (which is allowing some highly exposed households to reduce their balance sheet risk – that is, pay down debts) was only possible because the budget deficit rose. The budget deficit has been supporting demand (spending) and hence growth in the US economy. You cannot have overall saving in the private domestic sector and an external deficit and economic growth without a rising budget deficit. That is not a personal opinion but rather a fact that comes from understanding the way in which the macroeconomy works and the relationships between the three spending sectors noted above. The glaring issue that is facing the US economy at present can be summarised by this graph which shows the
Industrial Production and Capacity Utilization – G.17
series available from the US Federal Reserve (monthly data from January 1970 to April 2011). The utilisation rates – which tells you how intensively productive capacity is being used – fell to its lowest level in more than 40 years during the crisis. It is still hovering at relatively low levels and there is plenty of productive slack available. This graph tells us why there is high and entrenched unemployment in the US for the first time in decades. Long-term unemployment is now a US problem whereas in previous recessions the US has rebounded more quickly.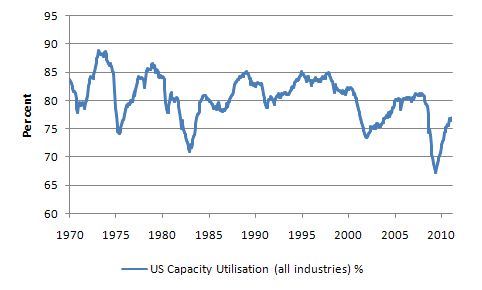 This is the issue that should be "front and centre"! If the US government followed Hoenig's line, growth would collapse, personal saving would fall overall (as unemployment and lost income rose) and the budget deficit would rise (as the automatic stabilisers drove increased spending with falling revenue). It is a good thing that he is retiring this year from his central bank position. He will probably turn up at the Peter G. Peterson foundation. Which brings me to the second abomination of the weekend. Saturday's New York Times (May 28, 2011) carried an article –
U.S. Has Binged. Soon It'll Be Time to Pay the Tab
– by one Gretchen Morgenson, who appears to have started life as a women's fashion writer and now proclaims to know something about macroeconomics. The NYT could have saved the ink and paper. Her article is really an advertisement for a book written by some characters from the
Peterson Institute for International Economics
Question: How many PGP institutes/foundations are there? If anyone has done some analysis of the variety of propaganda machines that enjoy his financial support I would be interested in the list. I loved the preface in the Peterson "book" (link later) which claimed that:
The Institute undertook this project at the request of the Peter G. Peterson Foundatino, which is a completely separate entity. The Foundation focuses much of its attention on the fiscal prospects and problems of the United States, and it asked the Institute to imbed those national issues in the global context to assess how that broader perspective might affect the outlook and especially the need for early policy action by the United States.
Left toe to right toe, wiggle! Okay! Gretchen Morgenson says that:
… at least people are talking openly about our nation's growing debt load. This $14.3 trillion issue is front and center – exactly where it should be.
Milton Friedman once said that if the US government stopped publishing Balance of Payments data then the issue would go away. Same goes for the public debt data. Who would know or care about it if there wasn't a relentless stream of "debt clocks" (which I prefer to call private wealth accumulation clocks) based on official debt data? Answer: no-one? Why? Because the public debt and its relation to GDP is largely an irrelevant statistic the doesn't tell us much of interest. But Gretchen Morgenson thinks otherwise and decides to promote the Peterson book –
The Global Outlook for Government Debt over the Next 25 Years: Implications for the Economy and Public Policy
. It is in fact a very short book – 94 pages and only 49 of those are text. Gretchen Morgenson calls it a "thoughtful new paper". It could have been about one paragraph or perhaps one sentence "government debt is about to explode, we hate it, we want government spending cut unless it benefits the elites". The End. The "institute" has the audacity to be charging $U10.95 for it although it has recently been discounted to $US8.76. But you can download what they claim is the
preview version
for free – which is one of those times when a zero price is excessive. She quotes from the book:
That government debt will grow to dangerous and unsustainable levels in most advanced and many emerging economies over the next 25 years – if there are no changes in current tax rates or government benefit programs in retirement and health care – is virtually beyond dispute.
That quote is from the preface. Unfortunately I read on! The "book" acknowledges that "in the major advanced economies, investors have bought up the new debt avidly, keeping the rates of interest on government bonds near 50-year lows", yet Gretchen Morgenson claims that markets need to be reassured by a program of fiscal retrenchment being announced although not necessarily implemented immediately. Markets are buying what debt is issued and queing up for it. They would scramble over each other to get it if the bond tenders were thrown out on "sale table" like sale items in shops are at different times of the year. The markets are scared argument carries no weight. The "book" notes that "investors have been much less keen to buy the rising debts of some peripheral members of the euro area" which is clearly true and tells us that bond markets can tell the difference between a monetary system where the national government (and bond issuer) carries no solvency risk (for example, the US) and a monetary system like the Euro, where the national governments are effectively issuing debt in a foreign currency and can easily default on financial grounds. That is obvious and tells us two things: (a) those government that face no solvency risk are providing the private sector with a risk-free haven to store their saving (the bonds) while at the same time guaranteeing the private bond investors a safe income for the time over which they hold the bonds; and (b) the national governments in the Eurozone should exit and restore their currency sovereignty and not be held to ransom by private bond markets. In any case, the issuance of government bonds for a sovereign nation (that is, a government that issues its own currency and floats it on foreign exchange markets) is entirely voluntary and should only be the result of a thorough analysis as to whether providing corporate-style welfare (selling risk free income streams to the wealthy) is advancing public purpose. My view is that it does not advance broad concepts of social welfare and should be discontinued. Please read my blogs –
Deficit spending 101 – Part 1
–
Deficit spending 101 – Part 2
–
Deficit spending 101 – Part 3
– for more discussion on this point. Gretchen Morgenson quotes the author of "book" who claims the "simultaneous buildup of very large public deficits and debt positions in virtually all of the advanced high-income countries":
… is a new element at work in the global economy … It is unique in peacetime for so many countries to have so much debt …
Whether this is "peacetime" is questionable (given the "war on terror and everything else") but it is also the first time in 80 years that private spending has collapsed so comprehensively across the globe and the entrenched nature of this collapse is being ensured by the excessively moderate fiscal support that governments are providing their ailing economies. If governments around the world had have quickly ensured aggregate demand was maintained the decline would have been much shallower and shorter and the public debt ratios would have not been nearly as high as they are now – not that the rise in the debt ratios
per se
is where we should be focusing our attention. As a matter of fact, I did a string search on the "book" for the word "unemployment". Frequency: 0. Conclusion: the "book" focuses on a non-issue as does Gretchen Morgenson. She quotes the authors who claim that the fiscal austerity programs in Europe are reducing the severity of the long-run debt issue there relative to the US which is dragging its chain on cutting "long-run pensions" and other "spending cuts and tax increases". This is presented to her readers without any scrutiny at all. There is no mention that budget deficits are actually rising in Europe in the worst hit countries as they slash welfare and worker entitlements because they are also undermining growth and losing revenue. Britain is now following suit. The conservatives would see the same path being followed in the US. They are in denial of the reality that you spend your way to growth. Fiscal contraction expansion is a nasty ideological lie. They should stop perpetuating it. Journalists like Gretchen Morgenson who clearly do not understand monetary economics and macroeconomics in general should stop acting as their mouthpieces. She finishes the article with the standard beat up of the US health system. She asks us to "sit down" because the numbers are so bad. My view is that more Americans should stand up, put some running shoes on or get on a bike and lose some weight and lower the
real
burden on the health system in that way. There is no question that the US government can "afford" to maintain a first-class health care system. Gretchen Morgenson fails to understand what a "cost" is. She says:
Under a best-case outlook, according to the authors, the nation's net federal debt will rise to 155 percent of gross domestic product in 2035, more than double the current levels. (Net debt is defined as the government's financial liabilities minus its financial assets.)
At which point I yawned. So what? That is a lot of private wealth being stored in a risk free asset with a guaranteed income flow that has been voluntarily purchased by non-government wealth holders. Oh to be so fortunate! What the hell does she think will happen? Quoting a staggering array of ratios and numbers (which she does) means nothing – other than mislead the misinformed (which includes herself). What does she think will happen? Silence. Why is a rising debt ratio a problem? Silence. She finishes with what she calls "straight talk on a vital topic" by quoting the Peterson rag:
There may never be a single defining moment of crisis … but rather a drift into ever-higher inflation and interest rates, ever-lower growth or deeper recession, and eventually hyperinflation along with rapid currency depreciation. Most economists would view such a prospect as a progressive strangulation of a nation's well-being.
As usual, the standard neo-liberal scare scenarios: Higher interest rates – please read my blog –
Will we really pay higher interest rates?
– for more discussion on this point. Higher taxes – please read my blog –
Will we really pay higher taxes?
– for more discussion on this point. Hyperinflation – please read my blogs –
Modern monetary theory and inflation – Part 1
and
Modern monetary theory and inflation – Part 2
and
Zimbabwe for hyperventilators 101
– for more discussion on this point. Rapid currency depreciation – please read my blog –
Modern monetary theory in an open economy
– for more discussion on this point. Unsustainable fiscal position – please read my blogs –
Fiscal sustainability 101 – Part 1
–
Fiscal sustainability 101 – Part 2
–
Fiscal sustainability 101 – Part 3
– for more discussion on this point. Deeper recession – please read my blogs –
Fiscal austerity – the newest fallacy of composition
and
Back to basics – aggregate demand drives output
and
Beyond austerity
– for more discussion on this point. Deficits are bad – please read my blog –
The full employment budget deficit condition
– for more discussion on this point.
Conclusion
Gretchen Morgenson claims that she hopes the US leaders "understand that living beyond our means will not be viable for a whole lot longer". Well she should learn what these "means" are. With around 16 per cent of available labour idle in the US and capacity utilisation rates still very low there is a lot of "means" available to be called into production to generate incomes and prosperity. A national government doesn't really have any "means". It needs to spend to get hold off the means (production resources). Given the idle labour and low capacity utilisation rates the government in the US is clearly not spending enough. The US is currently living well below its means. But the US government can always buy any "means" that are available for sale in US dollars and if there is insufficient demand for these resources emanating from the non-government sector then the US government can bring those idle "means" into productive use any time it chooses. The national level of unemployment is largely a matter of choice of the national government. That is enough for today! ]]>