What is it really all about?
I trawl the financial and economics news from all and sundry, write and think economics all day most days, get embroiled in the technical and political arguments about monetary systems and labour market dynamics, and ideological battles and all this energy is constructed and conducted at the "level of the debate". But the debate at that level is largely irrelevant and we get sidetracked by it. So can sovereign governments do this or that? But my interest in unemployment and inequality started when I was young and was particularly honed during my student days in the late 1970s in Melbourne when I realised that governments were deliberately imposing joblessness on my fellow citizens by retreating under pressure applied by the ideological attacks of the emerging neo-liberals. I realised then that underneath all this monetary talk are people who suffer and get left behind. And so we have to keep reminding ourselves – what the hell is all this really about?

This graphic is a capture of part of the front business page of the UK Times today (May 25, 2010). It sort of got me rolling very early today. I thought Who is in charge in these countries?. Since when does an unelected and unaccountable institution based in Washington D.C., which regularly makes errors of such a magnitude that people die from the poverty that result, have any right to order nations around that have open elections?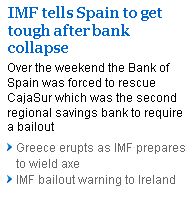 Well the answer is that: (a) financial matters now take priority over everything; and (b) these nations are vulnerable on those grounds because their politicians took them on a fraught journey into an economic and monetary system that would always deliver hardship the first time a serious negative aggregate demand shock hit that system. It was obvious from day 1 when the Maastricht Treaty was signed and then the Lisbon rules were consolidated that this would be the case.
They were living a fool's dream to think that the short-term prosperity – is a debt-fuelled vulnerable asset boom prosperity? – would survive the next negative spending shock. It was obvious that the cycle would turn and that the nonsensical deregulation of banking and German-rated access to credit for the weaker economies would only create conditions that amplify the in-built design faults in the monetary system once things turned south.
What was going on? The answer is that we have completely lost our vision of what an economy should be about. That question should be the starting point of the debate rather than fudging along about whether the German ban on short selling was sensible or not.
But the fact that the IMF now struts centre stage again with its bailout cash (which comes from the governments anyway) and its "axe" – when its modelling and policy stances leading up to the crisis contributed to the meltdown in the first place – exemplifies the skewed nature of our priorities. Institutions like the IMF should be low profile and supportive of human accomplishment and security. A person is never made more secure by deliberately and unnecessarily making them insecure.
The IMF and the EMU and all governments who embrace austerity when they have more than enough capacity to deal with all the present economic problems that are bringing down employment are deliberately and unnecessarily making the citizens of the world insecure and pushing them towards poverty. They are thus all terrorists.
Deficit terrorism
In this 1991 article, Noam Chomsky writes about terrorism. He quotes the official United States Code which says an:
… act of terrorism" means an activity that — (A) involves a violent act or an act dangerous to human life that is a violation of the criminal laws of the United States or any State, or that would be a criminal violation if committed within the jurisdiction of the United States or of any State; and (B) appears to be intended (i) to intimidate or coerce a civilian population; (ii) to influence the policy of a government by intimidation or coercion; or (iii) to affect the conduct of a government by assassination or kidnapping.
While the intentions of the deficit terrorists fit the outcomes – "intimidate or coerce a civilian population"; "influence government by intimidation or coercion" – you might argue that they do not "violate criminal laws".
But my take on it is this. The current institutional structure that mediates the relationship between the government and the non-government sectors and which, necessarily involves laws, rules and regulations about the conduct of the central bank and treasury and the way public spending and taxation is executed, and the way public debt is issued has been constructed in such a way that governments are forced (coerced) into intimidating their populations via economic threats.
In a capitalist society, where most of us have to work to make a material living, these economic threats impinge on our right to work. The neo-liberals deliberately undermine the right to work of millions and force them into a state of welfare dependence and then start hacking into the welfare system to deny them the pittance that that system delivers.
Do they want people to starve? What is this really all about?
I recall a story when I was a postgraduate student and tutor at Monash University in my hometown of Melbourne. It was the late 1970s and early 1980s and unemployment in Australia was very high after the fiscal retrenchment that followed the OPEC oil price hikes. These stupid governments attacked a supply-side price hike with a demand-side contraction and claimed it was sensible policy.
I know I have promised a dedicated blog to that era (the so-called stagflation era) and it will come in time. But hey, we have Europe on the brink of collapse and Financial Crisis Mark II – 2010 edition emerging and that needs analysis.
Anyway, we were sitting in the tea-room one day and one of the more obnoxious Monetarists (he was a senior staff member – highly paid and tenured and hadn't published much at all in his "long" career – those were the days!) was waxing lyrical about market-based solutions to the unemployment crisis out in the real world.
His solution? He seriously explained how the unemployed could start gardening supply businesses. How? Well he got his idea from a visit to the municipal tip (garbage dump) at the previous weekend and noticed there were lots of prams abandoned. He mused that the unemployed could go to the tip and scrounge up some bits of wood, get a pram chassis with wheels and bolt the parts all together.
To do what? Well they could then get up early each morning and follow the milkman and his horse and cart (milko's were male in those days!) around the streets and pick up the shit that the milko's horses dropped and then package it and sell it as fertiliser.
Problem? Well he said the problem was that the unemployed were too lazy to get up that early to exercise entrepreneurship. He was dead serious.
I sat there bemused (you couldn't get angry with this level of ignorance) and at that point said to the assembled group of staff.
Sorry, mate, milkos all use motorised vans these days. The horse and cart were replaced a few decades ago.
Response: Mitchell again! Always opposing market forces.
This character and others held centre-stage every morning tea-time and was typically surrounded by wannabee postgraduate student/tutors who were taking in all the neo-liberal/monetarist crap that the senior staff would serve up. They, of-course, then grow up, get academic gigs themselves, and perpetuate the insult to humanity.
Some, like myself, in a minority of about one, get through the system in a number of ways and take contrarian positions. My advice here to all those students around the world who I now know read my blog daily (including the groups at Harvard, Stanford and LSE) is that the mainstream stuff is so banal that you can learn it in a short-time and all the mindless academic staff are expecting is regurgitation to prove that you are fit to join them sometime to continue the game. But it leaves you with plenty of time to learn other things and develop broader skills of analysis.
Anyway, a digression.
So we first build this voluntary institutional structure that imposes "fiscal discipline" which really means it prevents the governments from actually doing what we elect them to do – that is, improve our welfare. We want them to manipulate the complex economy which mixes public and private spaces to make us all better off.
We want everyone in our community to gain access to the distribution system so that if they can work they can find a job and if they cannot they won't feel under constant attack of having their pension entitlements taken off them or privatised.
We want to have first-class health care for when we need it – accessible to all.
We want a symbiosis established between the social, economic and natural spaces so that we sustain our prosperity.
So why would we create a set of institutions that by design undermine these genuine aspirations?
Think about what is happening in Europe at present. Cuts backs to child care, education, health, pension entitlements, wages – all the things that really matter to people and provide the support structure to pursue human enrichment. Are any public pensions going to be safe in Europe at the moment?
The question we have ask is whether the cut backs are necessary? How do we answer that? Well the neo-liberal bean counters answer it using their mindless pavlovian response functions to a couple of relatively meaningless financial ratios.
In the case of the EMU nations, these ratios are given meaning by the rules and structure the EMU bosses have imposed on the citizenry. So if you strip the national government of its capacity to spend freely to respond to private spending collapses and impose thresholds that have to be maintained then, of-course, a deficit or debt-ratio that breaks the threshold becomes a "problem".
I realise that governments do break the Stability and Growth Pact thresholds and that France and Germany were the first some years ago to do so. But the signal that sends to the bond markets is the important point.
But the real way to answer the question about whether the cutbacks are necessary is to ask whether there are idle real resources that can be deployed to advance output and income. If there are then fiscal expansion is required. Cut backs just worsen the situation.
So the question must be contextualised by a debate about what really matters.
Summers says unemployment is the problem
This was done, in part, by Larry Summers, who gave a talk yesterday (May 24, 2010) at Johns Hopkins School of Advanced International Studies – Reflections on Fiscal Policy and Economic Strategy. Here is a shot of the audience and I guess the guy in the cowl was worried he might here some more deficit terrorism (Source).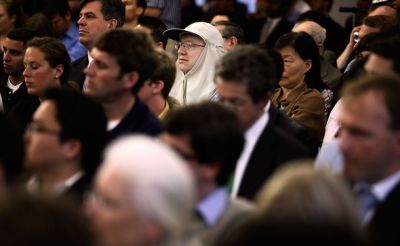 But this is what Summers actually said (in part):
Yet the observation that the economy is again ascending does not mean that we are out of a very deep valley.

Far from it when we are nearly 8 million jobs short of normal employment and about $1 trillion – or $10,000 per family – short of the economy's potential output and income and when recent events in Europe have introduced uncertainty into the prospects for global growth.

Shortfalls in output and employment stunt the economy's future potential as investment projects are put off and as the skills and work habits of the unemployed atrophy.

This last point is especially important when for the first time since the Second World War the typical unemployed worker has already been out of work for more than six months.

And behind these statistics lie millions of stories of Americans who have seen the basic foundations of their economic security erode. Beyond the economic projections and equations we economists make lie the struggles of communities devastated by the impact of this recession.

Whatever the judgments of groups of economists about the official parameters of the recession and the growing signs of recovery, for millions of Americans the economic emergency grinds on.

The challenge we must thus confront is the imperative both to do everything in our power to accelerate the momentum behind recovery so that it addresses the imperative of job creation and also addressing the challenge to growth and prosperity of budget deficits in the medium to long term that cannot be ignored.
So these are the real values that should guide economic policy. Not the sham emphasis on financial ratios that just play into the hands of the financial sector and give the amorphous bond markets the imprimatur over government policy followed closely by the IMF when the bond markets get sick of pulling power trips.
The point that Summers didn't follow up on is what are they going to do about it. It is very simple really. Unemployment is about a lack of jobs. If the private sector will not create enough jobs then there is only one sector left in town that can. Hellooooo! Its called the government sector.
They can do it directly (that is, hire the workers themselves and put them to work advancing public purpose – rebuilding community and environmental infrastructure; providing personal care services; etc). There is never a shortage of work – just a shortage of funding to pay the wages.
They can also do it indirectly by stimulating the private sector via tax cuts or targeted spending. Both approaches have advantages and disadvantages but the net effects are always overwhelmingly positive.
They also seek to undermine democracy
This article – The making of a better budget – which was in a right-wing Australian media outlet yesterday (May 24, 2010) also exemplifies the theme of today's blog.
The author writes that:
In a potentially important development, which could presage future change locally, the UK government has transferred power over the setting of its budget forecasts to a new 'Office for Budget Responsibility' (OBR).
There has been talk of this in Australia.
Apparently:
In addition to independently supplying the economic projections on which any future budget would have to be based, the OBR will have a mandate to critically appraise the probability that the government will actually meet its own fiscal objectives (eg, cutting the deficit), which would be a useful innovation for all constituents.
While this sort of independent and unelected fiscal watchdog is already in place in the US and elsewhere the devil is in the detail. What power will this body have? If its staff is comprised of mainstream macroeconomists (surely) and it defines the fiscal objectives as above – "cutting the deficit" – then it will be another institutionalised dead weight on the ability of government policy to advance public purpose.
Apparently, it will have the "final say on budget forecasts". That is, the Chancellor (the elected representative of the people) will be subservient to this body.
The point is why is "cutting the deficit" the policy objective? Why not ask what fiscal policy is really for? Answer: to improve economic functioning so that full employment and other socially useful goals can be met. Why is it a policy objective to cut a deficit when your economy has high and rising unemployment?
The reason: loss of priorities. What is this really all about?
The problem with institutionalising a bevy of unelected and unaccountable organisations is that it adds weight to the public debate when they issue reports etc. The policy debate will be influenced if the OBR proposes one direction or another. Essentially, government then becomes intimidated by the institutions that they themselves have set up.
Democracy then suffers. Why? Well the author of the article tells us that:
Back in Britain we are now seeing the last remaining weapon in the economic arsenal – fiscal policy – being slowly fire-walled from the pork-barrelling machinations of politicians.
Don't you just love the terminology. I say democracy he says "pork-barrelling machinations of politicians". Don't get me wrong. Politicians are a pretty moronic lot and do dangle carrots in front of marginal electorates. But that is the game we play.
The author then says there "is no reason why the Rudd government should not follow suit":
The prospect of an OBR-like-constraint on fiscal policy could be a powerful election idea that would be well received by a skittish electorate that is increasingly focussing on economic credibility.
Can you believe this rubbish?
The so-called skittish electorate gets bombarded by News Limited press and commentators like this into believing that budget deficits are bad and surpluses are good. The reasoning provided is always partial and never correct in analytical terms. The logic presented – or should I say rammed down our throats – is a mish-mash of inapplicable convertible currency ideas and erroneous household-government analogies all topped lavishly with the ideological dislike for government intervention.
How have we got to the point where an anti-democratic proposal is a "powerful election idea" in a so-called functioning democracy? What is this really all about?
As an aside, a reader sent me this link to a Youtube video of the US congress where a Democrat representative from Florida has introduced the War is Making You Poor' Act. The bill "would eliminate the separate funding for the occupations of Iraq and Afghanistan, and eliminate federal income taxes for everyone's first $35,000 of income (or $70,000 for couples) each year. And it would help pay down our national debt".
While his macroeconomics is fundamentally flawed the sentiment is heading in the right direction. Advancing public purpose (reducing poverty) by putting increased spending capacity into the hands of the least well-off income earners.
The other point is that they could just abandon most of the military spending (his talk says that the US spends around 50 per cent of the total military spending in the entire world; NATO is next and China after that but small proportions of the total relative to the US) and introduce a Job Guarantee with a realistic minimum wage (not the pittance that the US currently offers at the bottom).
But it gets worse … those profligate governments will now repress the banks
And finally to complete the chain came the piece in the Financial Times by Martin Wolf (May 24, 2010) entitled – How likely is financial repression?.
This really relates to my theme today. This is the next neo-liberal terrorist campaign.
Financial repression is another one of those constructs that exists only because governments do not understand how the monetary system operates and are egged on by pressure groups that also share this ignorance or want to exploit the ignorance of others to advance their own ideological aims.
It arises because sovereign governments are obsessed with those meaningless financial ratios and start running scared when they rise.
What follows is as unnecessary as what went before it – by which I mean the linking of budget deficits to public debt issuance such that governments voluntarily constrain themselves to matching their net spending $-for-$ with debt issuance. As we know there is no need for a sovereign government that is not revenue-constrained to do that. This is a hangover from the gold standard and later convertible currency era that ended in 1971.
It has been perpetuated post-1971 because it serves the purposes of the top-end-of-town to keep unemployment relatively high and a hungry bottom quintile of workers who will resist unionisation and will work for nothing just to feed their families.
So first a major spending collapse occurs – it could be sourced in the financial sector which the current crisis was but it also could origination in the real sector by a investment collapse. Budget deficits rise even if the government doesn't pursue any discretionary fiscal initiatives because the automatic stabilisers go to work to dampen the downturn.
Public debt ratios also rise because of the voluntarily imposed link between the deficits and the debt. The neo-liberals then start ringing the alarm bells. In Australia the conservatives actually have a debt truck which drives around the nation with a huge billboard on the back advertising how much public debt is outstanding. All I see when it goes by is a statement of the cumulative wealth held in the form of public debt by the non-government sector. That is, when they get the numbers correct. I think they are currently more than $A100 billion out. This lot is prone to exaggeration.
So we get what the media beats up as a "sovereign debt crisis" and austerity is all the talk. Nobody bothers to look out the window and see how many families are suffering or children growing up in jobless households and learning the culture of disadvantage so that as adults they perpetuate it.
No, ratio fever drives the public debate.
At this point, Wolf says in his FT piece "then comes financial repression". He got the idea talking to Carmen Reinhart (Rogoff's offsider) and Wolf calls their "This Time is Different" book a "masterly study". My assessment of the book is that it is not even good enough to be put out on the remainders' stand.
But the idea of financial repression goes back to the 1970s (McKinnon, R.I. (1973) Money and Capital in Economic Development, Washington, DC: Brookings Institution and Shaw, E. 1973) Financial Deepening in Economic Development, New York: Oxford
University Press – are the definitive texts).
So what is it? Financial repression is the idea that governments use various regulations, laws, and other rules and procedures (all non-market) to constrain the financial system from functioning freely. So things like increasing reserve requirements, interest rate ceilings, capital controls, rules on free entry to banking, credit ceiling restrictions, and public ownership of banks etc are all considered to be acts of financial repression.
So you get the drift. Repression invokes harshness – it is bad to be repressed. What is a non-repressed state? Free market allocation. Let the banks do what they like is the best strategy according to this paradigm.
Thus the government should be hog-tied with all these voluntary constraints and fiscal rules to stop it advancing public purpose but when the economy melts down and the "ratios" rise then you have to bolt it down harder while allowing the banks to do what they want – which includes acting incompetently and dishonestly and instigating the crisis in the first place.
Wolf claims that Reinhart predicts the response to the alleged "sovereign debt" crisis will be increased financial repression. He says:
Her argument is very plausible … What do governments do when it becomes expensive to borrow? They promise to mend their ways, of course. But, by now, it is often too late: nobody believes them. So they tell the central bank to buy their bonds, which starts a run on the currency. Pegged exchange rates collapse and floating exchange rates fall. Inflation becomes an imminent threat.

At this point, desperate governments look for ways to force institutions to hold their bonds, willy nilly. This is the point at which financial repression begins: banks are forced to hold government bonds, for "liquidity"; pension funds are forced to hold government bonds, for "safety"; interest rate ceilings are imposed on private lending; to prevent "usury"; and, if all else fails, exchange controls are imposed, to ensure nobody can easily escape from such regulations.
And if they do behave in this way then it is because of the dysfunctional system they have all voluntarily signed up to in the first place – the neo-liberal straitjacket.
If we abandoned this neo-liberal institutional structure then there would be no systematic fiscal crises; there would be no sovereign debt crises; and there would be no need for financial repression. All these pathologies are to be traced back by the nonsensical system of voluntary constraints that governments impose on themselves.
It is possible (and in some cases likely) that governments will mess things up from time to time. Overspend, underspend or whatever. But if we actually invested resources in making the ballot box an effective voice then these governments will not last long. The investment I am thinking about is advancing first-class public education which might help disabuse the future populations of the nonsensical propositions that the deficit terrorists parade out every day.
Then … some introspection
And while I am being introspective at present, this is my quote for today from the text of the Confessions of Augustine: Chapter 4.7.12 translated from Latin:
Where was my heart to flee for refuge from my heart. Whither was I to fly, where I would not follow? In what place should I not be prey to myself?
I am thinking about the sort of personal struggle that Augustine talks about in this part of his Confessions at the moment.
That is enough for today!