The sick Celtic Tiger getting sicker
All the recent Eurozone attention has been focused on Greece because they are the first EMU nation that the bond markets took an exception too although the other, immediately vulnerable southern nations are starting to feel the pinge. Meanwhile, Ireland, which along with the Baltic non-Euro states, were the first nations to implement harsh austerity programs (tax increases, public spending cuts), has stayed under the radar. The line I read often is that the Irish are more easy-going than the Latins and will accept the harshness with a smile. I wonder about that. But Ireland might soon be back on the main screen because despite all the IMF and EU predictions about the adjustment path that would accompany the austerity (things would get better relatively quickly), things have become worse. Just as Modern Monetary Theory (MMT) would predict. And when you analyse the data in more detail, they are looking a lot worse than Greece. This also just exposes that the problem is the deficit and debt ratios but the fundamental design of the Euro system and the fiscal rules it forces onto member states.

In early 2009, Ireland introduced its harsh austerity program. The Prime Minister said at the time that a primary consideration was that Ireland had to address the crisis "in a way which would be seen to be credible by international markets".
In April 2009, the Irish government forecasted "a decline in Gross Domestic Product (GDP) of 7.7pc this year …[2009] … , and a contraction of 2.9pc next year before returning to growth of 2.7pc in 2011. It had originally projected GDP to shrink by 6.75pc this year" (Source)
The finance minister was quoted at the time as saying (Source):
If we fail, refuse or neglect to address this structural problem, we will condemn our generation and the next to the folly of excessive borrowing.
He was also quoted as saying that "without the measures, the public sector deficit would have stood at 12.75pc of GDP but is now projected to be 10.75pc of GDP both this year and next" and "adhere to eurozone rules on deficits by 2013".
I read this article in the Irish Examiner (May 24, 2010) today – Cowen: We could have ended up like Greece and I wondered WTF!
The Irish Prime Minister Brian Cowen addressed the European Union Parliament and said that:
… the Government has been pursuing since July 2008 has been vindicated by recent events in Greece … Ireland has established "a degree of credibility" with budget measures that have already been taken … [had they taken the budget proposals of the opposition – less severe cuts] … we would be in a very severe crisis relying on supports that would effectively remove our economic sovereignty …
This statement should also be read in the context that Ireland is being asked to contribute Euros to fund the Greek bailout and in per capita terms their contribution will exceed that of Germany.
One of the problems is that the IMF and the EU consistently get their forecasts wrong and underestimate the extent of the recession. The following graph comes from the IMF World Economic Outlook for 2009. It shows the IMF forecasts for annual real GDP growth for Ireland (so 2009 and 2010 are estimated) (grey bars) and the actual national accounts results for 2009 (with 2010 being the most recent Eurostat forecast). So the later forecast is conditioned by the higher actual figure in 2009 (compared to the IMF forecast).
These forecasts also feed into their estimates of budget deficits (because they provide input into how significant the automatic stabilisers are going to be). In turn, the austerity packages are designed. So you can see how wrong the IMF was in early 2009 just as the Irish government was put their austerity policies into actions.
There are two ways of thinking about this – both of which might be applicable here. The recession was either much deeper than the IMF thought it would be (probably correct) and/or the austerity measures compounded the already depressed economy (certainly).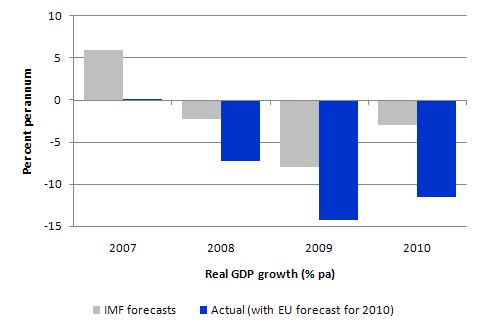 In that context, I thought this New York Times (May 20, 2010) article about Ireland – Irish Miracle – or Mirage? – was interesting. It was written by Peter Boone and Simon Johnson. I do not usually agree with their view of things although they are certainly measured in their rhetoric which makes them readable on an on-going basis.
Their basic hypothesis is that the PIIGS will not be able to make the adjustments that the EMU is demanding and by cutting "fiscal spending sharply … [to] … pull themselves out of this mess through austerity … some of these nations may be stuck in a downward debt spiral that makes greater economic decline ever more likely".
This has been a point that I have been making regularly in relation to the calls for fiscal austerity in all nations. The calls seem to believe that the major cuts can be made in public spending at a time when private sector spending has collapsed and confidence is at an low and when foreign direct investment is weak and paralysed by uncertainty.
They also think that you can increase taxes (that is, reduce private demand further) and cut wages and hence private incomes and not expect major multiplier effects to make things significantly worse.
They also seem to have bought the IMF line that the fiscal multipliers are relatively low and that the automatic stabilisers (working to increase deficits as GDP falls) will not drown out the discretionary cuts in net spending arising from the austerity packages.
The overwhelming evidence is that this viewpoint is wrong and implementation of policies based on it cause generational damages in lost output, lost incomes, bankruptcy and lost employment (especially denying new entrants from the schooling system a robust start to their working life).
Boone and Johnson agree and argue that the current problems:
… are strikingly reminiscent of Latin America in the 1980s. Those nations borrowed too heavily in the 1970s (also, by the way, from big international banks) and then – in the face of tougher macroeconomic conditions in the United States – lost access to capital markets. For 10 years they were stuck with debt overhangs, just like the weak euro-zone countries, which made it virtually impossible to grow … Some Latin America countries lingered in limbo for a decade or more.
It is interesting to note that in political terms, this lost decade of economic growth ultimately has paved the way for a number of left-wing governments in South America, which have run against the tide of neo-liberalism in recent years and earned the scorn of conservative institutions like the IMF and the World Bank.
The interesting feature of the Boone and Johnson article is that they focus on Ireland and explain why the fiscal austerity program will fail. They say:
Ireland was one of the first nations to introduce tough fiscal austerity in this cycle – in spring 2009 the government slashed public-sector spending and raised taxes. Despite the cuts, the European Commission forecasts that Ireland will have one of the highest budget deficits in the world at 11.7 percent of gross domestic product in 2010. The problem is clear: when you cut spending you also lose tax revenues from people who earned incomes from that money. Further, the newly unemployed seek benefits, so Ireland's spending cuts in one category are partly offset by more spending in another. Without growth, the budget deficit still looms large.
So the point is – fiscal adjustment comes with growth. The raison d'etre of fiscal policy is to support growth when private spending is undermining it and to constrain growth when private spending is supporting it.
The mainstream economists' case against the use of fiscal policy as a counter-stabilising tool of policy activism was based largely on their claim that it tended to be pro-cyclical due to implementation lags (the time taken to actually get projects rolling and the funds flowing). Now, the mainstream exemplar of fiscal prudence is to enforce pro-cyclical policy positions. Go figure that one out!
Boone and Johnson offer this interesting insight to further their contention. They show how the growth miracle that led to the "Celtic Tiger" reference was in large part a mirage and driven by major US corporations evading US tax liabilities by exploiting massive tax breaks supplied to them by the Irish government. They conclude that"
… 20 percent of Irish gross domestic product is actually "profit transfers" that raise little tax for Ireland and are owned by foreign companies … the Irish miracle was a mirage driven by clever use of tax-haven rules and a huge credit boom that permitted real estate prices and construction to grow quickly before declining ever more rapidly. The biggest banks grew to have assets twice the size of official G.D.P. when they essentially failed in 2008.
The following graph is taken from the latest Irish National Accounts which cover up to the fourth quarter 2009. Flash estimates for the first quarter 2010 are available but not broken down like this.
The graph shows the difference between Gross Domestic Product (which counts all output produced) and Gross National Product (which exclude the profits of foreign residents) for Ireland. Once you make that correction, then you can see how much worse the domestic contraction has been in the Irish economy.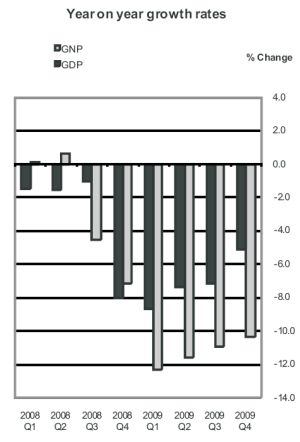 So GDP was 7.1 per cent lower than in 2008 while GNP was 11.3 per cent lower than in 2008.
Once you adjust for this (ignore these transfers) by using Gross National Product (GNP) which "excludes the profits of foreign residents" then Boone and Johnson conclude that the "budget deficit was about 17.9 percent of G.N.P. in 2009, and … will be roughly 14.6 percent in 2010 and 15.1 percent in 2011". They say that "(t)hese numbers make Ireland look similarly troubled to Greece, with a much higher budget deficit but lower levels of public debt".
And they say:
Ireland's politicians, rather than facing up to their problems, are making things ever worse.
However, I part company with them when they argue that the Irish government has to persist with the "tough fiscal steps" and take advantage of the IMF and EU bailout funding to "bridge the tough journey of fiscal cuts ahead".
From an MMT perspective, all this is doing is insulating the government from being 100 per cent exposed to the private bond markets. It doesn't stop the demand drain arising from the austerity and the already weak private spending.
It will also not allow the government to reduce its deficit very quickly at all – indeed as we have witnessed the budget deficit gets worse and places further strains on the government funding crisis. This vicious circle can only eventually collapse in default (a la Argentina). The same goes for Greece.
The problem is that the Irish government has no real options while they remain constrained by the Maastricht Treaty and their lack of sovereignty. As noted above, while the Prime Minister might define economic sovereignty as the avoidance of default in a fixed exchange rate world this is far removed from what true currency sovereignty constitutes.
Boone and Johnson understand that too. They say:
… the Irish need to consider seriously whether being in the euro zone is worth the cost. The adjustment to this awful situation would be far easier outside the euro zone – even though leaving the zone might have adverse repercussions for other nations.
This is one of my regular themes when discussing the Euro problems. The design of the monetary system is incapable of delivering sustained prosperity and is crisis-prone when there is a major asymmetric aggregate demand shock experienced across the member nations. All the bailout packages and other add-ons will not change that.
Either they have to enter a fiscal union to support the monetary union or the nations should exit the system. Please see the blogs – Exiting the Euro? – Doomed from the start – Europe – bailout or exit? – for further discussion.
This message is consistent with the argument made in the UK Guardian by Mark Weisbrot in the article – Greece should look before it leaps – published May 18, 2010.
He argues that:
Greece might be better off leaving the euro and renegotiating its debt is considered by many to be unthinkable. Instead, the country is embarking upon a programme of "internal devaluation" – in which it keeps the euro and lowers its real exchange rate by creating enough unemployment to drive down the country's wages and prices.
This is based on a comparison of what the IMF projected would happen as Latvia embarked on an internal devaluation in 2008 and what has actually happened. Weisbrot says that "when Latvia began … the IMF projected a 5% drop in GDP for 2009; it came in at more than 18%" The point being made is that things get much worse before they get better and that "Greece will probably need at least eight or nine years, if things go well under the current programme, to reach pre-crisis output".
He then shows that in 1998, Argentina began internal devaluation" process – its currency was pegged at 1 to 1 to the dollar – until the end of 2001, leading to an economic and financial collapse". After defaulting on the foreign-currency denominated debt and floating its currency, "the economy continued to shrink for just one quarter (first quarter 2002)" and "passed up its pre-crisis peak within three years of the default and devaluation."
Right-wing Australian business commentator Alan Kohler also had his say about the EMU today in this article – Monetary union just doesn't work.
He correctly notes that the "eurozone crisis goes much deeper than the sovereign debt problems of a few peripheral members" saying that the EMU situation has "two levels":
1. Some countries have too much debt because they are poorly managed, and have been for decades, if not centuries, and one of them – Greece – has entirely run out of excuses and time.

2. Monetary Union doesn't work.

The two things are actually unrelated, although they overlap and are being discussed together at the moment.
Now I don't disagree with the two points but the problem with the first "level" (1) is because of (2) not independent of it. So the two things are totally related.
The only reason there is a sovereign debt crisis is because the nations within the EMU gave up their currency sovereignty. While bond markets might have pushed up the yields on public funding, if they had have remained sovereign they could have run a very loose monetary policy (keeping short-end rates low or zero) and the central bank could have also ensured long yields on public debt were low (by agreeing to buy whatever debt was issued at a fixed rate). Then if the private bond market didn't want to buy at those rates the central bank would exhaust the buffer.
Of-course, they also could have simply stopped issuing debt altogether and gone on spending.
The obvious point is that a sovereign government is never revenue constrained because it is the monopoly issuer of the currency. The only danger of it using the spending capacity that comes with sovereignty (from a macroeconomic perspective) to underpin demand is that they will drive demand too hard. It is hard to see that happening given the output gaps that are in these economies at the moment.
Kohler shows he doesn't understand this relationship between his "levels" 1 and 2, when he claims:
Greece, Spain, Italy and Portugal would have to deal with their fiscal imbalances whether they were in the eurozone or not. Yes, they could devalue if they still had their own currencies, but that wouldn't help their sovereign debt position – it would worsen it in fact.
The fact is that their sovereign debt position would be largely irrelevant and inversely driven by growth anyway. They could ensure that growth happens by maintaining strong fiscal support for aggregate demand.
As we noted above – growth is the only way to reliably reduce a budget deficit. This is because the public budget balance is largely endogenous to the business cycle. What does that mean? It means that given the in-built automatic stabilisers which work counter-cyclically a declining economy will always push the budget towards or into deficit and vice versa.
Moreover, the private sector spending (and hence saving) decisions are largely responsible for setting these automatic stabilisers into action. You will not get any significant reduction in budget positions in a time of contraction. And, if that contraction is exacerbated by pro-cyclical austerity policy then you not only worsen things but also damage the population unduly along the way.
So Greece, Spain, Italy and Portugal (and Ireland) if they were not in the eurozone they would just have to focus fiscal policy on stimulating growth. But within the EMU they cannot do that because of the Stability and Growth Pact which imposes context-less fiscal rules on each member government.
Kohler is wrong about that. Outside of the EMU, these nations would be free – inside they are chained.
Where he gets it right is in his assessment of the viability of the monetary union. He says that:
The eurozone crisis goes much deeper than the sovereign debt problems of a few peripheral members. Mitterand and Kohl thought the treaty signed at Maastricht in 1992 and a single currency would inevitably lead to the United States of Europe and the dream of full integration and No More Wars.

They were wrong. Most of the nations of Europe were simply not ready, and not just because productivity in Greece, Spain and Portugal was not able to keep up with the Germans. The fact is none of the countries, especially Germany and France, were or are ready to give up their own identities, including their own independent national parliaments making their own laws and passing their own budgets.
So the problem is the flawed design of the monetary system and not deficits or public debt per se.
Total digression: something I was thinking about today
Here is former US cyclist (and Tour de France winner) Greg Lemond speaking at the weekend about Floyd Landis to a US sports channel at the weekend (Source)
I accepted his apology, but that isn't really what's important. Sincere apologies are for those that make them, not for those to whom they are made. I hope that as a result Floyd can begin rebuilding his life …

I also accepted his apology because his treatment of me challenged me to further confront my own issues and the pain that they were causing me. That challenge has made me a better, healthier, stronger person today than I might have otherwise been.
I don't think I agree with this one-sidedness but I am thinking about it from another perspective.
Conclusion
That is enough for today!