New York Times columnist and Nobel Prize winner Paul Krugman occasionally brushes up against an understanding of how the macroeconomy works. Some people actually have said to me that he does get it but chooses for political purposes not to disclose a full understanding of the basic principles of Modern Monetary Theory (MMT). Well in his most recent column – We're Not Greece – published May 13, 2010, I think you can conclude that when left to his own devices he doesn't have a clue about what is really happening in the macroeconomy. So today, we are exposing his mainstream (neo-classical) keynesian nakedness – he is now naked and without clothes.

The title inspiration today comes from one of the funniest television segments I have ever watched which I feature later on during Intermission as my billy blog comedy spot. The alternative working title is how can grown adults humiliate themselves so thoroughly in public and still keep a straight face. Great acting, great comedy. I hope you will enjoy it.
You may also like to read this blog – Those bad Keynesians are to blame – which explains flavours of Keynesians to understand how a Keynesian can be a mainstream neo-classicist. They are the worst by the way!
Anyway, why would I say all these horrid things about him?
Krugman rightly points out that the mad crowd out there (the gold bugs, the free-market lobby, the mindless conservatives; the hapless progressives who don't know what day it is) are all exploiting the crisis in Greece as:
… an excuse to dismantle Social Security … Everywhere you look there are editorials and commentaries, some posing as objective reporting, asserting that Greece today will be America tomorrow unless we abandon all that nonsense about taking care of those in need.
So that is a line I agree with totally and have been writing about a lot lately. The US is not Greece, fundamentally because they have two completely distinct and non-comparable monetary systems which bestow on their respective governments a very different opportunity set and a very different set of constraints. I will return to this.
As a point of clarification, the free-market lobby don't actually believe in free markets. They just believe that the parts that will maximise their chance to raid real output if deregulated should be and the parts that give them the most if regulated or subject to corporate welfare should remain that way. A free market would have seen Goldman Sachs insolvent by now!
So we all agree that Krugman gets it! Sorry to disappoint. The "US is not Greece" according to Paul Krugman is a stunning litany of non-sequiturs, category errors and plain factual error. He couldn't be posing and writing this stuff.
Krugman asks "how do America and Greece compare?". So a coherent comparative macroeconomic analysis would start with the most important similarities and differences and that means first focusing on the characteristics of the monetary system and the position of the currency in that system. Worrying about debt ratios; deficit ratios; or any other statistical series would not be a place to start your analysis.
Why not? Because these ratios etc are statistical artefacts of the monetary system and can only be interpreted within the context of the monetary system generating them. If the you have two very different monetary systems then comparing public debt ratios across the systems is meaningless. Anyone who understood how monetary systems operate would know that.
Not our Paul. He chooses to initially focus on deficit ratio and tells us that:
Both nations have lately been running large budget deficits, roughly comparable as a percentage of G.D.P. Markets, however, treat them very differently: The interest rate on Greek government bonds is more than twice the rate on U.S. bonds, because investors see a high risk that Greece will eventually default on its debt, while seeing virtually no risk that America will do the same. Why?

One answer is that we have a much lower level of debt – the amount we already owe, as opposed to new borrowing – relative to G.D.P. True, our debt should have been even lower. We'd be better positioned to deal with the current emergency if so much money hadn't been squandered on tax cuts for the rich and an unfunded war. But we still entered the crisis in much better shape than the Greeks.
My gosh! Sometimes you read analysis from those who are held out in the public debate as knowing a thing or two and you just want to lie on the floor and weep (in a Monty Pythonesque style of total despair – for readers who are familiar with this 1970s English comedy program).
While I am on the floor in apoplexy, can someone please take the time to send Paul an E-mail from all of us and ask him how Japan with public debt ratios at the top of the class maintain bond yields below 1.5 per cent almost indefinitely? The following supplementary material might be used to frame the question to him.
The following graph comes from the Japanese Ministry of Finance Quarterly Newsletter and shows outstanding central government debt for a number of nations. I have no need to comment on it.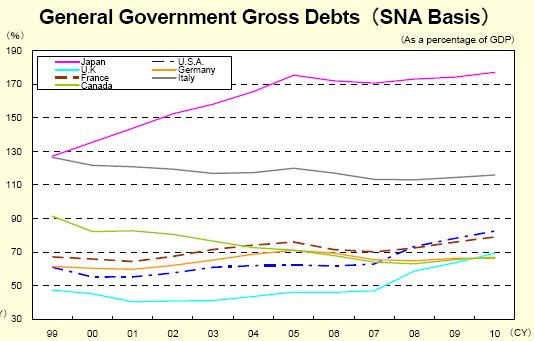 This graph uses data available from the Bank of Japan and shows the 10-year Government bond yields. Perhaps you might add this graph and the preceding one as attachments when you send Paul the E-mail asking him about Japan.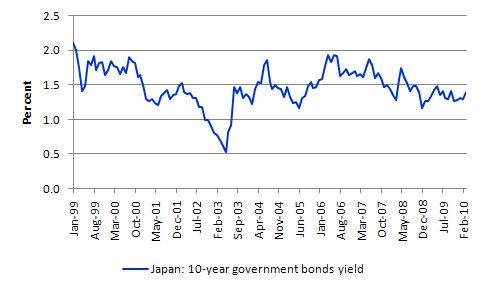 So very significant budget deficits, rising public debt ratios do not cause higher interest rates Paul. This has nothing to do with the Greek versus US demarcation.
I might also add – as I have often – that over the last two decades as Japanese public debt ratios have continued to rise and the deficits continued to flow, not only have interest rates been hovering around zero but the price level has been more or less deflating.
If you want to run the line that continuous deficits result in hyperinflation then you will have to exclude the second largest economy in the world from your analysis. The obvious reason for all of it is that Japan is a sovereign nation that issues its own currency and freely floats it on foreign exchange markets and has been struggling with a high domestic saving ratio for years.
Second, Krugman says that it is true that the US public "debt should have been even lower" and that the US would be:
…. better positioned to deal with the current emergency if so much money hadn't been squandered on tax cuts for the rich and an unfunded war. But we still entered the crisis in much better shape than the Greeks …
I cried some more upon reading this but managed to stay seated in my chair this time.
No-one who understands anything about macroeconomics would say this. He is trying to be progressive and talk about wasted public assistance to the rich and the military machine. These things matter and should condition the public debate about the composition of public spending (or who gets tax cuts). But they are irrelevant when it comes to deciding who was in "better shape" to withstand the crisis.
The US was clearly in better shape than the Greeks – than any nation in the EMU for that matter – but not for the reasons that Krugman offers.
This goes to the heart of the differences between monetary systems. The Greek government does not issue its own currency and has to "finance" every euro it spends. If taxes will not cover its spending desires then it has to issue debt. The current crisis is manifesting as the bond markets not being willing to lend to the Greek government any longer because they fear default. Or if they are willing they want ridiculously high yields.
These funding constraints do not apply to the US government, which is sovereign in the USD and can never be revenue constrained. It is the monopoly issuer of the US dollar. This translates into an ability to spend whatever the government wants at any time. The only constraints that US government spending face are real resource availability (not currently a problem with 16 per cent of the workforce without work) and political factors.
Certainly, the political constraints can be binding but they are not of a financial nature which is the implication of Krugman's claim here.
Further, whether the US government had have been running surpluses or deficits in the past, and irrespective of the size of these budget outcomes, it can still spend whatever it likes in the current period. Past surpluses do not provide any extra capacity to spend now and past deficits do not provide a diminished capacity to spend now.
Any statement to the contrary is clearly untrue in financial terms.
Krugman then noted another "difference":
Even more important, however, is the fact that we have a clear path to economic recovery, while Greece doesn't.

The U.S. economy has been growing since last summer, thanks to fiscal stimulus and expansionary policies by the Federal Reserve. I wish that growth were faster; still, it's finally producing job gains – and it's also showing up in revenues. Right now we're on track to match Congressional Budget Office projections of a substantial rise in tax receipts. Put those projections together with the Obama administration's policies, and they imply a sharp fall in the budget deficit over the next few years.
Yes, because the fiat monetary system provides the US with a fiscal path out of the mess. Greece has no such path under the EMU constraints and is now being forced to do exactly the opposite to what is needed to define a "clear path to economic recovery".
But the differences all relate to the two different monetary systems. The irony is the political constraints in the US have forced the government to take a conservative fiscal path which is definitely prolonging its recession and making the permanent income losses greater. To some extent the US government is being forced (by it own neo-liberal tendencies) to act like an EMU nation by imposing stupid limits on itself.
The floor in the downturn and the subsequent growth in the US has been driven by automatic stabilisers in no small degree as the US Treasury has been deliberately restraining its discretionary fiscal policy intervention as the President marches around the country saying that the US has "run out of money".
The reason the so-called Keynesian stimulus has resulted in 10 per cent unemployment (narrow measure) and not 8 per cent as projected is because the discretionary fiscal expansion was insufficient and badly targetted. This comment will also be relevant when you listen to the comedy segment later.
In terms of dividing the policy credit for the expansion between monetary and fiscal, I suspect the low interest rates and quantitative easing has had a very small role to play. The expansion of bank reserves probably stabilised the financial system but didn't do much for growth.
Krugman then said:
Greece, on the other hand, is caught in a trap. During the good years, when capital was flooding in, Greek costs and prices got far out of line with the rest of Europe. If Greece still had its own currency, it could restore competitiveness through devaluation. But since it doesn't, and since leaving the euro is still considered unthinkable, Greece faces years of grinding deflation and low or zero economic growth. So the only way to reduce deficits is through savage budget cuts, and investors are skeptical about whether those cuts will actually happen.
Yes, because the essential difference between the US and Greece is the different monetary system they operate within. Greece could always restore trade competitiveness by exchange rate depreciation and continue to stimulate growth via fiscal policy if it left the Eurozone.
The fact that "leaving the euro is still considered unthinkable" is testament to the skewed nature of the policy debate in that country. If people really understood the options right now I am sure they would walk.
And finally – Krugman is groping towards something when he says:
It's worth noting, by the way, that Britain – which is in worse fiscal shape than we are, but which, unlike Greece, hasn't adopted the euro – remains able to borrow at fairly low interest rates. Having your own currency, it seems, makes a big difference.
… it seems!
Why didn't he start at this basic point of difference? Why not just say, the UK, the US and most other nations are sovereign in their own currency. They have their own central banks which set interest rates, and the currency floats on foreign exchange markets which frees fiscal and monetary policy to focus on domestic welfare exclusively.
Why not acknowledge that a sovereign government is never revenue constrained because it is the monopoly issuer of the currency whereas all EMU governments have imposed gold-standard type constraints on themselves?
Why not say at the outset that the EMU nations were never positioned to withstand the crisis given the design of their monetary system?
Why not? Because "it seems, makes a big difference" rather than it is what the whole issue turns upon.
Having come to that point – on the edge of comprehension, Krugman then concludes:
In short, we're not Greece. We may currently be running deficits of comparable size, but our economic position – and, as a result, our fiscal outlook – is vastly better.
The fiscal positions cannot be compared given that "(h)aving your own currency, it seems, makes a big difference". The fiscal outlook, as noted above, is no better or no worse as a result of any particular public debt ratio. The fiscal position in the US is not a problem because the US government has a non-convertible fiat currency at its disposal. That is the reason!
So by now Krugman is as naked as you can get!
In the last few paragraphs of his piece he decided to outline America's "long-run budget problem" which he thinks, in no small part is because of "a deliberate political strategy, that of "starve the beast"" where:
conservatives have deliberately deprived the government of revenue in an attempt to force the spending cuts they now insist are necessary.
How bad can it get? The US government doesn't need revenue to spend. The fact that this political strategy by the conservatives has constrained its willingness to spend it a demonstration of how the deficit terrorists and the mainstream macroeconomists have been able to hide the truth. The only reason the US government is not spending more and bringing the economy more closer to full employment is because it has accepted the political constraints imposed upon it by the conservative polity.
See the Peter G. Peterson note that follows!
He then falls into the intergenerational/health costs crisis black hole and I gave up thinking for a moment. Krugman is like all these self-styled progressive deficit doves. They actually make the political case for full employment harder to make because they are held out as the "left wing" of the debate. So regression towards to mean takes us further to the right. Centrist positions now are out there a fair distance to the right and a long way from what we used to call the centre!
Digression: so much for hope in the US
As an aside, the Peter G. Peterson Foundation has recently conducted a survey and they polled "the most senior economic officials from the last eight administrations and Congressional leaders from the past 30 years".
The survey reveals:
… broad agreement that failure to address the country's long-term structural deficit challenges would lead to another economic crisis within the next ten years. There is also consensus around the solution to the deficit problem: it must include both spending cuts and tax increases, according to a group of more than fifty former top economic officials.
If you care you can read the Results. My only reaction was that this country has nuclear weapons. The leaders on both sides of politics are nuts. Ignorant is too kind an epithet to describe them.
I would also like to get a statistics class to examine the questionnaire. It reeks of bias in the way the questions are framed and the lack of conceptual development behind them.
Which brings us to Intermission today.
Intermission: The billy blog comedy spot
Given I have been in despair today reading Krugman and others which I chose not to report, I thought we needed to lighten things up a bit before going to more serious data analysis next.
So while we gather ourselves and restore equanimity I thought a comedy spot might help. In fact, the title of today's blog comes from this next comedy segment. It is one of the funniest things I have seen where adults take it as their job to humiliate themselves and relentlessly lie to their audience. It is hilarious especially the bit where the so-called financial expert goes "its naked Keynesianism". I wondered what Keynesianism with clothes on was like.
Anyway, enjoy the fun and when we return we will get serious again.
In case you cannot see the embedded video the link is HERE.
Someone asked me at the recent Washington Teach-In, I was asked about my perception of the the relative standard of the public policy debate in the US and Australia. I mentioned that I had seen Fox news the night before in the hotel and they were running some special promotional feature that they had termed "Drowning in Debt".
Each time this segment came on, they wheeled out another suited commentator, usually male but not always, who upon being asked the first question, launched into a tirade about deficits, debt and governments. I had to turn the volume down as they also ramped up the screeching as their level of vehemence rose exponentially from the start of the interview to the end.
I thought at the time how lucky we were in Australia to have exported Rupert Murdoch to the US although he still has print media control over here. I told the Teach-In that you might be able to summarise the differences they were seeking comment on by the fact that we don't have Fox news available. would not watch that sort of television over here. Any channel that ran that stuff hour-in-hour-out would go broke for lack of patronage. The only Fox TV in Australia is Fox Sports and that is harmless enough.
But before you go here is the last laugh – the Fox News Asia-Pacific Home Page Header (Source). I wonder what unfair and unbalanced constitutes?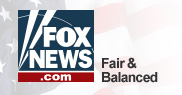 Digression: The data trail pointing to slowdown is getting stronger
The Lending Finance, Australia data for March 2010 was published today by the Australian Bureau of Statistics and provides further evidence that the Australian economy is slowing in the wake of the fiscal withdrawal.
AAP reports (May 17, 2010) that "Weak lending finance figures released on Monday show the economy is stalling". They quoted a bank economist who said that:
This is further evidence that the domestic economic recovery is going sideways and stalling rather than seeing any significant growth … Not only has retail sales been consistently weak, but consumer borrowings, which is a good lead indicator of future spending, is actually tracking lower as well, with personal finance recording its weakest monthly reading since last October.
I hope all the commentators who have been falling over themselves to tell us all that the Australian economy is heading out of control into a hyperinflationary growth spiral at present are finally picking up the scent of the trail of data that has consistently been pointing in a different direction.
The seasonally-adjusted data shows that Total personal finance commitments fell 1.3 per cent in March (see graph below) while housing finance for owner occupation fell 3.4 per cent.
Overall lending was "down 12 per cent on a year ago, recording its weakest annual growth rate in 13 months".
The following graphs show today's data release for finance for owner-occupied houseing (left-panel) and total personal finance (right-panel) in $A millions.
The housing finance data reflects several policy interventions (first-home buyers grant offer and then withdrawal; RBA interest rate decisions; fiscal stimulus withdrawal).
Neither graph is indicating the households are embarking on a credit-fuelled consumption binge at present.

Conclusion
I also read an IMF Report today that is so bad that I almost confused it for a Fox News script.
Anyway, after that harrowing day ….
That is enough for now!