When a huge pack of lies is barely enough
Today I read another appalling beat-up from the researchers at Société Générale. The fabrications and poor analysis contained in the Report should instigate class actions from their subscribers for grossly misleading them in their investment decisions. But the real problem is that the financial journalists seem content to function as meagre mouthpieces for this hysteria – to use their columns to spread it widely without the slightest introspection or critical scrutiny. The result is that the public are continually confronted with outrageous propositions – which carry not even a skerrick of truth. They then form fallacious perspectives about public policy that ultimately undermine their own welfare. The lies are all presented as being "iron clad laws" and "inevitabilities" and "fundamental truths". But as I learned as a youngster – lies are lies.

I have been feeling fairly inadequate lately. When you read the financial papers on-line (including the blogs) you observe some common elements. Most have a nice header with the picture of the correspondent looking informed and earnest. They often have a catchy little header with a sub-title of alluring depth and meaning. Billy Blog looks a little wan in this respect.
So the billy blog marketing team has been at work with a vast array of multimedia specialists burning the midnight oil to come up with something more in line with the norm. I have done photographic shoots and had team meetings with a plethora of plugged-in and turned-on consultants. Finally we have narrowed down the new image which should place me fairly central in the mainstream financial market commentary.
Here is the pre-release for comment. I thought the photo of me was pretty flattering as I always come up better front-on rather than being presented from one side or the other. I also though the concept that my team came up with was persuasive and will improve my credibility out there in the markets.
I decided to offer the pre-release of the new approach after reading the latest commentary from so-called uber bear Dylan Grice at the Société Générale Research arm called – If It Can Happen In Greece, It Can Happen Anywhere. The day after this was released (April 12) the financial journalists and bloggers thought all their xmases had come at once. This was deep stuff and they all couldn't get enough of it.
The tenor of the Société Générale report and the press reaction that followed convinced me that my new logo and concept will be a winner and billy blog is heading for uber status.
Grice's central claim is that while everyone has been focusing on the fiscal stress currently being endured by Greece they are missing the point that this crisis is the start of many more to come. His overall claim is that "(i)f it can happen in Greece, it can happen everywhere else too, because Greece just isn't that different". So anyone with an inkling of an understanding of how different monetary systems work and how they differ across the globe will immediately dismiss this claim as nonsense.
But the financial market commentators and journalists have all gone into a lather about it. Conclusion: they haven't a clue about how different monetary systems work and how they differ across the globe. Sadly, they are as ignorant as Grice and so the myths perpetuate into the public domain and poor policy decisions are implemented. And … we all are worse off as a consequence.
This this reaction is representative:
But the bad news is that this isn't just about a few peripheral eurozone countries, or some dodgy unemployment stats. There are plenty more global debt time bombs primed and ready to explode. The ultimate damage to the financial system could make 2008 look like a walk in the park. Don't touch government bonds with a bargepole. Here's why…
I should note this WWW page has influenced our design team!
So debt time-bombs are ready to explode and wise investors shouldn't go near them. I wonder if this goon has studied the public debt auction data lately for various countries. The times-covered ratios show no signs of falling significantly which means plenty of people (so-called investors) are not taking his advice.
I guess this commentator considers all those who for two decades have invested in every increasing Japanese Government Bonds issues are unwise. When will Japan explode? The bomb must have a very long fuse.
Yesterday (April 19, 2010), regular UK Guardian economics journalist Larry Elliot wrote – The UK isn't so different from Greece: a financial crisis could happen here too also bought into the lie. He analyses various scenarios that might apply for the UK after the election and poses the question: "Could Britain be the next Greece?"
I immediately knew he was short of a story when I read the headline. I assume he was bored and staring out the window of his office wondering what the hell will I lie about today. Then he saw Grice's red and white report pop up on his computer screen and he exited Solitaire which he had been mindlessly playing all day and started devouring Grice's lunacy. Magic stuff – the UK and the US are the next Greek tragedy – headlines loomed and Elliot would meet his deadline.
His take on the story is that:
Worryingly, though, the question swirling around the markets now that Athens has signalled that it needs financial help from the European Union and the International Monetary Fund is: who's next? There are those who say that Greece is a special case. It failed to come clean about just how messed up its finances were. The official budget deficit failed to take into account off-balance-sheet liabilities. It now needs to flood the markets with bonds to fund a double-digit budget deficit …

The assumption is that the US is too big to fail because the dollar is the world's reserve currency, even though it faces ruinously expensive long-term health costs. The assumption is that Japan is too big to fail because a debt-to-GDP ratio in excess of 200% can always be financed by high levels of domestic savings. The assumption is that Britain is too big to fail because, well, just because those sort of things don't happen here. But we've heard these assurances before.
And … when have any of the nations listed in the last paragraph defaulted on their public debt? Answer: never for financial reasons while they were running fiat currency systems. Those assurances have never been violated.
None of these arguments reflect the considered analysis of the journalists. They are content to just mouth the claims made in Grice's Société Générale report with no criticism or insight. They just rehearse his spurious arguments. The problem is that the public is not capable of discerning sound analysis that is based on a thorough understanding of how monetary systems actually operate from ideological and self-aggrandising rubbish.
Anyway, Grice motivated his discussion in this way:
I'm not a bond strategist and I've not done anything sophisticated or clever, but by taking Bloomberg's data for existing debt maturity for each government (red) and using the OECD's projected 2010 deficits as a proxy for net new issuance (grey) my numbers shouldn't be too far out. But if my numbers are even roughly right and issuance is the problem, Greece should have had almost the least to worry about!
Well I agree with him that he has definitely not done anything "sophisticated or clever". In fact, his analysis is crude and dumb to say the least. This is the chart he is referring to.
So, on average, Greece and the UK have a far longer-dated stock of government debt than most other countries. So what is the point? The implication is that the countries with shorter-maturity exposures will be next in line for a funding crisis and become targets of the bond markets.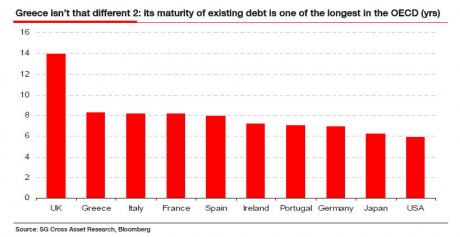 The Economics Editor of The Telegraph newspapers (Edmund Conway), another mindless mouthpiece, explained Grice's graph in his article (April 14th, 2010) – Greek lesson: we are all in the same boat
What does this mean? Grice helpfully presents another chart which tells the story. Essentially, if you're having to roll over lots of your debt each year, as you will when it expires so often (and because you don't actually want to pay it back when it expires) it means you have to issue a hell of a lot more debt at the day's going interest rate. Which in turn leaves you far more vulnerable to a sudden sharp increase in interest rates.
I should point out that Conway's Telegraph page has also influenced my new blog concept that we are working on (noted above). The earnest look in his photo etc.
But he clearly needs some lessons in nautical matters. The countries shown in the graph are not "all in the same boat" because they span different monetary systems. This fundamental insight which I will explain in more detail below is lost on these characters.
Given Conway is the economics editor suggests to me that anyone should stop reading the Telegraph newspapers once you are done with the cartoons or the crossword. I was going to say the sport's section but then you would be reading a lot of rubbish about soccer given it is a UK media outlet and I didn't want to suggest you bore yourselves.
Anyway, here is that other graph that Grice produced. It attempts to break up the percent of public debt outstanding to be issued by the end of this year into new issuance and maturing debt. So Greece has a smaller proportion of maturing debt coming due this year than most other nations shown. So we have a comparison between the US, UK and Japan and a bevy of EMU nations.
Apparently this means something and the meaning is shared by all the nations in the chart given that Grice attempts to draw them into the same problem that Greece has faced.
The Moneyweek commentator, sourcing his quotes from other financial journalists, tries to explain it this way:
After the stimulus binge, it's a debt hangover … Even if governments stop overspending now, they'll have to compete more for cash with the private sector. So they'll have to pay much higher rates on the bonds they'll need to sell. This will drive up the cost of capital for everyone. That in turn will curb private sector investment. Without that investment, we won't get the levels of economic growth required to generate the taxes that governments need to keep debt at manageable levels. Life will also get even harder for heavily-borrowed individuals. It's a truly vicious circle.

So things look bad, even if governments stop overspending now. But the trouble is, they won't stop over spending. Paul Farrell at Marketwatch has been digging deeper into America's debt mountain. He spotlights a range of areas, such as homeland security, defence and local government, where spending is fast overshooting. The only way the US authorities will be able to plug the financial gaps will be to borrow even more money.
Its just all downhill!
First, the Greek government and all the EMU governments are at the behest of the bond markets in terms of the yields they have to pay to borrow. That is an intrinsic outcome of the way the EMU is organised. But it is all voluntary and the ECB could easily take the pressure of Greece and the other Eurozone nations if it wanted to.
How do these characters explain the fact that Japan now has the highest sovereign debt to GDP ratio and for nearly 20 years has had zero interest rates and very low long-term yields? The simple fact is that they cannot explain that because they do not understand how the monetary system functions and the implications of central bank liquidity management operations.
The crucial point is that sovereign nations such as Japan, the US, the UK etc can set whatever interest rates they choose at whatever maturities they choose. If these governments allow bond markets to set the longer-term yields then that is a political choice. There is no economic necessity for them to cede authority to the amorphous, amoral bond traders. Some might say immoral but we can leave it for now at amoral.
Sovereign governments have all the power and the bond markets have none. The only way the bond markets get a foot in the door is if the government opens it and invites them in. Please read my blog – Who is in charge? – for more discussion on this point.
Second, the characterisation of the deficits as "overspending" raises the question – in relation to what? Given that unemployment and underemployment has risen sharply in all countries over the course of the downturn, the correct characterisation is that that goverments are guilty of underspending.
The important point that is clearly missed by these characters including Grice is that the budget deficit as a standalone outcome is meaningless. There is no information provided by currency estimates of net spending. You have to always assess the net spending in relation to the size of the spending gap, which is the difference between actual nominal aggregate demand and the demand required to support real output consistent with the full utilisation of productive resources including labour.
Unless you relate the public spending to that gap then you are no-where.
Third, government net spending does not compete "for cash with the private sector". This is the financial crowding out myth that is found in all the mainstream macroeconmics textbooks. Governments just borrow back the net financial assets that they create when they spend. Its a wash! It is true that the private sector might wish to spread these financial assets across different portfolios. But then the implication is that the private spending component of total demand will rise and there will be a reduced need for net public spending.
But at any point, the government provides the funds to the non-government sector that it borrows back. Please read my blog – Saturday Quiz – April 17, 2010 – answers and discussion – for more discussion on this point.
Fourth, the references to the intergenerational debate will be covered below.
Grice thinks he is onto something when he argues that Greece is adding interest servicing payments to the budget bottom line at a faster rate than they can cut the budget via the austerity package. He uses the standard mainstream government budget constraint analysis which suggests that if the public debt to GDP ratio is to stay constant the real growth rate has to be above the real interest rate:
If it does, the incremental government revenue generated by the economic growth will pay for the coupons on the debt. If it doesn't, a shortfall develops between incremental revenues and incremental coupon payments and in the absence of further austerity, more debt is required to finance the deficit.

This might sound abstract, but it's exactly what happened in Greece. When the first austerity plan was presented, Greece cut public sector wages by a painful 10% causing angry protest and social unrest, although it saved the government EUR650m. But the same austerity plan assumed Greece's interest cost would be 4.7% and by late February it was paying 6.25%. According to the WSJ, this has blown a EUR700m hole in its budget, more than offsetting the savage public sector wage cuts already enacted.
This is not surprising at all. What would you expect would happen when there is a global recession that has hit the EMU region particularly hard and in the midst of that the Greek government then implements pro-cyclical fiscal policy in the form of an austerity package which further reduces economic growth?
That is why the Eurozone solution to their insolvency risk is so backward. They can only get out of their problem with economic growth, which requires strong aggregate demand. Fiscal austerity packages undermine aggregate demand. It was always going to be the case that the budget deficit would rise in Greece as a result of the austerity program. That is the nature of automatic stabilisers reacting against discretionary public spending cuts when there is no private demand growth capable of filling the spending gap.
Grice attempts to draw these nations together in this way:
… the most chilling similarity between the Greeks and everyone else isn't in the charts above showing that their various debt metrics are in the same ballpark, it's in the realisation that we too are subject to the same iron-clad laws of budget sustainability and that we too are as helplessly vulnerable to any reassessment of sovereign risk by the famously fickle Mr Market.
Please read my suite of blogs on sustainability – Fiscal sustainability 101 – Part 1 – Fiscal sustainability 101 – Part 2 – Fiscal sustainability 101 – Part 3.
Grice hasn't a clue what it means. There are no such iron clad laws. As pointed out above – Mr Market is powerless if the sovereign government chooses to use the opportunities that a fiat currency gives them.
The credit rating agencies might inform the markets that sovereign country A is a default risk but that will mean nothing unless the government itself allows itself to fall prey to the markets. The case in point is Japan – downgraded several times in the earlier parts of this century – with zero impact on its ability to issue public debt or the yields at which it issued it.
Further, sovereign governments can always decline to issue debt. While this might require some changes in regulations/laws etc, the fact is that their net spending capacity would be unaffected. The laws and institutions they have erected to force themselves to issue debt $-for-$ with net spending are all voluntary and have no economic meaning.
They are the realms of politics and ideology.
And, finally Grice gets to the ageing population myth – oh, how original!
But it's not just about getting this year out of the way. If it can happen in Greece, it can happen everywhere else too, because Greece just isn't that different …

OK, so it misrepresented the size of its liabilities but so too do most other governments; its real fiscal problems are hidden off-balance sheet in the enormous welfare obligations it can't afford to pay and so are most other governments; its debt maturity isn't notably different from the rest of the OECD's (at about eight years it's actually longer than those of the US and of Japan); and its projected budget deficit is lower than those projected in the UK and the US …
Grice provides the following graph to somehow convince us that things are going to be bleak.
Note the terminology "real fiscal problems" that "it can't afford to pay". "Real" fiscal problems are not related to "financial parameter". Further, sovereign governments (which issue their own currency and float it on foreign exchange markets) can always "afford to pay" for whatever real goods and services that are offered for sale. There is never a question that such a government can buy anything that is available for sale.
That is not the same thing as saying they should always buy everything that is available for sale at market prices. That is another question. But the point is that the idea a sovereign government can run out of money is nonsensical.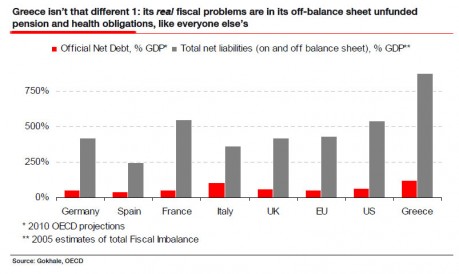 None of his inference is accurate at any level.
Governments in most advanced nations are facing a major medium- to longer-term challenge with respect the demographic change. A rising proportion of their populations will require retirement pension assistance of some kind and it is likely (but not inevitable) that health care outlays will also rise in line with the ageing population.
There is no doubt that dependency ratios are rising. In the blog – Another intergenerational report – another waste of time – I discuss the different ways of defining dependency ratios.
While dependency ratios will rise (however defined) if the population ages, governments have deliberately maintained persistently high pools of underutilised labour resources and have therefore heightened any challenges that will emerge from the rising dependency ratios.
So the only relevant question about the ageing population and the challenges for governments relates to whether the rising dependency ratio will reduce the growth of production of real goods and services in the future and therefore reduce material standards of living.
Grice is obsessed with the "financial" aspects of these projected changes and concludes that the implied increases in budget deficits will be unsustainable. His use of the term unsustainable is circular – true by definition and without any application to a modern monetary system where the sovereign government issues its own currency.
The mainstream emphasis on "costs" of retirement pension and health care systems and how these "costs" will "blow the budget deficits out" demonstrate how far of the mark they are in providing relevant commentary.
The "budget costs or outlays" are financial not real constructs. Once a person enters the intergenerational debate in this way – financial rather than real – you know they do not understand the true nature of the issue they are discussing.
The relevant issue relates to real resource availability in the future
There will be no financial constraints on any sovereign government running deficits in perpetuity should that be the appropriate macroeconomic policy setting (in relation to the behaviour driving the other sectoral balances). Ultimately, these deficits are endogenous which means they are driven by the non-government sector spending. If the latter wants to net save as an overall sector then the government sector has to run deficits for growth to be stable.
An ageing population will require choices to be made in relation to real resource trade-offs. Will there be enough real resources available? This is not a financial matter – it is a matter of whether there will be real goods and services produced in sufficient volumes for us and the government to buy in the future. If there are real goods and services produced in sufficient quantity to allow for adequate health care and pension entitlements (the former using resources, the latter commanding them) then the sovereign governments will always be able to afford to purchase them and provide them to our advantage.
How these real resources are distributed in the future becomes a political issue. The outcomes in the future will be resolved by political means in similar ways to now. But financial constraints will never be binding on a government with a political mandate to pursue high quality health care etc.
Clearly, if there are finite real resources then choices have to be made about what gets produced and provided. The question focuses on this issue.
If total spending in the economy including the rising pension and health care spending exceeds the real capacity of the economy to meet this demand with output then inflation becomes the issue.
To reduce the danger of this occurring in the face of rising dependency ratios, productivity growth is essential. This is why the neo-liberal approach to the problem which pressures governments to run budget surpluses now (erroneously characterising this as "saving for the future") is so dangerous.
Resource availability in the future will be enhanced by the research and development that is done now. Mainstream remedies to perceived budget blow-outs typically manifest as cuts to education, for example. Nothing could be more stupid.
Further, maximising employment and output in each period is a necessary condition for long-term growth. The emphasis in mainstream intergeneration debate that we have to lift labour force participation by older workers is sound but contrary to current government policies which reduces job opportunities for older male workers by refusing to deal with the rising unemployment.
Anything that has a positive impact on the dependency ratio is desirable and the best thing for that is ensuring that there is a job available for all those who desire to work.
Further encouraging increased casualisation and allowing underemployment to rise is not a sensible strategy for the future. The incentive to invest in one's human capital is reduced if people expect to have part-time work opportunities increasingly made available to them.
Conclusion
The vital point that is missed in all this hysterical analysis is that there is no valid comparison between an EMU economy and a sovereign economy. There is no solvency risk in the US, UK, Japan, Australia and elsewhere where the national government issues its own currency and floats its exchange rate.
The fact that the EMU has a totally different monetary system to these other nations mentioned in the Grice Report is seemingly lost on him and the troop of sycophantic journalists that think it is important to perpetuate his appalling analysis.
Greece and the EMU nations operate under a common monetary unit with one central banking system (the ECB and the national central banks). None of the individual countries can set its interest rate. The US, UK, Australia each have their own central bank which sets rates (for better or worse) according to the conditions prevailing in the respective countries.
They have no exchange rate flexibility and they have no fiscal redistribution mechanisms within the zone. They are financially constrained and have to tax or borrow to cover their spending.
Sovereign nations do not face these contraints. They issue their own currencies which float and can render the demands of the financial markets impotent should they choose to do so.
The Fiscal Sustainability Teach-In and Counter-Conference Update
I mentioned that a group has formed in the US to promote MMT and the first event is a conference on fiscal sustainability on April 28, 2010 in Washington DC to rival the sham conference exploring the same topic which is being sponsored by the Peter Peterson organisation.
You can see Update with program etc.
The conference Home Page also information about purpose etc.
If you are near to Washington DC and have the means it would be great to meet you next week. As soon as a venue is confirmed I will post more details.
You will also note that I have included a fund raising widget on my right side-bar. Any help for the organisers will be very appreciated. Just click the image and open your bank accounts! The fund-raising home page is HERE
That is enough for today!