The political debate in Australia is never very inspiring. But in the last few days it has reached new heights … that is, lows. The Federal Opposition has now decided to address its rock-bottom political support by changing its shadow front-bench significantly and installing some of the most conservative members they could drag out. The strategy is clearly to "talk tough" and "take the fight up to the government" and all that sort of thing. The only problem is that it is already turning the public debate into a comedy show. I predict this conservative configuration will talk their way into oblivion much faster than the previous shadow cabinet. In the process, we will have plenty to laugh about.

The new Opposition leader is prone to gaffes and his shadow front bench is now made up of a collection of buffoons who in their own inimitable way have entertained us over the years.
For example, the newly appointed Opposition energy and resources spokesman the ultra-right Nick Minchin is not only a climate change denier but he also previously denied that smoking is harmful. In 1995, he wrote a minority opinion in a report of a Senate committee investigating the cost of tobacco-related illnesses and said:
Senator Minchin wishes to record his dissent from the committee's statements that it believes cigarettes are addictive and that passive smoking causes a number of adverse health effects for non-smokers," the committee's minority report says. "Senator Minchin believes these claims (the harmful effects of passive smoking) are not yet conclusively proved. . . there is insufficient evidence to link passive smoking with a range of adverse health effects.
Some of the other conservatives Abbot has resurrected to attack the government are equally comical. Ruddock, Bishop, the retained-Bishop, and the retained-Hockey – these are characters who have little grasp on the complexity of the portfolios they are in charge of.
However, the most vocal of the newly appointed shadows is a former back-country accountant who is now the Finance Minister (Barnaby Joyce). And he is talking tough already. But if we are wishing to hold out our country to the rest of the world as being one where there is a modicum of sophistication in public dialogue then this character should be bleeped out whenever he writes or speaks.
Already there has been the Hello Wayne press release where he sought to give advice the Federal Treasurer (Wayne Swan).
The same minister, himself somewhat of a joke when it comes to making sense of how monetary systems operates, tried to score some political capital out of the Joyce appointment by issuing his own press release.
Swan said:
The new Shadow Finance Minister should today commit to the Rudd Government's strict fiscal rules on spending, tax and savings.

If Senator Joyce cannot commit to these responsible rules, it will raise serious questions about the Coalition's intentions for the next Budget and capacity for responsible economic management.

In this difficult budgetary environment, responsible and considered financial management is more important than ever.

The new Shadow Finance Minister should today:
* Commit to the Government's disciplined fiscal rule of a 2 per cent real cap on spending growth when the economy returns to above-trend growth;
* Commit to a tax to GDP ratio not exceeding 2007/08 levels on average; and
* Offset all new Coalition spending with savings elsewhere in the Budget.
From the perspective of modern monetary theory (MMT) these "rules" are nonsensical.
Where do you read anything about the relationship between nominal aggregate demand growth and the real capacity of the economy?
Where do you read anything about the need to ensure that aggregate demand is sufficient to ensure there are enough jobs being created that offer enough hours of work to achieve full employment?
Where do you read anything about the need for the federal government to ensure there is enough demand to satisfy the saving desire of the non-government sector (which in the context of a country that runs a continual current account deficit means private domestic saving)?
It might be that these budget parameters (viewed as an ex post accounting outcome) would coincide with desirable real (output and employment) outcomes. But that would be a total coincidence.
The fact is the Treasurer is just mouthing fiscal rules that he has been told by Treasury sound "responsible". This is in the context of an electorate that is totally without guile when it comes to these matters and a media that relentlessly talks in terms of these sorts of aggregates – as if they mean something.
They do not mean anything as they are. The only meaning comes from what the real economy is doing.
Anyway, that is what we expect from the Federal Government. So then the new shadow (Joyce) decided to get tough. He said:
I must admit that after the appointment to Shadow Finance Minister my comic relief came from Treasurer Swan's media release stating that I must follow Labor's strict rules on fiscal discipline.

It's like Captain Calamity's instructions on yoga. There's one thing that is absolutely certain, I will not be taking any lead, whatsoever, from a crowd who have taken us from having tens of billions of dollars in the bank, to debt up to our eyeballs, with more dogs tied up around town than Bernie Madoff.

Labor has gone on a spending bender and is now waiting for the fairy godmother to come and rub the red ink from the books.
That was the first part of his release. So in the lead-up to the next federal election in 2010, we will get plenty of this "we left money in the bank and you wasted it and plunged us into debt" rhetoric.
The reality is that the previous conservative government that lost office in 2007 ran the federal budget in surplus 10 out of their 11 years. The exact accounting of this "feat" is in fact questionable because in the later years they actually created the Future Fund, by spending massive amounts on speculative financial assets claiming they were saving the surpluses.
So it is difficult to know whether they actually ran surpluses in those years because the creation of the Future Fund was just an act of government spending and reflected the preference by that government to indulge itself in a speculative binge on financial assets rather than attend to public infrastructure that they had allowed to degenerate in their earlier years when they were running surpluses.
But the point was that the creation of the Future Fund provides the federal government with no extra capacity to spend – it is, after all, not revenue-constrained and can spend whenever it likes.
So the point is that there was no "money in the bank" left behind from this period. That is myth number one.
Then there is the interpretation of the consequences of the fiscal intervention. The fact is that a significant portion of the current budget deficit has been driven by the automatic stabilisers as the tax revenue plunged and welfare outlays started to grow.
Whether it had been Joyce or Swan as Treasurer that outcome would have occurred.
Further, given the nonsensical self-imposed rule that public debt has to be issued into the private capital markets for every $ of net spending the government engages in (automatic stabiliser-driven or not), public debt had to rise. I have never heard the conservatives agreeing with me that this voluntary rule should be abandoned.
Then there is the other component of the deficit – the discretionary fiscal packages – which the federal government introduced early in the downturn and targetted towards relatively quick spending outcomes (as opposed to the US packages).
Were these the acts of madmen … a Madoff ponzi-type binge? Perhaps, yesterday's Labour Force outcomes provide a clue to the answer.
The Australian economy avoided a technical GDP-defined recession while most of other advanced nations have endured a very severe real contraction in their economies. While the increase in labour underutilisation in Australia has been bad and of great concern it has been relatively lower than the rest of the world.
It is clear that the fiscal intervention was instrumental in sustaining aggregate demand in the face of increasing household saving, a sharp drop in private investment, and a declining contribution from the external sector. The fact that aggregate demand has not been allowed to free-fall as it did in other nations has allowed our recovery process to begin earlier.
If you read between the lines, the conservatives with Joyce as Finance Minister would have not added the discretionary component to the automatic stabiliser component of the deficit and the economy would have contracted severely. And then what would the government have faced?
You guessed it – a larger budget deficit (driven by large automatic stabilisation) – larger increase in public debt (driven by the stupid voluntary rules) – and much higher unemployment and more significant private income losses. In other words, the worst of the outcomes.
Joyce's press release continued:
Let's get this right from the start. The Labor Party have not got a clue what money is worth. They have no respect for debt.
Currently, so the Australian people know, the debt they owe, to a range of countries such as China, the good people of Japan and the Middle East and everyone in between, amounts to $115.71 billion dollars.

I will bet you London to a brick that this debt is only going to go in one direction under the Labor Government and that is up.

Why is there no exit strategy to pay off the debt that they have lumbered Australia with?

A long range forecast for the Labor Party is a cacophony of confusion, with a range of excuses that it might be bad but it is not as bad as some countries.

Over time, the countries they are comparing us with will get worse and worse and worse, until we end up once more with the Labor Party saying that our financial position is preferable to that of certain South American dictatorships and collapsed Eastern European economies.

The good news is, if they wanted to, there is the capacity now to discontinue on the path they have us on.

That opportunity will disappear if they keep spending borrowed money the way they are spending it at the moment …
For overseas readers … I apologise on behalf of my fellow citizens. This man (Joyce) seriously aspires to be our next Federal Finance minister (which is different to the Treasurer but still a key economic portfolio).
I would also like overseas readers to know that most Australians have a better command of our native language than is demonstrated in this official press release. We also do not believe that the United States will become poorer than "certain South American dictatorships" (which countries is he actually talking about here anyway?). Please accept our apologies (-:
The following graph uses data in Table H17: Government securities on issue, Australian dollar and foreign currency denominated, as a percentage of GDP, provided by the Australian Office of Financial Management. It shows the local currency and foreign currency public debt in Australia as a percentage of GDP from 1983 to 2009 (as at June 30).
The graph traces out the business cycle with the humps in the public debt issuance being associated with the 1982 and 1991 recessions. Independent of discretionary budgetary measures during these episodes, the debt ratio would still follow this pattern because of the automatic stabilisers.
The recovery periods show that debt levels fell as a percentage of GDP as the automatic stabilisers reversed the net flows into the government sector from the non-government sector. The best "exit" plan the government can employ to reduce its deficit is to encourage growth. Joyce clearly doesn't understand a fraction of this.
Further, I always point out to the business community when I am giving talks that if they do not like the size of the deficit they have it within their own control to reduce it – all they have to do is increase private capital formation and stimulate employment growth and the rest will take care of itself.
It is also worth noting that as at June 30, 2009 there is virtually zero government debt issued that is repayable in foreign currencies. You can get longer datasets from the RBA (Table E10) and it will show the same thing. Someone has given Senator Joyce some wrong data.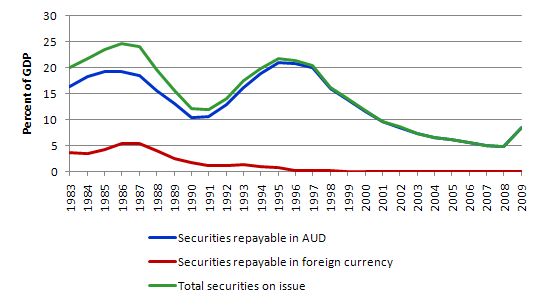 From a MMT perspective, a sovereign government should never issue debt that is repayable in a foreign currency. In doing so, they open themselves up to the risk of insolvency because they do not issue the currency they have to deliver. In Australia's case this risk is extremely remote given our holding of foreign exchange reserves but as a general rule it is inadvisable.
Here is a link to a very informative article on Australia's foreign debt from the Parliamentary Library. The following graph is taken from the article and shows official (public) and other gross foreign debt as a percentage of GDP from 1901 to 2011 (which overstates the true net situation). You can see how most of Australia's foreign debt explosion in recent decades has been of a private nature.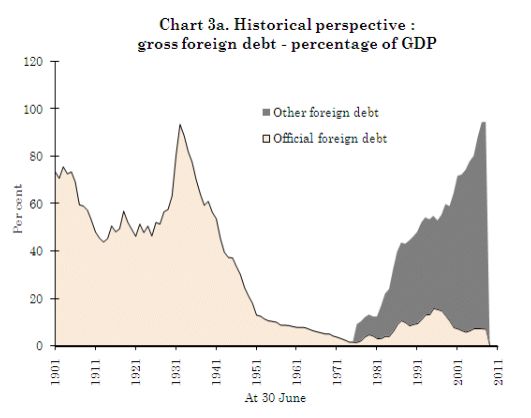 Anyway, after his initial "Hello Wayne" press release, Senator Joyce has been making a lot of noise about macroeconomics. Obviously, no medical team has caught up with him yet and sedated him.
For example, he was interviewed on the national ABC current affairs program AM this morning about his economic manifesto. The transcript is available HERE
The interviewer asked him to elaborate on his claims that the US may default on its debts and cause "a global economic meltdown that would be like Armageddon". Here is the interchange:
BARNABY JOYCE: Well I suppose you have to look at what will be the fallout in Australia with a, you know, if that event was to occur. I mean why are they having a conference in Copenhagen on the contingencies of climate change yet there are other issues that are around such as, in the economic paradigm, which are probably just as concerning which we're not really engaged in.

INTERVIEWER: But how would Australia prepare itself for the eventuality that the United States Government does default?

BARNABY JOYCE: Well you'd have to look at what would happen to world trade, what will be the effect then on the demand for Australian resources, obviously that would go through the floor and you know, how would Australia go forward in a position where the dynamics of the global economy are all changed?
Yes, he said that in real life. It is not a comedy script.
He also said that he would have "stronger divestiture powers to break up the four major banks" and when pushed as to what that actually meant in policy terms, he said:
BARNABY JOYCE: Well there's, we got, we got all the time to do that hopefully before an election but it's, it's the issue of what is Mr Rudd's solution, he is actually the Prime Minister.

SABRA LANE: But you're putting forward some pretty big suggestions here that would have large implications for financial markets. Don't you need to detail those?

BARNABY JOYCE: Well, the divestiture powers that America has don't seem to have large implications for the American market, what, why don't people discuss that this is a problem for the United States or the UK? Remember that their divestiture powers are way in excess of ours.
Yes, he said that in real life. It is not a comedy script.
He then said there should be a total ban on "Chinese sovereign investment in Australia". He explained (well he tried to anyway):
BARNABY JOYCE: There has to be consideration as to what extent you want a state-owned enterprise, China or otherwise, a state-owned enterprise be the owner of your mineral wealth, our nation of Australia's sovereign wealth in the ground.

If there is the ownership by another nation's government of your assets in the ground then quite obviously there's confusion that goes into your commercial arrangement of that. You are now dealing in that instance, with another nation's government, not a corporation and if you deny that there is then confusion then you should explain that to Stern Hu who is currently in jail in China.
Yes, he said that in real life. It is not a comedy script.
The reaction from the Government was equally comical – all dressed up in stars-and-stripe sycophancy. You can search for various comments from the Prime Minister down if you care.
I guess all this means is that the standard of debate over here will decline even further.
The conservative press in Australia is now revving up an anti-government campaign. The national News Limited press is now carrying stories most days calling for fiscal contraction, more labour market flexibility (that is, trashing working conditions further), and further government handouts in the form of subsidised skills development.
See for example this gem – Bosses call for labour market flexibility.
The Editorial in today's Australian today shows a clear intent to ramp up the debate against government net spending – well that spending that is not going into corporate welfare.
I especially was taken by this comment:
But the size of the package and its allocation to infrastructure — like schools — that is not central to economic growth, will make the recovery phase complex.
A discussion of skills shortages followed. Can you believe the audacity of these characters? They cajoled governments over the last two decades on a daily basis to run surpluses and to cut back public education, sell of government enterprises and outsource public activities (all of which were central to our skills development capacities) and then they have they attack the current spending on schools as not being "central to economic growth".
In the next few paragraphs they then articulate an argument that skills shortages are likely to impede growth.
What about the 13.2 per cent of Australian workers who are currently without enough work? Why won't firms offer them employment and training slots?
The fact is that the business sector in Australia has an appalling record when it comes to developing skills. During the true full employment period from 1945 to 1975 the use of fiscal policy to maintain high levels of spending and employment meant that unfilled vacancies usually outstripped the unemployed. There was no underemployment over this period.
Firms were forced to offer training slots with paid-employment opportunities because they had to scramble for scarce labour. Once the federal government abandoned full employment as an objective firms started to abandon training and relied on the government creating a surplus pool of labour that they could pick and choose from.
The dual instance of high rates of labour underutilisation and skills shortages reflect a monumental policy failure to generate enough jobs overall – the two problems are two sides of the same coin.
This topic is covered in detail in my recent book with Joan Muysken – Full Employment abandoned.
Anyway, attacking the federal government for focusing some of the stimulus package spending on restoring some capacity to our school system, which was severely run-down by the conservatives during the surplus years (1996-2007) is a reflection of the myopia that grips the conservative media.
Expect more of this nonsense as the election nears.
Conclusion
Anyway, in terms of Senator Joyce, I was somewhat reassured this afternoon when I realised that some concerned citizens had made a special trip to Canberra to present him with a box of bananas. Evidently they have considered his ravings in the last week are indicative of a potassium deficiency and they have been concerned enough to fast-track a visit to the national capital to give him some supplements. That's Barney on the right in the white shirt. I expect things will settle down once he gets stuck into the contents.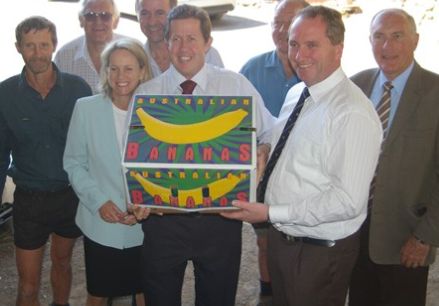 Saturday Quiz
The Saturday Quiz is back tomorrow as usual. It will be tricky.