Krugman's cockroach views on Brazil and hyperinflation
Today, I am publishing a special guest post from four authors working in the Modern Monetary Theory (MMT) tradition about inflation in Brazil. They are examining recent claims by Paul Krugman that the Brazilian experience ratifies basic Monetarist theory that links excessive monetary expansion with inflation (and hyperinflation). It turns out that the reality is quite different which is no surprise when it comes to confronting Krugman's assertions with facts. Over to Daniel and co …

The Authors
Daniel Negreiros Conceição is a professor of Public Planning at the Federal University of Rio de Janeiro.
Fabiano Dalto is a professor of Economics at the Federal University of Paraná.
Caio Vilella is a PhD student of Economics at the Federal University of Rio de Janeiro.
Fadhel Kaboub is a associate professor of economics at Denison University and president of the Global Institute for Sustainable Prosperity.
Krugman's cockroach views on Brazil and hyperinflation
In a recent article in the New York Times (May 13, 2021) – Krugman Wonks Out: Return of the Monetary Cockroaches – Paul Krugman rejected the old Monetarist view that changes in the money supply cause inflation, and pointed to the available 40 years of data as his overwhelming evidence against that view.
He denounced the resurgence of Monetarism as a case of:
… cockroach ideas, false beliefs that sometimes go away for a while, but always come back.
Paradoxically, after giving such a powerful critique of the idea that increases in the stock of money cause inflation, Krugman changes course and embraces the very "cockroach idea" he had so forcefully attacked, albeit in only one particular case:
To be fair, printing large amounts of money to pay government bills does in fact lead to high inflation. See the example of Brazil in the early 1990s.
According to Krugman, 1990s Brazil is supposedly a rare instance in which the "cockroach idea" did apply.
This is simply wrong.
Fallacious ideas, such as the Monetarist – Quantity Theory of Money (QTM) – are fallacious because they violate logic.
They never apply anywhere, even when the evidence appears to support it.
Krugman points to the verifiable correlation between inflation and the percent change in the amount of means of payment in a broad definition, M2, as evidence for his claims that Brazilian inflation in the 1990s was caused by too much money being printed by an over-spender government.
However, in this document – Programação Monetária 2019 (Portuguese) – Brazilians define M2 as M1 plus highly liquid private securities.
M2 does not include government bonds and, therefore, it is not evidence that the government was "printing money to pay for its bills".
In fact – as the next graph shows – when we look at the public purchase of goods and services and the collection of taxes, the effects from Brazil's Treasury operations on the monetary base are insignificantly or even negatively correlated with consumer price inflation, even during periods when the Brazilian economy was experiencing hyperinflation (1988-1994).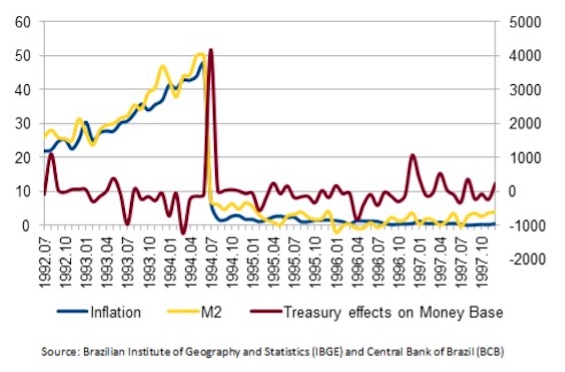 Furthermore, as Krugman should have known, money creation is not an alternative to debt-financing when it comes to the national government.
Central governments always create more money when they pay for goods and services, and when they make interest payments, amortisations, etc.
That is because government payments always increase the so-called monetary base, as reserves are transferred to commercial banks, and the quantity of money, as commercial banks credit the bank account of the recipients of the government payments.
If the QTM were true, we would observe inflation rising with every single payment by the government and inflation falling with every single tax payment to the government.
In fact, we should also see prices rising with every loan given by a commercial bank, and inflation falling as people make payments to their banks, since those are also instances of money creation and destruction.
The truth of the matter is that monetary aggregates do not create inflationary pressures by themselves.
Demand-driven inflation comes from growing demand, which results from the spending decisions of economic agents.
Some of these decisions may cause money to be created (for instance, when people or firms rely on bank loans to spend) and other decisions simply cause the existing money stock to switch hands.
What really increases demand is for people and governments to become more willing and able to spend.
This may lead to rising prices if supplies are insufficient to match the rising demand, and it may also lead to increases in the supply of money, if banks give out more loans and the government deficit spends.
Thus, causality is not from money to prices, as James Tobin famously warned.
A short note from Bill
The article by James Tobin is – Money and Income: Post Hoc Ergo Propter Hoc? – – The Quarterly Journal of Economics, 84(2), May 1970, 301-317.
In that article, James Tobin wrote:
Milton Friedman asserts that changes in the supply of money M (defined to include time deposits) are the principal cause of changes in money income Y …

Excessive money balances, for example, are not immediately absorbed by mammoth spurts of money income. They are gradually worked off – affecting interest rates, prices of financial and physical assets, and eventually investment and consumption spending …

Therefore it … [Friedman's theories] … cannot have those clearcut implications regarding monetary and fiscal policy with which Professor Friedman has so confidently identified himself.
Even if we were to accept that inflationary pressures were caused by excess demand in 1990s Brazil, causality would still have gone from overall spending decisions to prices and then to the money supply.
However, 1990s Brazil was never your simple textbook case of "too much spending driving prices".
Since the 1980s it has been well known by those who carefully study inflation that the Brazilian hyperinflation – as in 1920s Germany and most other countries that experienced explosive cases of inflation – was the result of an external debt crisis in which external debt payments kept relentless pressure against the exchange rate, even as the price of foreign exchange exploded.
For a country so highly dependent on key imports (refined oil, capital goods, electronics, etc.) and with prices as closely indexed to the exchange rate as 1990s Brazil, the impact from each and every global dollar shortage episode was unavoidably inflationary and explosively self-reinforcing.
Incidentally, the peaks of inflation and M2 depicted in Krugman's chart coincide with the implementation of the Real Plan (from February to July 1994), when the government's net expenses actually grew at a slower rate than the supply of money.
It was mainly the creation of private/bank money that kept fueling the rise in M2.
Yes, the government did contribute to the automatic expansion of the money supply by basically indexing the return on highly liquid bank deposits to the rate of inflation.
But even though M2 and inflation moved very closely together largely as the result of inflation-yielding bonds issued by the Brazilian government – which in turn allowed banks to offer inflation-yielding deposits included in M2 -, this was not because the government needed to finance its deficits, but simply because it chose to keep the politically influential owners of liquid wealth from losing purchasing power by giving them the opportunity to invest in risk-free, close to perfectly liquid, inflation-yielding bonds.
As for the price stability achieved by the Real Plan, it was mainly the result of the exchange rate stabilization that followed Brazil's foreign debt renegotiation in the first half of the 1990s, undesirably high unemployment and sluggish real wage growth, and the increased openness to imports which reduced the market power of domestic producers.
All these factors are quite unrelated to the behavior of the money supply.
Conclusion
In conclusion, "cockroach ideas" are a pest for any economic debate, and the monetarist idea that the money supply is exogenous and causes inflation is a "cockroach idea" that continues to infest Krugman's mind when it comes to explaining Brazil's experience in the 1990s.
That is enough for today!
(c) Copyright 2021 The Authors. All Rights Reserved.