Price rises should be short-lived – so let's not resurrect inflation as a bogeyman
It's Wednesday and I am somewhat besieged. So just a few reflections today before we delve into our latest music offering. I had an Op Ed published in the UK Guardian today (my time) which analysed the latest inflation scares that have been dominating the popular media. More and more mainstream macroeconomists are coming out and asserting that economies will overheat. The usual gold bugs have been delighted by this shift in the narrative back to the obsessions and manias that keep them occupied on a daily basis. What was interesting to me was the responses of the commentators to the Guardian Op Ed. If the sentiments expressed represent the state of macroeconomic knowledge (presumably mostly in the UK) then we have a long way to go before Modern Monetary Theory (MMT) and the sensible policies that it might inform gain any serious traction. Given the GFC, the stagnation in the aftermath, 30 years of Japanese history, the pandemic, which have all combined to demonstrate why the mainstream approach is dysfunctional and provides no guidance to what might happen in the real world, the commentators continued to rehearse these failed ideas about inflation, interest rates, bond markets etc. Quite dispiriting.

UK Guardian article
The UK Guardian published an Op Ed from me late yesterday (June 7, 2021) – Price rises should be short-lived – so let's not resurrect inflation as a bogeyman – which provides a different view to some of the inflation question that is occupying peoples' attention at the moment.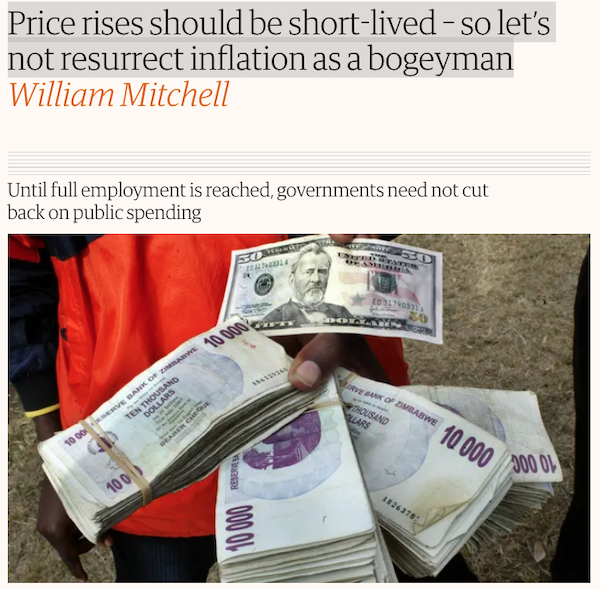 There is an art in writing just 900 odd words and the author has to make every phrase count and become a container for implicit and sometimes very complex propositions.
One hopes that the curious reader will pursue some of these issues in more depth elsewhere if they are unclear what the emphatic point being made is.
The article attracted 451 comments before the moderator closed the commentary section off.
I read some of them and was astounded how many of them (probably the vast majority) had not taken time to read the words carefully.
There is scope for disagreement always.
But reconstructing what an author says to suit your own pre-conceived and factually incorrect version of reality is not particularly illuminating.
For example, I write:
Inflation 'hawks' claim that the large deficits and central bank bond buying (quantitative easing) programs – mischaracterised as 'money printing' – will deliver Zimbabwe-like outcomes. However, they just misunderstand how governments spend and are ignorant of the history of hyperinflations.

All government spending is facilitated by central banks typing numbers into bank accounts. There is no spending out of taxes or bond sales or 'printing' going on. All spending – public or non-government – carries inflation risk if nominal spending growth outstrips productive capacity. As full employment is reached, governments have to constrain spending growth and may have to increase taxes to curtail private purchasing power. But we are a long way from that point with elevated levels of unemployment and largely flat wages growth.
Many comments claimed that, of course, the central bank is printing money and that will devalue it because it will lead to an explosion in spending.
But the point I was making, which is intrinsic to some of the differentiating knowledge that Modern Monetary Theory (MMT) offers is that all government spending involves new currency entering the system.
There is no spending from taxes.
Or spending from bond sales.
Or spending from 'printing money'.
These are the options that mainstream macroeconomics teach their students, which conveniently suit their framework, that is used to disabuse politicians and policy makers from running continuous deficits.
All government spending involves new currency entering the monetary system.
There is an inflation risk to that – but to gauge that risk we have to go beyond the monetary aggregates and explore the spending impact on real resource availability.
They also claimed that QE was printing money and would be inflationary.
I had written:
Mainstream economists claimed QE would result in an avalanche of bank lending and inflation. Modern Monetary Theory (MMT) demonstrates that QE involves central banks buying government bonds by adding cash to bank reserves. Bank lending is not constrained by available reserves – they are never loaned out to consumers. Rather, lending is driven by demand from credit-worthy borrowers, who are thin on the ground in deep recessions. QE reduces interest rates, by increasing the demand for bonds and driving down yields, which may have stimulated demand for equities, but have not pushed total spending beyond resource constraints.
But the commentators couldn't get to parroting quantity theory of money quickly enough.
The QTM partners with the money multiplier to allow neoclassical/New Keynesian economists to claim that when bank reserves rise, broad money rises and inflation results from too much money chasing too few goods.
The causality is that broad money is driven via the money multiplier by the introduction of 'high powered money' or in this context bank reserves.
This is wrong on so many levels but the level of indoctrination that these comments reflected goes very deep.
First, when the central bank credits bank reserves in return for receiving bonds via the QE purchase, all that really happens is some numbers are shifted from one account at the central bank (public debt) to another (reserves).
The crediting of the reserve accounts do not involve any 'money' entering into the hands of the public (us).
It is fallacious to conclude that banks have greater capacity to make loans because their reserve accounts at the central bank have larger numbers in them.
Sure enough, greater reserve balances means the chances of being compromised on any particular day when the payments system resolves all the interbank transactions falls.
But that doesn't increase the propensity or the capacity of banks to make loans.
That was the other point I was making.
Banks don't loan out reserves.
They make loans when a credit worthy borrower seeks a loan. Loans create deposits and the liquidity is then available for spending.
Simple facts tell us that with the vast QE programs that the central banks have been running, broad money has not expanded anything like the expansion in reserves, and there is not a strong relationship between bank lending and reserve accumulation.
So the commentators can go on about 'money printing' for all they are worth, but they are just disclosing their own inadequate understanding of how the monetary system that they profess expertise in (which is why they make such assertive comments) actually works.
There was also commentary about housing price inflation.
I was writing about general inflation measures as captured by the standard CPI type measures published by the national statistician.
No-one is denying that in some nations housing has become unaffordable for many citizens because of the booms in prices.
That is definitely a problem but it is hard to directly relate this as a consequence for excessively expansionary monetary or fiscal policy.
More like the housing booms are being exacerbated by:
1. A lack of low income state housing being provided (definitely a problem in Australia) – this requires more public spending not less.
2. Tax structures that distort investment choices and bias savings allocations to speculative property market behaviour and away from productive asset accumulation.
3. Population pressures.
4. Poor urban planning frameworks adopted by nations, states and cities.
So the cure for an 'inflated' housing market is not to inflict austerity, which seems to be one of the suggestions that would satisfy the commentators, but to deal with the distortions and lack of public housing.
Anyway, there is a lot of work still to be done if the sentiments expressed by these commentators, who would seem to have a progressive bent (because they read the UK Guardian, notwithstanding the likely trolls), are expressive views and using analytical frameworks that are anything but progressive.
Music –
This is what I have been listening to while working this morning.
Lately, I have been digging deep into my archives – aka the boxes of records in the cupboard.
Today, we have the marvellous – Dave Brubeck Quartert – playing Koto Song.
The quartet is made up of:
1. Dave Brubeck – piano
2. Paul Desmond – saxophone
3. Eugene Wright – bass
4. Joe Morello – drums
The whole band has died now, but they left a fabulous legacy.
This note – Koto Song – provides background to what motivated Dave Brubeck to write the song.
It is essentially a 12-bar blues in C minor with lots of interesting deviations away from that "harmonic structure" that allows the improvisation to really fly.
The song appeared on the 1964 album – Jazz Impressions of Japan – which is one of my favourites.
It followed Dave Brubeck's visit to Japan with his quartet and attempts to capture their impressions from that visit.
I don't know if the album is still available but if you can get it then it is a treasure trove. This track was the most popular back in the US and elsewhere but other tracks on the album are worth absorbing.
That is enough for today!
(c) Copyright 2021 William Mitchell. All Rights Reserved.