Invoking neoliberal framing and language is a failing progressive strategy (British Labour)
Over the years it's been clear to me that we live in a fictional world when it comes to economic matters. The mainstream has created this world that bears little relationship to reality and which serves the interests of a few at the expense of the majority. But the way in which this fiction is inculcated in the framing and language of our public debates leads the majority to think that the conduct of economic policy is somehow in their best interests, even if, at times, governments claim we have to swallow a bitter pill in order to get well again. The bitter pill always punishes the lower to middle-income groups, rarely the top-end-of-town. The fiction is so deeply ingrained that even progressive political campaigns are framed within it. I have railed against that all my career because I cannot align a belief that democratic choice requires accurate information with the reality that we make these choices in a fog of fiction. I have always considered the role of the progressive forces in politics, as a matter of priority, should be to be the agents of education, so that these democratic choices reflect our realities. I have never supported so-called 'progressive' parties that choose, for 'political' purposes, to lie to the electorates by adopting neoliberal framing and language as a way of minimising any difficulties that might arise, initially, from the dissonance that accompanies exposure to the truth, after years of believing in lies. It seems that the British Labour Party continues to promote a false narrative to support and otherwise stellar plan for national renewal. But, as history tells us, a plan built on false financial foundations, falters when circumstances change and the false foundations become the issue rather than the plan.

UK Guardian being misleading
An example of when a first-class national infrastructure plan becomes deeply flawed because it is attacked on spurious, neoliberal monetary grounds, the framing of which were nurtured and shared by both major political parties, is the Australian National Broadband Network fiasco.
I noted in this UK Guardian article (November 15, 2019) – How feasible is Labour's free broadband plan and part-nationalisation of BT? – there was a reference to the Australian experience.
The readers were told as an answer to "Would nationalising broadband work?" that:
Australia has tried to do this with its National Broadband Network and it has been branded one of the biggest infrastructure failures in its history. Set up in 2006, the government's plan was to roll out full fibre to 93% of all premises, although over the years this was watered down to a "multi-technology mix" using different technologies offering varying levels of speed and service to consumers. "Only one other country in the world has come close to going down this route, Australia," says Matthew Howett, the principal analyst at telecoms research firm Assembly. "And for a good reason – it's hard, expensive and fraught with difficulty. Australia's NBN is years late, massively overbudget and offering speeds and technology a fraction of the original political intention."
I have written about this in prior blog posts (among others):
1. Australia's broadband disaster has lessons for a Green New Deal strategy (August 6, 2019).
2. The neo-liberal infestation – Australia's broadband fiasco gets worse (August 2, 2017).
3. Australia's crawling Internet speed signifies wider fiscal failure (September 9, 2015).
4. Public infrastructure does not have to earn commercial returns (December 20, 2010).
I won't repeat the arguments here.
But the UK Guardian representation of the situation in Australia is false and its claim that it demonstrates why Labour's broadband plan for Britain is fraught is deceptive.
By way of summary:
1. The Australian NBN was to be the latest technology (fibre to home).
2. The Labor government at the time created a narrative that the infrastructure investment would have to be paid for by the nationalised company, NBN Inc, earning commercial returns on its charges to the retailers. So they were operating with neoliberal framing about government spending and finances, which conditioned what happened next.
3. The conservative government gained office in 2017 on a platform of cutting deficits and debt (that had risen as a result of the successful Labor fiscal stimulus, which saved Australia from recording a recession during the GFC). The Labour Party had refused to educate the public about the reason the deficits went up during the GFC and instead went back into the 'surplus obsession' mode. By 2012, they were cutting spending and economic growth stalled and unemployment started rising again.
4. When the Conservatives took office, among other things, they targetted the NBN investment, which was underway, as an example of unsustainable government spending. To 'save' money, they scrapped the fibre to home plan and instead implemented a 'multi-technology mix', which kept the old and degenerate copper wire as the final conduit into the home for the NBN. The fibre was terminated at 'nodes' which were located on various street corners.
5. The mixed technology has proven to be highly inefficient and has required even higher government investments to marry the different technologies together, not to mention the long delays necessitated by eliminating asbestos from the old copper pits. So the austerity plan backfired in terms of outlays and what has been delivered is dysfunctional and likely to be a white elephant in the near future.
6. The increasing charges that NBN Inc. imposed upon the retailers to ensure a commercial return have reduced take-up and led to very high retail fees, as profit gouging has been common.
7. The mixed technology has also delivered terrible speeds to those houses that have taken up the NBN contracts, which in many cases took several months to make operational. At nights now, it is a lottery whether streaming video will actually work, such is the inefficiency.
8. It is now likely that the new 5G wireless technology will render our national broadband system technologically redundant because of the flawed strategy outlined in Point 4.
9. All of this was a creation based on flawed narratives about government fiscal capacities and the dangers of deficits, debt and national investment.
The UK Guardian article totally misses the point about the NBN fiasco in Australia.
But if the debate about the British Labor plan to nationalise broadband and roll it out freely to every home in Britain is conducted within the neoliberal framing about debt and deficits, then the plan will probably come unstuck for the similar reasons.
British Labour's evolving Fiscal Credibility Rule
It seems that the Rule is being modified to eliminate the commitment that "at the end of every Parliament, Government debt as a proportion of trend GDP is lower than it was at the start."
I haven't yet seen the new Rule in detail so will reserve comment. We only have the statements in the media from a former adviser who promotes the Rule.
I have written several times about the flaws in the former Rule:
1. Forget the official Rule, apparently, there is a secret Fiscal Credibility Rule (June 19, 2019).
2. The British Labour Fiscal Credibility rule – some further final comments (October 23, 2018).
3. A summary of my meeting with John McDonnell in London (October 17, 2018).
4. A twitter storm of lies … (August 15, 2018).
5. MMT is just plain good economics – Part 2 (August 13, 2008).
6. MMT is just plain good economics – Part 1 (August 9, 2008).
7. The New Keynesian fiscal rules that mislead British Labour – Part 3 (March 1, 2018).
8. The New Keynesian fiscal rules that mislead British Labour – Part 2 (February 28, 2018).
9. The New Keynesian fiscal rules that mislead British Labour – Part 1 (February 27, 2018).
10. The lame progressive obsession with meaningless aggregates (November 23, 2017).
11. When neoliberals masquerade as progressives (November 9, 2017).
12. British labour lost in a neo-liberal haze (May 4, 2017).
13. British Labour has to break out of the neo-liberal 'cost' framing trap (April 12, 2017).
14. Jeremy Corbyn's 'New Politics' must not include lying about fiscal deficits (September 15, 2015).
15. Seeking zero fiscal deficits is not a progressive endeavour (June 18, 2015).
16. The full employment fiscal deficit condition (April 13, 2011).
17. The non-austerity British Labour party and reality – Part 2 (September 29, 2015).
18. British Labour Party is mad to sign up to the 'Charter of Budget Responsibility' (September 28, 2015).
So quite a bit of analysis.
I consistently said that the Rule would not be sustainable during a recession and trying to achieve a cut in the debt ratio (however it is scaled) would be impossible.
I was vilified by the originators of the Rule and its proponents including the Shadow Chancellor's then advisor.
I was told I didn't understand the Rule and was therefore stupid. And more.
Well now the Rule is changing to make it a bit more achievable but it will remain a neoliberal artifact.
I tweeted this sequence last week (November 14, 2019).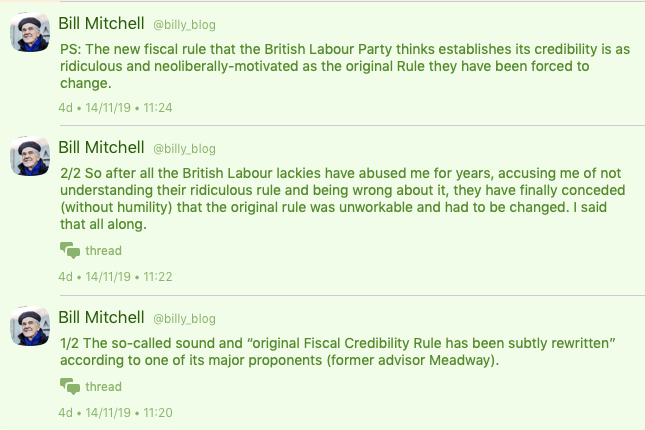 I received more condemnation from one of the Rule's proponents, who just cannot admit that if they changed the original Rule then it must have been flawed in the first place.
He claimed it was a "tweak" but shifting from a debt target to a net wealth target (however defined) is no small shift.
But his final Tweet on the matter (in relation to me personally) he waxed lyrical:

Which provides a useful segue into a promotional video from former BBC and Channel 4 journalist and self-styled Marxist, Paul Mason, who has also been a virulent critic in the UK scene of Modern Monetary Theory (MMT).
It will help Dr Meadway in answering his deep question of meaning about neoliberalism.
What is the deficit and what is the debt?
This video is a classic example of progressives aiming the gun at themselves.
The former Labour advisor and proponent of the Fiscal Rule was enthusiastic about this video.
He tweeted several times about it:


Which tells you he supports this framing and language and thinks the economics concepts that are covered in the video are valid constructions of reality.
The last Tweet from him also clearly establishes he thinks this is a superior framing and narrative to MMT.

For his part, Paul Mason promoted his video with the usual 'tax the rich to fund essential services' myth.

Here is the transcript from Paul Mason's short promotional video – What is the deficit? – recorded for – Novara Media, which is a (Source):
… self described radical left-wing alternative media organisation based in the United Kingdom.
The video is a promotional piece for the British Labour Party.
Transcript:
What is the deficit and what is the debt? And why does it matter?

You're going to hear a lot in this election about the dead and the deficit. Even some politicians can't get their head around the big numbers involved.

Right, the deficit is when the government spends more than it collects in taxes in a year. So, its a bit like an overdraft at the end of the year the government has to turn it into a long-term loan.

All parties agree you shouldn't run day to day surpluses (sic) on an overdraft you need to pay for them with taxes.

Labour says tax the rich, property speculators, companies, to pay for hospital schools and local council services.

The Tories, well they represent the rich and the property speculators, so over the last decade they have cut public spending by £41 billion in real terms.

Everybody agrees now that we need to spend more on GPs, on hospitals, on counter services, but these cost money.

Labour wants to raise that money through tax.

The Tories, well they won't say where any of the money they are promising comes from.

What about the debt?

Labour is promising to borrow £400 billion over the next ten years to build new homes, hospitals, rail and green energy systems.

That's more like a mortgage than an overdraft and this is how it will work.

The government will spend an extra £25 billion a year on windfarms, home insulation, eco-friendly transport systems, and, on top of that, in the first five years, £30 billion a year, to invest in schools, hospitals and new council homes.

Now that is a massive amount, it's double what the Tories plan to spend. But to most families, a mortgage is also a massive amount and at the end of it you have a house.

People ask, rightly, how are we going to pay it back?

The answer is, it'll take a long time, like a mortgage.

The way you shrink the debt is to grow the economy over time but what matters in the short-term, is the interest rate, and it's here that this country has a golden opportunity, it's never been cheaper for governments to borrow.

In fact, interest rates on government debt are so low, that central banks, like the Bank of England, are urging governments to borrow and spend even more.

If we borrow money, now, on the cheap, we can create tens of thousands of decent jobs, renovate our country, and, in the process, stop climate change.

If you're still confused …
Well, I am very confused.
This does not look like anything a progressive person would want to say.
This is the classic 'soft' mainstream macroeconomics that assumes the government is financially constrained and is thus not dissimilar to a household.
It is 'soft' because, unlike the hard mainstream positions, it allows for deficits ('funded' by debt) to occur in a non-government downturn but proposes them to be offset by surpluses in an upturn, irrespective of the overall saving position of the non-government sector.
The erroneous concept of a 'government budget constraint' that plays a central role in mainstream macroeconomics is retained with all its intent.
So, just like a household, in order to spend, the government has to raise taxes and/or borrow to cover spending that is matched by tax revenue.
Further, recurrent spending has to be matched by tax revenue, and then, under some circumstances, say low interest rates, it is okay to borrow.
In this macroeconomic context, these views are what I would say are characteristic of what we have come to know as being 'neoliberal'.
If we were to run Paul Mason's video through with a classroom of literate young adults they would logically conclude:
1. The British government is constrained in its spending by its ability to spend by the extent to which it can collect taxes and borrow from the non-government.
2. The government cannot deliver services, provide infrastructure or fight climate action unless it increases its taxes and indebtedness.
3. The government should cover its service delivery expenses (recurrent spending) by increasing taxes on the rich.
4. The incomes of the rich are therefore essential to provide the capacity for the government to fund the provision of services to health care and welfare.
5. But for infrastructure (capital) spending, the government must increase its indebtedness.
6. At present, this is a reasonable strategy because interest rates are so low. The implication is that if interest rates were not so low it would be a dangerous strategy.
7. Further, just like a household entering a home mortgage, it might take a long time to pay back the debt but when it does, the government will get a valuable asset.
8. The economy has to keep growing, despite climate change exigencies, in order to "shrink the debt".
None of this framing or language is what I would call 'progressive'.
It has the hallmarks of the way neoliberals construct the concepts and the narrative.
The inferences are also plainly false when applied to the British government.
1. It is not financially constrained in its spending.
The constraints relate to real resource availability.
In terms of restaffing the NHS, for example, are there qualified labour resources available? What training would be required? Would this mean that British Labour is also going to be advocating open borders to ensure the staffing is available? Will they admit that in the election campaign?
2. There is no meaningful knowledge that be gained by comparing a household with a home mortgage and a currency-issuing government spending its own currency.
The household is the currency user and the government is the currency issuer.
Totally different constraints apply.
3. It is false to claim that it is virtuous to 'tax the rich' in order to fund essential health and welfare services.
This is one of the worst frames that the progressives now deploy.
The British government might want to tax the rich to reduce their power and influence (exercised via their spending habits) but it never has to do that in order to fund essential services.
The only constraint that exercise involves is the availability of real resources.
4. The British government does not have to issue debt to 'fund' its deficits. The capacity of the non-government sector to purchase the debt derives from past deficits that have not been taxed away yet.
Even if the government issues debt to match its investment in essential infrastructure to deliver better housing, transport health care, and engage in climate action etc, this investment is not linked at all to the current interest rates in place.
There is no meaning to the term "cheap" finance, when the spending does not need to be financed (in the currency the government issues).
The issuing of risk-free debt from a currency-issuing government really amounts to the provision of corporate welfare and no progressive should advocate its continuance.
5. There is no meaning in saying the recurrent deficit is like an overdraft or the capital deficit is like a mortgage. Those terms gain meaning when applied to units that are financially constrained.
Paul Mason came under Twitter attack from those who are now familiar with MMT.
He responded with three Tweets (among others):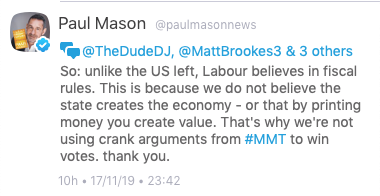 Which tells you that he either doesn't understand what MMT is about (ignorance) or deliberately deceives his audience (fraud).
1. MMT does not "believe the state creates the economy" – where has that ever been written?
2. Trying to slur MMT by invoking the "printing money" is the sort of puerile strategy that the mainstream deploy. Where is it written that MMT economists say the government should just "print money" until it loses all value?
All government spending involves currency being put into existence mostly through variations in numbers in bank accounts both at the central bank and in the broader banking system.
If the spending growth outstrips the capacity of the productive sector to respond by producing real goods and services then there will be upward price pressures and inflation may result.
In that event, a unit of currency loses some real value.
That has nothing to do with "printing money".
Paul Mason is either lying out of ignorance or lying out of malice. Either way is not pretty.
Conclusion
The problem with framing government spending and taxation in the neoliberal way is that it politically constrains a government and biases its fiscal position towards austerity.
Enough can go wrong with large scale public investment projects as it is. Problems of resource shortages, time delays etc are major issues which the government has to minimise to maintain credibility.
But to then introduce spurious financial constraints which are meant to define some notion of fiscal prudence or rectitude means that if, say for example, there are cost overruns, then the whole fiscal strategy is impugned.
The government then becomes hostage to claims of financial incompetence etc when in fact nothing of importance has happened.
Imposing unnecessary fiscal rules only binds the hands of government and makes it easier for the conservatives to claim failure.
That is why the neoliberals advocate them. They know that they make the conduct of fiscal policy more risky and creates an environment of caution – aka austerity.
That is enough for today!
(c) Copyright 2019 William Mitchell. All Rights Reserved.