Latest instalment in Project Fear is not very scary at all despite the headlines
A short blog post today – being Wednesday. I am still catching up on things after being away for a few weeks. The British Institute of Fiscal Studies (IFS) offered its latest contribution to Project Fear this week with their claim that the fiscal response to a no-deal Brexit would "would send government debt to its highest level in more than half a century". Sounds scary. Which, of course, was the intention. That is what Project Fear is about. Creating illusions of disaster to discipline the political debate in a particular direction. Nothing new about that. But the media, including the UK Guardian had lurid headlines such as – No-deal Brexit would 'push national debt to levels last seen in 60s' (October 8, 2019). But if you think about it the worst case estimates are hardly anything to worry about, even if we took the estimates seriously and were concerned about movements in public debt ratios for a currency-issuing nation (which I am not). Here are a few graphs so that all my British friends can come from under their bed covers and face the day with a smile as the No-Deal data gets closer.

The IFS issued a press report (that was published as an Op Ed in The Times) –
This is not the time for tax cuts or spending increases (October 8, 2019) – which carried the news:
Leaving without a deal – even with minimal disruption – would push up borrowing to about £100 billion, or 4 per cent of national income. Debt would climb to almost 90 per cent of national income for the first time since the mid-1960s. Any support to the economy to weather a no-deal exit would push up the deficit still further, at least for a few years.
What the lurid headlines and reporting didn't focus on was that even the IFS was not predicting an extended recession as a result of Brexit.
In terms of Brexit deal, they forecast above potential growth over the next three years, a strong catchup in private capital formation and steady private consumption expenditure.
Exports are also predicted to rise.
Where are the headlines about that?
And with a no-deal Brexit, growth is positive overall for the 2019-22 forecast horizon with business investment and exports recovering after the initial shock (what they call a "near-term recession").
They also assume that there would be no real shortages of goods and services and there would be no acceleration in inflation.
And what of that "near-term recession"?
GDP is predicted to decline by 0.4 per cent over 2020.
Compare that to the GFC when GDP declined by 5.8 per cent between the June-quarter 2008 and the March-quarter 2009.
So the biggest shock in the last 50 years only leads to a decline in 0.4 per cent and even then the estimates of the decline are based on an assumed (very) modest fiscal response (stimulus).
If I was the British Treasury I would be introducing a stimulus to accompany a No-Deal Brexit more than twice the assumed intervention by the IFS.
Then it is likely that there would be no decline in Real GDP at all.
Further, as part of the UK Guardian's sponsorship of Project Fear, here is a classic example that would be great for introductory statistics classes on the misuse of statisticals and graphs. For other examples see – Misleading Graph.
Compare the UK Guardian's graph that follows for the different public debt to GDP scenarios and my graph that is below it.
Guardian graph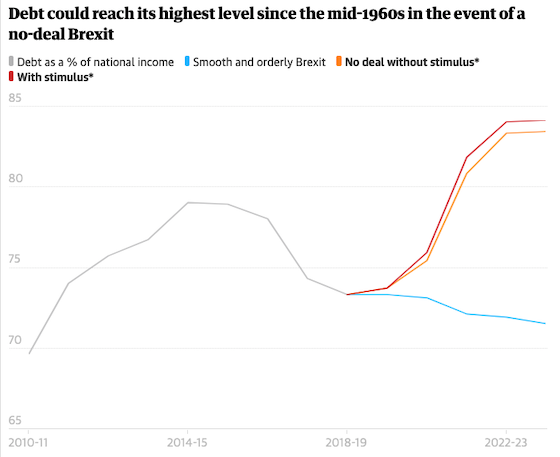 My graph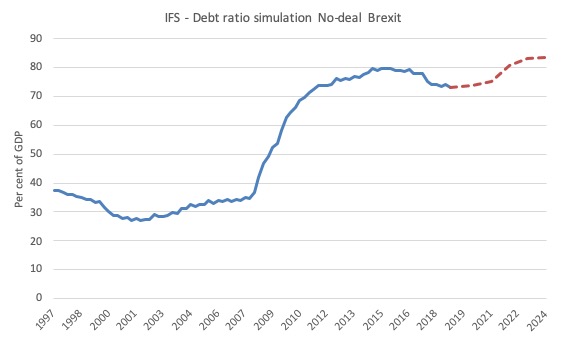 I only extrapolated the No Deal Brexit with Fiscal Stimulus estimates from the IFS.
The Guardian's crooked graph is deliberately fudged (via the vertical axis adjustment) to make the rise in the debt ratios look massive. Most people are less aware of how mislead they are by pictorial or graphical information.
If we look at my graph with the complete vertical scale and no maximum value compression, we can see the upturn in New Debt as a percent of GDP is very small compared to say what happened as a consequence of the GFC.
If this is the worst the IFS can come up with then the scale of the deterioration is miniscule compared to the sort of estimates that were around a few years ago.
And, moreover, their fiscal intervention assumptions are very modest indeed.
Of course, all this is moot.
The public debt ratio in Britain, as a currency-issuing government, should not be considered a policy target. As long as the British government persists with pre-1971 institutional practices – matching its deficit with debt-issuance – which is now unnecessary in the fiat currency era – the debt ratio will fluctuate with economic activity and fiscal policy shifts.
Such fluctuations are irrelevant to the purpose of fiscal policy – to promote full employment and equity.
As a final reflection on the IFS Report, I note they analysed the Labour Party Fiscal Credibility Rule in the same exercise and concluded that:
Labour's FCR has two key targets. The first – a rolling forward-looking target for the current budget … might well not prove robust to a no-deal Brexit: it is possible that a no-deal Brexit might mean that it is no longer an appropriate (or effective) constraint.

Labour's second target – to have public sector net debt lower as a share of national income at the end of the parliament than at the start – has less to commend it. It is also incompatible with the programme of nationalisation and boost to investment spending proposed in Labour's 2017 general election manifesto.
Which despite what all the 'insiders' have been claiming, the Fiscal Credibility Rule will fail during a recession and also will hamper the stated Labour Manifesto.
Labour has to understand three things:
1. The Fiscal Credibility Rule is a dud – it is 'old technology' – an artifact of the now failed Monetarist-New Keynesian ideology and should be scrapped in favour of a full employment and equity rule.
2. Adherence to the 'Rule' is incompatible with Labour's Manifesto. They either scrap the Rule or present a new, more realistic but highly constrained
Manifesto.
3. Membership of the EU is incompatible with the Manifesto pledges. So they should be supporting Leave or abandoning key features of their Manifesto.
I know I am a worn out record on these issues, but now other groups are starting to say the same thing.
At some point, the Labour Party will have to change tack – one hopes they can do that before it is too late, although I sense they have received such poor advice in the last few years, particularly the Shadow Chancellor, that the horse might already have bolted.
Clarification
Several people have written to me about the recent publication by Real-World Economics Review – Modern monetary theory and its critics.
For the record, the editors approached me some time ago to contribute and claimed that the volume would represent the state of the art and authoritative go to source on all things Modern Monetary Theory (MMT).
I declined the invitation and pointed out that the sort of MMT critics they had already published in previous editions, indicated to me that their editorial standards were lacking.
I also noted that there were already authoritative MMT sources available – to wit, 25 years of scholarship by the core economists associated with the MMT Project.
I concluded that there was no need for them to try to cash in on the growing popularity of our work.
Given the quality of the publication, I am glad I declined to participate.
Music today …
If you do not like funk then move on today.
Yes, it is time to move away from your desks and chairs and do it!
The New Orleans band – The Meters – were one of my favourite bands in the 1970s. They had everything – a big Hammond organ sound, a very sharp Fender Stratocaster sound and a fabulous drummer (Zigaboo Modeliste).
Here is one of their original instramental tracks – Cissy Strut – which was released on a single in 1969. I bought the single not long after that.
With the Neville Brothers involved it was hard to go past the band.
For a time in the early 1970s, everyone wanted to play funk to cure the 'jazz rock' addiction that had taken over guitarists.
I still listen to The Meters – still very groovy – 50 years on.
That is enough for today!
(c) Copyright 2019 William Mitchell. All Rights Reserved.