The obesity epidemic – massive daily losses incurred while the policy response is insufficient
The Brexit issue in Britain has been marked by many different estimates of GDP (income) loss arising from different configurations of the Brexit. The media is flush with lurid headlines about the catastrophe awaiting Britain. As regular readers will appreciate, I am not convinced by any of those predictions. But as I said the day after the Referendum in this blog post – Why the Leave victory is a great outcome (June 27, 2016) – that when I tweeted it was a 'great outcome' I didn't say that good would come out of it. I also didn't suggest that it would be a short-term recovery of prosperity or that the workers would benefit. I was referring to the fact that class struggle now has a clearer focus within the British political debate. There is now a dynamic for a truly progressive leadership to emerge and bring the disenfranchised along with them and wipe out the neo-liberal hydra once and for all." I think that is lost in this debate. When the British Labour Party claim the latest agreement will irrevocably damage workers' rights or environmental protections they seem to be implying that they will never be in power again. No legislation or regulation is irrevocable in a democracy. But being part of the EU will always tie a nation to the EU's rules which usurp any national interests. That is why I maintain strong support for the concept of Brexit. But amidst all these predictions of gloom and doom, I was listening to the radio last week and heard some statistics that are truly alarming. The on-going GDP losses from the obesity epidemic in the UK, which will increase over time rather significantly, are significant when compared to the estimates of GDP loss arising from Brexit. I wonder why that fact isn't part of the daily narratives coming out from the Remain crowd to justify their view that the 2016 Referendum result should be disregarded so they can have another go at getting their own way!

Last Friday (October 11, 2019) was the annual – World Obesity Day – which is organised by a group related to the World Health Organization and the Lancet Commission. It began life in 2015.
They are revising their calendar for next year to align the initiative on a global basis so that the – World Obesity Day 2020 – will be held on March 4, 2020.
A stream of data will be provided to support the initiative including reports from the OECD and UNICEF.
The – Australian Health Tracker – is a venture of the Australian Health Policy Collaboration centred at the Victoria University in Melbourne that helps "to provide a comprehensive assessment of the health of Australians in relation to chronic diseases and their risk factors."
It is integrated with the WHO's global agenda to achieve improved health standards by 2025.
Last week, some Australian data came out that was pretty shocking.
1. 63.4 per cent of adult Australians are overweight (BMI above 25). The rate for children (5-11 years) is 29.5 per cent and from 12-17 years, 28.3 per cent
2. The obesity rate, defined by WHO as "as abnormal or excessive fat accumulation" (BMI aove 30), across Australia is 27.9 per cent of the adult population. The rate for children (5-11 years) is 25.6 per cent and from 12-17 years, 21.6 per cent.
3. This has risen by 27 per cent in 10 years.
4. The geographic spread is significant with some areas of the nation having obesity rates up to 50 per cent of the adult population.
5. This elevates the risk of diabetes, cancer, heart disease, dementia and a range of other major illnesses.
6. Wealthy, high income areas have lower rates – so it also becomes a class issue.
7. Key factors in the regional disparity include the lack of infrastructure to support healthier lifestyles – reliance on cars (less provision of public transport that requires walking etc); increased incidence of fast food shops and less access to fresh food shops.
Which raises the question about the causation – individual choice or systemic bias.
I obviously prefer to construct this type of issue in structural rather than individual terms and focus on the way group behaviour constrained by systemic dynamics patterns individual outcomes.
UNICEF issued a report last week (October 15, 2019) – The State of the World's Children 2019: Children, food and nutrition report – which showed that:
1. "Australia ranks ninth in the top ten of 41 OECD and EU countries when it comes to the percentage of children and adolescents aged 5 to 19 years who are overweight, and this figure has risen 35.1 per cent since 1990."
2. "Globally, the report finds that at least 1 in 3 children under five – or 200 million – is either undernourished or overweight."
3. "Worldwide, close to 45 per cent of children between six months and two years of age are not fed any fruits or vegetables."
4. "42 per cent of school-going adolescents in low- and middle-income countries consume carbonated sugary soft drinks at least once a day and 46 per cent eat fast food at least once a week. Those rates go up to 62 per cent and 49 per cent, respectively, for adolescents in high-income countries."
5. "overweight and obesity levels in childhood and adolescence are increasing worldwide. From 2000 to 2016, the proportion of overweight children between 5 and 19 years of age doubled from 1 in 10 to almost 1 in 5. Ten times more girls and 12 times more boys in this age group suffer from obesity today than in 1975."
6. "Even in high-income countries such as the UK, the prevalence of overweight is more than twice as high in the poorest areas as in the richest areas."
Now all this is alarming in its own right but then once the economic dimension is added we get an additional perspective on the impacts of austerity and relative income loss.
It is clear why the media keeps focusing on GDP losses arising from Brexit – it sounds scary. The torrent of articles that appear never really qualify their reports with the obvious condition that most of these 'estimates' are based on economic models that failed to predict the financial crisis and/or adopt ridiculously benign assumptions about what fiscal policy makers would do in the event of a major decline in non-government spending.
Which is why the estimates that we know are wrong so far have been very wrong indeed.
But the media doesn't accord the same focus on GDP loss arising from the structural problem of obesity.
For example, a search of the UK Guardian, which has led the Project Fear charge on Brexit, will yield few on the obesity crisis relative to the Brexit stories.
And virtually none of them will talk about GDP loss.
The UK Guardian's most recent report (October 2, 2019) – 250 million children worldwide forecast to be obese by 2030 – made no mention of GDP losses arising from this problem despite running almost daily updates on the various GDP loss stories that one organisation or another aligned with Project Fear pump out.
Ironically, while vehemently holding out how maintaining EU membership and access to its neoliberal centrepiece – the 'single market' – is essential for the prosperity of the UK, the UK Guardian also ran an Op Ed story on November 24, 2016 – The obesity epidemic is an economic issue – which made it clear that "much of the rise of obesity is precisely the consequence of free-market economics".
So privatising public transport and then allowing fare gouging to take place, while at the same time, prohibiting the renationalisation of mass transport with the provision of free transport under state aid provisions (as would be prevented under the Fourth Railway Directive of the EU), have all combined to create (or would maintain) a bias for car use over pubic transport.
That bias has been found my many studies to be a significant factor in the health crisis.
All of which brings me to the latest OECD Report (released October 10, 2019) – The Heavy Burden of Obesity The Economics of Prevention – which I finished reading over the weekend.
As a caution, the OECD invokes the usual sound finance framing exhorting us to believe that tax burdens will rise as the obesity crisis accelerates and the fiscal positions of governments are under threat as a result of the need to spend higher amounts on health care.
But one can easily cut through that nonsense and still accept there is a crisis on our hands now and will get worse as time goes by as a result of the obesity epidemic.
We learn that:
1. 60 per cent of people in the OECD nations (on average) are overweight and 25 per cent are obese.
2. 8.4 per cent of the total health expenditure in OECD nations is spent on "overweight and related conditions" – in other words totally avoidable. In the UK this figure is 8 per cent whereas in the US it rises to 14 per cent.
3. "Children with a healthy weight are more likely to perform well at school" – 13 per cent more likely.
4. "Almost two in three persons living in the United Kingdom have overweight. Nearly one in three has obesity".
5. "While in 2010 about one in five people were obese, this has now risen to nearly one in four. About one in three children in the United Kingdom currently are overweight, and rate is higher among children with a disadvantaged background."
Notwithstanding one's attitude to Brexit, the data is rather compelling – the obesity crisis will be much more damaging for Britain for a much longer period than any of worst estimates of GDP loss arising from leaving the European Union.
And, given the obesity estimates are more likely to be accurate and the problem is real rather than tainted by ideological biases, one wonders why the media doesn't push the issue more.
The worst estimates of Brexit (which are rather fanciful at best) are child's play compared to the disaster unfolding due to obesity.
This graphic shows the average GDP losses over the next three decades arising from the obesity incidence in the UK, and other OECD, EU28 and G20 countries.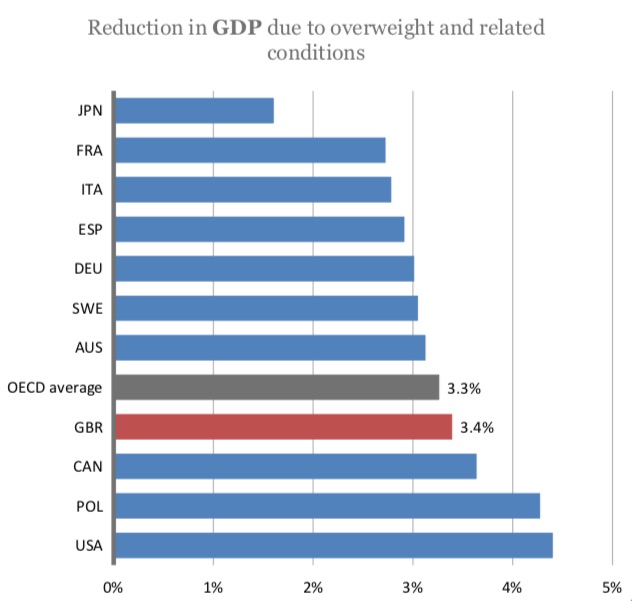 In terms of the UK specifically:
Overweight accounts for 8.4% of health expenditure; and lowers labour market outputs by the equivalent of 944 thousand full-time workers per year. Combined, this means that overweight reduces United Kingdom's GDP by 3.4% …

The United Kingdom loses GBP 644 (USD PPP 930) per capita per year in labour market outputs due to overweight.
An earlier report (November 2014) by the McKinsey Global Institute – Overcoming obesity: An initial economic analysis – estimated that the obesity epidemic "has roughtly the same economic impact as smoking or armed conflict".
For the UK, it estimated that "obesity has the second-largest impact after smoking, generating an economic loss of more than $70 billion a year in 2012, or 3.0 per cent of GDP".
Major losses arise from "productivity lost" rather than outright absenteeism.
This is a major issue in terms of the challenges of ageing societies, which will require our children to be more productive than us if we are to enjoy the same material standards of living into our old age.
The obesity epidemic that is now inflicting increasing numbers of our children will mean the adult problem will increase over time, and, it is clear (from the OECD Report) that "individuals with at least one chronic disease are 8% less likely to be employed in the following year and, if employed, are more likely to be absent or less productive".
Further, as the OECD notes:
Similarly, overweight children are less likely to perform well at school and more like to have lower education attainment later on, creating conditions leading to lower levels of human capital in the future.
In the UK, "boys were 58% less likely to have completed higher education by the age of 29 if they were obese at the age of 16. Similarly, in girls …"
Obese children "may be excluded from friendships and bullied … lower self-esteem … deleterious effects on educational outcomes".
So while we allow this epidemic to worsen our future material prosperity (not to mention our other dimensions of well-being) are being undermined.
And then think about this in terms of the austerity bias that afflicts the European Union nations, including Britain.
The OECD Report makes it clear that:
Consistently across countries, individuals in the lowest income group are more likely to be obese … Individuals with a lower education are more likely to consume an unhealthy diet … are also less likely to be physically active …
As noted above, it is important to see this problem in structural rather than individual terms even though individual behaviour directly relates to the consequences.
Focusing on the individual behaviour will miss the structural causation that generates patterns of group behaviour that drive this problem.
Eurostat data (health care expenditure by function – shows that in there hasn't been a significant increase in health spending as a proportion of GDP in many countries over the last 8 or so years and in many cases, this proportion has declined. For nations such as Ireland and Greece the decline is quite substantial.
In 2013, the UK was devoting 9.77 per cent of GDP to health care expenditure. By 2017, Eurostat shows it has dropped to 9.63 per cent.
This, as the obesity crisis is accelerating and the GDP losses rising.
Further, in terms of policy interventions, the OECD Report finds that the "policy response to obesity has been insufficient".
While most governments are happy to pump out information, few have been willing to introduce policies that "modify the cost of health-related choices" or that "regulate or restrict the promotion of unhealthy choice options" in any coherent manner.
This is because they have to directly confront corporations who are happy to make huge profits by making people ever more obese.
Conclusion
The projected losses from Brexit that get pumped out by the Remain gang are speculative at best. There will, of course, be negative consequences of the transition, but they are finite and can be attenuated by appropriate fiscal responses.
The losses from the obesity epidemic are not speculative or ideological in nature. They are happening now on a daily basis and will get worse over time.
They are significant when compared to the worst estimates of GDP loss from the Remain camp.
While the GDP losses are significant from the obesity epidemic, the personal costs of those afflicted are astronomical.
Why is this not talked about every day in Britain and major policy interventions funded.
That is enough for today!
(c) Copyright 2019 William Mitchell. All Rights Reserved.