Recessions are always a problem and can always be avoided
There was an article in the Fairfax press this morning (December 1, 2015) – 'Australia headed for recession': Yanis Varoufakis, former Greek finance minister – which featured the erstwhile finance minister stating the obvious. Last week's investment data, which I analysed in this blog – Australia – investment spending contracts sharply, recession looming – makes it clear that unless is a substantial shift in the austerity mindset of the fiscal policy makers then the continued and accelerating contraction in private capital formation will drive the economy into recession. That conclusion is not rocket science – it is staring us in the face. When tomorrow's National Accounts data is released we'll know more about the trajectory of the economy in the September-quarter. But it is clear that real GDP growth is declining, and the non-mining sector of the economy is not taking up the slack that has been created by the end of the commodity prices boom which drove the mining sector strongly for several years. What was objectionable about the Fairfax article was the assertion by the erstwhile finance minister that "the recession itself would not be the problem … because some recessions are necessary". No recession is necessary and they are always extremely damaging especially to those who disproportionately bear the consequences – aka the most disadvantaged citizens in the society.

To state another obvious fact, which I like to think is the most basic macroeconomic principle of all – spending equals income which is the result of output and employment.
Those who wish to claim that growth can come with spending cuts are in denial of reality.
The following graph shows the Private sector investment to GDP ratio from March-quarter 1980 to the June-quarter 2015. The long investment cycle associated with the mining boom is now over and the investment ratio is back to the levels that we saw at the onset of the GFC when uncertainty was manifest.
The recovery in 2011 was largely driven by the Chinese fiscal stimulus that allowed its economy to continue growing at robust rates despite the loss of export revenue as a result of the global recession.
The most recent slump is associated with the collapse in commodity prices (although we need to be careful not to overstate this given that the levels are still well above historical levels).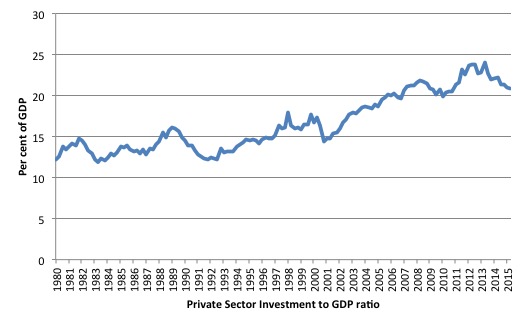 So it is fairly obvious when there is a contraction in investment spending of more than 20 per cent over the last 12 months that the economy will reduce its real growth rates in the absence of any new spending source.
The Australian government is pinning its hopes that export volumes will be so large that despite the drop in prices total earnings will continue to grow. That is, they hope that the mining capacity built over the last decade or more will start delivering greater volumes of output which will be sold on world markets (principally in China).
However is same forces that have led to the decline in base metal commodity prices (Chinese slowdown) will probably cruel export demand overall, even though prices have dropped.
The Fairfax article, essentially an interview with the former Greek Finance Minister, rehearses the same (obvious) point.
It notes that all nations, including Australia, are "caught up in the same global pattern of weak aggregate demand and excessive corporate savings", the latter, "which are being handed back to shareholders via buybacks and dividends instead of being re-invested in additional capacity or productivity enhancement".
The former Greek finance minister then juxtaposes two types of recession: a) "a short, sharp shock"; or b) and "entrenched, or secular, low or zero growth pattern … such as Japan".
He was quoted as saying:
The recession itself would not be the problem … because some recessions are necessary. Some recessions are a bit like bush fires that clear out the forest, and help with the regeneration. The fear would be that this is something more secular, something more like stagnation, and a systemic crisis.

I'm not saying that is going to happen, but if I were a politician here, this is what I would be worried about.
I was surprised to read that from him. I wonder who he thinks would not find a recession "a problem".
Certainly not those in the tens if not hundreds of thousands who would lose their jobs.
Certainly not the children who are forced to grow up in jobless households and who, according to the research findings, inherit the disadvantage of their parents and take the costs into their adult lives in the form of unstable work patterns, low pay, unstable personal relationships, increased incidence of physical and mental illness, and other pathologies associated with such a dislocated status.
Certainly not those who lose their savings as a result of income losses associated with joblessness and are driven closer to or into poverty.
It is true that some recessions follow a V-like trajectory where typically investment spending contracts, which drives up unemployment and leads to a rather sharp decline in real GDP growth. This is exacerbated by a slowdown in consumption spending as a result of the income losses associated with the rising joblessness.
As long as there are no balance sheet implications (that is, excessive debt stocks) then investment typically recovers fairly quickly, perhaps via government stimulus programs, and real GDP growth picks up again.
This pattern is what is often referred to as a "short, sharp shock".
The problem is that the labour market behaves in a very asymmetric manner. When real output contracts employment drops fairly sharply and unemployment rises sharply.
However, when output growth returns firms do not immediately take on new staff but rather make other adjustments, such as increasing the hours worked or the intensity of work, to meet the new demand for sales.
In the downturn, firms not only lay off workers but they also, in some circumstances, particularly when hiring and firing costs are high, 'hoard' labour. Hoarding involves reducing work intensity or hours of work. These adjustments are reversed first when real GDP growth picks up.
Eventually, firms start to take on new labour.
Further, firms take advantage of recessions to restructure their workplaces and in this neo-liberal era that is being typified by a replacement of full-time jobs with part-time jobs.
The first graph shows the behaviour of total employment from August 1988 to September 1995. The graph depict what we call 'butterfly plots' in that they chart a variable some time before its peak value and then trace the adjustment path through the trough and into the next upturn. The analogy is with the wings of a butterfly.
The peak occurred in July 1989 and the trough occurred in November 1991. So the employment downturn lasted 28 months, a very severe recession in Australian historical terms.
But note the response was very slow for an extended period before employment growth.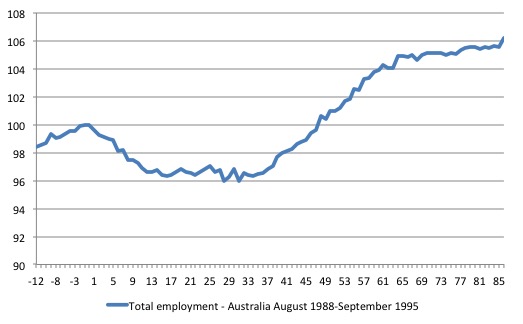 But that is only part of the story. The next graph (three panels) shows the 1991 recession in Australia in terms of the response of full-time and part-time employment by gender. The vertical blue line is the peak.
What you observe is that male full-time employment took around six years to reach the level of the 1989 peak and then tapered off slightly after that. There was a massive substitution of part-time jobs for male full-time jobs.
Are similar, but less intense, pattern was observed for females. Overall (panel three) the 1991 recession was characterised by a qualitative shift in the labour market which reduce the quality of work on offer and the recovery essentially substituted underemployment for unemployment.

Consider the following graph, which shows the evolution of underemployment in Australia from February 1978 to the August-quarter 2015.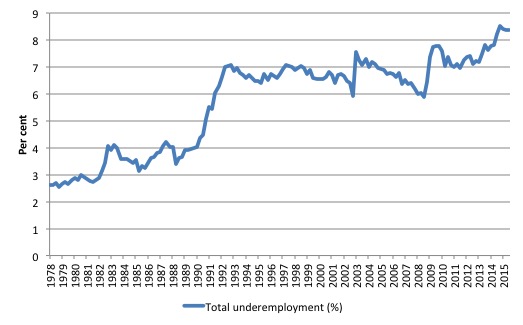 Look what happened in the 1991 recession. That process was driven, in part, by the substitution of full-time jobs for part-time jobs, particularly for males as employers took advantage of the weak labour market conditions to casualise labour and ensure that precarious employment conditions persisted into the recovery.
The former Finance minister sits firmly with many mainstream economists who claimed that recessions are associated with 'cleaning up' or in the terminology introduced by American economist George Perry as "taking a pitstop".
[Reference: Perry, G. (1990) 'Comments' in Blanchard, O. and Diamond, P. (1990) 'The Cyclical Behaviour of the Gross Flows of U.S. Workers', Brookings Papers on Economic Activity, 2, 85-155].
Perry's "pitstop" model of recession suggests that managers take time during recessions to streamline their processes. However, he noted that declining productivity during a recession is contrary to this view.
And as we have noted above, employment also recovers very slowly following the trough.
George Perry (1990: 153) wrote that:
If the amount of job creation and destruction is relatively constant in the temporary jobs, then the destruction is taking place in the long-duration jobs. This view provides a harsher picture of what happens during a recession than one would get if the change in job composition were ignored.
This would appear to be what happened in the 1991 Australian recession and largely explains the sudden step-jump in underemployment.
It is a common feature of modern recessions where labour market protections are typically eroded by austerity-type policy.
I wrote about this issue some years ago – including in this Working Paper (subsequently published in journal form) – Employment dynamics and full-time job destruction in Australia.
This is not to say that firms make positive changes during a slowdown in sales. For example, there is evidence that firms increase their R&D expenditure when their income is falling as a way of it positioning themselves when the next boom occurs.
A related theme that continually crops up in the literature criticises government intervention during recessions because it is claimed that such intervention interferes with market forces and leads to a sub-optimal allocation of investment resources.
The argument is that by artificially protecting employment that the current state of the private market would eliminate, government intervention stifles new investment in more productive areas.
The upshot is that inefficient industries are protected by the 'artificial' full employment engineered by government deficit spending.
The former Greek Finance minister's comments about "bush fires" is consistent with this line of argument, although I would not want to link him with some of the crazies that preclude any government intervention during recessions.
This line of argument was also used by the Austrian School economists and other conservatives to rebut the work of Abba Lerner in the 1940s. Lerner's Functional Finance insights clearly showed that government deficit spending could prevent the worst damages that fluctuations in private spending could engender (that is, eliminate recessions).
He also clearly demonstrated that a government intent on maintaining the well-being of its citizens could maintain full employment in the face of private spending fluctuations, which left to their own would drive the economy into recession with high unemployment.
The evidence is that any costs arising from the so-called "insulating effects" of government intervention are dwarfed by the destructive consequences of a recession that is left to follow its own course.
There is never a reason to allow a recession to occur. The costs are extremely high both in economic terms (lost national income) and personal terms, which go well beyond the income losses that unemployed workers endure.
The dynamic "cleansing effects" that are claimed to accompany recessions are likely to be offset by the labour market effects.
Further, a strategic government can enhance these dynamic effects and still maintain full employment when private spending collapses.
There are two dimensions to this. First, a government can make strategic investments in sectors that are likely to deliver high wage, high productivity performance in the future.
For example, is now clear that the renewable energy sector can offer significant employment across a wide range of skills as well as helping nations adjust to climate change challenges.
Is clear that in the coming future carbon-based energy is going to be increasingly replaced by renewable energy. Strategic investments in this area in times of economic stress could accelerate or 'crowd in' private investment in these highly desirable sectors.
Second, Modern Monetary Theory (MMT) espouses the introduction of a Job Guarantee (JG), which is an unconditional offer of a public-sector job at a socially-inclusive wage rate, to anyone who could not find alternative employment elsewhere.
The fact that the JG wage creates the wage floor for the economy means that private employers who are seeking to invest in new areas as part of a recovery can always attract the labour out of the JG pool.
The JG does not lock workers into industries that will never be efficient in some future recovery but rather sustains workers who would otherwise be unemployed.
Sure, the fact that the JG attenuates the loss in national income of the private spending collapse does mean that some firms that are on the margin of survival will probably be able to maintain solvency through the recession.
It might be argued that these firms would be better going under as they are less efficient than the most efficient firms in the economy. But if that becomes a benchmark then where do you stop driving firms into bankruptcy.
The emphasis on government should be on protecting the well-being of its citizens using the capacities as the currency-issuer to advantage.
Conclusion
Recessions are incredibly costly and totally unnecessary. The claims that they offer a bush-fire type "cleansing" to drive higher productivity in the future and increased material living standards are often made but not very strongly evidenced in the research literature.
Governments can always maintain full employment if they choose and should do so given the highly damaging effects that recessions have on individuals, which span many generations as a consequence of the inheritance of disadvantage by children in jobless households.
I am surprised that a progressive economist (so-called) is buying into the mainstream myth that recessions are not a problem.
That is enough for today!
(c) Copyright 2015 William Mitchell. All Rights Reserved.