Public R&D austerity spending cuts undermine our grandchildren's future
Growth in material living standards, which is just one measure of overall (average) prosperity and contestable at that, depends on productivity growth. How national income is distributed, real wages growth in relation to productivity growth, and the employment rates also impact on how this average is reflected in the fortunes of individuals. Strong productivity growth is only a necessary condition for improved material living standards. In this period of fiscal austerity with suppressed overall growth rates and labour market deregulation that undermines working conditions and reduces the incentives to invest in best-practice technology labour productivity is falling – as will living standards in the coming years. The world is locked into an idiotic race-to-the-bottom. It is a curious period really. The hypocrisy of governments, aided and abetted by the right-wing think tanks, who claim they are cutting into public spending to reduce the drain on living standards of our children and grandchildren, is clear to see. What they are really doing is undermining the future prosperity of the next several generations at the same time that they push millions into unemployment and poverty now. Why are we so stupid that we tolerate this nonsense?

Mainstream economists can even justify public spending on R&D using the 'market failure' argument. Accordingly, there would be insufficient resources allocated to R&D if it was left to private sector decisions ('the market').
Why is that? The inventor always has a difficulty capturing the benefits of major discoveries. This becomes more so when there are low-cost methods available to reproduce the technology.
This is especially true for so-called 'pure' or 'basic' research which often is hit-and-miss but when it hits usually provides valuable knowledge which drives innovation and technological change.
In situations like this, the private market will under-invest even though the social returns (the benefits that accrue to society in general) might be considerable.
This situation describes an example of 'market failure' and provides the justification for public funding.
The mainstream argument was well expressed on May 16, 2011, is a speech the then Chairman of the US Federal Reserve Bank gave in Washington – Promoting Research and Development: The Government's Role.
Bernanke noted that over time, differences in productivity growth really matter. He said that:
A growth rate of output per person of 2-1/2 percent per year doubles average living standards in 28 years–about one generation–whereas output per person growing at what seems a modestly slower rate of 1-1/2 percent a year leads to a doubling in average living standards in about 47 years–roughly two generations.
The same calculations show that if productivity growth (per capita) is only 1 per cent per annum, then it takes 70 years to double average GDP per capita.
The performance of most nations (and blocs like the Eurozone) since the GFC has hardly been inspiring in this regard.
The following graph (using the AMECO annual database) shows the average annual labour productivity growth between 1995-2008 (blue bars) and 2008-2014 (red triangles) for a range of nations (including the US, UK, Australia, Japan, New Zealand, Norway, Sweden, Canada and the European Union nations).
The data is ranked large to small for the 2008-14 period.
I could use even earlier data which would show that in the period of full employment labour productivity was much higher as governments maintained sufficient spending and provided healthy funding to spawn major technological innovations.
The current policy settings in place for nations such as Greece are clearly not only undermining current material prosperity but the impact on labour productivity for future growth in GDP per capita will be disastrous. The policy elites are impoverishing several generations of Greece citizens.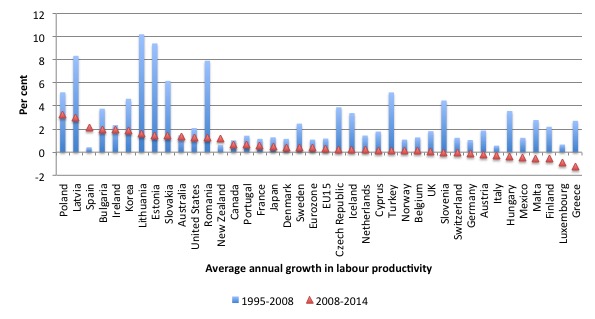 The next graph (using the AMECO annual database) shows the percentage change in GDP per person employed between 2008 and 2014 and the percentage growth in GDP per capita over the same period for the same nations as above.
The relationship is clearly positive – nations with stronger productivity growth enjoy higher growth in GDP per capita (material living standards).
Greece is a sad story – deliberately invoked by the policy elites in Europe.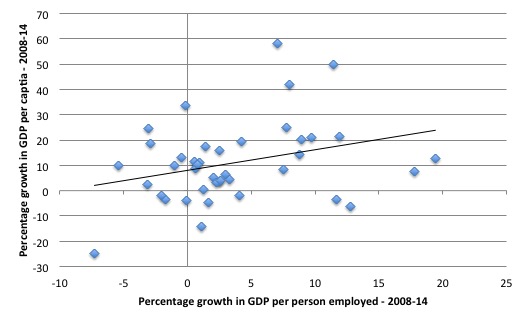 On Monday October 19, 2015, the OECD released its – Science, Technology and Industry Scoreboard 2015 – which is a set of indicators that shows how nations are doing with respect to investment and innovation in science and technology.
The data is quite disturbing.
Remember the OECD is one of the international organisations that were berating nations about their fiscal deficits and demanding so-called structural reforms (making labour cheaper, more casual and less protected). So, like the IMF, they are now trying to regain some credibility given their major errors of judgement during the crisis (and before).
They are generally not doing a very good job in that regard.
But their warnings about R&D expenditure is at least something sensible.
In their press release – Governments must step up R&D in frontier technology – which accompanied the release of the STI Scoreboard 2015 says that:
Countries should step up their investment in long-term R&D to develop frontier technologies that will reshape industry, healthcare and communications and provide urgently needed solutions to global challenges like climate change …

Korea, in particular, has made great strides in these fields recently.

While Korea's public R&D spending has quadrupled in real terms since 2000, reaching 1.2% of GDP in 2014, public R&D spending in many advanced economies has stagnated or experienced significant fluctuations, averaging less than 0.7% of GDP in 2014 in the OECD area.
So Korea is doing it again! Its development plan out of poverty in the 1970s was driven by a strong state involvement in funding, planning and regulation. Nothing happened in Korea without a strong and large guiding hand of the national government.
The OECD admitted that:
Public funding has underpinned many of the technologies driving growth today, from the digital economy to genomics. We must continue to lay the technological foundations for new inventions and solutions to global challenges like climate change and ageing and must not let investment in long-term research wane.
We learn that "since 2010 R&D funded or performed by governments in many advanced economies has declined or flattened … [and] … Cuts to R&D spending threaten to destabilise science and research systems in many advanced economies".
Figure 1 from the – OECD Science and Research Briefing Notes – reproduced next shows the trends in Government R&D spending since 1999 (indexed at 1999=100).
Korea is demonstrating what the rest of the world is ignoring.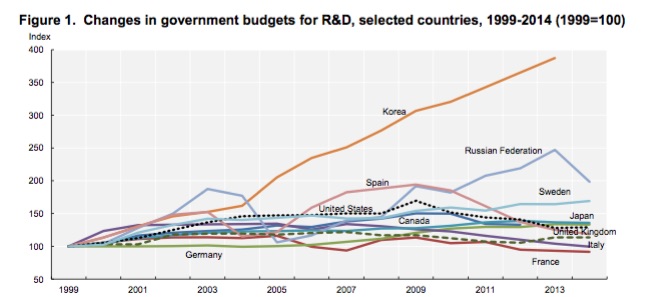 The OECD say that "rapid cuts" to public R&D expenditure:
… may have a deleterious impact on the performance of the science system by creating adjustment problems and discouraging long-term planning. Severe adjustments can have a particularly marked impact among younger and non-tenured research personnel, especially if there is limited absorptive capacity in the private sector. Research activities subject to merit-based competitive funding can bear a disproportionate share of cuts when there are rigidities in public research systems, which can then compromise scientific excellence.
We are feeling these squeezes in Australia as the austerity mentality of recent governments has hacked into public funding of research.
When the previous Labour government (2007-13) became spooked by the conservative media and became obsessed with getting the fiscal balance back into surplus as soon as possible (it was an impossible task given the circumstances) it cut funding to R&D.
The current government restored some of the losses but 2015 is not looking good as they talk 'tough' about the alleged (non)-need to cut the deficit.
I have run a small research team for nearly 20 years now and it has relied on my capacity to generate research funding. A large proportion of the funding I receive comes from various competitive schemes funded by the Federal government. These schemes are cut-throat (low success rates) and not very well funded overall.
It is a fraught existence backing your track record to keep funding coming in while trying to maintain a critical staff mass on short-term contracts.
The following graph shows Australian Research Council (one of the major schemes) funding since 2002 in $A. The 2015 funding round is not quite complete yet.
With the overall squeeze on funding in recent years and more people trying to get it (to make up for shortfalls in other funding schemes), it is getting more and more difficult.
The future will be compromised as a result.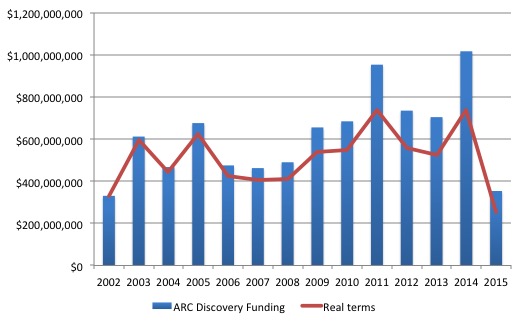 There was an interesting World Bank Policy Research Working Paper published in 2011 – The Impact of Government Support on Firm R&D Investments: A Meta-Analysis.
It noted that the "promotion of research and development (R&D) and innovation is a standard component of 'stimulus packages' adopted by advanced economies to counterbalance the effects of the recent global crisis".
They note that "government budget appropriations or outlays for research and development (GBAORD) increased 46 percent in the Slovak Republic, 33 percent in Korea and 20 percent in Germany in the period 2007-11".
But, many nations significantly cut public spending on R&D as part of their austerity response.
The World Bank meta study considers the findings of 37 major studies to "identify patterns among the study results".
The research concluded that:
1. "The effect of public investment on research and development high heterogeneity of precision is explained by the wide is predominantly positive and significant".
2. "public funds do not crowd out but incentivize firms to revert funds into R&D".
There are many studies that support these findings.
The work of Mariana Mazzucato is also indicative. In her excellent book The Entrepreneurial State: debunking private vs. public sector myths – she demonstrates clearly that governments "drive the big missions of the future".
In her 2013 Guardian article (December 15, 2013) – Let's rethink the idea of the state: it must be a catalyst for big, bold ideas – she wrote that:
… all the technologies that make the iPhone so smart were indeed pioneered by a well-funded US government: the internet, GPS, touch-screen display, and even the latest Siri voice-activated personal assistant.
There are countless examples of this.
Conclusion
Ensuring there is strong growth in public R&D spending is one path to the future prosperity of the coming generations ('the grandchildren').
Cutting such spending and undermining the leverage that the private sector gains from strong knowledge accumulation being driven by the public sector is a sure way to undermine the future prosperity of the coming generations.
The fiscal austerity mindset is a very myopic syndrome. The problem is that the damage to future prosperity is being done now and it won't be until later that it becomes really apparent.
That is enough for today!
(c) Copyright 2015 William Mitchell. All Rights Reserved.