Austerity hacks into our cultural heritage
As I noted last Friday, the Australian government has announced it will be cutting a massive part of the budgets of the Australian Broadcasting Commission (ABC) and the Special Broadcasting Service (SBS), both publicly-owned national media organisations as part of its mindless fiscal austerity push. The Minister claims there is plenty of fat in these organisations but the ABC news report (November 24, 2014) – ABC cuts: Managing director Mark Scott announces more than 400 jobs to go – tells us that nearly 1 in 10 staff will be sacked and programs scrapped to meet the funding cuts. The ABC and SBS are jewels in Australian cultural life. They support local filmmakers, musicians, artists, and advance a more sophisticated understanding of what is going on around us. I am very critical of the way they have succumbed to neo-liberal economics, but in general, the alternative is a mind-numbing Fox-type flow of game and reality shows and sensationalist news. The only thing that is worth watching on commercial TV is the coverage of AFL football and even then one has to turn the sound off and have the ABC radio commentary accompanying the TV coverage to ensure a quality experience.

The ABC is Australia's arts and culture media institution apart from its broad coverage of international and national news and sport.
I have been thinking of the broader impacts of austerity in the last few days. Florence and Rome are both full of art obviously. It is hard to keep focused on one masterpiece on the side of a building when another catches your eye.
And while Rome pays little heed to the tourist in terms of providing infrastructure, the place is swarming with them, day-in, day-out – bringing millions of Euro a year.
But it is also clear that the austerity cuts to the arts and Italy's art heritage are taking a toll.
I was told today that some of Italy's treasures such as the Pompei ruins have become so degraded that they are unlikely to survive.
In 2011, one of the Roman walls at the Pompei ruins collapsed, which followed an earlier collapse of the gladiator house there.
At the time Reuters reported (October 24, 2011) – Wall collapse in Pompeii renews worries for site – said that "The UNESCO world heritage site has been hurt by poor maintenance and a lack of funds".
In September 2012, the Daily Beast article – Italy's Culture Falling to Ruins Amid Austerity Cuts – reported that:
Italy's economy may be on the verge of collapse, but that's not all that's falling apart in the country. For the last several months, chunks of marble have been plummeting from the Colosseum, ancient walls have been reduced to rubble and even bits of the baroque Trevi Fountain have crumbled, changing forever the face of that illustrious monument. And that's just in Rome.
The article documents further areas in Italy where there "is no money left in Italy's tightened budget to take care of the country's cultural heritage". One could add that it is the World's cultural heritage.
A walk around Rome confirms that many of the monuments and buildings are being closed to the public because they have become dangerous due to lack of maintenance.
The church at the top of the Spanish Steps is scaffolded and there is a huge advertising sign on the front as a means of raising funds.
The Daily Beast said that Rome is resorting "to selling advertising on building scaffolding to raise funds, even if it means giant posters on churches, monuments, and ancient ruins" and Italy, in general, is selling of historic buildings to raise funds for basic services as the Troika grinds the nation into the ground, aided and abetted by the surrender monkeys that constitute the Italian government.
The – Arts Council of England – provides a good source of research data on the value of the arts to the people and society, which after all is the purpose that economic policy should be directed at – increasing the value of all activities.
Their latest – Evidence Review – is interesting reading.
We learn that:
Life without the collective resources of our libraries, museums, theatres and galleries, or without the personal expression of literature, music and art, would be static and sterile – no creative arguments about the past, no diverse and stimulating present and no dreams of the future …

The inherent value of arts and culture is, in part, a philosophical assertion that can't be measured in numbers …

When we talk about the value of arts and culture, we should always start with the intrinsic – how arts and culture illuminate our inner lives and enrich our emotional world. This is what we cherish.
In other words, the bean counters in Economic and Finance ministries struggle to come to terms with the value of the arts because they cannot put some asinine number on it.
The advantages of expanding the arts and culture industry include:
1. Employment and income growth. Tourism based on the arts in Italy, for example, brings billions in euros.
2. Research shows that "a higher frequency of engagement with arts and culture is generally associated with a higher level of subjective wellbeing".
3. Social benefits include higher voting participation among those who "engage in the arts at school", higher employability, and "participation in the arts can contribute to community cohesion, reduce social exclusion and isolation, and/or make communities feel safer and stronger".
4. Higher literacy rates and higher educational attainment in "reading and mathematics".
However, with austerity dominating the policy mindset arts and culture funding is an easy target.
In 2012, the Dutch government cut national arts funding by 25 per cent and cuts were common in Italy, Spain, Greece and Portugal. The latter abolished its Ministry of Culture in its austerity mania.
The UK Guardian article – Culture cuts: where austerity measures are curtailing the arts – map – produced in August 2012, documented the funding cuts as a result of austerity across Europe and the UK by Museum, Theatre, Gallery, Orchestra, Opera, Ballet, College, Projects, etc.
It needs to be updated.
You can see a number of UK Guardian articles on the impacts of – European arts cuts.
The New York Times ran an article yesterday (November 24, 2014) documenting the downsizing of public orchestras in the US as a result of austerity cuts – Roll Over, Mahler: U.S. Orchestras Are Shrinking.
It said that:
Composers have long dreamed of bigger orchestras … But as some American orchestras struggle in the post-downturn economy, they are taking a page from the corporate world and thinking smaller: They are downsizing, shedding some full- time positions while making up the difference with less costly part-time musicians … [they now] … require a greater reliance on freelance musicians to play large-scale works … But musicians warn that an overreliance on freelancers endangers the things that make orchestras great: the cohesion that comes from playing together over many years, the performing traditions that are developed and passed down, even the ability to divine in a flash what a familiar conductor is seeking with a cocked eyebrow or a flick of the wrist.
I have played in bands for years and bands that stay together develop their sound which keeps them on the edge of creativity. Bands that get caught in a cycle of replacements, re-rehearsal etc struggle to keep a unique sound.
The Rolling Stones are an example of a band that is so honed from togetherness that they retain their edge even if the material is old (mostly).
Cutting staff and forcing them to rely on a casualised labour market to fill gaps – a strategy described as changing "labor from being quite as fixed a cost into a more variable cost" – is a sure way to reduce quality.
The New York Times article noted that:
Our belief is that no arts organization can cut itself to success, and that no business ever solved a financial problem by offering an inferior product.
Of course, the conservative neo-liberal bean counters are generally scared of the arts because it is a sector that is more likely to be critical of narrow "run out of money" policy cuts.
The former Australian Prime Minister John Howard actively sought to attack the arts including humanities in University claiming they were left-wing biased and were self-serving. What he really wanted was to suppress debate as he hacked into government support for the poor.
Austerity will leave massive human costs for decades to come. But it will also undermine the quality of life for all of us as it hacks into those sections of human endeavour that place us above the barbarians.
But then I guess the bean counters just want the rest of us to come down to where they are – in the swill.
The alternative would begin with a Job Guarantee – which could offer income security to artists, sculptors, actors, musicians etc and enrich our live in countless ways. But that would take a polity that understands the options open to a currency issuing government and also was motivated to act in the interests of all rather than a narrow section of society dominated by finance capital.
The ubiquitous and increasingly dangerous selfie stick
If there are at least 1 too many selfie-stick vendors in Florence, the numbers pales when you walk in Rome.
Selfie-sticks are long (telescopic) rods with some sort of frame for holding mobile phones on the end that allows you to take selfies with better perspective in front of a monument.
You stick the phone in the frame, hold it out in front of you, press some bluetooth connector I guess and the photo snaps. They are becoming a danger to public safety as one has to weave in and out and duck these sticks being wielded by selfie-snapping tourists.
The me-phenomenon!
I wonder what Shelley or Keats would have thought as they tripped over or were assaulted by these sticks at the Spanish Steps!
The sales staff are mostly migrant labour. I stopped to ask one of them what the conditions of employment were. His French and English was as poor as my Arabic (that is, non-existent) but in the words that did transmit between us with meaning I learned that they earn a few cents per sale and the mark-up of the supplier is huge (relatively).
Europe if replete with these self-employed, precarious migrant workers selling junk. Wages are very low and underemployment is rife.
Rolling Stones in Rome
When we went to see the Rolling Stones a few weekends ago, 18,000 people turned out to the vineyard venue near Newcastle. On June 22, 2014, 70,000 turned out to see the band play in Rome at the Circo Massimo.
There are signs like the one below posted all over Rome still protesting about the concert even though as an event it was evidently as outstanding as the show we saw in Newcastle.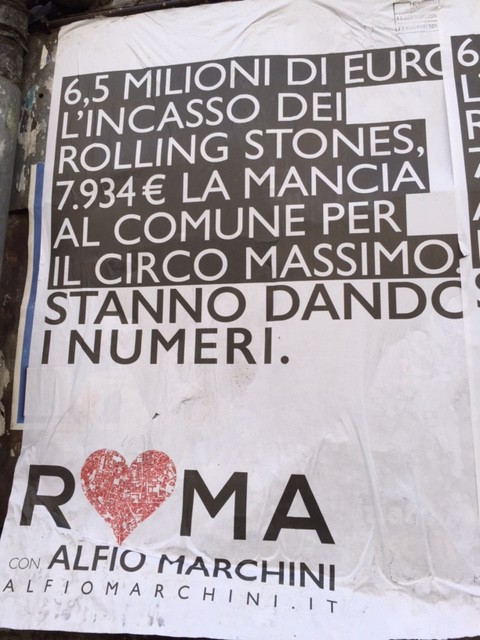 The poster says that the Rolling Stones concert raised but the promoters paid the city only 7,934 euro for the use of the public space. Evidently, the public area around Circus Maximus was tied up for a week while the band erected their enormous stage.
This is what the stage looked like in the concert we saw – there are four speaker towers each with 54 huge cabinets (2 on either side). It is a mammoth construction.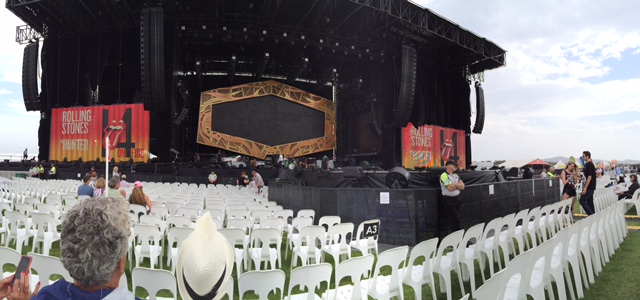 Locals in Rome were dealt with by what the – local press at the time called a military occupation ("occupate militarmente"). The local roads were closed, public transport diverted and a G20 style "red zone" ("zona rossa").
Local municipal staff and police were used to discipline traffic and the crowd and the Guardia di Finanza e Siae was deployed as an anti terrorist squad.
The culprit apparently is the Mayor of Rome. But the posters are somewhat misleading. The organisation putting them up all over Rome belongs to the Mayor's rival.
And further investigation reveals that of the revenue of 6.5 million euros, around 4 million was allocated to clean up the area and pay for the overtime of the Rome police and security staff.
Travelling
Tomorrow I am travelling back homeand unlikely to find time or connection to post.
That is enough for today!
(c) Copyright 2014 Bill Mitchell. All Rights Reserved.