More worn out ideological prattle from R&R
There are seven graphs in the paper. An Excel spreadsheet was involved. Shonky stuff alert! R&R are back with another attention-seeking effort after they were disgraced when their Excel manipulation that just happened to generate ideologically-convenient results was discovered to be shonky (in the extreme). This time is not different though. As in all their so-called historical insights the pair conflate monetary regimes across time and at points of time, which means most of their conclusions are erroneous. While their insolvency threshold has zero credibility now they also still hang on it, if only by implication. And they claim that repression is when residents of free nations enjoy parking their savings in risk-free, interest-bearing government bonds, instead of taking risks with commercial paper. Sounds like free choice to me. Is suggest R&R take some R&R and let governments get on with expanding their deficits and reducing unemployment. The public debt ratios will take care of themselves.

The contention in their latest paper – Financial and Sovereign Debt Crises: Some Lessons Learned and Those Forgotten – is that advanced nations are going to have to face the medicine soon enough, just like poor "emerging economies" because austerity and/or growth will not reduce debt levels.
This is one of those studies that assumes the major issues away because they are inconvenient to the ideology being pushed.
Think about this statement:
Even as the recovery consistently came in far weaker than most forecasters were expecting, policymakers continued to underestimate the depth and duration of the downturn.
Question: Which forecasters were expecting stronger growth? Answer: the IMF, the OECD, the ECB, the politicians that were imposing austerity and hiding that fact that it would kill growth because that would have made it harder to impose.
Question: Why did the recovery come "in far weaker"? Answer: because the governments refused to increase their deficits to the levels necessary to support the saving desires of the non-government sector and hold to that line for long enough while the private balance sheets were adjusting debt levels down.
So the same ideology that entrenched the world in the crisis, forced governments to abandon their countercyclical responsibilities and, instead, impose fiscal austerity. It was obvious that growth would weaken and a double- or triple-dip recession would be the likely.
No-one who understands the way the monetary system operates was expecting strong growth once austerity was imposed despite the lies the multilateral agencies and certain governments were spreading.
These characters claimed the private sector were Ricardian in outlook, which led to the outlandish claims that the private sector – heavily indebted, enduring rising mass unemployment, and facing massive cuts to their pensions, wages, and other conditions of work and life – were so intimidated by the budget deficits (the so-called future tax liability effect) that on the announcement that their government that they would bring the deficits down, these private agents would spend like crazy.
Psychology 101, seemingly is a puzzle to these economists, even more than Macroeconomics 101 is.
Underlying the latest R&R paper is the assertion that public debt levels have to be brought down before there can be a recovery and the only way this can be done is through default ("debt restructuring or conversions"), "financial repression" and inflation.
They use the term "debt overhangs", which implies their is an edge (threshold) over which debt becomes unsustainable. This is what the scandalous Excel spreadsheet cheating paper alleged, that is, before the formulae were extended to the full sample available and their conclusions were no longer supported.
I agree with them that the European political and economic elites are in a "denial cycle" – where they claim that austerity will solve all their problems. I agree that there is no credible "optimistic medium-term scenario" for Europe based on the current policy mix. Permanent stagnation is more the outlook.
But where the paper is dishonest is that it seeks to generalise what is happening in the Eurozone to other advanced economies.
Further, they claim that:
Nowhere is the denial problem more acute than the collective amnesia on advanced country deleveraging experiences (especially, but not exclusively, before World War II) that involved a variety of sovereign and private restructuring, default, debt conversions and financial repression. This denial has led to policies that in some cases risk exacerbating the ultimate costs of deleveraging.
For most advanced nations the history before 1971 that is recorded is irrelevant to the current situation. Various systems of fixed exchange rates, gold standards and convertibility were in force, which introduced default risk to public debt issuance.
R&R think that "delving deeper into the widespread default by both advanced and emerging European nations on World War I debts to the United States during the 1930s" is instructive for guiding our understanding of the current day.
But since the Bretton Woods system collapsed, when US President Nixon closed the gold window on August 15, 1971, those countries that floated and only issued public debt in their own currencies faced zero default risk.
One might just say that the denial problem is that R&R keep:
1. Conflating post 1971 with what went before.
2. Conflating Eurozone where the member states use a foreign currency with nations that use their own currency.
3. Conflating nations that peg their exchange rates and/or issue debt denominated in foreign currencies or provide guarantees to bond holders to insure them against foreign exchange exposure with nations that float, and only issue public debt in their own currencies with no foreign exchange risk insurance.
Once we separate their "historical sample" into groups that have similar monetary arrangements (oranges compared to oranges) their story collapses.
Their principle claim is that there is a massive "debt overhang" and:
In light of this danger, we review the possible options, concluding that the endgame to the global financial crisis is likely to require some combination of financial repression (a non- transparent form of debt restructuring), outright restructuring of public and private debt, conversions, somewhat higher inflation and a variety capital controls under the umbrella of macroprudential regulation.
They also claim "austerity is necessary".
The paper is thus predicated on the assertion that there is a dangerous debt overhang across the governments of the advanced world and this is unsustainable and austerity, while necessary, will not be enough to bring the debt down.
That is, of-course, just their ideological position.
What is the so-called debt overhang?
They say that "the overall debt problem facing advanced economies today is difficult to overstate". They then present Figure 2 which shows gross general government debt ratios (% of GDP) rising to record levels and then refer to their Excel spreadsheet paper (and another derivative paper) that apparently "show that periods of high public debt have very often been associated with below trend growth".
First, they have never showed that without cribbing.
Second, they have never established a credible public debt threshold beyond which growth falters.
Third, faltering growth is not insolvency.
Fourth, and most important, the question of causality has never been resolved in any of their work.
The following graph shows the percentage change in real GDP (volume index) between 2007 and 2012 (horizontal axis) and the same change in the public debt ratio (as a percent of GDP) (vertical axis) for the majority of European nations. The black line is a simple linear trend.
The causality could run either way but the evidence suggests that it runs from real GDP changes to changes in public debt ratios. The furore over the Rogoff and Reinhardt work was not really about their spreadsheet incompetence but the direction of causality. The implication of their 80 per cent threshold for "safe" public debt ratios was that once it went above that ratio, growth suffered.
There is no solid evidence to support that view. To some extent over the period analysed it is moot anyway in trying to understand why the debt ratios grew so much.
Any person will understand that the meltdown in 2008 was not a public debt event. It was a collapse in confidence that led to a spending withdrawal that cause real GDP to decline sharply.
This was followed by the imposition of fiscal austerity in most nations which further dented growth. The rise in the deficits and, under the current institutional arrangements, the rise in debt issuance, saw public debt ratios grow rapidly.
The causality is clear in this case.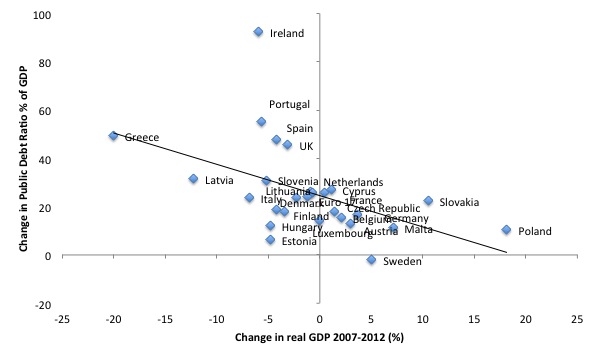 They next claim that it is valid to lump private and public external debt together to expose the vulnerability of a nation. Again, denial of reality.
Certainly, a large buildup of external private debt (denominated in foreign currencies) leaves a nation exposed to default risk if net exports are not strong enough. But that has no implications for the solvency risk of a currency-issuing government.
R&R claim that the private debts are really "hidden debts" of the government presumably because they assume the government will always assume responsibility for them if there is a major meltdown.
Whether Governments do operate in a way that allows returns to be privatised and losses to be socialised is one matter. But a sensible government would never agree to assume the responsibility for the foreign currency liabilities of the private sector.
And if they refused to take these liabilities on and perhaps offered some sort of restructuring in their own currency to foreign creditors this says nothing about the solvency status of the government' own liabilities denominated in its own currency.
Further, a currency-issuing government, does not have to sacrifice domestic policy objectives that may require an increased government deficit when the private sector is forced to default on its liabilities due to incapacity to pay.
They say that:
Domestic debt issued in domestic currency typically offers a far wider range of partial default options than does foreign-currency denominated external debt.
But again the implication is that domestic debt presents some solvency problem for the government. It is quite obvious that foreign-currency denominated public debt is problematic because it involves the government surrendering its unique position as the currency issuer.
No currency-issuing government has to issue such debt.
The unproven starting assumption – that any debt is bad once it gets to a certain level – is just asserted by R&R – and some dodgy research papers proffered as evidence. The self-referential nature of their arguments continues to amuse me.
So Section III "Today's Multifaceted Debt Overhang" starts on page 7 and concludes on page 12. There is a lot of blowhard about danger, risk, financial repression, inflation, and the rest of the horror stories but very little argument presented to substantiate the title of the section.
All we learn is that public and private debt ratios have risen – yes – and this is an overhang. As noted above, an overhang has to be calibrated in relation to some benchmark. What do these debt ratios overhang?
We never find out. We never are told what the benchmark is. The analysis is thus vacuous bluster.
Section IV is about debt reduction and we learn that there are "essentially five ways to reduce large debt to GDP ratio" but before that discussion should be had, one would have expected a prior argument to define what a "large debt to GDP ratio" is and why any debt to GDP ratio has to be reduced for an advanced nation, which issues its own currency.
That is the elephant that is ignored.
It seems that the journalists are also beguiled the flawed R&R logic. Larry Elliot of the UK Guardian wrote a review of the paper (November 21, 2013) – Reinhart and Rogoff's latest paper warns on financial repression – which is more or less a press release for the authors.
His willingness to deceive his readers is captured in his conclusion, which I suppose he thought was rather deep, yet pithy:
An old-fashioned default remains the last taboo, although looking at the debt to GDP levels in Japan, Italy or Greece only the bravest would gamble that it will never happen.
A more reasonable assessment is that this closing assessment is unmitigated nonsense.
Japan issues its own currency. Greece and Italy surrendered that capacity when they signed up for the Euro. Anyone who conflates the two cases either doesn't know what they are talking about or is deliberately choosing to mislead their audience.
There is zero default risk in Japan on its outstanding public debt liabilities.
Conclusion
Another memorable demonstration by R&R of how dangerous they actually are and how audacious they are. A major scandal, which many considered demonstrated research fraud, doesn't phase them one bit.
But on the quality of research this paper gets 0/10 for quality and 10/10 for its perseverance in perpetuating the worn-out ideological prattle that the mainstream economists think is knowledge.
That is enough for today!
(c) Copyright 2013 Bill Mitchell. All Rights Reserved.