Some images from the US election
One of things that is now clear from the US election is that the rabid, religious and not-so-religious right in the US blew it. They had all the media, all the cash, yet still couldn't pull it off. Here are three images that make me laugh and tell me a story about how the extreme right in the US have more or less shot themselves in the foot. They should have supported the ban on guns after all!

First, the wonderfully educated and enlightened Tea Party lobby. Apparently they don't know that Medicaid – damnit (sic) is government-funded. They probably also do not know – living in that glorious land of the free – that more than 50 per cent of Americans receive government-funded medical care in one form or another (veterans, etc).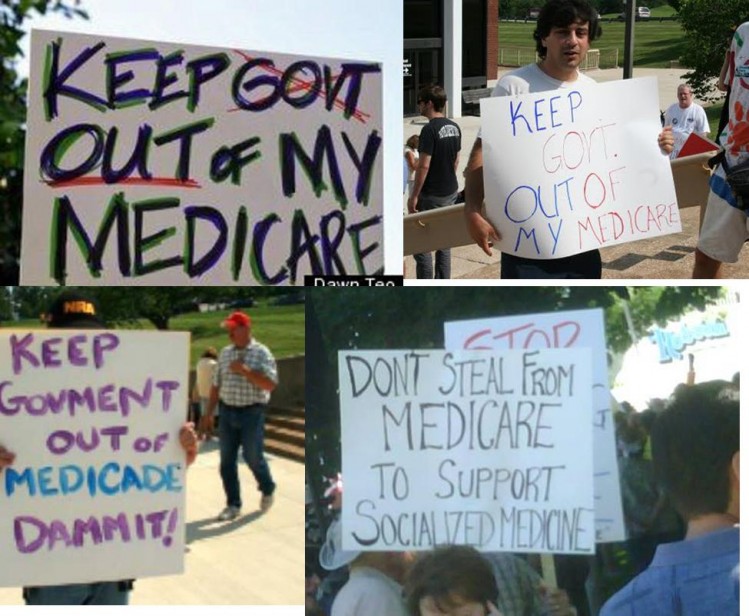 Second, Mr MoneyBags having a dummy spit. He just couldn't get used to the fact that the poor might have voted in their own interests for once. He was probably upset that his hair wouldn't behave yesterday – after trying to put it in order for an hour.
Also what doesn't Mr HairDo understand about more than 50 per cent of the popular vote and at least 303 electoral college votes?

Third, the youth of the religious right will ensure it has a great future. The following tweet appeared soon after the result was announced yesterday and demonstrated how educated the right-wing youth are in the US.
Just in case you are wondering – the Australian political leader is a Prime Minister rather than a President, she is a female, and an avowed atheist. I guess those 75 influential people who retweeted this will know that.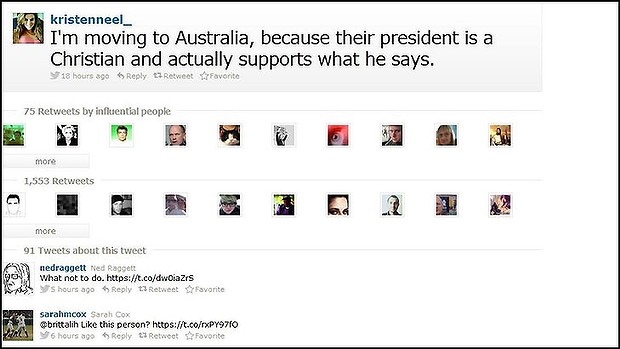 Finally, all the commentators this morning were saying that unless Obama stops the nation falling over the "fiscal cliff" America will be doomed. Meaning they understand that spending equals income which is the basis of employment growth.
The next segment on the news was the Australian Opposition leader berating our Government for not pursuing a big enough surplus (and making sure the budget actually goes into surplus in the coming year) – just before the labour force data today shows how weak the Australian economy is travelling.
Unfortunately, we will not be as successful in isolating this mad right-wing fringe as appears to have been the case in the US election.
Later, my Labour Force analysis will appear in a separate blog.