Welcome to the world of privatised electricity and canned music
Recently my research centre set up a new office in Melbourne, Victoria (a southern Australian state). We do a lot of work in Melbourne and so it was a cost-saving measure to establish a permanent capacity there. It coincides with some other big changes that I will make public on Monday next. The experience has generally been favourable – we have installed very reliable IT systems and have off-street parking, which is somewhat redundant given our proximity to the CBD and the University of Melbourne, where I am involved in some large projects. But try getting power connected – and when it finally is connected – try keeping that connection. Welcome to the world of privatised power. Read on to learn about how efficient it all is. And as you read reflect on the fact that the neo-liberals sold this farce on the back of arguments that the nation couldn't afford state-owned power supplies and that the new privatised world would be like a journey to Shangri La! It just hasn't turned out that way.

So imagine this. We take occupancy of our new premises. The power is on but I am advised to ring Origin energy up by the building manager (because he has an account with them). There are 15 competing electricity retailers in Victoria at present.
After about 2 hours of trying to get to the right person who can create an account – each stepped punctuated by long waits where a canned music assault occurs – I finally am told that I will have to deal with a service broker. I don't know why.
Soon after – a service broker rings me telling me that they will handle all the trouble for me. So I say okay. Next day they ring back telling me that they cannot help me because I don't have an existing account in Victoria. True I say, that is because I don't live in Victoria. Sorry.
Back to Origin. Long waits, canned music, multiple conversations with operators who don't really know much. They have trouble finding our new address ("it is not in our database") – they ask me to provide the "meter number". 2 hours gone. I contact the building manager and we search in the bowels of the building and locate the number on our meter.
We ring Origin again. Long waits, canned music etc – by now numbed by it I am prepared to accept almost anything. Finally, I am told they can create a new supply account. Good. Then the rigmarole – they have to read – over the phone – the entire supply contract. I said – do you really – given I can see it on your WWW page. Sorry – we are governed by strict rules to ensure the choice is in your best interests. Ok, read away. Some considerable time later, we are done.
At least I thought so.
I left the premises to attend a meeting at the University of Melbourne. I came back later to discover the power which was on 4 hours ago was now off.
I ring Origin – yes, the delays, canned music etc. What the f*&$ is going on? Well your order went in and cannot be activated for 3 days? Okay. So we had to disconnect so that we can reconnect in 3 days when the contract begins. Then you have 5 working days to cool off if you want to withdraw. No, I just want the power back on. Sorry we are instructed by the distributor to give 3 full working days before supply can be provided.
But the power was on. No, we disconnected it so we can give 3 days notice to the distributor. Can you please turn it back on? Yes, within 3 days.
I hang up and then trawl for the other 40 odd retailing competitors. Okay, I book a hotel room because I cannot stay over in our new office space. Several phone calls and some hours (by now it is early evening) I give up dealing with this.
Two days later the power is restored. Then we receive a letter saying that there is a dispute about who owns the meter. Apparently the prior tenants dealt with another retailer and they refuse to hand over the meter to Origin until the previous bill is paid and the distributor cuts the power again. Fine, but the previous bill is nothing to do with us. No, but we won't surrender the meter. At least their canned music was of the chill variety rather than top 40 hits. That was a bonus I thought.
This farce continued for another two days whereby I had to cancel my account with Origin and create an account with the other company and then produce a statutory declaration saying we were new tenants and so on.
If I counted the time we have spent just to get power put on and sustained at our new office space it would go into 10-12 hours. The contracts are highly complex and the choices are difficult to differentiate between. The companies are labyrinthine bureaucracies that play terrible music over the phone as they shunt consumers through, a seemingly endless, sequence of operators and departments and sales staff.
It is a hugely wasteful and inefficient process. Now we pray that every time we go to work in the Melbourne office that the power is on.
Welcome to electricity privatisation – Victorian style.
When I lived in Melbourne the electricity supply was very reliable and provided via the State Electricity Commission, a government owned power utility. The SEC was created in 1926 and was abolished in 1994.
During its period of operation, the SEC held a monopoly over the generation, transmission and supply of electricity, consistent with the view that power was a public service and a responsibility of the state to ensure it was supplied to all citizens at equitable prices.
The aim of the SEC was unambiguously to provide a public service – in this case, electricity – and it did so in a reliable fashion at a decreasing real price even though it was faced with continually increasing demand for its services as the population and industry grew in the Post-WW2 period.
The Melbourne Age Op Ed (April 13, 2010) – Smart meters another dumb economic idea – by John Legge is a useful summary of the way in which privatisation has undermined the welfare of Victorians.
John Legge says that the SECV was created on the assumption:
… that the best way to supply electricity was by treating generation as a single, integrated system. The most economical way used three types of generator: very large, very efficient and very expensive baseload generators that could operate around the clock; intermediate load generators that were less expensive and slightly less efficient but could be started quickly to smooth out load changes; and peak clipping generators that were cheap though inefficient, but could start instantly to cover occasional demand peaks.

The system had a total capital cost and a total operating expense and it was a simple matter to set a tariff that covered both.
This system never sat well with the mainstream of my profession whose knowledge didn't extend much beyond the undergraduate microeconomics textbooks that were their bibles – such was their religious zealotry.
They wanted markets, competitors, and efficiency.
But the hard data showed that the state-owned monopoly electricity provider was very efficient and generally satisfied household needs.
The following graph shows the real electricity prices between 1948 and 1992 [taken from Abbott, M. (2006) 'The Performance of an Electricity Utility: The Case of the State Electricity Commission of Victoria, 1925-1993', Australian Economic History Review, 46(1), 23-44.]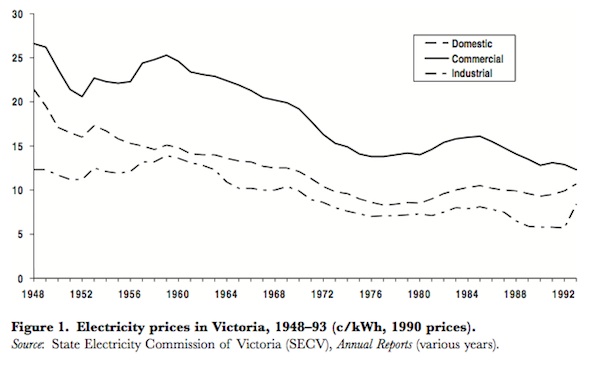 It was also profitable once the basic infrastructure was in place (building of the coal extraction mines and the power stations). The following graph (from Abbott) shows the rate of return that the SECV provided to the State Government.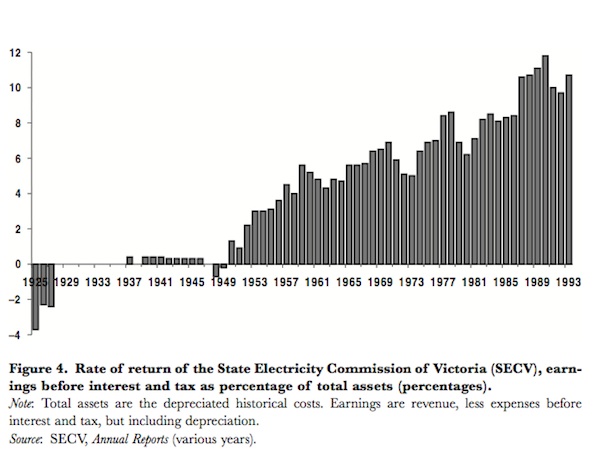 Mark Skulley wrote an article in the Sydney Morning Herald in 1995 (I only have notes – "Private power, public interest", Sydney Morning Herald, March 11, 1995) where he reported that in the financial year before it was privatised (1992/93), the SECV:
… paid $995 million in interest, a $191 million dividend to the State Government, and had a profit of $207 million.
This was an enormous boost to the State budget (the Victorian government being revenue constrained as a currency user).
Malcolm Abbott's historical analysis of the SECV found that "the growth of total factor productivity (TFP) growth was strong during the 1950s. At an average of 5.3 per cent per year it was high by Australian standards". This growth strengthened in the decade before it was scrapped by the neo-liberals.
In the 1980s, as the neo-liberals started to occupy government, the SECV started to be squeezed. Malcolm Abbott says that the "SECV was finding it difficult to finance its construction projects, the Labor Government demanded that it contribute more to government revenue in order to assist in the funding of its social programs."
For the first time in 20 years, real power prices rose to fund the cost gap, which strained the excellent public image the utility had enjoyed up until then.
But it remained that international studies found that (see Malcolm Abbott for extensive evidence):
… after accounting for scale and other external factors the technical efficiency of the Australian electricity supply industry was close to the best practice benchmark performance.
By the end of the 1980s, productivity was improving at the SECV after a period of heavy capital expenditure. Real prices fell again.
The following graph (from Abbott) shows output per employee from 1947 to 1993.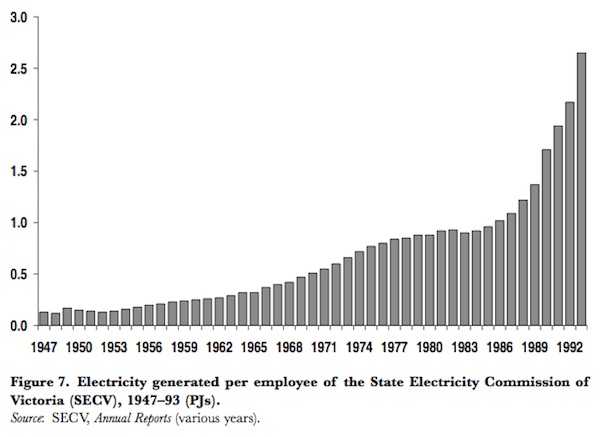 In this 2005 article – Neo-liberal think tanks and neo-liberal restructuring – by Damien Cahill and Sharon Beder, the insidious machinations of "neo-liberal think tanks" in Australia is outlined in some detail. [Full Reference: Damien Cahill and Sharon Beder, 'Neo-liberal think tanks and neo-liberal restructuring: Learning the lessons from Project Victoria and the privatisation of Victoria's electricity industry', Social Alternatives 24(1) 2005, pp. 43-8]
They also cite evidence that the SECV was not inefficient:
The Electricity Supply Association study of 1000 utilities around the world found that SECV was in the top ten for efficiency of resource use and that it was also highly efficient in terms of technical efficiency of distribution. And a study by London Economics in 1994 found SECVs resource efficiency compared favourably with best practice utilities worldwide …
But by the early 1990s the neo-liberal forces were building and were determined to privatise anything that moved and had value that could be redistributed to the private sector (specifically a few wealthy interests that funded their think tanks (and probably their personal incomes)).
Damien Cahill and Sharon Beder note that:
Neo-liberal think tanks form the organisational backbone of the new right or radical neo-liberal movement … which arose in Australia and grew from the mid 1970s onwards. These neo-liberals view the free market as the most efficient and most moral way of organising society, and therefore argue that functions of government be devolved to the private sector through privatisation, deregulation and marketisation.
The article is, in fact, a case study of what has become known as Project Victoria, which the authors describe as:
… an initiative of the Melbourne-based neo-liberal think tanks the IPA and Tasman Institute along with thirteen employer groups including the Australian Chamber of Manufacturers, the Business Council of Australia (BCA), the State Chamber of Commerce and Industry, the Victorian Employers Federation and the Victorian Farmers Federation. Commencing in 1990, the purpose of Project Victoria was two-fold: to prepare a radical neo-liberal agenda for the Liberal Party which, it was hoped, would win government; and, to put radical neo-liberal ideas on the public and political agendas in Victoria. Project Victoria was far reaching. It covered water, ports, electricity, public transport and workers compensation. Tasman and IPA prepared a number of reports and strategies on these issues between 1991 and 1993. In the lead up to the 1992 Victorian election, there were close links between Project Victoria and the Victorian Liberal leadership.
Coordinated operations such as Project Victoria – where extremely well-funded right-wing think tanks (which provide the propaganda) link with the peak representatives of capital and the major conservative political forces – are common in all advanced nations.
Their existence is one of the reasons the political left has had little traction in the public debate over the last 30 or 40 years. The left is relatively disorganised, highly fractured and largely refuse to fund research centres, which might produce material that could advance the progressive cause more effectively in the eyes of the public, which votes.
Project Victoria claimed that the SECV was inefficient and should be broken up and privatised – with competition introduced to each of the stages of production and service delivery – supply, generation and distribution.
They produced this report in 1991 – Victoria : an agenda for change – one of the authors being an academic who taught me in my Master's studies at Monash University. He was totally obsessed with free markets and privatisation.
The narrative they spun to the Victorian people was that we would all enjoy "lower prices for electricity consumers and more efficient management of the industry".
It was all about the benefits of "profit motive, and the disciplines associated with the markets"'" and the desire to "eliminate waste and inefficiency" (quoted in Cahill and Beder).
Project Victoria also hated the fact that power was cross-subsidised across communities under the so-called "community service obligations", which was a principle equity device to ensure all citizens enjoyed the same access no matter where they lived.
Project Victoria led the industry being privatised. The SECV was split into three corporatised entities which were responsible for generation, transmission and distribution and supply.
These entities were, in turn, further split and privatised and a national grid was established where in the words of Damien Cahill and Sharon Beder "electricity was traded among generators and suppliers".
The competition did, initially, drive down prices such that several companies went broke and others cut "back on maintenance" and sacked staff (which meant they lost their maintenance capacity anyway).
As a result, "a number of blackouts resulting from equipment breakdowns" occurred. Reliability of service fell after privatisation.
But the lower prices were short-lived. Cahill and Beder note that:
In 2000-1 the price of electricity in the National Electricity Market increased by 60%.
But the regulated retailers were then unable to cope and so a series of manipulations occurred to keep the "average" price within the regulated range. For example, "off-peak electricity rates" increased "by 175 percent" with peak rates falling, a move which damaged certain segments of the population who relied on off-peak power for their operations (for example, farmers).
The industry was also fast becoming more concentrated again with a series of mergers, acquisitions.
But more worrying was that the privatisation "failed to deliver any increased generating capacity and generator breakdowns were threatening blackouts".
Further, prices "increased particularly for low-income households" and "businesses … which had been prime drivers of privatisation, suffered from rising wholesale prices after 2000".
Damien Cahill and Sharon Beder note that at the time, "60 percent of those surveyed opposed privatisation".
John Legge notes that the privatisation really just "handed huge pricing power to the generating companies" who are "allowed to quote any price they like for supplying the market; power that costs a few cents a kilowatt-hour can be, and frequently is, offered at prices as high as $10."
He notes (it is public data) that:
… the price of electricity has risen by 50 per cent in real terms; and five of the Black Saturday bushfires were started by under-maintained power lines connected with auto reclose circuit breakers. It would be easy to conclude that public service and public safety can suffer when there is a profit to be had.
Two things brought all this back to me. Victoria is currently reflecting on an anniversary of some sorts – 20 years since the ultra-right Kennett Government came to power and turned the State upside down (and it is still suffering today) – and – an article in the London Review of Books (September 13, 2012) – How We Happened to Sell Off Our Electricity – by James Meek.
The LRB article analyses the sell-off in Britain and demonstrates how ludicrous the whole privatisation scam has been. It is a long article and I encourage you to read it – it will make the hair on the back of your neck bristle with anger.
The basic thrust is this. The power was sold off and it is now owned by non-British interests. German companies (for example, E.ON of Düsseldorf and RWE of Essen), Spanish companies (for example, Iberdrola of Bilbao), and other foreign owners, own the stations, supply the power and maintain the infrastructure.
Key power companies (for example, Electricité de France por EDF and Areva) are state-owned French companies despite Maggie Thatcher claiming whe was reducing state involvement in public utilities. EDF is a "a near monopoly on the production and supply of electricity in France, run by technocrats and members of a powerful trade union, the Confédération générale du travail (CGT)."
James Meek says that EDF:
… in effect renationalised the industry its neighbour had so painstakingly privatised. Renationalised it, that is, for France. As well as being one of the six dominant UK suppliers of energy, EDF now owns a fat portfolio of British power stations, including the fleet of nuclear reactors that still provides around a sixth of the country's electricity.
Thatcher's last speech as PM claimed (patriotically) that the creation of private power shareholds was giving "'power back to the people', and how competition at home and open markets in Europe would free British enterprise to lead the world". The LRB article shows that the "the result of electricity privatisation was to take power away from the people".
All individuals can do is choose to "switch from the confusing tariff of one oligopolistic supplier to another" which "doesn't protect them from sharp, unpredictable swings in prices".
The LRB article provides a good historical analysis as to how Britain reached this ludicrous state – which has overtones to the Project Victoria machinations.
James Meek notes, ironically, that privatisation was a concept that emerged from Hitler's economic program, which enriched those favourable to the regime – "national socialist elite"'.".
Britain soon became obsessed, as did Victoria, with selling off everything it could – "telephones in 1984, gas in 1986, airports in 1987, water in 1989, leading up to electricity and the railways in the 1990s".
In the case of electricity, the privatised companies were forced to follow a RPI-X rule, which meant that prices would rise by the rate of inflation minus a productivity bonus (X) that would be set by the regulator. It was sold as a price cap to consumers.
But as James Meek notes there were huge opportunities "for privatised electricity companies to cut costs, and not just by laying off workers":
As long as they kept their prices in line with the X-factor, managers could bank the profits they made from cost-cutting, or pass them on to shareholders, jacking up their own salaries along the way …
This was looked upon favourably because if profits rose, their microeconomic textbook-infested minds, concluded that competition would increase, which would undermine the profits and improve services – such that the "the need for regulation would largely wither away".
But the architects of this scheme failed to understand that markets don't work like undergraduate textbooks, even when the government deregulates as if they do.
James Meek notes that:
… once the privatisers factored in the costs of spare capacity, and the different profiles of different kinds of power station, they came up with a system for setting the wholesale price of electricity so complicated that the only people who understood it were the people who ran the companies in whose interest it was for it to be as high as possible.
The result being that costs fell ("mainly by cutting workers") but "the wholesale price of electricity stayed the same". The "big private players" manipulated supply (closed power stations at strategic ) found ways to manipulate the market to keep prices high. Once the price rose "the power station magically came back online".
In this context, I remind everyone of the role that Enron played in the Californian Energy crisis, which is fully documented in the excellent documentary film – Enron The Smartest Guys In The Room.
It was clear that Enron asked power companies to take plants offline at the height of the California energy crisis, in order to make more money.
Remember the morally outrageous telephone interchange between the Enron traders – at 1:12:25, you hear:
Enron worker one: What's happening?

Enron worker two: There's a fire under the core line. It's been derated from 4500 to 2,100.

Enron worker one: Really. Burn, baby, burn! That's a beautiful thing (laughter)
The British industry was also "gamed" in a number of ways that are outlined in detail by James Meek.
The privatisation also allowed the companies to exploit the excellent infrastructure they inherited from the State-owned monopoly. As a way to increase profits, the private owners stopped investing in new capacity and stopped maintaining the existing capacity.
The companies built huge cash stockpiles and "paid out generous dividends to shareholders". The foreign vultures moved in and started "buying up British firms".
Some of the Americans companies that entered the market withdrew fairly quickly as the government imposed windfall profits tax and introduced NETA (a national grid). But James Meek demonstrates that the competitive nirvana didn't result.
Consumers didn't benefit from a shift to gas – rather profits just shifted between private companies. Some lost, while others gained. "Excessive profit margins simply shifted from one set of electricity companies to another".
James Meek concludes that:
Electricity privatisation hasn't been a success in bringing down prices. Most recent figures suggest that British prices are typically right in the middle of the European average – higher than France's, lower than Germany's. It has been a failure in terms of British industry and management; the best measure of the scale of folly and betrayal by politicians of both parties is the simple fact that a reliable, badly run British electricity system was destroyed, rather than being reformed, only so that a large part of it could be taken over by a foreign version of the original. And it has been a failure in terms of clarity, in the sense that in order to fund investment, governments that boast about not raising taxes, or of taking low-earners out of the tax bracket, permit predominantly foreign-owned electricity companies to collect flat-rate taxes that hit the poor disproportionately.
But the biggest irony is that "EDF is a manifestation of the French state" and his interviews with the British engineers working from EDF led him to conclude that EDF operates similarly to the old state-owned British power monopoly CEGB.
However, companies such as EDF now funtion like "a rootless elite that has no concept of duty or service except to itself is busy taxing the poor".
It might be "easy to switch suppliers" but "citizens and small businesses have no way of knowing that they aren't being fleeced as egregiously by the cheapest provider as they are by the most expensive".
And to provide some more Australian input, this Sydney Morning Herald article (October 1, 2012) – Chiefs on a power trip to higher salaries – argues that some of the privatised electricity providers are gorging themselves on huge executive salaries.
For example, the AGL boss just received an "85 per cent pay increase to $6.3 million" and the boss of Origin Energy snaffled a pay package worth $A8.35 million at a time when customer satisfaction has plummetted.
The SMH conclude:
Customer satisfaction is obviously not a measure to which CEO salaries are closely pegged. Business Day found AGL had delivered the least value for money for shareholders. Earnings per share, the cleanest measure of value for shareholders, dropped 80 per cent to 23.8 cents per share last year. Despite a generous rise in executive remuneration, the big retailer managed only a 2 per cent increase in share price year-on-year and a 5 per cent increase in total revenue.
The other resonating feature of our system (relative to the British experience) is that when compared to the "privatised" components of the electricity industry in Australia, the remaining "State-owned electricity companies" (outside of Victoria and South Australia) generated "more modest growth in salaries for their CEOs over the past five years".
The SMH concluded that "Bosses' salaries at the state-owned utilities are a fraction of those for the listed companies".
So not only have prices risen and service quality falling in the privatised states, but the companies are generating massive profits, which are being eaten up by massive (and totally unjustifiable) executive salaries.
Conclusion
The electricity case study in Australia is just one of many privatisation case studies that demonstrate that the strategy fails to live up to the rhetoric. The result is that public wealth is sold off and public service delivery is compromised.
Lawyers, brokers and equity interests do very well out of it. Prices and service delivery go in the opposite direction to that espoused by the zealots.
And … smart state-owned companies from foreign lands – move in and redirect resources back to their nations at the expense of the local population.
Meanwhile, every time a consumer like me has to ring the power company in Victoria to work out why the service has been cut or some other fault has arisen, we know that we will have to spend some hours on the phone, listening to terrible canned music as we get shunted from one person who hasn't a clue to another. Eventually, we get to where we want to go and are told to "have a nice day" or "enjoy".
At that point, I long for the State Electricity Commission of Victoria and curse Kennett and his mad zealots.
That is enough for today!
(c) Copyright 2012 Bill Mitchell. All Rights Reserved.