Australia to become Greece – all within the limits of human idiocy
Yesterday, the Australian Bureau of Statistics published the August 2012 data for – International Trade in Goods and Services, Australia – which provided further evidence that the so-called once-in-a-hundred years mining boom that was meant to bring employment security and strong growth for years to come is waning – and quickly. Today's retail sales figures are also in this vein. The Treasurer continued his bluster that they had to go for a surplus. And a prominent (former) banker came out and claimed the surpluses should be bigger – even though the economy is going backwards and non-government spending is incapable of supporting strong growth. He thinks were are on the path to Athens. He thought we could easily become Greece. When you think about it the transition from Australia to Greece is within the limits of human idiocy.

The data showed that in August 2012, the "the balance on goods and services was a deficit of $2,027m in August 2012, a rise of $497m (32%) on the deficit in July 2012."
The reasons for the increase in the goods and services deficit are two-fold – "goods and services credits fell $844m (3%)" (that is, exports fell) by more than the decline in imports ("goods and services debits fell $348m (1%) to $26,615m").
Both pieces of information spell a bad National Accounts result is looming for the September quarter. A fall in export income means a drop in aggregate demand coming from the external sector has occurred. But the decline in import spending means that domestic national income growth is faltering.
Taken together – the results reveal that in August there was a large aggregate demand drain on the domestic economy emanating from the external sector.
The trend data provided by the ABS has been pointing to a decline in exports for some months now.
Clearly a decline in exports can occur in two ways – the volume exported can drop and/or the price per unit can drop. The evidence as to which of these impacts drove the downward surge in exports is mixed. The ABS publish detailed data on "Selected commodities", which helps us understand what has been going on.
The following Table is taken from the latest ABS publication. You can see that base metal commodity prices have fallen across the board, whereas volumes for Iron ore lump and Iron ore fines rose as did Hard coking coal. The main factor explaining the decline in exports is thus a softening of commodity prices.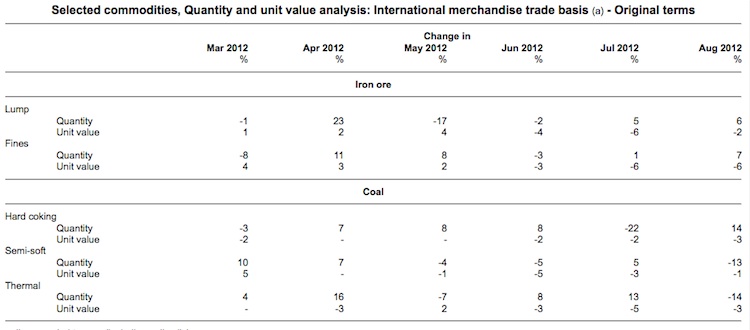 But the message is clear – while volumes will stay up for a while, our record of terms of trade (export prices relative to import prices) are now falling and that will undermine domestic growth. The RBA in cutting the interest rate on Tuesday signalled very clearly that they are worried that growth is declining.
In the official statement accompanying the decision (October 2, 2012) – Statement by Glenn Stevens, Governor: Monetary Policy Decision – we read that:
The outlook for growth in the world economy has softened over recent months, with estimates for global GDP being edged down, and risks to the outlook still seen to be on the downside … Key commodity prices for Australia remain significantly lower than earlier in the year, even though some have regained some ground in recent weeks. The terms of trade have declined by over 10 per cent since the peak last year and will probably decline further … Looking ahead, the peak in resource investment is likely to occur next year, and may be at a lower level than earlier expected. As this peak approaches it will be important that the forecast strengthening in some other components of demand starts to occur.
That is why they cut the interest rate. They think that growth is now likely to slow – "the growth outlook for next year looked a little weaker" – and while they didn't say it explicitly for political reasons, they are fully aware that the government's fiscal austerity stance is explicitly undermining economic growth.
That puts the statements by the Treasurer in response to the RBA decision in a different light. He told the ABC News – that the credit for the cut should be taken by the Government:
I think it's pretty fair to say that working Australians and small businesses deserve cost of living relief, and today that's what they got …These cuts have been made possible by our responsible budget policy … The government's position has been and remains that with an economy that's growing around trend we should be coming back to surplus … What we are seeing here is what the government has been putting in place which is a greater capacity for the Reserve Bank to respond with financial policy …
Which is his familiar mantra – the sort of wind-up doll approach he takes whenever a microphone is thrust under his chin. We are going to run a surplus and that is anti-inflationary so the RBA can cut rates.
But in the RBA Governor's speech you see the lie in the Treasurer's statement. The RBA concluded that "The Board therefore decided that it was appropriate for the stance of monetary policy to be a little more accommodative". That is, they are, in their own logic, seeking to stimulate the economy.
The fact is that the Government is killing growth and the RBA knows it is the only other macroeconomic policy arm that can work against the fiscal vandalism.
It is a strange twist of reason to claim credit for policy positions that undermine employment and cause unemployment to rise.
The other point that the Treasurer appears to forget about is that it is increasingly unlikely that they will actually achieve their budget surplus given the decline in tax revenue that is on-going. It brings into relief the key insight that pro-cyclical fiscal policy strategies (in this case, fiscal austerity) will rarely achieve their targets because they undermine the very thing that is required for the strategy to work – increased tax revenue via economic growth.
It also highlights why the budget balance should not be a policy target in its own right. The government in fact has very little control over the final budget outcome in any period. It is private spending and saving decisions that drive the budget balance. The government can try as it might to reduce its deficit via spending cuts but if private sector spending does increase commensurately to offset the loss of aggregate demand then it is likely the deficit will increase (or not fall by as much as intended). And what is left is rising unemployment and stagnant growth.
Of-course, one doesn't want to get ahead of oneself – in any displays of self-importance. That happened last night when the former head of the Future Fund and Commonwealth Bank (David Murray) claimed that it was "easily possible" for Australia to become like Greece (in economic terms).
Hello out there – currency issuer versus currency user! Seems these self-aggrandizing business types who command far too much air time on the national media haven't really understood the difference.
The danger is that in thinking we could become like Greece, the national government will undermine growth and employment and bring on a recesion and/or period of persistently high unemployment (unnecessarily).
For some background on what this character did while chair of the so-called Future Fund (which would be better named the Undermining the Future Fund), please read the blog from 2009 – The Futures Fund scandal.
On the ABC national current affairs program 7.30 last night – Former Future Fund chair measures economic health – David Murray was interviewed in the light of the RBA's decision to cut rates.
He claimed that Australia is facing a period where "we'll be left with debts that have to be repaid and a tougher time" and he considered "belt-tightening" to be an appropriate strategy. It depends on whose belts are to be tightened.
Australia is now slowing – which means aggregate demand is deficient. But the private sector is carrying record levels of debt courtesy of the relatively unfettered credit binge that the financial free-for-all fostered. So that sector overall has to tighten its belt.
But with a growing current account deficit draining growth and the private domestic sector having to tighten its belt, the only way growth can be maintained is if the government deficit expands. The government should definitely not be belt tightening.
But Mr Murray disagrees.
He claimed in relation to the conduct of government policy that:
… we have a high operating leverage problem in the budget, that is, the welfare costs in Australia are so high … we have a high fixed-cost in our budget, mostly in welfare, which is now up to 100 per cent of the personal tax take. So, with those problems and a persistent current account deficit, Australia is not a country that can afford very much public debt, yet the public debt's been rising.
So he was thinking the government should be belt-tightening. Of-course, Australia, as a currency-issuer, can "afford" whatever public debt it cares to issue. There is never a shortage of willing purchasers of the debt lining up for their dose of corporate welfare.
I would stop issuing public debt altogether and just credit bank accounts (government spending) as usual and do some accounting entries with the central bank so the books balance – yes, force the central bank to "fund" the deficit spending.
The reference to welfare being 100 per cent of the personal tax take is also irrelevant. Welfare spending in Australia is way below what it should be given the rising inequity and lost communities that have developed over the last 20 years.
When assessing the "level" of government spending at any point in time the only question that is of relevance is how close the economy is to full employment (the inflation barrier). If it is close then that is about the right level of government spending relative to non-government spending decisions. If there are still concerns about equity at that point, then the composition of net spending has to change to redistribute more to those in need.
He then raved on about the need for bigger budget surpluses. Which then led to this question and answer sequence:
ABC 7:30: So given the sort of strengths that we have in the economy, does that mean we will avoid the situation we've seen somewhere like Europe?

DAVID MURRAY: No, because Australia's far too dependent on the rest of the world, both for trade and capital.

ABC 7:30: Given though that we have so many differences in the way our economy is structured though to somewhere, say, like Greece, how would it be possible for us to end up going down that route?

DAVID MURRAY: Ah, how would it be possible?

ABC 7:30: Yeah. For us to experience a downturn of that magnitude.

DAVID MURRAY: Easily possible. If we keep doing what we're doing, we'll get there.

ABC 7:30: But we've got so many things that are different – Australians pay more tax than Greeks, our public sector's more accountable, we have our individual currency, so, what would be the par?

DAVID MURRAY: We're not a highly productive economy, our net foreign liabilities as a percentage of GDP are very high in the world, they're not low and we have this persistent current account deficit. In short, all the entitlements we want to have are not ours; they're being funded at the pleasure of some people who save and live offshore. And there comes a time if you work that way that these people say, "No, I don't want to finance that anymore," and that's what's happened to Greece and Spain and Italy.
Of-course, that is not what has happened to Greece, Spain and Italy. The three Eurozone nations are not even comparable themselves bar the fact they all surrendered their currency sovereignty.
Greece, Spain and Italy are in trouble now because basic rules of macroeconomic policy are being deliberately violated. They are plunging into Depression because the fiscal capacity that can arrest a sharp decline in private aggregate demand is being denied to them.
It is clear that the current account can only remain in deficit for as long as foreigners seek to accumulate financial claims in the currency of the nation in question. That desire can change – and sharply at times.
But while the trade component remains in deficit a nation enjoys the real terms of trade in their favour – which means it has to ship less real goods and services abroad to get more from abroad, presumably of things they do not produce themselves and which bring use.
From an Modern Monetary Theory (MMT) perspective, it is the local residents that are "financing" the foreign desire to accumulate financial claims in the local currency, not the other way around.
If that desire changes then the real terms of trade can turn quickly against the local nation. That can be painful and reduce the real living standards of the nation.
But those movements do not negate the fact that the government can always maintain sufficient aggregate demand to avoid recessions and sustain high employment levels.
It is the failure of governments to fulfill that responsibility in Spain, Greece and Italy that is the problem. And then you ask why? And the internal failures of the Euro monetary system become the main topic of discussion.
Only with the ECB's explicit consent (via funding the net spending) could the Eurozone nations offset major private sector spending collapses. The politics of the Eurozone are currently preventing that commonsense fiscal option from being pursued and the consequences are obvious and tragic in their fullness.
But Australia does not face these problems. Note he didn't answer the question about "our individual currency". The Australian government always has the capacity to run deficits to offset non-government surpluses and maintain growth should it so choose.
It is impossible on financial grounds for us to become like Greece. It is possible that our standard of living might decline in real terms if our rising dependency ratio is not met with plans to increase the productivity of the workforce. But that is an entirely separate issue.
Even if Greece was highly productive it would still be in bad shape given it is facing a full frontal attack from the Troika on its aggregate demand growth.
From another perspective, it would be relatively easy for Australia to become like Greece.
First, we could join a currency union with say New Zealand. Second, we could scrap the RBA (and the RBANZ) and introduce a new central bank which was unaccountabile to any elected government in the union.
Third, we could impose rules that say that budget deficits must remain below a threshold that is incapable of even coping with cyclical swings in net spending (driven by the automatic stabilisers).
Then we could make sure the new central bank joins forces with foreign institutions, which are equally unaccountable and impose harsh pro-cyclical fiscal austerity conditions of us at a time when non-government spending has collapsed.
Come to think of it we would have to invite China or Japan to join in the union to ensure the currency remained strong as we imposed a Depression on ourselves.
But all that is within the possible limits of human idiocy.
The ABC News article (October 4, 2012) – Comparing Greek economy to Australia's is 'absurd' – followed up the 7.30 interview.
It quoted the Federal Opposition leader Tony Abbott as saying:
The lesson of Europe is that countries can go very quickly from a strong position to a parlous position if things aren't well managed … At the moment, we've got a Government which has completely mishandled the mining sector which is the one sector which above all else has kept Australia going. With its endless taxes, this Government is putting the economic future of our country at risk.
Note, the mining sector contributes less than 5 per cent of total employment and less than 10 per cent of total output in Australia. During 2008 and 2009, as the financial crisis was spreading, the mining sector went backwards like many sectors. The only reason Australia avoided an official recession was because the fiscal policy response was quick and, largely, effective.
The only lessons that can be drawn from Europe are those outlined above – spending equals income equals output. If you cut overall spending you cut growth. If the non-government sector spending cannot support growth then government spending has to fill the gap. Beyond those simple macroeconomic facts there are no lessons for Australia from the Euro crisis.
We issue our own currency and float it on international markets.
As an aside, Mr Abbott was on my flight to Melbourne on Tuesday and I spoke to him at Melbourne Airport when we arrived. I have had dealings with him in the past when he was in government as the Federal Minister of Employment. I reminded him that a Job Guarantee is still a policy that all political parties should endorse and I hoped he would introduce it when he became Prime Minister.
The ABC report also quoted the Prime Minister's response:
It is absurd to be saying that our economy is in the same circumstances as the economies of Europe or Greece … From the Leader of the Opposition, that's a grossly irresponsible thing to say. I mean, markets listen to what political leaders say, this can have repercussions in the real world that matter for the Australian economy.

Our economy is growing – it's going to grow at around 3 per cent this year, we've got unemployment just over 5 per cent, we've got low inflation, low interest rates, strong public finances – AAA-rated by every major credit agency for the first time in our nation's history ….
Which tells you that she missed the point altogether and doesn't understand the basic fact that the AAA-ratings are irrelevant to a currency-issuing nation.
Conclusion
And I didn't even get to Mitt Romney's attempt at prudence (Source):
What things would I cut from spending? Well, first of all, I will eliminate all programs by this test, if they don't pass it: is the program so critical it's worth borrowing money from China to pay for it? And if not, I'll get rid of it."
Which just means Americans should hope that he doesn't win the election. Last time I checked China did not issue US dollars, which makes it impossible for them to "pay for" US government spending.
That is enough for today!
(c) Copyright 2012 Bill Mitchell. All Rights Reserved.