Haiti should build houses and schools and forget about the army
Several readers have asked me to comment on the recent New York Times Op Ed by Paul Krugman (October 30, 2011) – Bombs, Bridges and Jobs – which outlined the double standards among many conservatives who argue that "government does not create jobs" unless it engaged in military spending but still argued that such spending would be good for jobs and an increase would be welcome. It comes at a time when the new Haitian president is proposing to spend large sums of aid money on restablishing a military force in the nation despite not being able to offer basic housing, sanitation, education or health care. The appeal by the "military-industrial complex" that military spending is good for the economy is long standing and rarely refuted. After all, spending equals income and output which creates employment. But is expanding the military budget or insulating it from cuts the best way to create employment? Should we welcome, as Paul Krugman does, more military spending? The answer is that military spending has positive employment effects which are dwarfed by those pertaining to public spending on education, personal care services and other forms of public infrastructure. Haiti should build houses and schools and forget about the army.

Paul Krugman's argues that these claims represent the views of those now termed as "weaponized Keynesians" and the defence by the Military-Industrial Complex to defend military budgets in the face of demands for across-the-board fiscal austerity.
He wrote:
Faced with this prospect, Republicans – who normally insist that the government can't create jobs, and who have argued that lower, not higher, federal spending is the key to recovery – have rushed to oppose any cuts in military spending. Why? Because, they say, such cuts would destroy jobs.

Thus Representative Buck McKeon, Republican of California, once attacked the Obama stimulus plan because "more spending is not what California or this country needs." But two weeks ago, writing in The Wall Street Journal, Mr. McKeon – now the chairman of the House Armed Services Committee – warned that the defense cuts that are scheduled to take place if the supercommittee fails to agree would eliminate jobs and raise the unemployment rate.
Clearly we can agree with the author that the "hypocrisy" involved here is acute.
Paul Krugman then seeks to unravel the truth from the ideology. He said that "Military spending does create jobs when the economy is depressed" because "more spending would create more jobs".
But if spending promotes employment would it not be better to spend constructively rather than "on destruction"? There is an unresolved bias towards useless military spending but a general dislike for government spending in general which is usually shouted down by the conservatives as being "wasteful".
Paul Krugman's line is that we should be consistent – government spending creates jobs and so "such spending can in fact do good" and "sometimes government is the solution, not the problem". The conservatives can of-course not concede that point and so are riven with hypocrisy and just bluster through appealing to erroneous logic of national security, the advancement of freedom, and other nuanced appeals to patriotism.
Being consistent (but not necessarily correct), Paul Krugman said:
So I welcome the sudden upsurge in weaponized Keynesianism, which is revealing the reality behind our political debates. At a fundamental level, the opponents of any serious job-creation program know perfectly well that such a program would probably work, for the same reason that defense cuts would raise unemployment. But they don't want voters to know what they know, because that would hurt their larger agenda – keeping regulation and taxes on the wealthy at bay.
I support public sector job creation too but have long doubted that military spending is the best way to create employment growth. It has never seemed to be "jobs rich" expenditure.
I will come back to that.
I last wrote specifically about Haiti in this blog – Some will rob you with a six-gun, and some with a fountain pen.
In recent days (November 1, 2011), news came out that – Haiti Struggles to Begin Free Public Education – in a nation where "(o)ne out of every two Haitians is illiterate".
The newly-formed Haitian government has been taxing "international calls and wire transfers" to pay for its education budget. However, the news report indicated that families are still being charged for basic education and are being denied access to schools if they do not have the money required to pay the fees.
Prior to that I read an article in the New York Times (October 25, 2011) – Haitians Train for a Future With a Military – which said that the unemployed in Haiti are being drafted into "weekly training of the Organization of Demobilized Soldiers for the Reconstruction of Haiti" as a precursor to gaining employment with the likely formation of the Haitian military.
The Haitian military was "disbanded over human rights abuses in 1995 by President Jean-Bertrand Aristide after years of political turmoil, making Haiti one of a handful of countries without an army".
But the new president "is pledging to revive it, pressing forward with a plan to reconstitute the Haitian military as a kind of national guard or civil defense force to supplement the weak national police".
He has outlined a $US95 million plan to establish an army to "provide badly needed employment to legions of young people" while reducing civil unrest.
The proposal is controversial especially in terms of the opportunity costs involved in using the funds to build a military force.
The new president is appealing to the population in terms of "promises to reduce international influence and restore Haitian pride".
A few days later (November 3, 2011) – this Bloomberg Op Ed – Why Haiti Does Not Need a New $95 Million Army – made the case against the expansion of the Haitian army.
The Bloomberg article confirms that:
As one of his first executive acts, Haiti's new president, Michel Martelly, has asked donor nations to help him re-establish the army that was disbanded by President Jean-Bertrand Aristide 16 years ago. The initial cost: $95 million, which will go, Martelly says, to a starter force of 3,500.

At best, Martelly's priorities are confused. At worst, they are ominous. He is proposing to spend a lot of money on a militia that Haiti doesn't need when the country is still in shambles because of the 2010 earthquake. Worse, he is reconstituting an institution that was used, from the 1950s onwards, almost exclusively as a tool of oppression.
But according to Paul Krugman's argument – "Weaponised Keynesianism" – should create a lot of jobs in Haiti which is what it needs to stimulate income and build a consumption base (which, in turn, will stimulate investment and productivity growth).
The Bloomberg article correctly notes that spending on an army in the context of the extreme poverty that has fallen on Haiti after its earthquake seems to be a strange priority. It notes that:
More than 500,000 Haitians remain homeless in the quake's aftermath, living in squalid tent camps that punctuate Port-au-Prince and its environs. Government offices — the presidential palace, the prime minister's office, the ministries of finance and justice, the legislative building, and the bureau of taxation — are in ruins. Electricity is still unreliable in Port-au- Prince, and more erratic in the provinces. Sanitation is minimal in the capital; a cholera epidemic — death toll 6,600 — rages into its second year.
So there is an absence of basic infrastructure and life-support mechanisms in Haiti.
While the national Haitian police is still being developed, the Bloomberg article argues that there "are not good reasons to raise an army in Haiti. The solution to a weak police force is to strengthen the police. The solution to joblessness is jobs, not barracks".
No-one is about to invade Haiti so all the "security concerns are domestic ones" which is a matter for "a well-trained police force".
It would be better to spend the $US95 million to provide "thousands of jobs and many services and improvements that Haiti sorely needs".
The Paul Krugman line that military spending is good for employment is well-established in the public debate.
In 2009, Oliver Stone released his new documentary – South of the Border which interviewed a number of government leaders in Latin America. During his interview with the former Argentinean president Néstor Kirchner we learned that discussions between Kirchner and former US President George W. Bush about the state of the world economy.
Here is the relevant snippet from the Movie Transcript:
Kirchner: I said that a solution for the problems right now, I told Bush, is a Marshall Plan. And he got angry. He said the Marshall Plan is a crazy idea of the Democrats. He said the best way to revitalize the economy is war. And that the United States has grown stronger with war.

Stone: War, he said that?

Kirchner: He said that. Those were his exact words.

Stone: Is he suggesting that South America go to war?

Kirchner: Well, he was talking about the United States: 'The Democrats had been wrong. All of the economic growth of the United States has been encouraged by wars.' He said it very clearly.
During George W. Bush's tenure there were two major wars and a dramatic escalation in military spending. The results do not suggest that the military spending had much impact on job creation.
Stone was interviewed by The Progressive (September 2010, Volume 74, Number 9) in 2010 and in relation to this revelation the following interchange occurred:
Q: How surprised were you when former Argentine President Nestor Kirchner told you George W. Bush had said to him, "The best way to revitalize the economy is war, and the U.S. has grown stronger with war."

Stone: Well, this is a typical comment made by Bush. But I believe [he said] it. I think he believed it in Iraq. We were at war with Iraq at the time the comment was made. Bush, we know, is not historically, uh, educated. His is a perception often expressed in rightwing and Republican circles, that was is good for the economy. After World War II? the business leaders were terrified that we'd slip back into a Depression unless we maintained our wartime spending.

But it's not true. In my opinion, and I think many economists support that the concept of an economy is to be a full employment economy in the positive sense. It's good for society; war is destructive to society. It has wounds, it coarsens the nature of a society, it also destroys other societies. War is a very destructive thing, and is not good for the economy, except in some weird short-term process for arms manufacturers and the like.
The Swedish-based research organisation – SIPRI – provides excellent data on Military Expenditure. The employment data comes from the US Bureau of Labor Statistics.
The following graph shows the evolution of US military spending and total civilian employment (indexed with 2000 = 100) from 1988 to 2010. The data is indexed to 100 at 2000 just before George W. Bush assumed the US Presidency.
It is quote clear that the dramatic growth in military spending has not been employment rich (to say the least).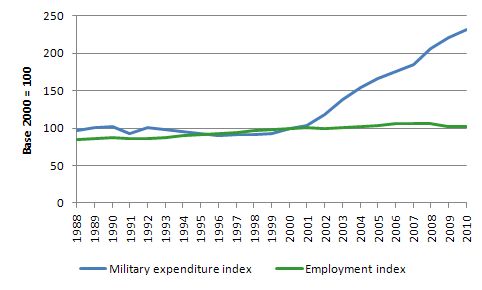 So is there any research on this question?
In October 2009, Robert Pollin and Heidi Garrett-Peltier from the Political Economy Research Institute at the University of Massachusetts released a research study – The U.S. Employment Effects of Military and Domestic Spending Priorities: An updated analysis.
It bears directly on this question and provides some interesting conclusion. I should add that I do not agree with Robert Pollin's take on the monetary system (his views on public debt and budget deficits are those of a deficit dove). But in this study, which steers clear of conceptual/theoretical issues such as the way the monetary system operates the analysis is largely sound.
The PERI study compares the employment effects of "devoting $1 billion to the military versus the same amount of money spent on clean energy, health care, and education, as well as for tax cuts which produce increased levels of personal consumption".
Their conclusion:
Our conclusion in assessing such relative employment impacts is straightforward: $1 billion spent on each of the domestic spending priorities will create substantially more jobs within the U.S. economy than would the same $1 billion spent on the military.
They also compare the "pay level of jobs created through these alternative spending priorities and assess the overall welfare impacts of the alternative employment outcomes".
Their conclusion:
… investments in clean energy, health care and education create a much larger number of jobs across all pay ranges, including mid-range jobs (paying between $32,000 and $64,000) and high-paying jobs (paying over $64,000). Channeling funds into clean energy, health care and education in an effective way will therefore create significantly greater opportunities for decent employment throughout the U.S. economy than spending the same amount of funds with the military.
What is the logic behind these results?
The PERI study provides some more figures which through more light on the graph I created above. "In constant dollar terms (after controlling for inflation), military spending rose at an average rate of 8.1 percent per year from 2001 – 2008, the full years of the Bush presidency. By contrast, the overall U.S. economy grew at an average annual rate of 2.4 percent. As a share of GDP, the military budget rose from 3.0 to 4.3 percent during the Bush Presidency.
As noted above – with two wars to prosecute (Iraq and Afghanistan) not to mention the other skirmishes that the US military involved itself in – it is not surprising that military spending blew out so much.
Remember the controversy about the spending required to (illegally) invade Iraq? In this San Francisco Chronicle article (March 18, 2008) – Only World War II was costlier than Iraq war – we learned that:
The United States has poured more than $500 billion into Iraq, mostly for military operations … In September 2002, White House economic adviser Larry Lindsey told the Wall Street Journal the war would cost between $100 billion and $200 billion. He was immediately excoriated by others in the administration. White House budget director Mitch Daniels called the estimate "very, very high." Defense Secretary Donald Rumsfeld called it "baloney."
At any rate, the escalation in military spending did very little for employment growth in the US.
The PERI study notes that the US military spending is "eight times the amount of U.S. federal spending on education". Which promotes the research question? How does that benefit the US economy relative to alternative domestically-orientated spending?
The "Weaponised Keynesian" and the older terms "Military-Industrial Complex" all believe that the "military budget is a cornerstone of the U.S. economy" both in terms of "technical innovations" and by "providing good jobs … that are stable and at least decently paid … to millions of Americans".
The methodology used to advance their research is input-output modelling, which is a popular way of tracking spending through the industrial structure to estimate direct and indirect employment and output effects.
As an aside, we are just finishing a major input-output study comparing carbon-based employment to renewables. We will release that paper at the upcoming 13th Path to Full Employment/18th National Unemployment Conference which my research centre stages each year (this year – December 7-8, 2011). Registrations are open for that conference now.
Input-Output analysis allows three separate effects to be estimated:
1. Direct effects – the jobs created by producing the fighter bomber or school;

2. Indirect effects – the jobs associated with industries that supply intermediate goods for building a fighter bomber, school, or any other direct spending target. These would include the steel, glass, tire, and electronic industries for building an airplane; and concrete, glass, and trucking industries for building a school.

3. Induced effects – The expansion of employment that results when people who are paid to build a fighter bomber or school spend the money they have earned on other products in the economy.
There are several reasons why the employment impacts of public spending vary across use:
First, labour intensity differs. If labour costs are a higher proportion of total costs (as in education and not in military uses) then "spending this given amount of overall funds will create more jobs".
Second, domestic content differs. If "a higher proportion of a given amount of funds is spent within the U.S. as opposed to spending on imports or activities in other countries" then "the given amount of money will … create more jobs". Military spending involves a greater drain on spending externally than other proposed areas (education etc).
Third, the higher the pay the less the jobs created for a given outlay. Wages in the military and related industries are on average higher than in, say, the educational sector.
The following table (replicates the PERI Table 1) and shows the breakdown of "the effects of spending $1 billion on alternative sectors within the U.S. economy, including military spending, clean energy, health care, and education" and the estimated effects of "tax cuts that then get translated dollar-for-dollar into increased levels of household consumption".
The results are obvious. By channelling spending into education the US government could create 29,100 jobs (150 per cent times the number estimated for the military with the same outlay).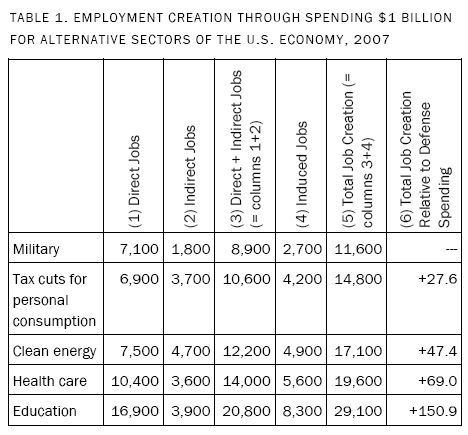 They also examined the likely pay outcomes across the sectors and found that "average wages generated by military spending, at $50,388, are higher than any of the other four sectors" and after all the input-output linkages were considered they found that "the much higher level of benefits for the military means that, when we consider overall compensation – including wages plus benefits – spending on the military does come out significantly higher than other sectors … Average overall compensation for jobs generated by military spending, at $79,124, is 14 percent higher than clean energy, and 33 percent higher than personal consumption".
The higher overall cost of military employment relates to "the higher overall compensation figure for the military is benefits, not wages … military personnel receive generally excellent health coverage through government-run programs".
This "level of government-based support for military personnel stands in sharp contrast to the much poorer coverage provided in other sectors of the U.S. economy".
If there was a commensurate commitment to better health care and retirement benefits in the other areas examined then the pay differences would be reduced dramatically.
Conclusion
So while Paul Krugman is correct – military spending probably does create some employment growth – the benefits pale into insignificance when compared to other uses of the public spending.
The problem with the US fiscal stimulus packages (which was shared with many fiscal interventions around the world in 2008 and 2009) was that they were not targetted to be employment rich.
The PERI study demonstrates categorically how much variation in job creation there can be across just a few sectors.
The further consideration is that the differential employment dividends are only one aspect of our assessment of the benefits of public spending. Military spending is by design destructive. Spending on education is by design forward-looking and enhances the wealth of the nation and impacts broadly across the population.
Haiti should build houses and schools and forget about the army
Greek referendum update
The Troika has spoken!
Greece ceases to be a working democracy.
Saturday Quiz
The Saturday Quiz will be back sometime tomorrow – about as hard as last week!
That is enough for today!